Red River Shootout 2022:  Longhorns vs. Land Thieves
Texas and Oklahoma meet for the 118th time on Saturday, continuing a series that began in 1900.  The game kicks off at 11:00 a.m. in the Cotton Bowl, broadcast on ABC (Joe Tessitore on the play by play, Greg McElroy with analysis, and Katie George on the sidelines).  The game can be heard around the world on the Longhorn Radio Network with the Voice of the Longhorns Craig Way, joined by Roger Wallace and Will Matthews.  SiriusXM 135 or 199 and on the SXM App channel 953.  Texas is the visitor and will be wearing the Longhorn Storm Trooper all whites.  Texas has been a 7 point favorite all week.  Thursday night, well-sourced reports surfaced that Ewers was going to start.  At 11:40 p.m. Thursday night, the line was Texas -8.5.
Texas leads this great rivalry 62-50-5, which includes the Longhorns' loss to the Land Thieves in the 2018 Big XII Championship Game.  Since the beginning of this century, the Land Thieves have won 16 games.  Texas has won 7, and 5 of those 7 wins were under Coach Mack Brown.  Since 1937 (a 7-7 tie), the Red River Shootout is tied:  4 ties, 41 wins each.
After last year's crushing loss, Texas is looking to prevent OU from getting a fourth win in a row in the RRS.  Texas needs a win on Saturday to keep Big 12 championship hopes alive.  Suffice to say, the league is as good or better than it has ever been.  We don't have a gimme on the schedule.
The Second Saturday in October is my favorite day of the college football season.  With three exceptions, in over half a century of watching college football and the Texas Longhorns, there is not a game in a venue that excites me more than watching Texas and the Land Thieves in the Cotton Bowl.  The main exception of course being the National Championship game in the Rose Bowl against Southern Cal, and then the Rose Bowl with Michigan the year before.  And the game against Texas Agricultural & Mechanical when Ricky ran for the Heisman and broke Tony Dorsett's single season rushing record.   But those were once in a lifetime game experiences.  We get to do this every single year.
There are so many great highlights from games with the Land Thieves.  To be fair, they have quite a few of their own which they can trot out, some of which are pretty painful.  All part of this great rivalry.  A have several below, but this is one of my favorites.  My friend Quan Cosby saying hello to Lendy Holmes.  Epic.
Once again, we are saddled with an eleven o'clock in the morning start.  I have gotten used to 11:00 kicks in Austin; don't like them, but begrudgingly accept that we will have a couple of early games each year.  But getting to an 11:00 a.m. game at Darrell K Royal – Texas Memorial Stadium is a bit of a different exercise than getting to Fair Park early on Saturday morning.  Getting that 2:30 time slot would be so civilized and fun.  But, we will roll with it as we always have and enjoy Fletcher's corny dogs and wax paper cup beers for breakfast.  Look for me before the game by Big Tex – I will have on a Burnt Orange shirt, wheat Wrangler jeans, boots, and Ray Bans.  You can't miss me.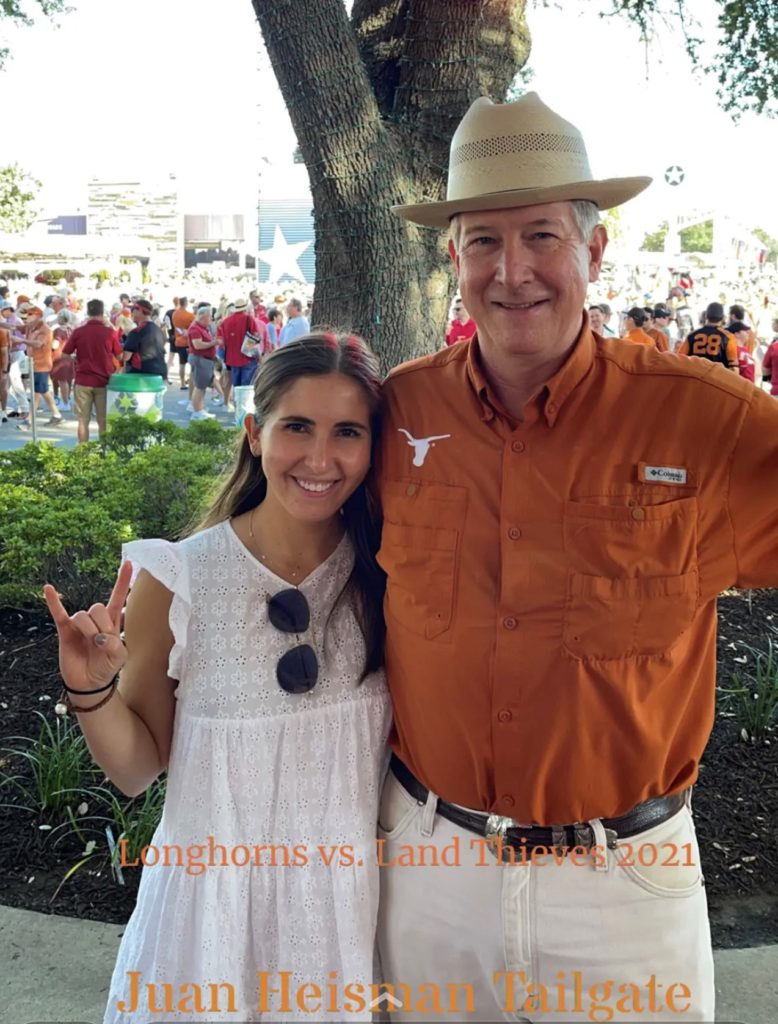 Texas Longhorns 38, West Virginia Mountaineers 20
A great home win for Sark and the Longhorns.  Excellent bounce back after Lubbock.  A dominant first half, as Texas leapt to a 28 point lead before allowing the Mountaineers to get a touchdown in the waning moments of the second quarter.  A very competent third quarter, and a pedestrian fourth quarter in which the Eers eked out 13 points when the game was no longer in doubt.  Great games from our offensive stars:  Card, Bijan, Worthy, Sanders, and Whittington.  And another solid linebacking performance from Jaylan Ford who paced the Texas D with 17 tackles.  I don't know if y'all get the post-game survey from Texas Athletics – I do, and I always complete it.  One of the last questions is "What was your favorite part of the game?"  Easy answer this time:  Card to Worthy to Sanders.  That was so fine. Game review below.
Chicago Cubs
The Cubs didn't have a good season.  Wednesday night, they completed the 2022 campaign with a 15-2 win over Cincinnati (and in doing so handed the Red Stockings their 100th loss of the season; ouch).  The Cubs finished 74 and 88, 19 games behind St. Louis.
But their media team produced the coolest video I have seen this year; maybe in a few years.  This is really worth your time.
To the best fans in baseball,

You make Wrigley Field the Friendly Confines. pic.twitter.com/Gtdr3boTXH

— Chicago Cubs (@Cubs) September 30, 2022
I love Wrigley Field and the Cubbies.
Roschon Johnson and the Paul Hornung Award
Roschon Johnson is leading the fan voting for the Paul Hornung Award . Keep voting.  Every day through November 6!
https://www.louisvillesports.org/paul-hornung/award-poll/
Oklahoma Land Thieves
The Land Thieves come to Dallas 3-2 and unranked.  (Okay, so does Texas.)
Oklahoma opened the season in Norman ranked No. 9 with a  45-13 win over a decent UTEP team.  The Land Thieves moved up to No. 7, and in Week 2 beat Kent State 33-3, a score that was a bit low for OU, who usually runs up the score in games like that.  But they bumped to No. 6 heading into their game with old rival Nebraska.  The Sooners went to Lincoln and whipped the Cornhuskers 49-14.
Oklahoma was still sitting at No. 6 when Kansas State visited Norman in Week 4.  A 41-34 battle won by the Wildcats, who posted 509 yards of offense as KSU QB Adrian Martinez completed 21 passes for 234 yards and a score and ran 21 times for 148 yards and 4 touchdowns.  Was OU overrated, or was K State that good?  Yes.  But, the Land Thieves actually totaled more offense – 550 yards, with 330 passing and 220 yards rushing, for nice averages of 8.5 yards per pass and 6.5 yards per rush.  Oklahoma was hurt by 11 penalties for 87 yards.
Last weekend the then No. 18 Land Thieves had a bad trip to Fort Worth.  The Horned Frogs beat the Land Thieves 55-24, in large part due to a 27 point first quarter that gave Texas Christian a 41-17 lead at halftime.  Frog quarterback Max Duggan was 23/33 for 302 yards and 3 passing touchdowns and he gained 116 yards on just 5 carries, scoring touchdowns on two of them.  Frog running back Kendre Miller rushed for 136 and 2 touchdowns on just 13 attempts.  Not just the scoreboard loss, but OU quarterback Dillon Gabriel took a nasty, dirty hit to the head that knocked him out and landed him in concussion protocol.  Statistically, the game was really ugly for a Brent Venables team, as the Land Thieves gave up 668 yards – 307 passing (9 yard average) and 361 rushing (8.8 yard average) – and allowed Texas Christian to convert 50% of their third downs.  Setting aside the fact that for two weeks in a row Oklahoma got beat by what has been a bit of a kryptonite for Texas – hard running dual threat quarterbacks –OU's offense also sputtered in Fort Worth.  At least they were in the game with K State.  Texas Christian had 263 yards of offense and four touchdowns in the first quarter.  That game was never in doubt.
The 2022 Oklahoma Sooners are a much different team than the one that Lincoln Riley brought to Dallas the last few years.  But that doesn't mean diddly squat.  This will be a hard fought football game, as it is most years.
Brent Venables engineered and conducted some outstanding defenses at Clemson.  National championship caliber defenses.  As a head coach so far in Norman, the defense has failed, and the jury is still out on the offense.  OU's offensive coordinator is Jeff Lebby.  I suspect that some in Sooner Nation are less than pleased thus far in 2022, but replacing Lincoln Riley is a tall task.  Add to the regime change the fact that Oklahoma lost a bunch of really good players to the pros and the portal (and graduation), and you see why Paul Wadlington forecast months ago that this was not going to your typical Sooners machine.
Quarterback?  The OU Game Notes had the TCU depth chart with Dillon Gabriel (No. 8, 5-11, 203 lbs, RS Junior) listed as the starter.  Behind him, Davis Beville (No. 11, 6-6, 225, RS Junior) was 7 of 16 for 50 yards passing and rushed 6 times for minus 11 yards against the Horned Frogs.  Doesn't feel threatening.  But this is the Texas-OU game.  Behind him are sophomore General Booty (No. 14, 6-2, 190) and freshman Nick Evers (No. 7, 6-3, 185).  Booty alleged to be a dual threat guy.
Eric Gray (No. 0, 5-10, 210, Senior, transferred from Tennessee a couple of years ago) is the leading Land Thief rusher on the season, with 460 yards on 66 carries with 3 touchdowns. That is a 7 ypc average. Very, very good.  He had 60 against Texas Christian.  Javontae Barnes (No. 2, 6 foot 200 pound freshman) led the Sooners in Fort Worth with 100 yards on 18 carries; on the season, Barnes has 223 yards on 44 carries and 3 touchdowns.  Marcus Major (No. 34, 6 foot, 220, RS Junior) got hurt at Nebraska and didn't play against Texas Christian; he has 164 yards and 4 touchdowns on the year.
Marvin Mims, Jr. (No. 17, slot, 5-11, 182 lbs) is the leading Land Thief receiver this year.  Mims has 438 yards on 22 catches for a sparkling 19.9 yards per catch average, with 3 touchdowns.  Last year against Texas, he had 5 catches for 136 yards and 2 scores, including a 52 yarder in that gosh-awful fourth quarter.  Theo Wease, Jr. (No. 10, WR, 6-3, 205 lbs) has 195 yards on 11 receptions with 2 scores.  He is a key to the Sooner passing game along with the tight end Willis, more  a mid-range guy.  Jalil Farooq (No. 3, WR, 6-1, 203 lbs) has 11 catches for 153 yards and 1 score.  Can't forget Bob's son, Drake Stoops (No. 12, 5-10, 190 pounds), who has 9 receptions for 95 yards and a score.
Tight end No. 9 Braden Willis completes the top 3 Land Thieves who make me the most nervous, joining Eric Gray and Marvin Mims.  Willis is a big man – 6-4 and 240 pounds. He has 13 catches for 185 yards and 4 scores, and that includes a 78 yarder.  My guess is that whoever plays quarterback for OU on Saturday will be looking for Willis a lot.
The Land Thieves defense, such as it is, is led by linebackers David Ugwoegbu (No. 2. 6-4, 250 pound senior) with 44 tackles (21 solo) and a sack and Danny Stutsman (No. 28, 6-4, 240 lbs, sophomore) with 42 tackles (26 solo) and 1.5 sacks.  Should note Ugwoegbu and Stutsman are ranked 2 and 3 in Big 12 in tackles behind Jaylan Ford.   Then DB Billy Bowman (No. 5, 5-10, 190) with 34 tackles (22 solo) and a forced fumble (he may be hurt), and DB Justin Broiles (No. 25, 5-11 195 pounds 5th year senior) with 30 tackles (15 solo).  When you run down their boxscore defensive stats, you don't hit a defensive lineman until the 13th player listed, Ethan Downs (No. 40, 6-4, 260), who has 11 tackles.  Jalen Redmond and Reggie Grimes, also lineman, have 10 tackles each.  Just because "they lead the team" doesn't mean the team is all that good.  That's just the names you can expect to hear and players Texas needs to block.  The fact is, the Sooner defense doesn't tackle well period.
So if you were wondering why Oklahoma is giving up nearly 200 yards a game and allowing over 4.55 yards, all worst in the Big 12, its because not a lot of running backs are getting stopped with regularity at the line of scrimmage.  As you will see below, the Sooners are No. 113 in the Nation in long running plays allowed – which is always sorted first by plays over 10 yards, of which OU has allowed 32.  They are also ranked: 111 in rushes over 30 yards (5), 109 in rushes over 40 yards (3), 123 in rushes over 50 yards (3), and 121 in rushes over 60 yards (2).  With Texas' improved offensive line and the best running back corps in the nation, and probably the best running back in Bijan, this has Big Game written all over it.  I sure hope so.
Texas Longhorns vs Oklahoma Land Thieves
 I love this football game.  This should be a good one.  Texas and Oklahoma are now even with Notre Dame with 931 wins each.  This is the first time since 1998, Mack Brown's first year, when both Oklahoma and Texas play in Dallas with neither team ranked.  Texas beat the Land Thieves 34-3 year, a season in which Texas lost to only one unranked team – Texas Tech.
Official Preview:
https://texassports.com/news/2022/10/3/football-preview-oklahoma.aspx
Texas Game Notes:
https://texassports.com/documents/2022/10/3/06-TexasGameNotes-Oklahoma.pdf
Land Thieves Game Notes:
https://soonersports.com/documents/2022/10/3/06_OUvsTexas_notes_1005.pdf
Need to give a shout-out to my dear friend Brad Laughlin. This will be his 55th consecutive Texas-OU game.  I have enjoyed a bunch with him, and look forward to this one too.
The Statistics
Offense
| | | |
| --- | --- | --- |
| Statistic | Texas | Land Thieves |
| Rushing Offense | #70 – 154.0 ypg | #14 – 220.8 ypg |
| Passing Offense | #46 – 263.0 ypg | #49 – 260.0 ypg |
| Total Offense | #62 – 417.0 ypg | #18 – 481.4 ypg |
| Scoring Offense | #32 – 36.8 ppg | #31 – 37.0 ppg |
| First Downs | #54 – 22.6/game | #26 – 24.4/game |
| Sacks Allowed | #65 – 9, 71 yards | #87 – 12, 49 yards |
| Tackles for Loss Allowed | #56 – 25, 112 yards | #37 – 23, 65 yards |
| Third Down Conversions | #77 – 37% | #71 – 38.8% |
| Fourth Down Conversions | #7 – 83.3%, 5/6 | #69 – 50%, 5/10 |
| Red Zone Attempts | #48, 21 | #73, 18 |
| Red Zone Offense | #55 – 86% / 57% | #16 – 94% / 78% |
| Long Run Plays | #80 – 21/10, 8/20, 5/30, 3/40 | #20 – 34/10, 12/20, 5/30, 3/40 |
| Long Pass Plays | #43 – 53/10, 20/20, 10/30, 5/40 | #60 – 48/10, 19/20, 12/30, 5/40 |
| | | |
Defense
| | | |
| --- | --- | --- |
| Statistic | Texas | Land Thieves |
| Rushing Defense | #42  – 120.2 ypg | #119 – 198.2 ypg |
| Passing Defense | #90 – 246.6 ypg | #65 – 224.8 ypg |
| Total Defense | #63 – 366.8 ypg | #109 – 423.0 ypg |
| Scoring Defense | #42 – 21.4 ppg | #67 – 25.2 ppg |
| First Downs Allowed | #93 – 22/game | #125 – 24.8/game |
| Sacks | #51 – 11, 67 yards | #20 – 14, 106 yards |
| Tackles for Loss | #28 – 34, 125 yards | #5 – 40, 189 yards |
| Third Down Conversions | #95 – 42.4% | #89 – 40.5% |
| Fourth Down Conversions | #74 – 55.6%, 10/18 | #19 – 33.3%, 3/9 |
| Red Zone Attempts | #57, 17 | #57, 17 |
| Red Zone Defense | #98 – 88% / 53% | #62 – 82% / 65% |
| Long Run Plays Allowed | #27 – 15/10, 3/20, 1/30, 1/40 | #113 – 32/10, 6/20, 5/30, 3/40 |
| Long Pass Plays Allowed | #100 – 51/10, 14/20, 4/30, 1/40 | #86 – 46/10, 15/20, 3/30, 2/40 |
OU last in Big 12 in total defense
OU last in Big 12 in rush defense
OU first in Big 12 in TFL, which is odd.
Other
| | | |
| --- | --- | --- |
| Statistic | Texas | Land Thieves |
| Turnovers | #10  – 3, 1F, 2I | #5 – 2, 2F,0I |
| Turnover Margin | #79  2:3  -1 | #33  5:2  +3 |
| Penalties | #61 – 31, 249 yards | #93 – 36, 316 yards |
*Based on total number of penalties.
When doing the stats, I noted that Southern Cal is +14 in turnovers.  That's dang good in 5 games.
Match-up Comparison
| | |
| --- | --- |
| Texas Offense | Land Thieves Defense |
| Rushing Offense – 154.0 ypg | 198.2 ypg – Rushing Defense |
| Passing Offense – 263.0 ypg | 224.8 ypg – Passing Defense |
| Total Offense – 417.0 ypg | 423.0 ypg – Total Defense |
| Scoring Offense – 36.8 ppg | 25.2 ppg – Scoring Defense |
| First Downs – 22.6/game | 24.8/game – First Downs Allowed |
| 3rd Down Offense – 37% | 40.5% – 3rd Down Defense |
| 4th Down Offense –  83.3% | 33.3% – 4th Down Defense |
| Red Zone Offense – 86% / 57% | 82% / 65% – Red Zone Defense |
| LRP – 21/10, 8/20, 5/30, 3/40 | 32/10, 6/20, 5/30, 3/40 – LRP Allowed |
| LPP – 53/10, 20/20, 10/30, 5/40 | 46/10, 15/20, 3/30, 2/40 – LPP Allowed |
| | |
| --- | --- |
| Texas Defense | Land Thieves Offense |
| Rushing Defense – 120.2 ypg | 220.8 ypg – Rushing Offense |
| Passing Defense – 246.6 ypg | 260.0 ypg – Passing Offense |
| Total Defense – 366.8 ypg | 481.4 ypg – Total Offense |
| Scoring Defense – 21.4 ppg | 37.0 ppg – Scoring Offense |
| First Downs Allowed – 22/game | 24.4/game – First Downs |
| 3rd Down Defense – 42.4% | 38.8% – 3rd Down Offense |
| 4th Down Defense – 55.6% | 50% – 4th Down Offense |
| Red Zone Defense – 88% / 53% | 94% / 78% – Red Zone Offense |
| LRP Allowed – 15/10, 3/20, 1/30, 1/40 | 34/10, 12/20, 5/30, 3/40 – LRP |
| LPP Allowed – 51/10, 14/20, 4/30, 1/40 | 48/10, 19/20, 12/30, 5/40 – LPP |
 Some Other Stats
"Available Yards Percentage" www.bcftoys.com.
Texas moved up to No. 22 from 33 on NAY.  The Land Thieves are ranked No. 32.
| | | | |
| --- | --- | --- | --- |
|   | NAY | OAY | DAY |
| Texas | No. 22 – .156 | No. 24 – .591 | No. 47 – .435 |
| Land Thieves | No. 32 – .121 | No. 29 – .572 | No. 57 – .452 |
BCF Toys – 2022 Available Yards Percentage
BCF's Game Projection.  "Game Projections are calculated from current FEI ratings and include the projected win likelihood (PW), projected margin of victory (PM), projected points scored (PF) and allowed (PA), and projected total points scored (PT) for each FBS game."
| | | | | | | |
| --- | --- | --- | --- | --- | --- | --- |
| Projected Winner | Projected Loser | PW | PM | PF | PA | PT |
| Texas | Oklahoma | .622 | 4.5 | 37.6 | 33.1 | 70.7 |
TCT Preview
The big decision Sark has for this game is who starts at quarterback.  I am all in on Quinn Ewers, at least a healthy Quinn Ewers, and all for Quinn Ewers.  I am sure that he won't see the field unless he is healthy and ready to go.  But even if he is, he's played in basically one college game (admittedly his appearance in the Alabama was a huge one in which he performed admirably before injury).  While the stage in Dallas will not be quite as big nationally and on television as the Alabama game, the game itself will feel bigger, given the huge and loud crowd, the bitterness of the rivalry, and the ferocity and velocity at which the game will be played.  Don't envy Sark with that decision, but I bet Ewers plays.
The good news is, I think Texas can win with either man.  The one drawback is that neither Ewers nor Card is a dual threat quarterback, and Martinez and Duggan completely exposed Oklahoma's weakness against a good mobile quarterback.  However (and I know some of my friends with whom we dissect games via text will cringe), Roschon Johnson is a pretty good runner from the QB position.   The problem is, if RoJo is in, Venables and the OU defense will be ready for it.  So, absent a new set or something new out of the wildcat, that will continue to be a special situation play.  I wouldn't be surprised to see a trick play out of the cat this weekend.
I think our greatest advantage will just be to do what we did last week:  throw the ball with accuracy to our playmakers and let them make good things happen.  As noted below, a third of Card's completions against WVU were to running backs.  Four more were to Sanders.  I think stretching field with Worthy and, perhaps, Hall and/or Milton, then coming back underneath to one of the "On's" (Whittington, Robinson, Johnson, or Robinson) with accompanying blocking could lead to a big game, whoever is taking the snaps.
A few things I would like.  The jumbo short yardage package with Coburn (344 pounds) and Murphy (302 pounds) lead blocking. That was so fine.  Sweeps with Whittington and Worthy.  Two back set with Bijan and RoJo.
Texas must: no turnovers, convert on third downs, and score in the redzone.  The Longhorns have been excellent in the turnover department, not so much on third down and redzone conversions.  I will throw in play a clean game and don't make mistakes that put us in long yardage on first and second down.  It will be interesting to see how the game is called, since my sense is that the Big 12 officiating has been a bit biased against Texas and Oklahoma of late.  Do we both get tooled by the refs on Saturday?
Much of what one might write and forecast about the Sooners depends on who plays quarterback.  If Dillon Gabriel was concussed last week in Fort Worth, then for his sake I hope he doesn't play.  But much like my belief that it doesn't matter for Texas if it is Card or Ewers (we still win), I don't think the quarterback for Oklahoma will be a decisive factor in the game.  Texas has the better team this year.  We have the best offensive line we have had in years (many years), and the Land Thieves defense is (so far in 2022) one of the worst in the conference and the nation.  So if Sark can't figure out how to outscore the Sooners with his war chest of weapons, I will be shocked.
When Texas gets on defense, they need to be aggressive but maintain containment.  OU still has some athletes, and Eric Gray in particular is quite capable of breaking off a big run if he can get some open space.  We have to shut down the run at the line of scrimmage.  OU will spread the field a lot and, if the guy playing quarterback can do it, they will run a lot of RPO.  All the more reason for Ford and Overshown to play smart and get to the ball.  On pass plays, we have to pressure the quarterback, some blitzes would be good, and stay close to the receivers.  Don't give up easy passes, although I am guessing Brayden Willis is going to get his share of catches.  Coach PK and Patterson better have a plan to cover him and then to tackle him, because as much as I love D'Shawn Jamison, 240 pound Willis running with steam is a lot of mass and force for 187 pound Jamison.  Or Cook at 188 or Thompson at 187.
The unknown problem we have here is that as with most Red River Shootouts, some kid is going to find a way to find another gear, to play his best game, have a career breakout afternoon, and to make a difference for his team.  We see it all the time in Dallas.  Freshman Xavier Worthy did that last year with 9 catches for 261 yards and 2 TDs.  Heck, Casey Thompson's 388 yards and 5 TDs was way better than Rattler and Williams combined.  Of course, Texas lost that game, but we were in it and just melted down on defense in the fourth.
Here are some of my wild predictions:  Bijan gets in the Heisman talk with over 200 yards of total offense and three touchdowns.  Jordan Whittington scores on a play that goes for over 50 yards.  Worthy and Sanders both finish with over 100 yards of offense (offense, not necessarily receiving yards).  D'Shawn Jamison returns either an interception or a punt for a touchdown.  And/or Worthy takes a kickoff to the house.  Texas plays great on both sides of the ball for 60 minutes.  Why?  Time for Sark to apply All Gas, No Brakes.
8 Days 🤘#ThisIsTexas #HookEm pic.twitter.com/Kvfgg6dgw1

— Texas Football (@TexasFootball) September 4, 2020
As bad as the Land Thief defense is, as big as the question mark is at quarterback for OU, as qualitatively better Texas is on the line of scrimmage, Texas is still going to have to bring their best game out of the tunnel and onto the turf to take back the Golden Hat Trophy.
I think they will.  I believe that, in fact, the loss in Lubbock was an anomaly.  I think Texas still has a chance at a very good season, and I think that with 3 or 4 minutes to play in the game, Texas will have a big play to seal the win, and the south end of the Cotton Bowl will begin to empty.   And maybe we will get another one of these: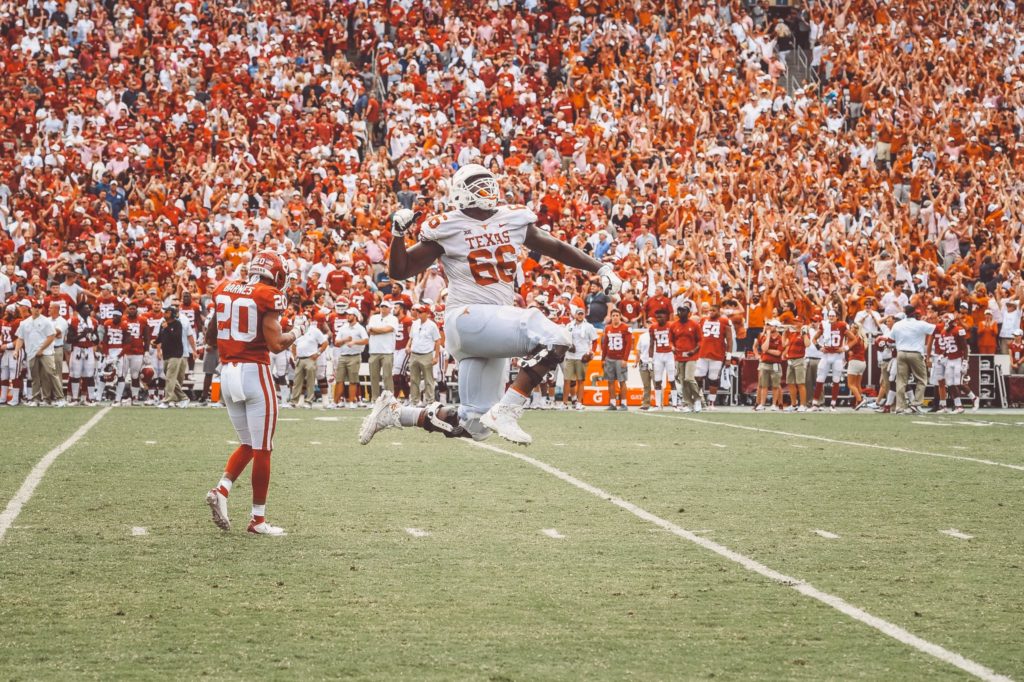 Texas wins on Saturday, 45-31.
Other Previews
As long-time readers know, I am a big fan of Paul Wadlington (once more popularly known, especially as an OG barker on Barking Carnival, as Scipio Tex).  If you took my advice and bought his season preview (Thinking Texas Football), you may recall he disagreed with most pundits about the Land Thieves being great again in 2022.  So far, Paul has been very right about that.  If you subscribe to On3 and haven't read his RRS preview, it is worth your time.  A great example of Paul's good stuff:
They lost all of their best players from an underachieving defense last year. They skated through the early schedule with pressure and junk defenses exploiting poor teams in UTEP, Kent State and Nebraska, but KSU and TCU throat-punched them in consecutive weeks. They couldn't handle KSU spreading them to run (then throw). They couldn't handle TCU spreading them to throw (then run).
https://www.on3.com/teams/texas-longhorns/news/2022-texas-vs-oklahoma-football-preview-keys-to-winning/
So, for many years I would include links to web articles about the game – from Barking Carnival, Burnt Orange Nation, lots of websites, but trying to link articles not behind a paywall.  Those articles have dwindled (except BON), and especially previews on websites which don't require a subscription.  I assume that if you subscribe to OrangeBloods or Inside Texas or whatever, you don't need a link from me.  I include one or two (as today, with the link to Paul Wadlington's article), but usually because I think it is particularly good or insightful.
In place of those articles are podcasts and YouTube webcasts.  I am including a few here for those who may be interested and have the time.  I would appreciate your feedback on this.  I am not looking to make my newsletter longer – just better.
Texas Homer, about 16:40 minutes.  Lots of stats, and good info on individual players.  More for numbers nerds like me, but check it out.
From On3. The Hard Count with J.D. Pickell.  On3 is the parent of Inside Texas. This is okay.  A bit over 9 minutes.  Feels like this preview is more for the broader audience of college football fans, not for Texas fans (or for the Land Thieves).  But some interesting analysis.
Late Kick with Josh Pate.  Highly complementary of the atmosphere and the game.  Interesting take.  A bit over 7 minutes.
Finally, not a game preview, but a very interesting piece from Nate Manzo on Twitter (he's an alumnus of the University of Oklahoma, so fairly safe to say this is objective).  Texas ranked No. 6, right up there with this year's elite in his composite ranking using six analytics ranking sources.  Of particular note Texas is ranked No. 6 in ESPN's SP+ this week.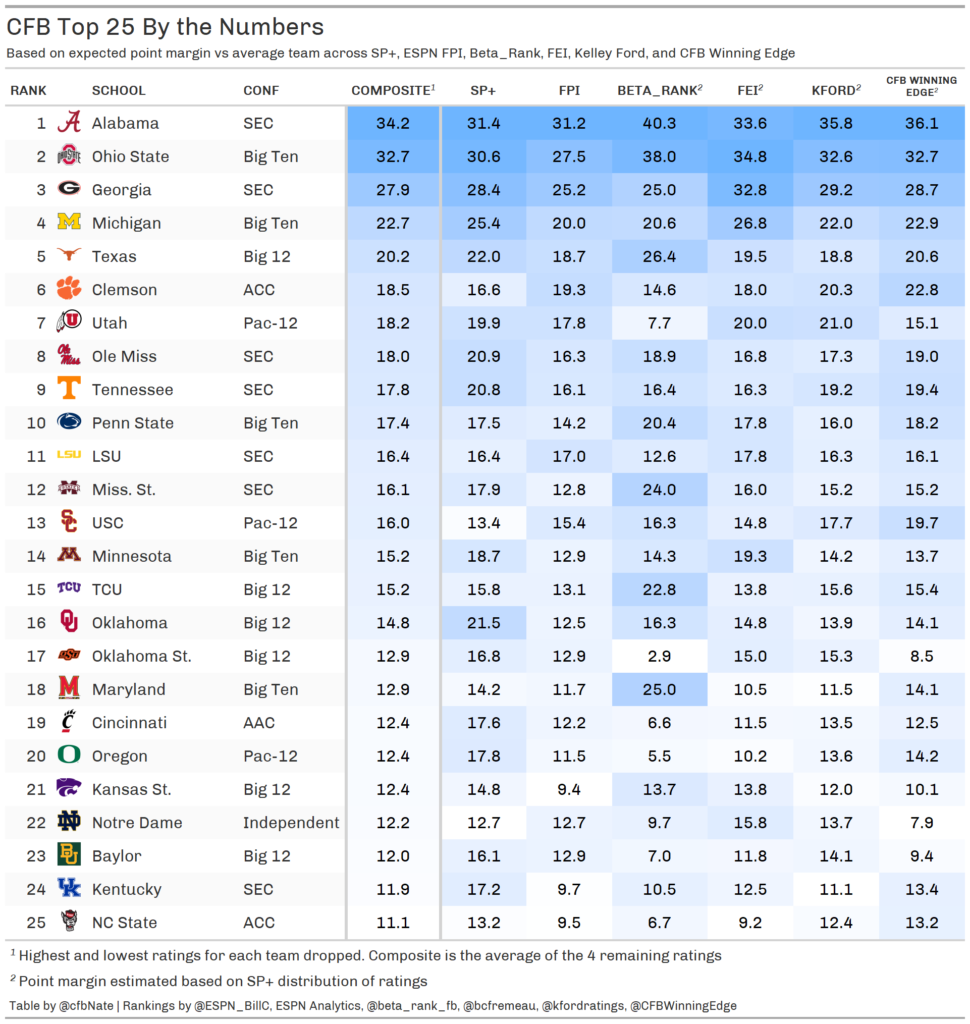 Source:
https://twitter.com/cfbNate/status/1577611812010344449
He looked at the current rankings from six data-driven analyses:  FEI by Brian Fremeau (BCFtoys.com, source of the new stat I had last week and include above – @bcfremeau), Bill Connelly, who's SP+ rankings are very good (ESPN writer, @ESPN_BillC), Beta_Rank (which has Texas No. 3, @beta_rank_fb), FPI from the ESPN Analytics Team, KFord Ratings by @KFordRatings (guy named Kelley Ford), CFB Winning Edge (@CFBWinningEdge).
I should note that this compilation has the Land Thieves ranked No. 16, just behind Texas Christian and ahead of Oklahoma State.   Interesting.  Guess it does get clicks.
Another website that amalgamates analytics rankings is Massey Ratings.  This composite has Texas at No. 20 (and the Land Thieves at No. 30).
https://masseyratings.com/cf/compare.htm
Yes, the real data that matters is the record and the final score, but this does suggest that the loss in Lubbock may be an anomaly.  Whether it was or not will largely be determined in the Cotton Bowl on Saturday.
Red River Shootout Legends and Highlights
There have been many Longhorn legends launched or elevated in the Cotton Bowl, or plays which indelibly engraved a Longhorn's name in Texas Football History.  In more "recent" years, like the last 25, I have a lot of favorites.  Ricky Williams in 1998 (139 yards and 2 touchdowns), Texas won 34-3.   Vince Young in 2005, Game No. 100 in the RRS, breaking an ugly losing streak with a 45-12 win, throwing for 241 yards and 3 touchdowns (including a 64 yard TD bomb to Billy Pittman), and aided by 116 yards on 9 carries from Jamaal Charles (an 80 yard touchdown run helped).  Highlights from the game, with the Great One, Keith Jackson.
The 2008 game, when Texas beat No. 1 Oklahoma:  Texas trailed 14-3 in the second quarter when Jordan Shipley returned the OU kickoff 96 yards for a touchdown. Shipley and Quan Cosby would have 112 yards and 122 yards receiving, respectively, as Colt threw for 277 yards.  Chris Ogbonnaya ran for 127 yards, including the 62 yarder below.  One of my favorite stat lines from the game: Cody Johnson, 3 carries, 4 yards, 3 touchdowns. Efficient.  I had forgotten this:  Our field goal kicker was Hunter Lawrence, and he was 3 for 3; meanwhile, a guy named Justin Tucker did a great job on kickoffs – 8 for 525 yards.
Brian Orakpo put on the Golden Hat three times – starting with the 2005 win on our way to the National Championship.  Orakpo played big in the RRS.
Monster week fellas. #BeatOU #HookEm @TexasFootball pic.twitter.com/VPWiMWHECV

— Brian Orakpo (@rak98) October 3, 2018
Staying on defense, Big Man Touchdown.  In 2005 after Bomar gets clocked, Rodrique Wright rumbles for the score.
And another 300 pound touchdown – Chris Whaley
RRR game week!!! Burnt Orange Nation stand up!!! @TexasFootball pic.twitter.com/YM2smOqAY0

— Chris Whaley (@ChrisWhaley20) October 3, 2018
Chris Ogbannaya in 2008.
Anyone remember 62 yards to house to end OU in the Red River Shootout!?!? @TexasFootball It's 10:03…#HookEm 🤘🏾 #BeatOU pic.twitter.com/T3QstVt5ti

— Chris Ogbonnaya (@ChrisOgbonnaya) October 4, 2018
Stonie Clark staying home on the reverse by James Allen and stopping the Land Thieves on the goal line on fourth down to preserve the upset.  The first video is under 40 seconds.  The second is of all four downs of the goal line stand – a bit longer.
As for great games by great players, one cannot forget the only Longhorn quarterback with four wins over the Land Thieves (and the only starting quarterback on either team with 4 wins in the rivalry): Peter Gardere beat the Sooners in 1989 (28-24, Land Thieves were ranked No. 15); 1990 (14-13, Land Thieves were ranked No. 4); 1991 (10-7, Land Thieves were ranked No. 6), and 1992 (34-24, Land Thieves were ranked No. 16).
An article on the Rivalry from the aforementioned Bill Connelly:
Red River Rivalry – The 10 games that define Texas-Oklahoma football series (espn.com)
Randy McEachern:  Next Man Up
One of the great Longhorn legends is Randy McEachern, who came off the bench in 1977 after Mark McBath and Jon Aune were injured, to quarterback the Longhorns to a 13-6 victory over the Land Thieves, with a bit of an assist from Earl Campbell.  Larry Carlson has a great article on the History of Longhorn Sports websites that is part of the Texas Legacy Sports Network.
https://texas-lsn.squarespace.com/dreamers-randy-mceachern-by-professor-larry-carlson?
Excellent article, with some great photos, including the one below.  Saturday happens to be the 45th anniversary of the day Randy came into the game, was given wise and concise instruction from a couple of teammates, and got the job done and got the Texas win.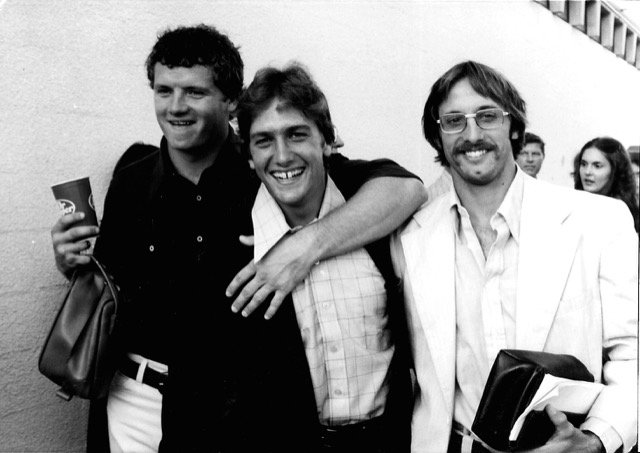 Matt Hamilton, Randy McEachern, and Ronnie Miksch.
Great story.  Jenna and Randy, see y'all at Javier's Friday night.
The University of Oklahoma
Founded in 1890 in Oklahoma Territory, the year that the Oklahoma Territorial legislature established three schools:  Oklahoma Agricultural & Mechanical in Stillwater, the Territorial Normal School (now the University of Central Oklahoma), and the state university in Norman.
The campus has a distinctive architecture, with buildings designed in a unique "Cherokee Gothic" style.  The style has many features of the Gothic era but has also mixed the designs of local Native American tribes from Oklahoma. This term was coined by Frank Lloyd Wright when he visited the campus.
Academic Rankings

National

Texas

Oklahoma

Forbes
43
125
THE | WSJ
60
244
U.S. News & World Report
38
127
Washington Monthly
40
177

Global

ARWU
37
501-600
QS
72
701-750
THE
47
601-600
U.S. News & World Report
43
425
The etymology of Boomer Sooner:  "Boomers were those who by constant agitation tried to bring about the opening of Oklahoma to settlers before 1889, and Sooners were the settlers who slipped in to stay before the gun was fired. In 1905, Arthur M. Alden, a history and physiology student, wrote the lyrics to the university's "Boomer Sooner," borrowing the tune from Yale's "Boola-Boola" but improvising on the words. A year later an addition was made to it from North Carolina's "I'm a Tarheel Born" and the two combined form the university's battle song of today."  Yale, the University of North Carolina, and OU.  Reminds of Sesame Street: "One of these things is not like the other things".
My favorite Land Thieves football quote is from OU president George Lynn Cross (a very bright guy – Ph.D. in Botany from the University of Chicago).  Cross, who was in a budget meeting with Oklahoma legislators (I am guessing around the Wilkerson Era), was asked why OU need more money.  Cross replied: "I would like to build a University of which the football team could be proud."
Texas Longhorns 38, Mountaineers 20
Hudson Card had a very good game Saturday night, and I think that was due in large part to a healthier Xavier Worthy, more targets of Ja'Tavion, J Whit doing a little J Whit stuff, and the continued quality use of our stellar running back corps in the passing games.  Worthy was just all over the place, and of course benefited in the endzone tip drill – but that doesn't happened without his concentration and skill.  We also saw that he can throw a nice downfield pass.  Card threw 21 passes – and 7 were to his backs.  21 out of 27 for 303 yards and 3 touchdowns with no interceptions is nice quarterback play.  His game QBR on ESPN was 88.7 (for comparison, on the season, only 5 quarterbacks in the country have an average above that; of note, No. 6 on the season ranking is Cameron Rising of Utah [remember him?] with QBR of 87.1).  Bijan with 101 yards on 21 carries with a score – averaged 4.8 yards per carry – and although some have pointed out that a good bit of that was after the game was decided, I aver that is exactly when you want to have a great running back running the ball, controlling the game, and eating clock.  West Virginia had three offensive possessions in the second half.  If I have a gnawing concern, it is the offensive line.  They were better, for sure.  But with a bit better execution, I think Bijan gets the ypc average above 5, and Card doesn't get pressured and sacked as much.
Sanders finished with 5 catches for 78 yards and 2 scores (33 of that on the TD pass from Worthy).  RoJo had 8 touches – 6 carries for 20 yards and 2 catches for 21 yards.  Whittington's 3 catches for 58 yards had the highest yards per play average – 19.33.
Maybe my favorite stat from the game is this:  West Virginia gained 61 yards (net – 86 gross) on 30 attempts for a 2 yard per play average.  The Mountaineers were averaging 217.5 yards per game and had the No. 20 rush attack in FBS.  The dropped to No. 40 this week.  I think their average yards per carry before Texas was 5.38 ypc.  That is an outstanding job by our defense in shutting down WVU.
I am really pleased with Jaylan Ford.  Ford now leads the Big 12 with 51 tackles, 31 solo.  The 31 solo is also best in the conference.  His 14 tackles, including a 2 yard TFL led the Horns.  Jerrin Thompson had 10 tackles (6 solo), and Overshown had 8 tackles (2 solo) plus half a sack.  Watts with 7, Barron with 6, and Cook with 4.  Ovie Oghoufo only getting 2 is a bit odd and concerning, but I didn't have time to re-watch the game, which is where I usually get a better read as to what went on defensively.   The combination of OU Week and the IRS tax deadline (What, me procrastinate?) always makes this a heck of a week.
Offensively, Texas opened with a sluggish drive that quickly petered out after an 11 yard sack of Card.  After that, it was really good.  Texas scored on four consecutive possessions with drives of 60 yards (7 plays), 74 yards (6 plays – that was the Worthy to Sanders TD), 71 yards (6 plays), and 87 yards (6 plays).  Just over 20 minutes into the game, Texas was up 28-0, JT Sanders had two touchdown passes, and Worthy had caught a touchdown and thrown a touchdown.  The second half was just so-so, although a few nice plays and the lone touchdown was a 44 yarder from Card to Worthy.  Auburn boomed a 45 yarder in the fourth.
Defensively, Texas, as noted, shut down the Mountaineers.  Their first half:  punt, turnover on downs, punt, punt, punt, and finally TD with 13 seconds in the second quarter.  If my math is right (there is a reason I use that caveat with regularity), then West Virginia cobbled together 159 yards of first half offense, but 83 of that was on that last drive when they were already down four scores.
I am very happy with the win and the team's performance and the coaching.  If the second half had been anything like the first half, I would be ecstatic.  Really need to put together a complete game.  Like this weekend.
Highlights from ESPN, under 2 minutes:
Highlights from CFB on FOX, under 7 minutes.
The Polls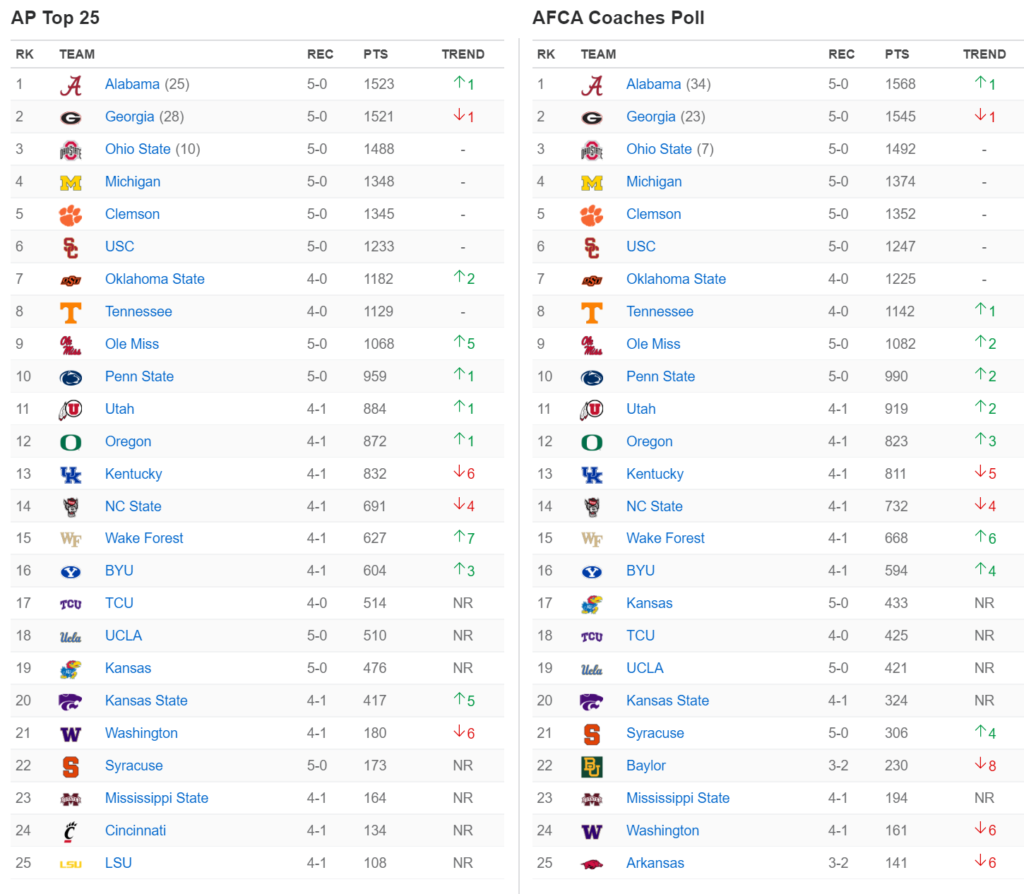 Juan Heisman Tailgate
The Juan Heisman Tailgate Party last Saturday was a big one.  The guys from Duck Camp really did a great job.  They had half a dozen Nomad grills going, and the fajita tacos were excellent.  That's the most Lone Star beer I have had in one afternoon since the old Austin Lacrosse Club days of the 1980's.  But you know, it tasted pretty darn good.  And the JHT Crew has new tailgate shirts.  Good work Judd.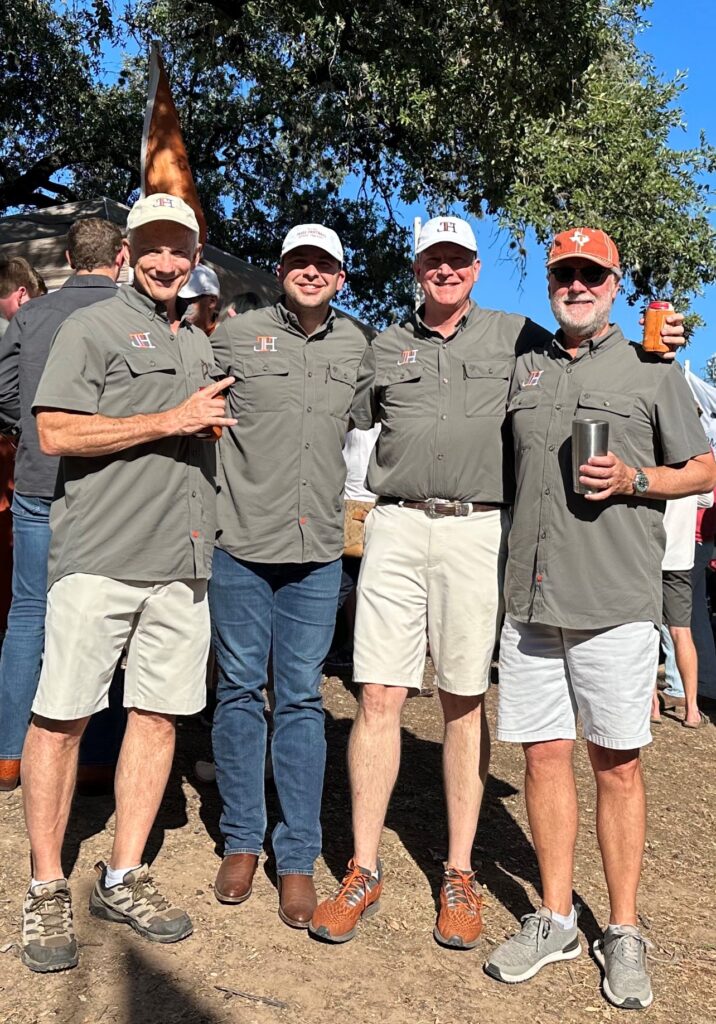 We had a ton of the usual gang there – friends and family of course.  But also quite a few special guests, including Chancellor JB Milliken and his wife Nana Smith (sorry about the Topo Chico spray!) and UT Regent Dr. Nolan Perez and his guest Hidalgo County Judge Richard Cortez.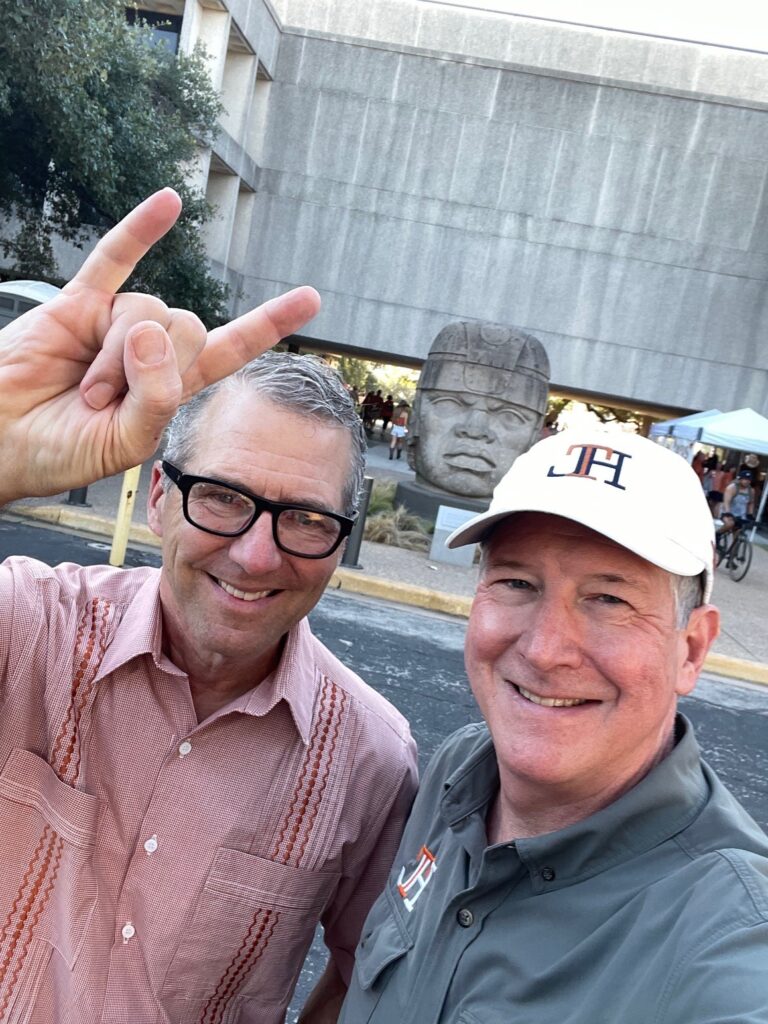 Several fellow board members from The University of Texas Foundation were there – Wofford Denius, Tracy LaQuey Parker, and Alfie Meyerson, as well as Mark Blake, an advisor to the Foundation.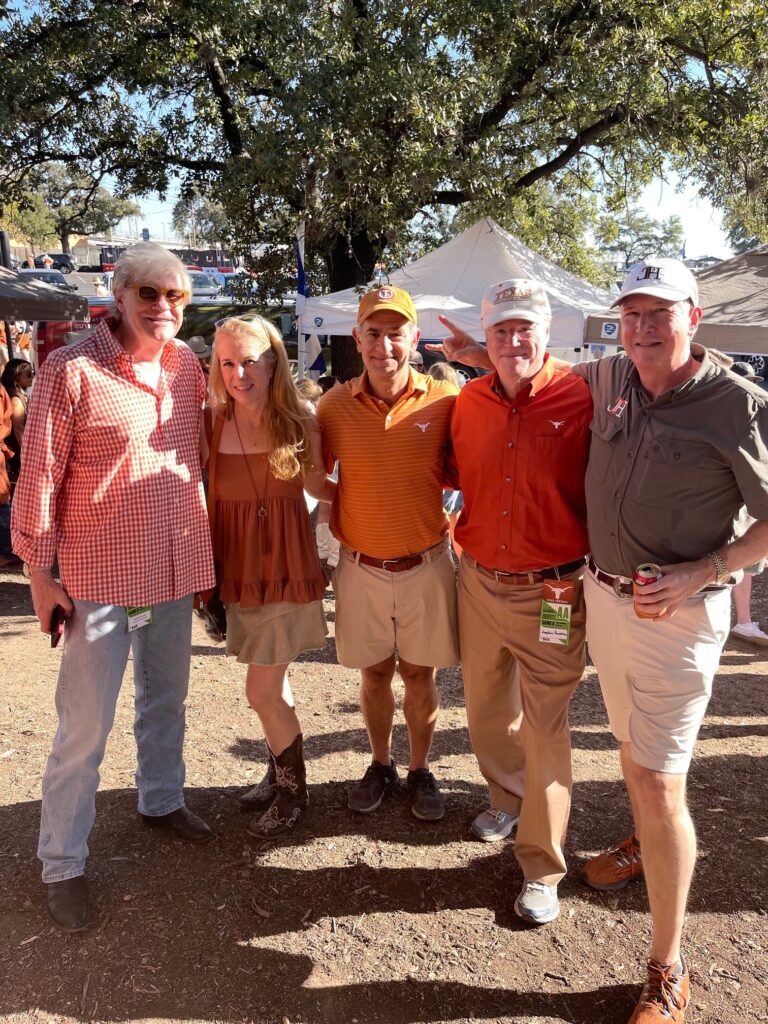 With the great weather, lots of Tito's Handmade Vodka flowing,  the 100+ people enjoyed a really great tailgate.  Judd was in line on Red River Street at 5:20 a.m. to make sure the site was secured, and Hunter Wilcox, Collin Shaw, Grant Martin, Sloan Byerly, and Rick Whiteley completed the Early Crew, without whom the Tailgate just wouldn't happen. JHT Manager Gabe Valadez did a great job again this week.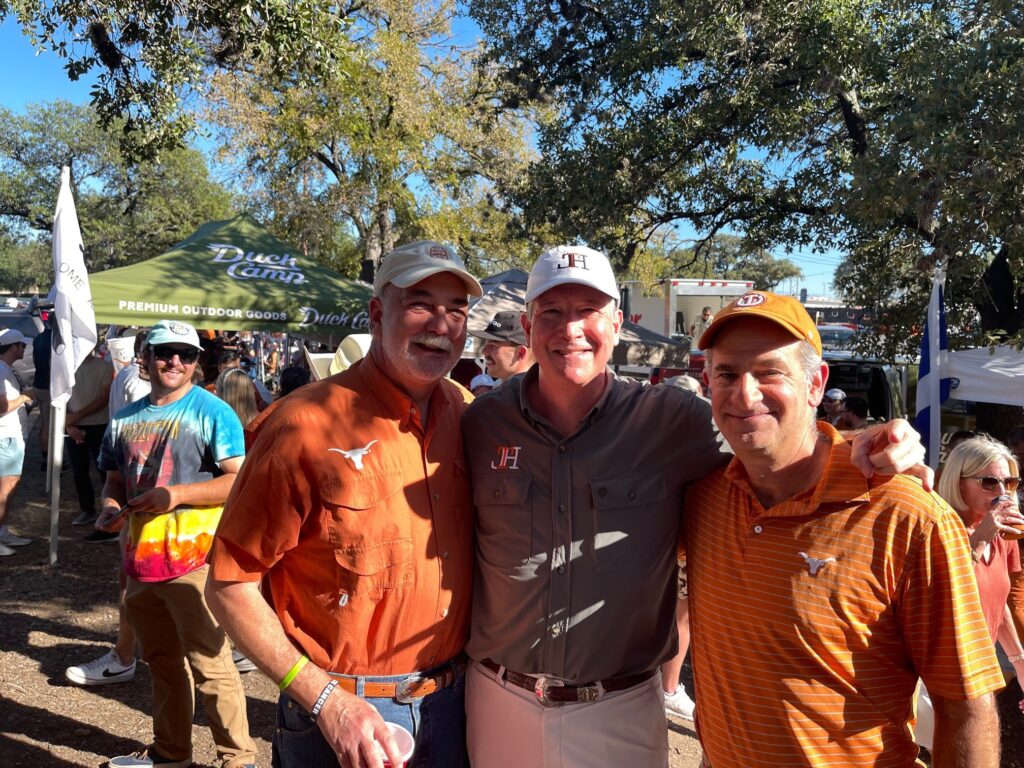 David Edelman, TCT, & Alfie Meyerson.
They announced the Iowa State game for 11:00 a.m., so it will be bloodies and breakfast tacos on October 15.  Oy.
Big XII – Week Six
We are only two weeks into the conference schedule, but it is apparent how critical every single game will be for every team.  To look at the standings and see Kansas on top follow by Kansas State is certainly unexpected.  Oklahoma State undefeated at 1-0 and right behind the Kansans is not a surprise, but Texas Christian even with the Cowboys is.  Texas, Baylor, and Texas Technological all 1-1.  Cyclones, Land Thieves, and Mountaineers 0-2.  This is going to be the craziest year in the history of the Big 12.  Assuming Texas wins Saturday, they will still have ahead of them on the schedule every team that is, at least as of Thursday night, ahead of them in the standings.  But winning the Big 12 is still a very achievable goal.
ESPN's College Gameday is going to Lawrence, Kansas – for a football game.  No. 17 Texas Christian and No 19 Kansas, both undefeated, with the Jayhawks looking to be 6-0 and bowl eligible.  11:00 a.m. on FS1.  Texas Christian favored by 6.5, and the over/under is 69.  Setting aside thoughts about Signs of the Apocalypse, this should be a good football game.
Texas Tech at No. 7 Oklahoma State, 2:30 p.m. on FS1.  Yes, the oddsmakers are really good.  But just a 9.5 favorite at home for the Cowboys?  No.  Over/under is 68.5.
No. 20 Kansas State at Iowa State, 6:30 p.m. on ESPNU.  Wildcats undefeated, and Cyclones 0-2 in Big 12.  Pretty important game for ISU.  Kansas State favored by just 1.5, and the over/under is 45.  I keep think the Cyclones are better too.
Top 25 – Week Six
No. 4 Michigan at Indiana, 11:00 a.m. on FOX.  Wolverines favored by 22.5, and the over/under is 59.5.
Should be a fun morning in Baton Rouge.  No. 8 Tennessee and No. 25 Louisiana State, 11:00 a.m. on ESPN.  Vols favored by 3, and the over/under is 65.
Arkansas at No. 23 Mississippi State, 11:00 a.m. on the SEC Network.  Bulldogs favored by 9.5, and the over/under is 57.5.  Remember when Arkansas was top 10?  Not so much.
South Florida at No. 24 Cincinnati.  1:30 p.m. on ESPN+.  Cinci favored by 27.5.
The 2:30 CBS Game is Auburn at No. 2 Georgia.  Despite last week's struggles, the Dawgs are favored by 29.5, and the over/under is 49.5.
A really good game in Pasadena, as No. 11 Utah and No. 19 UCLA meet in the Rose Bowl.  2:30 p.m. on FOX.  Utes are favored by 3.5, and the over/under is 64.5.  If you aren't in Dallas, then as soon as Texas wins and you stand up in your den and sing the Eyes of Texas (you do that, right?), then switch to this game.
Michigan State hosts No. 3 Ohio State in East Lansing.  Spartans are 27 point home underdogs; over/under is 65.
No. 9 Ole Miss heads up to Nashville for a game with 3-2 Vanderbilt.  3:00 p.m. on SECN.  Ole Miss favored by 17, and the over/under is 61.  But this smells like a trap game.  Kiffin better get his boys ready.
No. 21 Washington at Arizona State, 3:00 p.m. on the PAC 12 network which should contact Elon about StarLink because maybe then they would be seen somewhere on this side of the Rocky Mountains.  Huskies favored by 14.  Over/under is 57
No. 5 Clemson at Boston College, 6:30 p.m. on ABC.  Eagles are not very good, and the Tigers are.  Clemson favored by 20.5, and the over/under is 48.5.
Washington State at No. 6 Southern Cal.  6:30 p.m. on FOX.  Going to be a great opportunity for Eric Morris as he goes head to head with Riley and his offensive brain trust.  Trojans favored by 13, and the over/under is 65.5.
Speaking of not very good, South Carolina is 0-2, and they get to go to Lexington to play No. 14 Kentucky.  6:30 p.m. on SECN.  Wildcats are favored by 6.5, and the over/under is 46.5.
Army at No. 15 Wake Forest, 6:30 p.m. on ESPN3.  Could get ugly.  Demon Deacons favored by 16.5, and the over/under is 65.5.  THIS IS THE ONE.  Load up on Wake.
No. 16 Brigham Young vs. Notre Dame.  6:30 p.m. on NBC/Peacock.  This game is being played at Allegiant Stadium in Las Vegas as the 2022 Shamrock Series game.  Guess I am old fashioned, but the flagship Catholic university and the Mormon stalwart playing in Sin City just seems ironic, although both are committed to mission work and that is a ripe environment in need of salvation.  Oddly, Notre Dame favored by 3.5 points.  Over/under is 51.
And the Big Game!  Texas Agricultural and Mechanical University at No. 1 Alabama.  7:00 p.m. on CBS.  Alabama favored by 24, and the over/under is 51.  Jimbo is going to need a big, big night from his Wrecking Crew defense.
Florida State at No. 14 NC State, 7:00 p.m. on ACCN.  Wolfpack favored by 3, and the over/under is 50.5.
No. 12 Oregon at Arizona, 8:00 p.m. on the PAC 12 network.  Ducks favored by 13, and the over/under is 70.5.
Week Six:  Service Academies
Army game is above.
Tulsa at Navy, 2:30 p.m. on CBSSN.  Tulsa favored by 6, and the over/under is 45.
Air Force at Utah State, 6:00 p.m. on FS1.  Falcons favored by 10.5, and the over/under is 54.5.
Week Six:  Other Games of Interest
Wednesday night, Southern Methodist got smoked by UCF 41-19.  Didn't see that coming.
Friday Night
Houston at Memphis, 6:30 p.m. on ESPN2.  Tigers favored by 2.5 at home in the Liberty Bowl.  Over/under is 57.5.
Saturday
Louisville at Virginia, 11:00 a.m. on ACCN.  Both teams 2-3, both teams without an ACC win. Okay Cavaliers, here is a chance to get the season back on tract.  Louisvile favored by just 3, and the over/under is 50.5.  Go Hoos!
Kent State at Miami, 2:30 p.m. on ESPN+, from Yager Stadium in Oxford, Ohio.  Kent State favored by 5, and the over/under is 57.  Go Redhawks!
North Carolina at Miami (Florida), 3:00 p.m. on ESPN2.  Big opportunity for Coach Mack Brown and his Tarheels.  But they are 3.5 point road dogs.  The over/under is 66.
Western Kentucky at UTSA, 5:00 p.m. on ESPN+ from the Alamodome.  Roadrunners are favored by 6.5, and the over/under is 73.
Up the road in San Marcos, Appalachian State at Texas state, 6:00 p.m. on ESPN+.  Mountaineers are favored by 19 over the Bobcats, and the over/under is 55.5.
UTEP at Louisiana Tech, 6:00 p.m. on ESPN+.  Miners are 3 point underdogs, over/under is 52.5.
Oregon State at Leland Stanford Junior University.  10:00 p.m. on ESPN.   The Beavers and the Cardinal both looking for a conference win.  Oregon State are favored by 7 at the Farm, and the over/under is 56.5.
Washington & Lee Generals
The Generals did in fact run to victory last Saturday at Wilson Field, with a 31-0 shutout of the Averett Cougars.  W&L put up 338 yards rushing but, shockingly, another 173 yards passing.  Talk about spreading the wealth:  Andrew Bland, 3 carries, 69 yards, 1 TD; QB Stephen Murrin, 9 carries, 50 yards, 1 TD; Harry Crutcher, 12 runs, 50 yards, 1 TD; Jacob Romero, 9 carries, 42 yards; Alex Wertz, 7 runs, 38 yards, and backup QB Eli Hildebrandt, 9 carries for 33 yards.  Seven more Generals had at least one rush attempt.  Murrin threw for 108 Yrads (4/6), and Hildebrandt was 3/4, 65 yards, 1 TD.  Austin High Maroon Harrison Donovan returned from injury and got his first start of the season, which was extra nice since Jacy and John were there for Parents' Weekend.  W&L ran 80 plays to Averett's 47, 511 yards of offense to the Cougar's 216.
This Saturday, the Generals have their first ODAC road test at Guilford College in Greensboro, North Carolina.  2:00 p.m. Eastern time.  The Quakers are 1-3 on the 2022 season.  They opened with a 48-37 win over Greensboro College in the Gate City Soup Bowl, but it has been lopsided losses since then:  16-49 loss to Methodist, 7-47 loss to Huntingdon College, and a 19-48 loss in Ashland to Randolph-Macon to start ODAC play.  Against R-M, the Quakers gained 39 yards but lost 69 for a minus 30 net, while giving up 344 rushing yards on 48 attempts by the Yellow Jackets.  Bet that stung.  The Generals should get over 350 yards rushing this week, and Washington & Lee will be coming back to Rockbridge County with their second ODAC win.
RIP Tiffany Jackson
One of the best to ever suit up for the Longhorns and hit the hardwood in the Erwin Center was Tiffany Jackson.  She passed away on Monday at age 37 from cancer.  From Texas Sports:
Jackson's name can be found close to the top of nearly every statistical category in the Texas record books. She is the only person in program history to have accomplished the combined feat of 1,000 points, 1,000 rebounds, 300 steals and 150 blocks. Jackson currently ranks fifth in school history with 1,917 career points, fourth with 1,039 career rebounds, third with 313 steals and seventh with 181 blocked shots. She is one of only five players in program history to record more than 1,000 career points and more than 1,000 career rebounds.Jackson is one of three three-time All-Americans in UT history [joining Linda Waggoner and Andrea Lloyd], earning AP All-America recognition in 2005, 2006 and 2007, and USBWA All-America honors in 2005. She was a four-time member of the All-Big 12 Conference Team, including a three-time first-team selection. Jackson is one of just six players in UT history to earn first-team All-Conference honors in three different seasons. She also was the 2004 Big 12 Freshman of the Year.
Jackson has been here as an assistant coach since 2018, after retiring from WNBA.  Too young.  Cancer sucks.
Texas Volleyball
The No. 1 Texas Longhorns volleyball team remains undefeated.  Last Sunday in Lubbock, Texas swept the South Plains Aggies.  Wednesday night at Gregory Gymnasium, the Horns swept Texas Christian.  This is one heck of a volleyball team.
Big XII – Week Five
As noted above, No. 18 Oklahoma got hammered in Fort Worth by the Horned Frogs, 55-24.  I was sure wrong on that one.
No. 9 Oklahoma State went to Waco as 2.5 point underdogs to No. 16 Baylor.  I knew it would be a good game.  The Cowboys beat the Bears 36-25, despite Aranda's defense holding Spencer Sanders to 181 yards passing (was averaging 305.3), with one touchdown and one pick. Sanders did add 75 yards rushing and touchdown on the ground.  This, while Blake Shapen went off for 345 yards and 2 scores – but also 2 picks.  Wish I had time to watch that third quarter – OSU scored 17 and Baylor scored 22.
No. 25 Kansas State stayed hot with a 37-28 win over Texas Tech.  Donovan Smith was still pretty good – 34/48 for 359 yards and 3 TDs plus one rushing TD, but he threw 2 interceptions.  KSU QB Adrian Martinez passed for 116 yards and a score and ran for 3 more, while gaining 171 yards.  Deuce Vaughn added 170 yards on the ground, and both he and Martinez had long runs of 69 yards.  Wildcats are pretty impressive.
And of course Kansas wins, beating Iowa State 14-11 and moving to 5-0.  For those of you who haven't peaked ahead, the Longhorns go to Lawrence November 19.
Top 25 – Week Five
So UCLA has a kid named Dorian Thompson-Robinson. This is DTR's fifth season in Westwood, and he has played a lot.  And he hasn't gotten a lot of attention, maybe because UC Los Angeles hasn't been very good.  But DTR is.  He led the Bruins to a 40-32 upset of the No. 15 Washington Huskies in the Rose Bowl, passing for 315 yards and 3 touchdowns and running for 53 yards and a score.  Helped that Chip Kelly's defense held the Huskies to 65 yards on the ground.  I caught some of the game (which was really good, with Washington scoring 16 in the fourth quarter in a furious rally), and DTR is worth watching if you get the chance.
I have note that when I went to the UCLA Bruins official website Monday night, after this really important football win, the headline and lead photo was of Bruin water polo player Bernardo Maurizi being named the MPSF West/Delfina Player of the week.  Priorities.
One of the weekly funnies I enjoy is SEC Shorts.  Have to give the guys who produce this credit:  they make fun of everyone, and at least some portion of the SEC fan base has the ability to laugh at themselves.  I learned that can be helpful a few years ago.  Anyway, this week's installment was a classic (under 3 minutes):
Missouri gave No. 1 Georgia all the Dawgs could handles, as UGA had to rally with 14 fourth quarter points, with the last TD coming with under 5 minutes left, to escape Columbia with a 26-22 win.  Bulldogs were favored by 29.
No. 2 Alabama never trailed in Fayetteville, but No. 20 Arkansas gave them a game for three quarters.  Tide outscored the Pigs 21-3 in the fourth to win 49-26.  But Bryce Young was injured; not sure his status, but I bet he is well enough to beat Texas Agricultural & Mechanical.
No. 4 Michigan 27-14 over Iowa, who at least found the endzone twice in a game for the first time this seasons.  Wolverines covered.
Hotty Toddy!  Oh my is that home cooking good in Oxford.  No. 14 Ole Miss 22, No. 7 Kentucky 19.
Well, my Aggie friends, I thought y'all were being disrespected going to Starkvegas as 4.5 point underdogs to the Bulldogs, but turns out the boys in Las Vegas were right – just had the line low.  Mississippi State with a 31-3 first half lead that ended with a 45-27 victory over Jimbo and Texas Agricultural & Mechanical.  Mississippi State hit the total of 45 on their own.  At least we get Mike Leach giving out wedding advice in the post-game interview. Wonder if Trevor takes the Pirate's advice.  Hate Leach if you still must, but I am the forgiving type and the guy is hysterical.
https://www.espn.com/video/clip/_/id/34705217
No. 11 PSU 17, Northwestern 7.
Purdue upset the No. 21 Minnesota  Gophers 20-10.
Wake Forest is the real deal.  31-21 over Florida State.
Clemson is back!  The Tigers beat the NC State Wolfpack 30-20.
An ACC shocker as one win Georgia Tech went to Pittsburgh as 22 point underdogs and slew the Panthers 26-21.  31 points in the fourth quarter.  Must have been quite a game.
No. 3 Ohio State 49-10 over Rutgers.
Arizona State under with Southern Cal in the first half, but the Trojans took control and fought on to a 42-25 victory.  I look forward to playing those guys again; just not in the Coliseum.
No. 12 Utah 42-16 over the Oregon State Beavers.
Stanford's struggles continue.  No. 13 Oregon Ducks with a 45-27 win (31-3 at halftime).
Week Five:  Service Academies
Tough day in West Point, as Georgia State get its first win at the Army's expense, 31-14.
Air Force 13-10 over Navy.  The Midshipmen cover.  The Falcons actually passed the ball, and their only touchdown was through the air.  Go figure.
Week Five:  Other Games of Interest
UTSA Roadrunners with a 45-30 win at Middle Tennessee.  Wow.  Congrats.
Tulane beat Houston in Houston, 27-24.  The Green Wave is 4-1.
Memphis now 4-1 after a 24-3 win over Temple in the Liberty Bowl Memorial Stadium.
Texas State falls to the James Madison Dukes 13-40.  JMU undefeated.
Michigan State 13, Maryland 27.  Honeymoon over in East Lansing?
Attwaytogo Mack!  North Carolina 41-10 over Virginia Tech.
Tough loss for the Miami Redhawks, 20-24, to Buffalo.
The Citadel falls to the Mountaineers.  Appalachian State with a 49-0 drubbing.
Washington State 28-9 over Cal Berkeley.  The Elf has the Cougar offense humming.
UTEP 41-35 over Charlotte.
Illinois 34-10 over Wisconsin wasn't on my of interest list, but after the Badgers got beat by Bret Bielema, Wisconsin fired Paul Chryst.
Louisiana State with a huge win at Auburn, 21-17.  That win puts then even with Alabama in the SEC West, both at 2-0.  Then Ole Miss at 1-0, and then Mississippi State, Auburn, and Texas Agricultural & Mechanical at 1-1, with Arkansas at the bottom at 1-2.  And that's a pretty good team in Fayetteville.
Virginia falls 17-38 at Duke.  Going to be a long season for the Wahoos.
Rice was a 10 point home underdog to Alabama Birmingham, and the Owls beat the Blazers 28-24.  Nice!
Colorado 20, Arizona 43.  Ouch.
Florida 52-17 over Eastern Washington.
Music
Rest in Peace Loretta Lynn
Coal Miner's Daughter
Don't Come Home A-Drinkin'
Some Texas songs.
George Strait – If it Wasn't for Texas
Django Walker – Texas Longhorn.
Kevin Fowler – Texas Forever
Picture of the Week
Being a bit superstitious, sticking with @jtype this week.  Burnt Orange Sunset.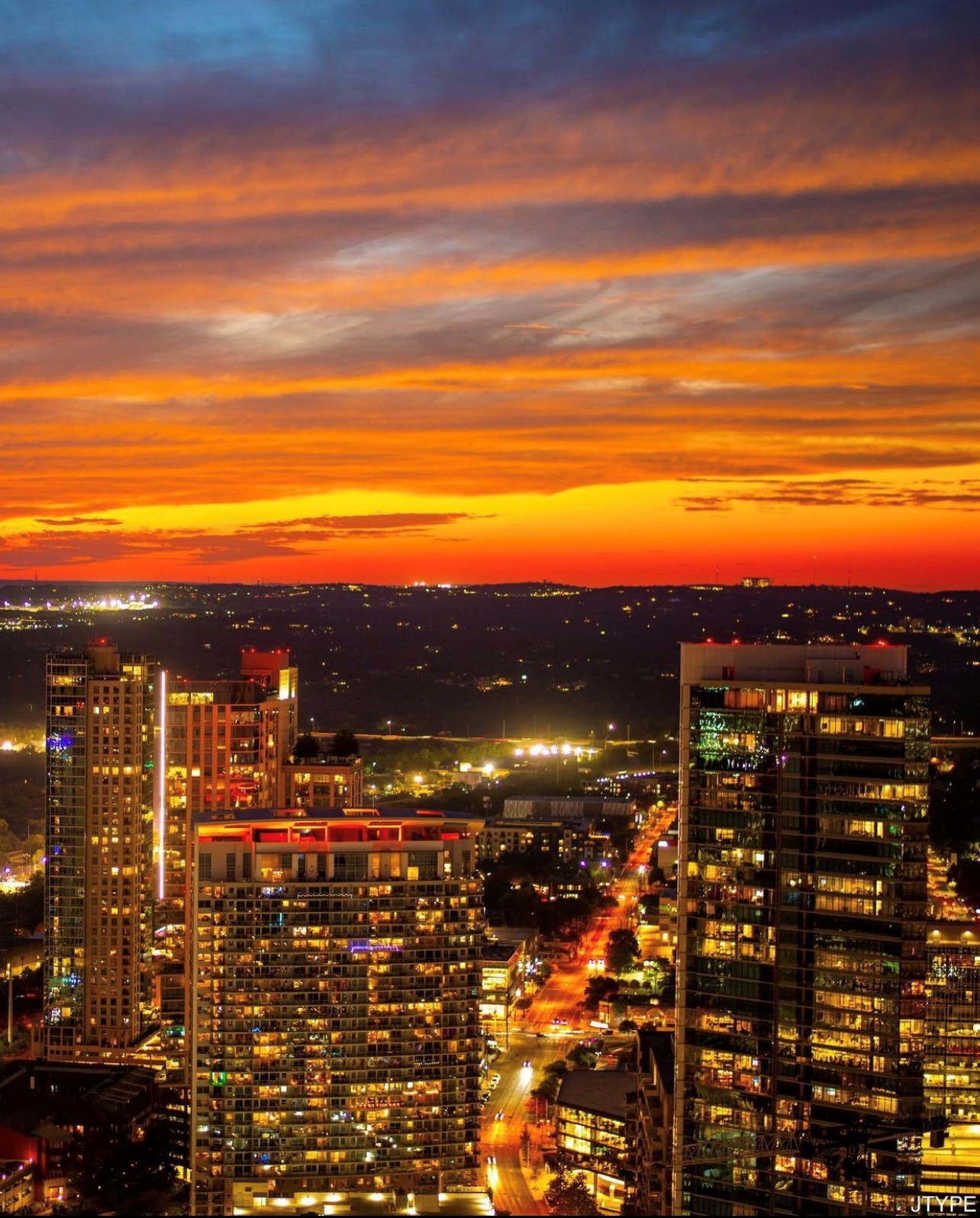 From @JType on Instagram.
God Bless Texas 
God Bless America
Tim Taylor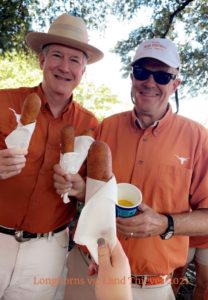 Tailgating before Home Football Games
The Juan Heisman Tailgate
Lot 38, East of Sid Richardson Hall.
HOOK EM HORNS!!
© Timothy C. Taylor, Sr. 2022.  All Rights Reserved (as to original material).
On Twitter:  @tctayloratx
On LinkedIn:  www.linkedin.com/in/tctatx
On Instagram:  @tctayloratx
On Facebook:  www.Facebook.com/Tim.C.Taylor
and:  www.Facebook.com/Juan.Heisman
You can contact me by mail:
Tim Taylor
P.O. Box 5371
Austin, Texas  78763-5371