Texas Longhorns vs. Arkansas Razorbacks
The Texas Longhorns head to Fayetteville this week to rekindle a rivalry that began in 1894 and now spans three centuries.  For those of my generation, and perhaps a bit younger, and for all of those older, this is among the most bitter of rivalries.  I enjoy beating the Pigs as much or more than any other team we play.
The game kicks off in FayetteNam at 6:00 p.m. Saturday night on ESPN.  We have an excellent crew with Joe Tessitore, Greg McElroy, and Katie George (one of top 3 teams for college games broadcast on the Entertainment and Sports Programming Network).  On the Radio with Craig, Roger, and Will.
Texas leads the series with Arkansas 57-22, and the Longhorns are 26-9 in Fayetteville.  The game was a sell-out as of last week.  The first time for Arkansas since 2017.
Louisiana Ragin' Cajuns 18, Texas Longhorns 38
The Texas Longhorns did what they should do every year to start the season:  take care of business.  This win is especially satisfying, as the victory was the first in the Sarkisian Era, over a ranked team, in brutally hot conditions.  (Thanks a lot FOX).  Texas more than doubled the line. Full review of the game below.
🎥: Texas vs. Louisiana 🤘 pic.twitter.com/ZQ9jqIBdSh

— Texas Football (@TexasFootball) September 7, 2021
Lit level 💯 🤘 pic.twitter.com/9suCusIMq9

— Texas Football (@TexasFootball) September 5, 2021
Bijan Robinson
That didn't take long.  With 103 yards rushing, 4 catches for 73 yards, and 2 touchdowns, Bijan is the Walter Camp Football Foundation Player of the Week and the Big XII Offensive Player of the Week.
Learfield IMG Directors' Cup
The University of Texas won the Learfield IMG College Directors' Cup for 2020-21.  This is a great achievement for Chris Del Conte, Chris Plonsky, Arthur Johnson, and all the athletic staff and coaches and players.  This is only the second time ever that a school other than Leland Stanford Junior University has won.  The Longhorns won three national championships – men's swimming and diving, women's rowing, women's tennis, and Texas was national runner-up in women's volleyball.  The Stanford Cardinal finished second.  Attawaytogo CDC.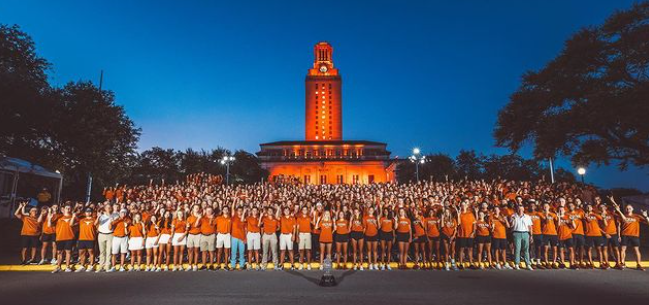 Texas Longhorns vs. Arkansas Razorbacks
I will get to the Game of the Century.  But being linear, I will walk us back.
We have played Arkansas 4 times this century.  Working from the present, our last meeting was in the Texas Bowl on December 29, 2014.  That was Charlie Strong's first season, and Texas got the bowl bid with the minimum six wins (which paired with six losses in the regular season).  Texas managed a touchdown in the second quarter, when Tyrone Swoopes ran the ball in from 9 out, but that was it.  Arkansas dismantled the Horns:  20 first downs to UT's 7 (Texas got 1 first down rushing in the game), 191 yards rushing to 2 for Texas (two net yards – not a typo), and 160 yards passing to 57 for the Horns.  And those are just a few of the stats from that abysmal game.  But that has been the taste and smell of spoiled pig meat with which we have had to live for nearly 7 years.  I am counting on Saturday to wash away that boar stench.
In 2008, Mack Brown's No. 7 Horns hammered Arkansas 52-10, in Austin.  Interestingly, the same score by which Texas beat Rice the week before.  On September 27, 2008, Colt McCoy, Jordan Shipley, and Quan Cosby, among others, whipped Arkansas.  25 first downs to the Pigs' 12.  208 yards rushing to 11 for Arkansas.  Overall, 421 yards of offense for the Horns, 191 for the Hogs.
Texas returns to Fayetteville for the first time since 2004, when the Horns won 22-20.  The Horns were ranked No. 7.  Cedric Benson rushed for 188 and 2 scores (1 receiving).  David Thomas caught 2 passes:  one for 49 yards and a touchdown (first score of the game).  Derrick Johnson led the Horns with 8 tackles.  It was a big road win against an old rival, and it helped set the stage for a great season which, as you will recall, ended with a Dusty Mangum field goal to beat Michigan 38-37 in the Rose Bowl.
The year before, Arkansas came to Austin and beat Mack's No. 6 Longhorns 38-28.
Texas and Arkansas began the new millennium and century together, on January 1, 2000, in the Cotton Bowl, where Arkansas beat the No. 14 Longhorns 27-6.
That's it in the last 20 years.  Of course before that, in the prior centuries, the rivalry between the Longhorns and Razorbacks was legendary, although the conference rivalry ended in 1991, after Arkansas moved to the Southeastern Conference in its expansion and reorganization into two divisions.  That last game in 1991 was a Texas loss at Arkansas, 13-14.  One of my favorite wins was 1989 in Fayetteville, when the Horns shocked the No. 7 Hogs, 24-20.  Tony Jones had 4 catches for 114 yards, including a 61 yard TD catch.
Looking back over the decades between 1969 and the Razorback departure, the rivalry was one which regularly featured nationally ranked teams.  The game often determined the outcome of the season one for one of the contestants, including ending hopes of a national title or conference championship.  I include this especially for the younger generation, who never knew this rivalry and how much it means in the History of the Texas Longhorns.
| | | | |
| --- | --- | --- | --- |
| Year | Horns | Hogs | Score |
| 1970 – Austin | No. 1 Texas | No. 4 Arkansas | W – 42-7 |
| 1971 – Little Rock | No. 10 Texas | No. 16 Arkansas | L – 7-31 |
| 1972 – Austin | No. 15 Texas | No. 17 Arkansas | W – 35-15 |
| 1973 – Fayetteville | Texas | Arkansas | W – 34-6 |
| 1974 – Austin | No. 16 Texas | Arkansas | W – 38-7 |
| 1975 – Fayetteville | No. 8 Texas | No. 20 Arkansas | W – 24-18 |
| 1976 – Austin | Texas | Arkansas | W – 29-12 |
| 1977 – Fayetteville | No. 2 Texas | No. 8 Arkansas | W – 13-9 |
| 1978 – Austin | No. 8 Texas | No. 3 Arkansas | W – 28-21 |
| 1979 – Little Rock | No. 2 Texas | No. 10 Arkansas | L – 14-17 |
| 1980 – Austin | No. 10 Texas | No. 6 Arkansas | W – 23-17 |
| 1981 – Fayetteville | No. 1 Texas | Arkansas | L – 11-42 |
| 1982 – Austin | No. 12 Texas | No. 6 Arkansas | W – 33-7 |
| 1983 – Little Rock | No. 2 Texas | Arkansas | W – 31-3 |
| 1984 – Austin | No. 3 Texas | Arkansas | W – 24-18 |
| 1985 – Fayetteville | Texas | No. 4 Arkansas | W – 15-13 |
| 1986 – Austin | Texas | No. 14 Arkansas | L – 14-21 |
| 1987 – Little Rock | Texas | No. 15 Arkansas | W – 16-14 |
| 1988 – Austin | Texas | No. 17 Arkansas | L – 24-27 |
| 1989 – Fayetteville | Texas | No. 7 Arkansas | W – 24-20 |
| 1990 – Austin | No. 19 Texas | Arkansas | W – 46-17 |
| 1991 – Fayetteville | Texas | Arkansas | L – 13-14 |
Tidbits through the years.
In 1970, Texas claimed its third National Championship after getting the vote in the UPI, although the undefeated Horns would fall to Notre Dame in the Cotton Bowl, 11-24.
In 1971, the loss to Arkansas was the only SWC loss for DKR and his Horns, who would still claim the conference championship
1972, the only blemish on the Texas record was a tough 27-0 loss to then No. 2 Oklahoma. Texas would finish 10-1, winning the SWC, and defeating No. 4 Alabama in the Cotton Bowl, 17-13
1973, Texas would finish 8-3, but went 7-0 in the SWC and claimed another conference championship for Coach Royal.
1976 was a tough one. Coach Royal's last season, as Texas went 5-5-1 and 4-4 in the SWC. Texas and Arkansas played on December 4 that year, and the 29-12 win in Austin saved Texas from a losing season.  Earl Campbell rushed for 131 yards and 2 scores.
1977 was Coach Fred Akers' first season. And Earl Campbell's senior season.  The only close games were Oklahoma (13-6 W) and Arkansas.  Earl rushed for 188 yards against the Pigs.  Texas ran the table until meeting up with Notre Dame in the Cotton Bowl.  The Irish crushed the hopes of another title and another perfect season, despite Earl's 116 yards.  Notre Dame was quarterbacked by Joe Montana.  It was cold.  We had an ice storm the night before as I recall, or at least bad weather, and it was just miserable.
1981's loss in Fayetteville was obviously costly. The only loss all year.  Houston tied Texas 14-14, and the Horns finished second in the SWC.  They did beat Alabama in the Cotton Bowl, 14-12
A perfect regular season. Texas lost to Georgia in the Cotton Bowl 9-10.  That one still hurts.
To finish out what I would call the modern era of Texas football, i.e., beginning in 1957 with the arrival in Austin of Darrell K Royal:  Between 1957 and 1968, Texas was 8-4 against Arkansas.  Like the decades that followed, there were season changing, life changing games.
For example, in 1964, No. 1 Texas lost to No. 8 Arkansas in Austin, 13-14, in a hard fought game.  Before the fourth quarter, the only score was a Razorback punt return in the second quarter.  Texas scored early in the fourth on a 2 yard run by Phil Harris.  Arkansas answered to retake the lead 14-7.  Ernie Koy scored with 1:27 left.  Down 14-13.  Texas went for the 2 point conversion, unsuccessfully.  That loss to Arkansas was the only one all season.  Texas would go on to beat No. 1 Alabama (and a guy named Joe) in the Orange Bowl, 21-17.
The 1964 National Champions?  The Arkansas Razorbacks.  Undefeated, and beat Nebraska in the Cotton Bowl, 10-7.  A little more color on that below.
The Game of The Century
I don't know how many times I have watched the 1969 clash between Texas and Arkansas.  I am guessing it is about even with the VY Rose Bowl, maybe even ahead.  I still get chills.  The voices of Chris Schenkel and Bud Wilkinson will forever be tied to that game in my memory.  The sight of Marine 1 landing and President Nixon arriving to watch the game.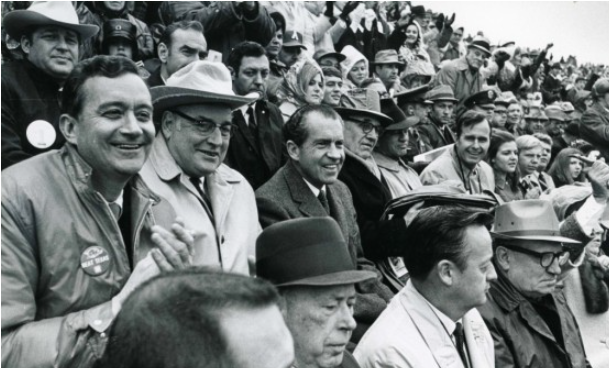 To the left of Nixon in the photo are Arkansas Congressman John Paul Hammerschmidt and Arkansas Governor Winthrop Rockefeller, to the right Arkansas Senators J. William Fullbright and John Little McClellen, and that is Texas Congressman George H.W. Bush looking toward the camera.
In the Centennial Year of College Football, this game was pushed to the first weekend in December, and the American Broadcasting Company got to broadcast the National Championship game on a cold (38 degrees) rainy day in "the foothills of the Ozarks".
The Game lived up to the hype.  If for some reason you have not seen the documentary of the 1969 season and team on the Longhorn Network, find it.  The interviews with the players are magnificent.
I am fortunate to have met some of those players.  The late James Street sat in front of us for several years at Memorial Stadium, and I watched James watch Huston pitch at the Disch many times.  I have had the privilege to meet and get to know, at least a little, Ted Koy, Bob McKay, Tom Campbell, and Randy Peschel.  I met Jim Bertelsen many years ago.  Last year, I had the honor of interviewing Bill Atessis.  I have included my piece on that interview in this email.
And this book is about 2 feet from me on my bookshelf as I type.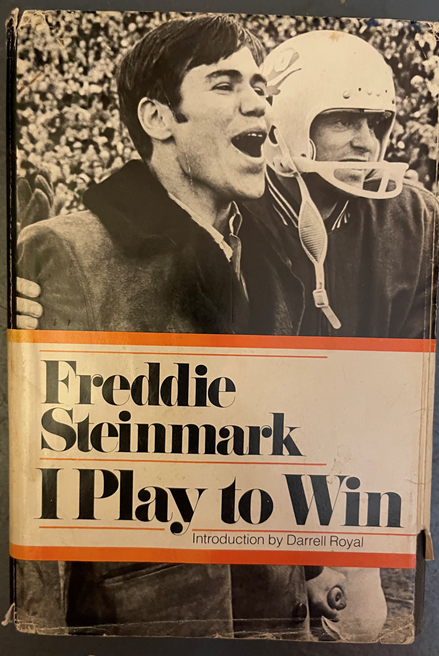 It was a pretty impactful book on a boy growing up in Tyler, Texas, who idolized the Longhorns.
There are many videos you can find on the internet, but this is a good one, and just 6 and a half minutes.
All of the game, and better quality, but condensed down to an hour and a half
I won't go back through the game.  I can't do it justice.  Watch it.  Find the documentaries and watch them.  Listen to narrations by Bill Little.  Watch and listen to Tom Campbell talk about the interception, and look at that smile on his face.  Those players were heroes in the eyes of little boys and grown men all over Texas.  Still are today.
Enough history.
Official Preview:
https://texassports.com/news/2021/9/6/no-21-19-football-preview-arkansas.aspx
Game Notes:
https://texassports.com/documents/2021/9/6/02_Arkansas_1.pdf
Texas Depth Chart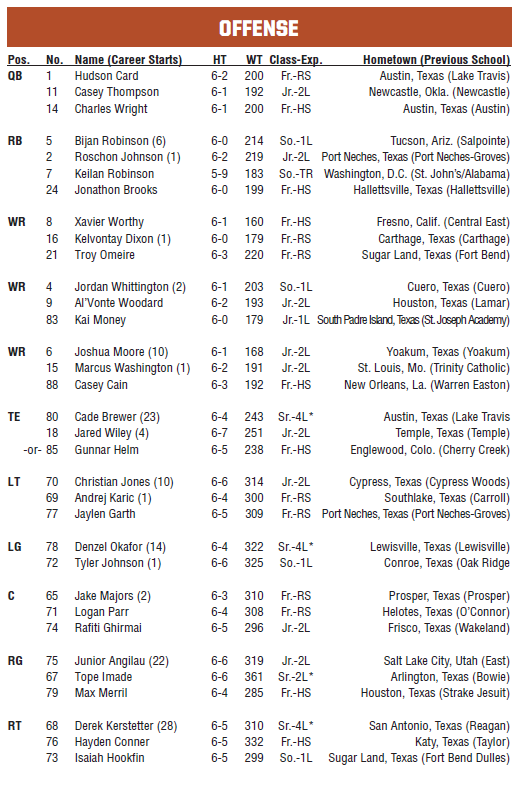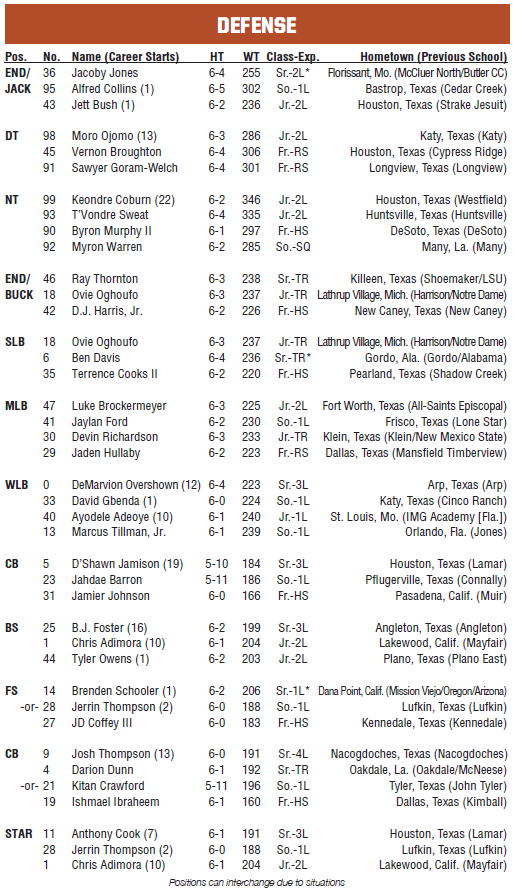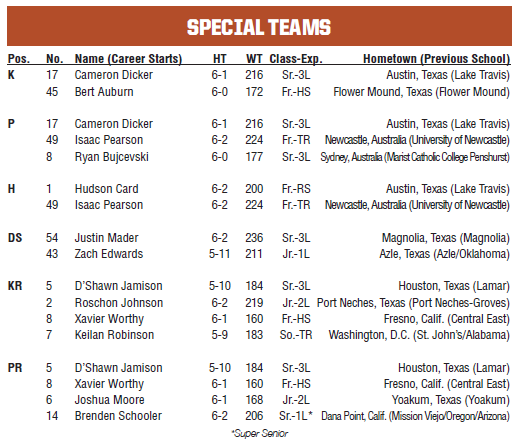 Arkansas Razorbacks
Arkansas has been playing football since 1894.  They played 3 games that year:  Two against Fort Smith High School and one against Texas (Texas won 54-0).  Their record is 720-521-40.  The Hogs have one national championship in 1964.  Thirteen conference championships, all in the Southwest Conference.  Seven of those were under the great Frank Broyles.
I should note that with regard to the 1964 national championship, there were seven organizations awarding national championships.  The two biggest and most routinely accepted were the Associated Press and United Press International.  The year before, Texas was recognized as national champion by the AP and UPI.  But, as the Arkansas media notes correctly point out, in those days AP and UPI award their national championships before the bowl games.  In 1964, Arkansas wen 10-0 in the regular season, and then beat Nebraska in the Cotton Bowl 10-7.  The Razorbacks finished 11-0, while Texas beat Alabama 21-17 in the Orange Bowl.  Alabama, coached by Bear Bryant and captained and quarterbacked by Joe Namath, had been given the AP and UPI national titles before falling to Texas in Miami.
Two organizations waited until after the bowl games to name the national champion: The Football Writers Association of America and the Helms Athletic Foundation.  And both awarded their national championship titles to Arkansas.  I should note that Notre Dame and Michigan also were honored by lesser known polls.  The next year, AP started waiting until after the bowls were played, and UPI followed suit in 1974.
Mr. Broyles is without doubt their greatest coach (1958-1976, 144-58-5, .708), although Lou Holtz (1977-1983, 60-21-2, .735) and Ken Hatfield (1984-1989, 55-17-1, .760) had great runs in Fayetteville.  Since Hatfield left, Arkansas has had 8 head coaches, including Houston Nutt, Bobby Petrino, and Bret Bielema.
The last few years have been tough on the Hogs.
In 2016, they went 7-6, 3-5 in the SEC
2017, 4-8, and 1-7 in the SEC (a 1 point win over Ole Miss).
2018, 2-10, 0-8 in the SEC.  That included a home loss to North Texas in Fayetteville.
2019, 2-10, 0-8 in SEC.
2020, they were 3-7. Recall the SEC didn't play any non-conference games.
So in the last 5 years, they are 7-35 in the SEC.  Several of their non-conference wins are over FCS schools.  Their last winning season was 2015, when they went 8-5.
Based on their comeback win over Rice, it looks like the Arkansas running attack is pretty stout.  No. 22 Trelon Smith rushed 22 times for 102 yards and 1 score.  No. 1, quarterback K.J. Jefferson carried 9 times for 89 yards and 2 scores, with a long of 38.  [Charles, Josh, and other Ole Miss folks – K.J. is from Sardis and went to North Panola H.S.]  No. 5 Raheim Sanders ran 7 times for 44 yards.  Jefferson was 12-21 with one interception and one touchdown, 128 yards, and was sacked twice.
N0. 16 Treylon Burks had 5 catches for 42 yards, and No. 19 Tyson Morris had 3 catches for 42 yards and a touchdown.
Defensively, Arkansas was led by No. 10, Bumper Pool (really), who had 14 tackles (3 solo) and 1.5 TFL.  No. 1 Jalen Catalon had 11 tackles (6 solo), a TFL, and 2 interceptions that he returned for 83 yards.  Catalon is a pre-season AP All-American.
Arkansas is coached by Sam Pittman.  Now, I have to give the media and sports information folks in Fayetteville some credit.  This is from the 2021 media guide, talking about their coach.  I think you could put this in the Urban Dictionary next to "putting lipstick on a pig":
Preaching belief, it did not take long for Pittman to make the state proud. Under the first-year head coach, Arkansas compiled a 3-7 record against an ultra-challenging SEC-only schedule in a season marred by the COVID-19 pandemic. In week two, the Razorbacks defeated No. 16 Mississippi State on the road, 21-14, snapping a 20-game SEC losing streak and claiming their first win against a ranked team since November 2016. Pittman oversaw immediate change on both sides of the ball with the offense averaging 51 more total yards per game and the defense forcing seven more interceptions than the 2019 team.
And for those Razorback fans who might read this and who are going to the game, make sure you wear the right color!  Here is the link for the Stripe Out Texas map:
https://arkansasrazorbacks.com/stripe-out-texas-map/
Bless their hearts.
Since we only have one game of stats, let's see how the Hogs did against the Mighty Owls of William Marsh Rice University.  Rice led at the half, and the game was tied at one point in the fourth quarter.  According to Alex Loeb (LHN & ESPN – @SpanningTheLoeb), Arkansas fans were booing.
Arkansas racked up 373 yards of offense to Rice's 308.  The Owls went for 227 in the air, the Hogs managed 128.  But Arkansas did run well, 245 yards on the ground, holding Rice to 81.  Rice had more first downs – 19 to 18.  Arkansas was a solid 3 for 11 in first down conversions against that rough Rice D.   Okay.
Longhorns vs. Razorbacks
Together 🤘 pic.twitter.com/3akzOdrvmO

— Texas Football (@TexasFootball) September 10, 2021
Texas is favored by 7, and the over/under is 56.5
I think this will be a close game in the first quarter.  All those pig-hat wearing fans calling the Hogs.  The pent-up hatred unleashed on the Horns.  But that won't sustain an overmatched team.  Texas will have the lead at halftime, and the second half will be solid for Texas.  I think the line is low again.
            Longhorns 40, Razorbacks 28
The University of Arkansas
The Flagship of the University of Arkansas System, UA is a public land-grant university.  Founded in 1887 as Arkansas Industrial University.  2019 enrollment was 27,559.
Two of its most famous alumni are Bill Clinton and Jerry Jones.
Louisiana Ragin' Cajuns 18, Texas Longhorns 38
One great benefit of my hobby of writing about Texas football is that I am on a few very interesting email chains and text threads.  And I get a lot of emails and texts from friends about the games.  Every now and then, a theme will emerge in the threads and chains about a game.  Sometimes good, sometimes not.  This week was good.    C  C  C  Calm.  Control.  Confident.
Over and over again, that sense and vibe of confidence and control of the game – all aspects of the game – came across.  I saw it too.  I was fortunate to enjoy the game in the air conditioned comfort of the Frost Bank suite in the north end zone, thanks to the kind invite of Tim Crowley (it was a helluva great time with great friends; and not 100 degrees).  So unlike watching a game from my seats on the west side, I could see and watch the Texas sideline and coaches.  It was like they had a game plan, the coaches and players knew the plan and knew how to execute it, and everyone did their job.  It was awesome.  I think my hope expressed last week may be fulfilled:  I think Saturday was the last "first game" for a long time.  We are so glad you are here Steve Sarkisian.
On to the game.  First, the box score.  I remembered when I started working on this, the one tool I need more than any other are the quarter splits on the statistics.  They tell such a different story than the full game box.  Anyway, the team stats were remarkably even in some categories (first downs [ULL 22, UT 21], passing yards [ULL 282, UT 265], offensive plays [ULL 69, UT 68]), and decidedly in favor of Texas in others.  Texas rushed for 170 yards, while holding ULL to 76 (net – it was 108 gross, 32 lost).  I think the most important differential was third down conversions:  ULL was 4 of 14, Texas was 10 of 15.  Although credit the Cajuns for 3 for 3 on fourth down tries.  Texas had an edge in time of possession – 33:13 to 26:47, but not overwhelming.
And yet, the game never felt close.  Texas in control for 60 minutes.  Sarkisian and his coaches ran a great game, the players executed well.  Exceptionally well really, when you consider (i) first game of the season, (ii) first game with a new coach and system, (iii) first game for a freshman quarterback replacing a legend, and (iv) first game in ridiculous heat against a quality opponent.  And I want to emphasize Hudson Card's play:  it was good.  14 of 21, 224 yards and 2 TDs, and a rushing touchdown.  (One amateur prognosticator said Card would be 24 for 36 and 220 yards and 2 scores.)
As expected, the running backs shined, especially Bijan Robinson.  If he plays this way through December, we are going to have a spectacular hour and a half Bijan highlight reel for 2021.  He is just a real pleasure to watch run and catch and run.  I was very impressed with Keilan Robinson and his 41 yards.  The 2 Robinsons averaged 5.2 and 5.1 yards per carry (respectively alphabetically).
Jordan Whittington was great too.  113 yards on 7 catches and a score.  He is an amazing talent and a real X factor for the Sarkisian offense.  My only surprise was that the only tight end to catch a pass was Cade Brewer, although it was a score.
Defensively, DeMarvion Overshown really looked great.  13 tackles to lead the Horns.  Right behind Agent 0 was Luke Brockermeyer with 10 (1.5 TFL and 0.5 sack), and Ovie Oghoufo with 7 (1.5 TFL and a sack).  Nice to see the linebackers leading the defense.  I think that is a good sign for the season.
The Game. 
I had anticipated D'Shawn Jamison would return a punt, kick, or pick for a score.  Sure enough, after ULL punted on the first series, Jamison took it 83 yards to the house.  Called back for illegal block in the back.  One of two Texas fouls on the play.  Oh well.
ULL did get the first score on a drive that got the Cajuns to the Texas 11, but a TFL and the sack by Overshown and Brockermeyer on third down forced a field goal.
Texas responded with a 5 and a half minute, 70 yard drive that started with a 9 yard pass to Bijan and ended with an 18 yard touchdown pass to Bijan.  Some good plays in between, the biggest probably Card's scramble for a first down on 4th and 6.   Texas took the 7-3 lead and never looked back.
Was disappointed in Dicker's missed field goal in the Texas drive at the start of the second quarter.  But on their next possession, Texas executed a sustained 7:25 scoring drive that ate up most of the frame.  This Texas drive featured Jordan Whittington, who caught passes of 15 yards, 13 yards, and 11 yards.
ULL got a field goal to close the first half, Texas 14-6.  Not as big of a lead as I think we all wanted, but a well-played half for the new staff and their players.  It did not feel that close.
Texas and ULL traded punches in the third quarter.  Texas got the ball to start and drove 65 yards in 3 minutes to score.  Several solid runs for Bijan, but the play of the drive was a great 41 yard pass to Whittington.
I have to give ULL credit.  They answered with a touchdown drive of their own.  Didn't like that 27 yard touchdown run.  Snacks blocked the PAT.
ULL attempted an onside kick and Texas was ready I think (good coaching).  But in re-watching that, I can't help but wonder how much closer the game might have been if Texas didn't cover that kick.  ULL had momentum, and a drive and a score there would have made it 21-19, or maybe even 21-20.  In hindsight, maybe the biggest play of the game.
So the Texas drive started at the ULL 48, and Bijan ripped off 19 yards on the first play.  Another yard on the ground from Bijan, then Card to Bijan for 18 and first and 10 on the 10.  RoJo with a couple of rushes, then Card took it in from the 3.  28-12 Texas, and it felt like that was the game.
Texas had the ball and was driving with Casey Thompson when we rolled from the third to the fourth.  I thought Thompson looked great.  Nice passes to Whittington for 16 and the TD pass of 14.  35-12 Texas.
ULL got another score as Coach PK got to get a look at some of his other guys in game situation.  The Ragin' Cajun onside kick failed again, and Texas had a short possession ending with a very nice 49 yard field goal from Dicker the Kicker.
38-18 Texas final.  I underestimated our defense.
I thought Card and Thompson were great.  Bijan and RoJo and Whittington all lived up to expectations plus some.  Was very impressed with Oghoufo.  If there is an area that needs some quick improvement, I think it is probably the offensive line.  Texas gave up 3 sacks.
Highlights
Highlights from FOX in 5:11:
Full Game:
Highlights in 23 minutes, but you still have to listen to Brando.
Highlights in 3:45 from the Big XII:
And for those of you who have never experienced the brilliance of the call in Spanish from Dr. Rubén Pizarro-Silva and Jesus Mendoza, enjoy:
The Polls
Pretty much as I expected.
AP Top 25:  Alabama, Georgia, The Ohio State UniversityTM, Oklahoma, Texas Agricultural & Mechanical, Clemson, Cincinnati, Notre Dame, Iowa State, Iowa.  Southern Cal at 14, Texas at 15.  Ole Miss in at 20 after the impressive whipping of Louisvile.  UNC drops to 24
Coaches Poll: Roll Tide, UGA, Buckeyes, Land Thieves, Texas Agricultural & Mechanical, Clemson, L'Université de Notre Dame du Lac, Cinci, Gators, Iowa State University of Science and Technology.  Men of Troy at 14, Texas at 15, and Ole Miss at No. 20.  Mack and the Heels drop to No. 22.
Arkansas
I have many favorite Arkansas jokes, but my all-time favorite:  Do you how we know the toothbrush was invented in Arkansas?  Because if it had been invented anywhere else we would call it a teethbrush.
Week Two Games
After opening weekend's stellar line-up of games, Week Two is a bit meh.  The Texas game with Arkansas is one of the best in terms of rivalries – the best really of the weekend.  Air Force at Navy for those who love the spectacle of service academy match-ups.  The Cy-Hawk Trophy game in Ames (well, kind of).  Stanford at Southern Cal.
This Week's Games – The Big XII
Kansas is playing on Friday night again.  I don't expect this week to be quite as rewarding for the Jayhawks, who are traveling to South Carolina to play No. 17 Coastal Carolina.  6:30 p.m. on ESPN2.  The Chanticleers are favored by 26.5, and the over/under is 52.  I may have to watch this.  A rare opportunity to cheer for the Jayhawks.
Saturday
For about half the conference, a pathetic lineup of games for the Big 12.  Five of the games don't even have lines (at least lines published on ESPN.com).  Will start with the good games.
No. 10 Iowa at No. 9 Iowa State.  3:30 p.m. on ABC from Jack Trice Stadium in Ames.  To my surprise, the line Sunday night was Cyclones by 3.5.  Thursday night, it was 4.5.  It will be a big day in Ames, with College GameDay there for the Cy-Hawk game.  "It is a tremendous privilege to host GameDay twice in three years and a testament to the incredible job Matt Campbell, his staff and student-athletes are doing on and off the football field," Iowa State athletics director Jamie Pollard said. "This will be a tremendous opportunity to showcase Iowa State University, our football program and fans to a national audience."  We shall see.  I wish the Cyclones luck.
Tulsa at Oklahoma State.  11:00 a.m. from Boone Pickens Stadium, broadcast on FS1.  Tulsa was stunned last weekend 19-17 by UC Davis, an FCS school who went to Tulsa as 22 point underdogs.  This week, Tulsa is the underdog.  OK State favored by 13, and the over/under is 51.
California at Texas Christian.  2:30 p.m. on ESPNU.  Horned Frogs favored by 11.5 (the line has moved up a bit), and the over/under is 47.5.  For some reason, I stayed up watching Cal's loss to Nevada late Saturday night.  Well, I was awake for some of it.  The Wolfpack won 22-17 over the Golden Bears.  I think Texas Christian gets the W at Amon Carter on Saturday.
Southern Illinois vs. Kansas State.  6:00 p.m. on Big 12/ESPN+.   This is not a bad game, as the Salukis are a good FCS Missouri Valley Football Conference team.  SIU finished 3-3 last year.
Stephen F. Austin vs. Texas Tech, 6:00 p.m. on Big 12/ESPN+.  The Lumberjacks beat Tarleton last weekend, 20-10.
Long Island University at West Virginia.  4:00 p.m. on Big 12/ESPN+.  The Sharks play in the Northeast Conference, same as the Duquesne Dukes who came to Fort Worth for a paid beating last weekend.  The NEC is also home to Wagner, Fairleigh Dickenson, and a few others, including St. Francis and Saint Francis.  But there is one school in the NEC with which I am familiar – Bryant.  The Bulldogs are competitive in Division I men's lacrosse, coached by Mike Pressler, W&L 1982.
Western Carolina at No. 4 Oklahoma.  The Catamounts are hopefully being paid a handsome appearance fee for this.  WCU lost to Eastern Kentucky last weekend.  This game is pay-per-view only.
Texas Southern at Baylor.  6:00 p.m. on Big 12/ESPN+.
This Week's Games – The Top 25
No. 12 Oregon at No. 3 The Ohio State University TM.  11:00 a.m. on FOX.  Buckeyes favored by 14.5, over/under is 63.5.
Alabama State at No. 25 Auburn.  11:00 a.m. on SECN.  No line.
No. 13 Florida at South Florida, 12:00 noon on ABC.  Gators are favored by 28.5 over the Bulls, and the over/under is 58.5.
Middle Tennessee at No. 19 Virginia Tech.  1:00 p.m. on ACCNx.  The Blue Raiders are coming off a monstrous 50-15 opening win over Monmouth.  The Hokies, of course, with that big win over Coach Mack Brown and the Tarheels.  Virginia Tech favored by 20, over/under is 54.5.
Toledo at No. 8 Notre Dame, 1:30 p.m. on Peacock.  No, not NBC. Not using some of my slang.  On Peacock.  Irish coming off the emotional win over Florida State, favored by 17.  Over/under is 55.5.
UAB at No. 2 Georgia.  2:30 p.m. on ESPN2.  Blazers beat Jacksonville State 31-0, but they won't beat Georgia.  Bulldogs favored by 24 and over/under is 45.  Yes, Georgia will win.  But since their offense couldn't find the endzone last weekend, going to be interesting to see how many points they hang on UAB.
No. 5 Texas Agricultural & Mechanical at Colorado.  Good game!  2:30 p.m. on FOX.  Playing at Mile High Stadium in Denver.   Aggies favored by 17, and over/under is 50.
No. 7 Cincinnati hosts Murray State.  2:30 p.m. on ESPN+.
Ball State at No. 11 Penn State. 2:30 p.m. on FS1.  PSU favored by 22.5 and the over/under is 58.
I will be interested in the combined scores of these next two games:
Mercer at No. 1 Alabama, 3:00 p.m. on SECN.  No line?  Why?  The Bears beat the Point University Skyhawks 69-0 last weekend.
South Carolina State at No. 6 Clemson.  4:00 p.m. on ACCN.  No line.
Eastern Michigan at No. 18 Wisconsin.  6:00 p.m. on FS1.  Wiscy favored by 26, over/under is 52.
Appalachian State at No. 22 Miami (Florida).  6:00 p.m. on ESPNU.  Canes favored by 9, over/under is 54.  Mountaineers are coming of a 33-19 win over East Carolina.  Hurricanes are coming of a 44-13 ass-kicking by Alabama.  You know who I'm pulling for.
Austin Peay vs. No. 20 Ole Miss.  6:30 p.m. on ESPN+/SECN+.  Should be a nice day in The Grove.  And a nice night in Vaught-Hemingway.
Georgia State at No. 24 North Carolina, 6:30 p.m. on ESPN3.  Well, at least Mack and his Heels can get well against the Panthers.  Or should.  Carolina favored by 25.5, over/under is 66.
Two good late games.
No 21. Utah and Brigham Young.  The Holy War.  9:15 p.m. on ESPN.   A great rivalry that began in 1896.  This will be the 101st game.  Who leads the series depends on who you ask.  I understand many things are open to interpretation.  Utes say they lead the series 62-34-4.  Brigham Young says Utah leads 59-31-4.  I have no idea.  Utah favored by 7, over/under is 49.  I think I will take Brigham Young playing at home in LaVell Edwards Stadium.
Stanford at No. 14 Southern Cal.  9:30 p.m. on FOX.  Leland Stanford Junior University will be 17 point underdogs in the Coliseum.  Over/under is 53.5.
 UNLV at No. 23 Arizona State.  9:30 p.m. on ESPN2.  Sun Devils favored by 34, over/under is 54.5.
Other Games of Interest This Week
Friday
UTEP at Boise State.  8:30 p.m. on FS1.  Believe it or not, the Miners are 2-0.  But Broncos favored by 26, and the over/under is 56.5.
Illinois at Virginia, 10:00 a.m. on ACCN.  Cavaliers favored by 10, over/under is 55.5.  Go Hoos!
Western Kentucky at Army, 10:30 a.m. on CBSSN from Michie Stadium in West Point.  Army favored by 5.5, over/under is 52.
Miami (Ohio) at Minnesota.  11:00 a.m. on ESPNU.  Gophers favored by 18.5, over/under is 53.5.
Air Force at Navy, 2:30 p.m. on CBS. Navy-Marine Corps Memorial Stadium, Annapolis, Maryland.  Falcons favored by 6, over/under is 40.5.  Go Navy!
Lamar at UT San Antonio, 5:00 p.m. in the Alamodome.  Birds up!
Houston vs. Rice, 5:30 p.m. on CBSSN.  It occurred to me as I typed that there are probably far more Rice fans who receive and read my newsletter than Houston fans.  Which I appreciate.  Houston favored by 8, over/under is 52.5.  Go Rice.
North Texas vs. Southern Methodist.  6:00 p.m. on ESPN+.  Man, ESPN+ is going to be busy at 6:00 o'clock Saturday night!  Mustangs favored by 22.5, over/under is 73.  Go Ponies.
McNeese at Louisiana State, 7:00 p.m. on ESPN+/SECN+.  I think the Cowboys are going to have a tough night in Tiger Stadium.
Not ranked Washington at Not ranked Michigan.  7:00 p.m. on ABC.  This was supposed to be the marquee game of the day in prime time, but the Huskies crapped the bed against the Montana Grizzlies.  And Michigan must have been singularly unimpressive to the voters.  Michigan only favored by 7, and the over/under is 48.5.
Bill Atessis
The week before the Kansas game in 2019, I had a great visit by telephone with Bill Atessis and his wife when they were driving up to Austin for the 1969 national champions team reunion and the Kansas game.  Here are the highlights from my call with Bill:
On DKR:  Coach Royal expected you to know how to do your job and to do it. There was no compromising on what he expected of you.
Great DKR Story:  "He did apologize to me once in front of the whole team after a game. I was on punt return as a defenseman, because defense played punt return [no special teams], and I peeled back on the punt.  As the offense's left tackle was coming down the field I laid him out, rolled up on him, and I was flagged for clipping. When I went to the sideline Coach Royal greeted me, and he was mad.  He benched me for a couple of series as my punishment, to make sure I understood that there was a consequence of my action [the clipping penalty].  Well, on Sundays we watched film. As we are watching the film from that game, Coach Royal stopped the projector, and he apologized to me in front of the whole team.  He said it was a good block and a bad call."
We talked about the 1969 game with Arkansas, the Game of the Century, and Bill shared this memory:  "Coach Royal wasn't real big on emotional pep talks. But before the Arkansas game he had told the team that "I want to let you guys know we asked Arkansas that if the game was tied at the end, could we have a playoff.  We checked with the conference, and they are okay with it.  However, Arkansas declined."  We all knew that if they were scared of a playoff [what would now be overtime], then they're sphincters were so tight that they couldn't pass a pumpkin seed."
I asked about the great Coach Mike Campbell.  "He was a different kind of animal.  He made me the player I was. You have to remember that Coach Campbell and the other coaches fought in World War II. They had a nerves of steel.  Being in a tight football game was nothing compared to what they had seen and been through in the War."
Coach Campbell had his defense spend a lot of time practicing goal line stands, and as we know, that Texas defense was very good at it.  Bill said "If they drove down the field and were on our 2 or 3 yard line, we felt like we had them right where we wanted them".  The Texas defense made a number of goal line stands that year, and the strength of that defense is not remembered as well as the prolific wishbone offense, but it should be.
Great stuff:  "On defense we all had position responsibilities. I loved the option because the quarterback options off the defensive end [the position Bill played], and the quarterback was always watching me.  If I sat on the line and didn't create a gap, then that forced the quarterback to make the decision quick.  If he kept it, I tackled him, and if he pitched it, I was in position to make that tackle."  Great example of the discipline on Coach Royal's team and Coach Campbell's defense, and what Bob McKay emphasized over and over:  you went out and did your job.
Texas Volleyball
The volleyball team is back in Gregory Gym and rolling.  The Horns are 5-0 and No. 1 in the country, boasting wins over No. 10 Minnesota in Minneapolis (3-1) and No. 20 Stanford (3-0).  For anyone in Austin this weekend, they play Arizona Friday night at 7:00 p.m. and Notre Dame Sunday at 12 noon.  Go Horns!
Week One Games
Thanks for all the feedback on recaps of the prior week's games.  It was helpful, and so there will usually be a look back at the conference games, other key national games, and then my Games of Interest.
The best part of the overall weekend:  a sweep for the Taylor-Dean-Fleming families.  Texas, Virginia, Notre Dame, and Ole Miss all won.
Of note last weekend, in addition to the big win for The University of Texas and the Taylor Superfecta, our brethren in the System had a good weekend – UTSA with that big win over Illinois, UTPB Falcons beat Southwest Baptist 24-16 on the road in Bolivar, Missouri, and UTEP beat Bethune-Cookman 38-28.
Week One – The Big XII
Kansas rallied late to beat South Dakota 14-7.  Someone told me the Jayhawks stormed the field.  Oh my.
The Tulane Green Wave gave the No. 2 Land Thieves a game.  Spencer Rattler threw an interception on the second play from scrimmage, and at the end of the first it was tied at 14.  Then Oklahoma punched the accelerator, and scored 23 unanswered in the second to take a 37-14 lead into half.  Tulane rallied in the fourth but came up short.  OU 40-35.  Rattler was 30-39, 304 yards, 1 score, 2 picks.  Tulane covers.
Kansas State with a solid performance and nice 24-7 win over Stanford.  Covered.
Dadgum Maryland.  30-24 over West Virginia.
Northern Iowa 10, Iowa State, 16.  Breece Hall 23 carries for 69 yards.  That surprises me.
Texas Tech 38-21 over Houston.  Big win considering Tech was favored by just 1.  Tech scored 31 in the second half while holding the Cougars scoreless.
Oklahoma State 23-16 over Missouri State.  Shane Illingworth nice day at QB for the Cowboys, 22/44, 315 yards, 1 TD.
Baylor 38-20 over Texas State.
Texas Christian 45-3 over the Duquesne Dukes.
Week One Games – The Top 25
Rough trip to Blacksburg for Coach Brown and the Tarheels.  Virginia Tech 17-10 over North Carolina.  Lane Stadium was rocking.
No. 1 Alabama took Miami (Florida) to the woodshed, 44-13, covering.
Got to watch a good chunk of Georgia and Clemson.  10-3 Bulldogs, and the only score was on an interception.  Neither team found the endzone on offense.
Texas Agricultural & Mechanical with a solid 41-10 win over Kent State,
Cincinnati 49-14 over Miami (Ohio).  Well done JNU.
No. 18 Iowa 34-6 over No. 17 Indiana.  Iowa looks good.
Louisiana State stumbled in Pasadena, falling to UC Los Angeles, 27-38.  Bruins have improved.
Penn State 16-10 over Wisconsin.
Oregon 31-24 over Fresno State.
Southern Cal 30-7 over San Jose State, covering.
And the biggest upset of the day, Montana 13-7 over Washington.
Other Games of Interest Week One
Arkansas beats Rice 38-17.  Rice had a 10-7 lead a half. Rice.
Michigan State 38-21 over Northwestern.
Colorado easy 35-7 win over Northern Colorado
Michigan beats Western Michigan 47-14 at The Big House.
Army 43-10 over Georgia State.
Air Force 35-14 over Lafayette.
Navy falls at Marshall 7-49.
Southern Methodist with an air attack win over Abilene Christian, 56-9.  Pony QB threw for 7 touchdowns.
Virginia shuts out William & Mary, 43-0.
And maybe the second most surprising upset of the weekend, after the Montana win over Washington, was the University of Texas at San Antonio Roadrunners, beating Illinois 37-30 in Champaign.  UTSA RB Sincere McCormick rushed for 117 on 31 carries.
Ole Miss.  Hotty Toddy!  The Rebels cruised to a 43-24 win over Louisvile.
Washington & Lee Generals
Tough trip to Newport News for the Generals, who fall 24-28 to the Captains, as CNU scored with 39 seconds left to get the win.  CNU had 22 first downs to W&L's 11, and the solid 173 yards on the ground couldn't overcome CNU's 266 in the air (W&L had 52 yards passing).  Jack Pollard, the Generals QB, lead the team with 93 yards rushing, and puzzling that Josh Breece only netted 35.
This week the Generals welcome The University of the South to Lexington.  The rivalry with Sewanee dates to 1892, and W&L leads the series 45-23.  The Generals have won 14 out of 15 and the last 5, including a 42-7 win in 2019.
Washington & Lee and Sewanee are very similar in many respects.  W&L is nestled in the Shenandoah Valley, with the Blue Ridge Mountains to the east.  The sheer physical beauty of Rockbridge County, the Blue Ridge, and places like Goshen Pass is hard to put in words, and photos try but can't convey the richness of the place.  Sewanee sits on the Cumberland Plateau, overlooking the Tennessee Valley.  Both are considered to be among the most beautiful college campuses in America.
Both have Protestant ties, although W&L never formally.  Scots-Irish Presbyterian pioneers founded Augusta Academy in 1749.  The Episcopal dioceses of the south came together in 1857 to found an Episcopalian college for the region.  Both remain distinguished liberal arts schools.
When it comes to football, the Washington & Lee Generals and the Sewanee Tigers also have great histories.  I mentioned last week that W&L played the first college game in the south, against VMI.  Little W&L made it to the 1951 Gator Bowl, playing Wyoming.
Sewanee was a great football power in the South in the 1890's.  The 1899 team is considered one of the best ever:  12-0, 11 by shutout, 322-10 scoring on the season.  Sewanee was a charter member of the Southeastern Conference (yes, the SEC) in 1932.  That didn't go so well.  The little school from Sewanee wasn't able to compete in the evolving world of college football.  Sewanee never won an SEC football game in the 8 years it was in the conference.  They were shut out 26 times in their 37 SEC games and outscored by 1163–84
http://www.espn.com/espn/page2/story/_/id/7001627/sec-expansion-conference-consider-sewanee-long-lost-founding-member
Sewanee quit awarding athletic scholarships and left the SEC in 1940. Today, they play in the Southern Athletic Association, with some other recognizable names to readers of this missive – Hendrix College, Millsaps College, and Rhodes College among them.
Administrative Notes
The views expressed in my emails are mine alone, and not that of my employer, Jackson Walker LLP, any of my law partners, or of any other organization with which I am affiliated.  If you wish to unsubscribe, please email me at [email protected].
I am very humbled by the number of people who tell me I should charge money for this newsletter.  I do appreciate it.  But as I tell everyone, if I start charging money for this, it will be work.  And I work too much already.  Instead, what I sincerely request is that if you like the newsletter, please consider supporting the charities I feature each week.  They are important to me and to my family.  If half the recipients of this week's email gave $100 to HAAM, we would raise well over $100,000.  HAAM leverages every dollar it raises through partnerships in the community, and that $100,000 would provide about $700,000 of services and care to Austin's musicians.  You can make a difference.  We can make a difference.
Juan Heisman Tailgate
It was so good to be back at Juan Heisman.  The Early Crew secured our traditional location.  Good work by Hunter Wilcox, Judd Messer, Grant Martin, Collin Shaw, Rick Whiteley, and new Crew member Sloan Byerly.  It was great to see Marcus Crawford and Otis Edmonds, and thanks to everyone who helped contribute to making the first tailgate in 2 years a success.  It was great to see so many people who are a part of the Juan Heisman family.
We look forward to seeing lots of friends for the Rice tailgate.  Please remember that this a non-profit affair, and the members of the Juan Heisman Tailgate Crew underwrite most of the costs of the season.  But as with everyone, our costs are up.  So we are much appreciative of a donation to the cause.  We have not raised that – we humbly suggest a donation of $20 if you are eating and drinking adult beverages, $10 if you are a teetotaler.  Thanks for your generosity!
Music
So I re-discovered Joe Tex.  Born Joseph Arrington, Jr., in Rogers, Texas, August 8, 1935. He passed in 1982.  From the Texas State Historical Commission's Handbook of Texas:
During his junior year of high school Arrington entered a talent search at a Houston nightclub. He took first prize over such performers as Johnny Nash, Hubert Laws, and Acquilla Cartwright, an imitator of Ben E. King. He performed a skit called "It's in the Book" and won $300 and a week's stay at the Hotel Teresa in Harlem. There Arrington performed at the Apollo Theater. During a four-week period he won the Amateur Night competition four times. After graduating from high school in 1955, he returned to New York City to pursue a music career. While working odd jobs, including caretaking at a Jewish cemetery, he met talent scout Arthur Prysock who paved the way for him to meet record-company executive Henry Glover and get his first record contract with King Records.

Arrington, now known as Joe Tex, introduced a style of music that has been copied by Isaac Hayes, Barry White, and others. In songs and ballads in particular, he slowed the tempo slightly and started "rapping", that is, speaking verse that told the story in the middle of the song before repeating the refrain and ending the song. The biggest hits of Joe Tex included "Hold On To What You Got", "Papa Was Too", "Skinny Legs and All", and South Country, an album of country songs; his biggest seller was "I Gotcha", which went platinum (made 1,000,000 sales) in 1971.

I Gotcha
I Gotcha, on Soul Train:
Skinny Legs
Hold On To What You Got
Show Me
One other interesting musical tidbit.  Most of you have heard the expression "Oh fiddlesticks".  Well, fiddlesticks are a real thing:
Jim Nicar
I mentioned last week the role Chairman Kevin Eltife seems to have played in the SEC move.  I am from Tyler, as are many of you reading, and many other ties – Juan Heisman Crew men David Edelman and Clay McPhail, and our friend Cedric Golden, great sportswriter at the Austin American Statesman.  So I thought you might enjoy Jim Nicar's piece on how The University of Texas ended up in Austin instead of Tyler.
https://jimnicar.com/2012/05/15/on-why-were-here/
Health Alliance for Austin Musicians
I have been involved with HAAM for over 15 years.  Each year, we have HAAM Day.  For 14 years, it was a day when Austin was filled with live music, from early in the morning (my HAAM Day always started with coffee and tunes at Whole Foods) until late at night (my HAAM day usually ended at Antone's).  Last year, due to the pandemic, HAAM Day went virtual.  And it was still great.  Not as much fun as being at venues around Austin and seeing our beloved musicians, but it worked out.
We have a great lineup of music streaming all day, and I hope you will both take advantage of this great music and give some money to HAAM.  Help HAAM keep Austin music alive and well.
https://www.myhaam.org/haam-day
Donate:
Photo of the Week
I follow some great Austin-area photographers on social media. One is Shane Ware (@shanewarephoto on Instagram, @shanew21 on Twitter).  He took this photo of the tower when it was lit for the national champion women's rowing team.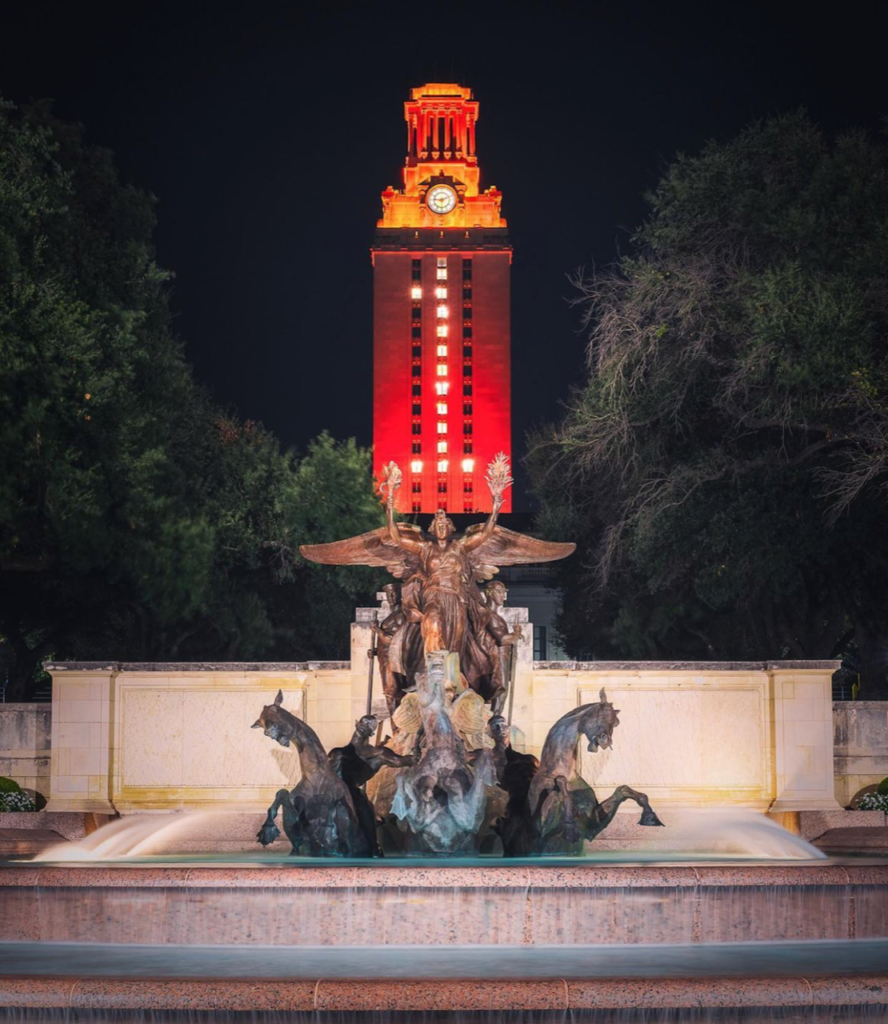 God Bless Texas
 God Bless America
Tim Taylor
Tailgating before Home Football Games
The Juan Heisman Tailgate
Lot 38, East of Sid Richardson Hall.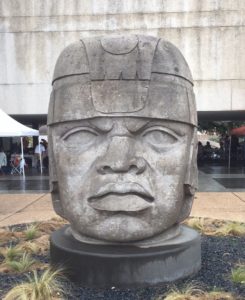 HOOK EM HORNS!!
© Timothy C. Taylor, Sr. 2021.  All Rights Reserved (as to original material).
On Twitter:  @tctayloratx
On LinkedIn:  www.linkedin.com/in/tctatx
On Instagram:  @tctayloratx
On Facebook:  www.Facebook.com/Tim.C.Taylor
and:  www.Facebook.com/Juan.Heisman
You can contact me by mail:
Tim Taylor
P.O. Box 5371
Austin, Texas  78763-5371