Texas Longhorns 21, Arkansas Razorbacks 40
Well, that was certainly unexpected.  At least the poor performance, lack of execution, bad throws, really bad blocking, 333 yards of Razorback rushing, and undistinguished play calling and coaching was unexpected.  The packed stadium, emotional and loud Arkansas fans, that was expected.  Their burning desire to beat Texas, that was expected.  Their hatred of the Longhorns, which is now woven into generations of Arkansas DNA and the connectivity of mass hysteria & Calling the Hogs fueling the fire of the Razorbacks, that too was expected.  Not sure all of the young men on the Texas sideline expected it, which may be part of the problem.  I want to believe the coaches did.  And of course, I did a terrible job of managing my own expectations, drinking about 38 gallons of burnt orange Kool-Aid last week and getting more and more confident each night as I wrote that Texas was going to waltz into the Ozarks and handle the Hogs.  Nope.  A cold dose of reality and a reminder of the importance of the history of some of our great rivalries.  A bit more on the game below.  I am pretty tired of writing reviews of crappy Texas football performances.
Rice Owls vs. Texas Longhorns
The 96th game between Rice and Texas will kick off at Darrell K Royal Texas Memorial Stadium Saturday night a little after 7:00 p.m. The game will be broadcast on the Longhorn Network with Lowell Galindo, Sam Acho, and Alex Chappell.  On the Radio with the Voice of the Longhorns, Craig Way, who will be joined by Roger Wallace with analysis and Will Matthews on the sidelines.
Texas leads the series 73-21-1, a rivalry that began in 1914, just 2 years after the William Marsh Rice Institute for the Advancement of Literature, Science, and Art was established.  Rice beat Texas the year I was born (1960), 7-0.  Rice upset Texas 20-17 in 1965.  Rice won 19-17 in 1994.  Texas has won 42 of the last 43 games.
Texas is favored by 26, and the over/under is 52.5.  I think Texas will win, for sure, but that is a big spread.  And note that Arkansas beat Rice 38-17, the week before they played Texas.  So bet wisely.
The last time Texas played Rice, Texas was coming off a loss to a school out of the SEC West, Louisiana State.  Texas had come oh so close to upsetting the Tigers.  The Longhorns went to Houston and thumped the Owls 48-13.  Sam Ehlinger was a solid 23-27 for 279 yards and 3 touchdowns.  Texas was up 38-0 in the third quarter, and on the last series of that frame, Casey Thompson came in to play for Texas.  He played two series, going 5-7 for 59 yards.
Casey Thompson will not be standing on the sidelines for this Rice game, wondering when he will get to play.  This time, Casey will be making his first start in 4 years.  He said this week:
"I just realized today that the last time I started a game was November 2017, which is crazy. I'm excited. I've waited a long time for this opportunity. I think it's just a testament to perseverance and hard work."
Anyone else excited as I am to see what Mr. Thompson can do?
That will of course depend on what the offensive line can do.  While I can't imagine that problems which surfaced in Fayetteville can be fixed in a week, I suspect enough can be improved to beat the Owls.
Official Preview:
https://texassports.com/news/2021/9/13/football-preview-rice.aspx
Texas Game Notes:
https://texassports.com/documents/2021/9/13/03_Rice_1.pdf
 Texas Depth Chart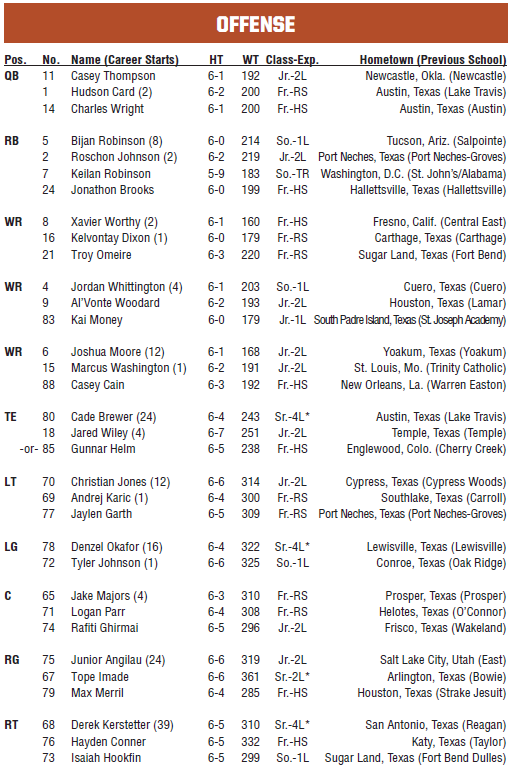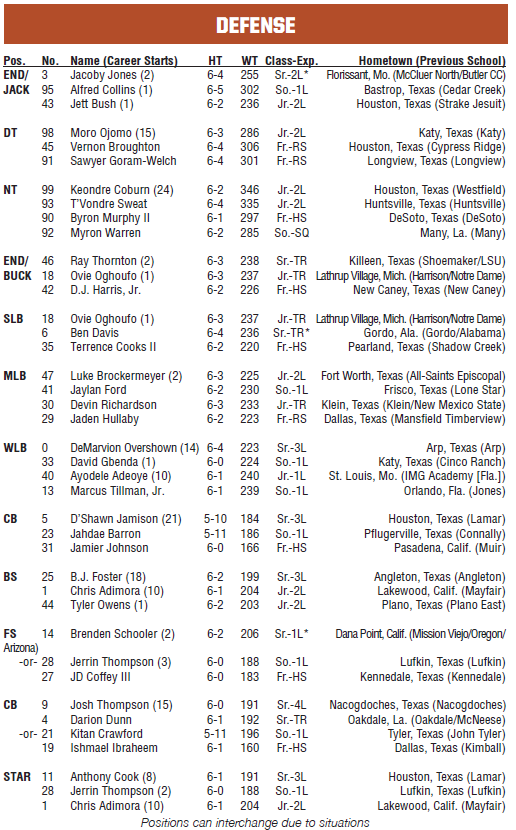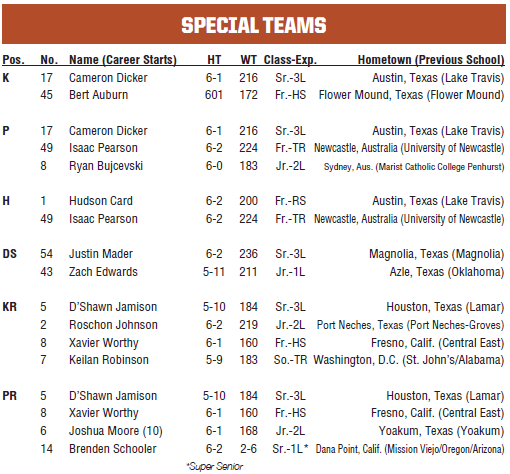 Why Does Rice Play Texas?
This infamous line was from President John F. Kennedy's famous speech in Houston on September 12, 1962, officially announcing that the United States of America was going to the moon.
Good article from a couple of years ago.
https://www.espn.com/college-football/story/_/id/27581541/why-does-rice-play-texas-how-jfk-speech-defined-rivalry
The Rice Owls
The Owls are coached by Mike Bloomgren (Florida State 1999), 7-25 in his fourth year at Rice.
I found this in the Rice Game Notes.  Very cool.
Rice Football will salute a pair of legendary performers who passed away in 2021 (Dicky Maegel & Courtney Hall) with a helmet decal.  Both Maegle and Hall enrolled at Rice before their 17th birthdays and went on to create lasting legacies.

Maegle was an All-American running back in his own right, but gained his greatest fame in the 1954 Cotton Bowl where he rushed for 265 yards on only 11 carries and his average of 24.1 yards per carry. 95 of his yards were awarded to him on a play that saw Alabama's Tommy Lewis come off the sidelines to tackle him. Maegel was inducted into the College Football Hall of Fame in 1979.

Hall made his college debut at 17, starting at center against the Miami Hurricanes in the 1985 season-opener and went on to be a two-time, All-SWC selection. He was the first Black center to earn that distinction and was named to the SWC All-Decade team. He went on to play eight seasons in the NFL, and was a team captain as the Chargers won their first AFC title in 1995 and advanced to Super Bowl XXIX in Miami. He was inducted into the Rice Athletics Hall of Fame in 1995 and the SWC Hall of Fame in 2019. He received a JD/MBA from the University of Chicago in 2003 and embarked on a business career in New York City and had been named to a term on the Rice Board of Trustees in January of 2021.
Rice is 0-2 on the season:  the aforementioned 17-38 loss to the Razorbacks, and last week's 7-44 loss to Houston.  I was pulling for Rice in both of those games!
Rice starting quarterback Luke McCaffrey is a freshman, and in 2 games has 161 yards on 14-29 passing, with 1 TD and 3 interceptions.  Wiley Green started against Arkansas, going 12-24, 152 yards, 1 TD, 3 Picks. Running Back Khalan Griffin is also a freshman, 121 yards on 32 attempts.  Griffin went to Chapel Hill High School, Tyler, Texas.
No. 1 Antonio Montero (6-0, 222), Junior Linebacker from Eden Prairie, Minnesota, leads the Owls with 21 tackles (6 solo), 3 TFL for 8 yards and a sack for 5 yards. No. 33 Myron Morrison (6-3, 206) RS Freshman from Atascocita HS in Humble, is second with 14 tackles (5 solo).  The Rice kicker, Collin Riccitelli, is 1-3 on the season.
Rice Game Notes:
https://texassports.com/documents/2021/9/14/Rice_Game_3_Notes_Texas.pdf
Owls vs Longhorns
I am not including the statistical comparison this week.  Early in the season, and the Texas national rankings will make you sick.  For example, 101 in Total Defense, below Miami (Florida) and tied with Miami (Ohio).  No. 93 in Total Offense, tied with UAB (although ahead of Clemson, LSU, Okie State, and Iowa State).  Rice is worse.  That's all you need to know this week.
Given how completely off I was on last week's predictions, I am hesitant to dive back in.  But then again, almost everyone, including the Vegas oddsmakers, guessed wrong last week.  So, here we go:  Casey Thompson has a great start, 220 yards passing, 2 TDs, 60 yards rushing and a score.  Bijan Robinson runs wild, 188 yards and 2 scores.  Roschon and Keilan get good numbers in the second half, accounting for another 100 yards of rushing.  Whittington and Worthy each have 4-5 catches, and this week we see the tight ends.
            Texas 52, Rice 21.
Matt Craig (HornMafia on Barking Carnival) is back with his "The Week That Will Be" column, this week subtitled "Rice Fixes Everything".  Yes, it usually does.
https://www.barkingcarnival.com/2021/9/16/22676925/the-week-that-will-be-rice-fixes-everything-texas-longhorns-football
Longhorns 21, Razorbacks 40
If a picture is worth a 1000 words, then a good meme is worth about 5000 or so. This one counts.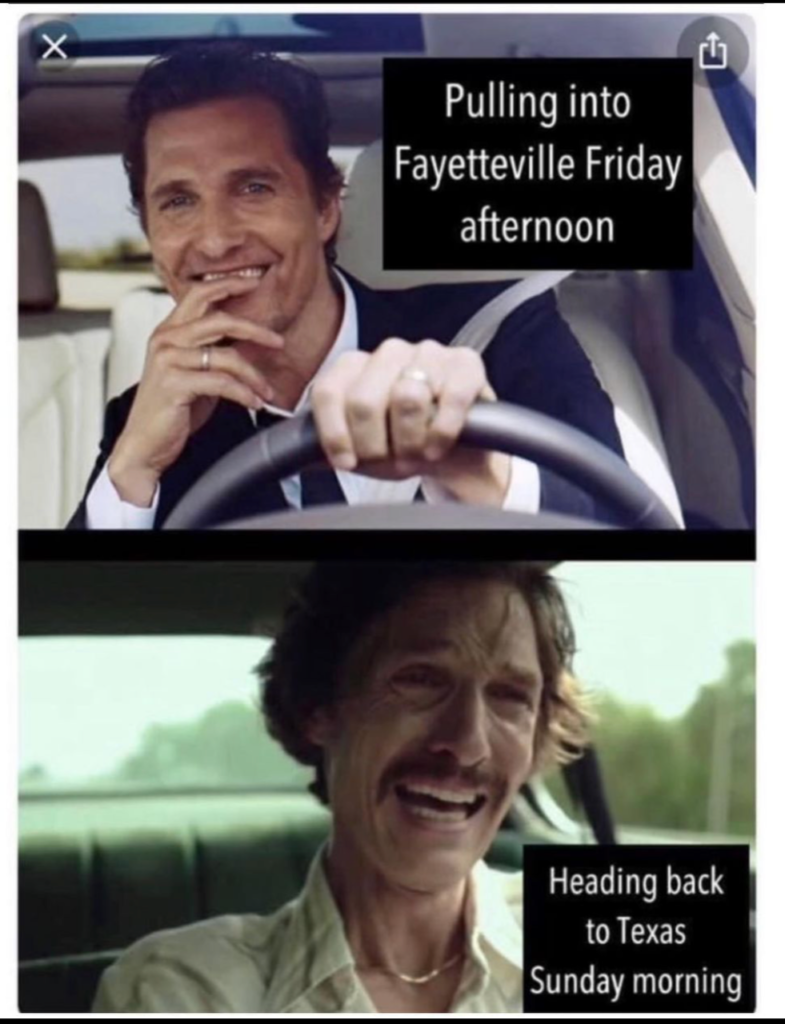 The first two series of the game gave me hope – and I think we all felt that way.  A three and out for the defense.  Then that oh-so-close play on the good Dicker punt on the sideline after the Arkansas kid muffed it and we thought the Horns had it on the 6 yard line.  One of those plays that will definitely go in the "woulda, coulda, shoulda" file.  I have to think that the game would have been a little different if Texas had scored right there.  Not sure we would have won, but I think we might have at least had a shot.
Instead, I look back at the first quarter, and offensively Texas gained 4 yards on the first drive, and 1 yard on the second drive.  Not that Arkansas was in gear yet either, but we looked like we might not get across midfield without a lucky break.  Our third drive at least showed progress, including a nice completion to Worthy, but that drive sputtered and died at the Pig 24, as Card was sacked and then took a delay of game, and Dicker missed the 52 yarder.
Arkansas turned that around and drove the field, with ease, and took a 10-0 lead.  Jamison's decision to bring the kick-off out, which I appreciated (at least he was trying to make something happen), was not productive, as that "drive" (is it really a drive if you go backwards?) ended with the blocked punt.  Amazing in hindsight that Texas held Arkansas to 3 there.
Texas had another 3 and out, and Arkansas didn't.  The Pig's next drive was highlighted by Trelon Smith's 34 yard run to the Texas 32, but once again Texas kept Arkansas out of the endzone, somehow.  But the third Razorback field goal put them up 16-0, and it felt like about 30 to nothing.  Texas got the ball back with 3:00 minutes left, but a penalty (our third of the half on the offense) put Texas in third and long, and the gregdavisish 8 yard pass on third and 14 was not enough for a first.  I will concede that pass was to Jordan Whittington, who can usually make something happened and has good yards after catch.
Texas looked terrible in that first half.  Hudson Card didn't get the protection he needed.  The first play of every Texas possession except one was a Bijan Robinson running play.  Great against an inferior team, not so great against a team with good strong players and a defensive coordinator who appeared to have a pretty good idea of what the Sarkisian game plan would look like.  Bijan's first half:  10 rushes for 38 yards net.  He actually had 45, but there were three negative plays.  Of note:  all 3 negative plays came on second down after Bijan got the ball on first down.
With all of that – I still thought Texas had a chance.  Heck, I thought maybe we would come out and dominate the second half – put in Casey Thompson, open it up, and kick butt.  But I thought wrong.
Texas had deferred after winning the toss and got the ball to start the second half.  Unfortunately, it looked very much like the first half.  (first drive was a short (4 yard) gain by Bijan, negative yardage on second down, and then a four yard completion to J Whitt on third and 8.  B.J. Foster picked off Jefferson on the next series, and Texas had it at the Pig 26.
Texas executed well on that short drive, all positive plays, and all Bijan and Roschon, with Bijan taking it in from one yard out for the score.  Card got us on the board, and I have to think that is why he came back on out on the next series. It was a 9 point game and certainly within reach.  Maybe.  I wonder if anyone noted that on that short drive, Arkansas linebacker Bumper Pool (who sat the first half) was in on 4 out of 5 tackles in that series.
Expectations were immediately recalibrated as Arkansas took the ball back and drove it 81 yards in 2 minutes and took a 23-7 lead. The next Texas series ended at midfield when Texas could not pick up 1 yard on fourth down.   Arkansas added another field goal to go up 26-7, and the next Texas series lasted one play, as Card was sacked and fumbled and the Hogs took over at the Texas 25.  Ten seconds and one play later it was 33-7, and the change we knew was coming was too little too late.
But, it was good to see how Casey Thompson played.  Yes the Longhorns were down four scores and a comeback was nigh impossible (perhaps Vincent Paul Young, Jr. could have engineered such a comeback, but I think even VY would have been challenged to orchestrate such a miracle Saturday night in Fayetteville).  Casey looked good.  He entered the game with 1:50 left in the third.  His passes were good, and he ran 4 times for 24 yards, including the touchdown.
The sad thing is, that first drive and score for Casey Thompson, which made the score 33-14, was immediately overshadowed by a brute strength response from Arkansas.  The Razorbacks' next drive was all on the ground. 8 runs, two of which were big – Green ran for 19 on one play and then sealed the Arkansas beat down of Texas with a 30 yard touchdown drive.
Texas ended on a high note at least.  A sustained 6 minute drive for 75 yards and a touchdown. Casey with more good ground game, including, thank God, a 2 yard touchdown run to make the ugly loss only 40-21.
The final statistics are just as bad.  As noted, Arkansas ran the ball for 333 yards on 47 attempts. They averaged 7.1 yard per rush.  They averaged 7.3 yards per pass attempt.  It was 9.9 completion.  So if you back out their 5 incomplete passes, they averaged 7.72 yards on each of the other 61 plays they ran.  Overall, 7.1 yards per play.  Texas averaged 4.
Casey Thompson played in two series.  He accounted for 48% of our passing yards and 32% of our rushing yards in those two series.  That wasn't against the Arkansas scrubs.  They were playing hard and with a desire to beat Texas as bad as they could.  I was surprised they took a knee on their last series.
Alex Loeb tweeted "From up in the press box, you could see Texas had WRs running open underneath for the majority of the night. You could not see that on TV. Even when Card wasn't feeling pressure, he was still jumpy and not seeing the whole field. A learning experience for sure."
Our offensive line was terrible. Our defense was terrible.  Mistakes on special teams hurt, but the sad and painful truth is we got outplayed and outcoached.  And the Arkansas Football tweet was simple and a post-game gut punch:  "Welcome to the league."
The Statesman, via HookEm.com, graded the Horns:  Secondary got a B+, Linebackers a C, Quarterbacks and D Line D-, and everyone else an F.  Having been pre-med, I was quite proficient at calculating GPA.  QB and Special Teams as a 3 hour class, the rest at 4, and I think the team GPA was about 0.82.  Not so good.
I made a joke last week about lipstick on a pig.  Karma sucks.
I whiffed so bad on my prediction and forecast. Wow.  The only part I had right was "I think this will be a close game in the first quarter.  All those pig-hat wearing fans calling the Hogs.  The pent-up hatred unleashed on the Horns."  It was only 3-0 at the end of the first.  But that pent-up hatred did in fact sustain the Hogs, who clearly were not overmatched.  Quite the other way around.
Texas is 1-1 after the first 2 games, about where many said we would be before the season started.  It was the high expectations and hopes after the ULL game that had us thinking that Texas was going to be 3-0 to start conference play.
My hope – my belief – and yes my expectation is that this will be a positive learning experience for the players and coaches.  Short term and long term. Short term, I think we know that it has been for Sark. He was humble in his press conference, and he named Casey Thompson his starter against Rice.  That was a good and right decision, and I think how Texas responds on Saturday night will go a long way toward determining how this season plays out.  It may "just be Rice", but then again, we all thought we were going north to play and whip the doormat of the SEC West.  Rice is an FBS football team with some good (and smart) players, and they don't like Texas either.  Nobody does, and our players need to learn that.
Highlights
I hesitated to include any links, as the highlights just really are not much fun.
Here is one, 14 minutes.
Just over 2 minutes from ESPN:
https://www.espn.com/video/clip/_/id/32192649
The University of Texas at Austin
The University celebrated its 138th birthday on Wednesday.  Lots of cool stuff, but I really enjoyed this one.  A tour of the Forty Acres narrated by Lady Bird Johnson.
UT Austin Climbs in Latest National Undergraduate Rankings
From The University:
The University of Texas at Austin rose to No. 38 among national universities in U.S. News & World Report's latest undergraduate rankings, climbing four spots since last year.
Among U.S. public universities, UT Austin now ranks No. 10, up three spots from last year, and remains the top public university in Texas.
U.S. News ranked four undergraduate disciplines this year, and UT Austin earned top 10 rankings in three of them: business (No. 5), engineering (No. 10) and computer science (No. 10). The School of Nursing ranked No. 23 nationally in the first-ever undergraduate rankings from U.S. News.
"This is ultimately a story about UT's trajectory. We continue to move ahead in many ways, improving our position among elite universities," said UT Austin President Jay Hartzell. "We're not done yet, and our future is very bright, even while we appreciate the recognition of our progress these rankings represent. They offer thoroughly deserved recognition for our schools and programs and are a testament to the excellence of our faculty, staff and students."
The U.S. News ranking is one of the most widely referenced measurements of undergraduate programs and is based on 12 weighted factors. Contributing to the university's higher ranking this year were high reputational scores and increases in six-year graduation rates, first-year retention rates and faculty resources.
UT Austin is again ranked the top university in Texas for veterans and No. 16 nationally. The university also ranked in the top 25 in two specialty categories, placing No. 19 among the country's Most Innovative Schools and No. 25 nationally for undergraduate research.
The McCombs School of Business, in addition to its overall No. 5 ranking, earned top-10 specialty rankings in all 13 categories:
1 in Accounting
3 in MIS
3 in Quantitative Analysis
4 in Management
4 in Real Estate
4 in Marketing
5 in Business Analytics
5 in Finance
6 in Insurance Risk
7 in Entrepreneurship
7 in Production Operations
8 in Supply Chain
10 in International Business
UT Computer Science ranked No. 10 nationally, with five top-10 specialty rankings:
6 in Programming
6 in Software Engineering
9 in Artificial Intelligence
9 in Computer Systems
10 in Theory
The Cockrell School of Engineering ranked No. 10 nationally, with seven top-10 specialties:
1 in Petroleum Engineering
5 in Chemical Engineering
5 in Civil Engineering
7 in Environmental Engineering
9 in Computer Engineering
9 in Aerospace Engineering
10 in Electrical Engineering
Rice University ranked No. 17, the highest ranked Texas school.  Congratulations.
Texas Agricultural & Mechanical was ranked No. 68.
William Marsh Rice University
Massachusetts businessman William Marsh Rice made his fortune in real estate, railroad development, and cotton trading in Texas.  In 1891, Rice had decided to establish a school in Houston which would be tuition free, to be funded upon his death.  Most of his estate would go to endow the Rice Institute.  Mr. Rice met an untimely end, when his valet found him dead one morning in September 1900.  A New York City lawyer had conspired with Rice's valet to murder Rice.  He got caught because he misspelled his name or something on the forged check, and then the shyster claimed that Rice had changed his will and left most of the Rice estate to him.  Rice's friend and personal lawyer in Houston, James A. Baker, Sr., helped uncover the fake will and eventually Rice's bequest was in place.  Baker helped guide Rice's estate, worth $4.6 million in 1904 (north of $130 million today I believe), to its intended purposes, and the Rice Institute was founded.  In 1907, the Board of Trustees selected Edgar Odell Lovett to lead the Rice Institute, and he was inaugurated as first president of Rice on October 12, 1912.  Baker and the Trustees and President Lovett did a heck of a good job, because over a century later, Rice University is one of the finest and most respected universities in the world.
Rice has had over 100 Fulbright scholars, 25 Marshall Scholars, and 12 Rhodes Scholars.  Rice's distinguished faculty and alumni consists of five Nobel laureates and two Pulitzer Prize award winners.
One of my favorite parts of opposition research:  notable alumni:
James A. Baker, III, grandson of the aforementioned James Addison Baker, Sr., effectively the founder of Rice.
William P. Hobby, Jr.
Howard Hughes.  Yes, that Howard Hughes.  Drill bits.
Lance Berkman, mighty Mustang from O Henry Junior High.
Larry McMurtry.
Tim League, founder of Alamo Drafthouse, and his wife Karrie.
The Polls
AP Top 25:  Alabama, Georgia, Oklahoma, Oregon, Iowa, Clemson, Texas Agricultural & Mechanical, Cincinnati, The Ohio State UniversityTM.  Notre Dame won and dropped to 12.  Iowa State at 14, Ole Miss at 17, Arkansas at 20, and North Carolina at 21.  Texas of course dropped out of the rankings, but did receive 23 votes, behind such college football powerhouses as Liberty, Indiana, and Nevada.
Coaches Poll: Roll Tide, UGA, Land Thieves, Oregon, Texas Agricultural & Mechanical, Clemson, Iowa, Cinci, Gators, and  L'Université de Notre Dame du Lac.  Iowa State University of Science and Technology drops to 14.  Ole Miss at No. 160.  Mack and the Heels at No. 19. Oklahoma State at 22 and Arkansas at 24.
Week Three
This week's games are headlined by the revival of one of college football's great rivalries, Nebraska and Oklahoma.  A great history, and of course FOX has it at 11:00 a.m.  Other games of note and notes below are Alabama at Florida, Auburn at Penn State, and Virginia at North Carolina. A great weekend of college football.
 This Week's Games – The Big XII
Nebraska vs. No. 3 Oklahoma, 11:00 a.m. on FOX.  Land Thieves favored by 26 over the Cornhuskers.  Over/under is 62.  This great rivalry began in 1912, with Nebraska beating OU 13-9.  The Land Thieves lead the series 45-38-3.  So pretty tight by most standards we see, a 7 game lead over 109 years.  They often played on Thanksgiving (sound familiar?).  In the Big 8 days, the winner went to the Orange Bowl, and the winner often was a national champion in some poll or publication.  The transition from the Big 8 to the Big 12 hurt the rivalry, as the Huskers were in the North and the Land Thieves in the south, thus ending the annual game.  As we known, the Huskers weren't so happy in the Big 12 (and often blame Texas, but maybe that was because we regularly beat them).  Nebraska left in 2010 for the Big 10.  The Huskers have 5 national championships – 1970 (AP) and 1971, then the great Tom Osborne years – 1994, 1995, and 1997 – all perfect seasons.  The Land Thieves have 7 national championships.  And we hear about it plenty.  Anyway, this is a great rivalry and glad to see them playing again.  GBR.
No. 15 Virginia Tech at West Virginia.  11:00 a.m. on FS1.  I am surprised the Mountaineers are favored by 2.5, as I think the 2-0 Hokies have been underestimated this year.  Another rivalry which dates to 1912.  West Virginia leads the series 28-23-1.  Since 2007, they have played for the "Black Diamond Trophy".  I am guessing most of us would think that has to do with skiing, but this is a trophy sponsored by the Rish Equipment Company to celebrate the coal mining history of the region.  Over/under is 50.5.  Not sure on this one, but if I had to place a bet on this one, I would be in the Hokie Huddle.
Nevada at Kansas State.  1:00 p.m. on Big 12/ESPN+.  Both teams 2-0 with good wins already.  Wolfpack favored by 2, and the over/under is 50.5.  K State to win.
Baylor at Kansas, 2:30 p.m., on Big 12/ESPN+.  First conference game of the season, and the Bears favored by 17.5, with the over/under at 49.5.  Not much of a football game, but looking forward to seeing these two play basketball this year.  Baylor will win, but taking Kansas and the points.
Texas Tech hosts Florida International at Jones AT&T Stadium, 6:00 p.m., also on Big 12/ESPN+.  Red Raiders favored by 20, and the over/under is 54.  Don't know jack about FIU, so not sure about the spread, but Tech should win easily.
Oklahoma State (2-0) at Boise State (1-1), 8:00 p.m. on the Smurf Turf.  FS1.   Broncos favored by 3.5, and the over/under is 57.5.  Animosities aside, I don't understand why Boise wasn't on the short list to be among the new Big 12 members.  At least for football.  Anyway, should be a good game, and a tight line in this one.  Taking Boise at home.
A good and rare late game in the Big 12, with No. 14 Iowa State in Las Vegas to play UNLV.  9:30 p.m. on CBSSN.  Cyclones big 31.5 point favorites, and one can assume that the sports books in Las Vegas have a pretty good idea of how the University of Nevada Las Vegas is going to play.  If you know what I mean.  Seems big.  Take UNLV.  Over/under is 52.5.
This Week's Games – The Top 25
A slew of 11:00 a.m. games.  If I am ever President, this will change.
New Mexico at No. 7 Texas Agricultural & Mechanical, 11:00 a.m. on SECN.  My gut tells me that New Mexico has rarely been 2-0 when included in my previews, but this year's wins are over Houston Baptist and New Mexico State.  Texas Agricultural & Mechanical favored by 29.5 at Kyle Field, and the over/under is 50.
No. 9 Cincinnati at Indiana, 11:00 a.m. on ESPN.  Bearcats favored by 3.5 over the Hoosiers, o/u is 49.5.  Upset brewing in Bloomington?
No. 16 Coastal Carolina at Buffalo.  11:00 a.m. on ESPN2.  Chanticleers favored by 14, over/under at 56.5.
Michigan State (2-0) at No. 24 Miami (Florida) (1-1).  The Hurricanes need and deserve a lot of parentheticals and asterisks.  Canes favored by 6, over/under is 56.5.  Go Spartans!
Northern Illinois at No. 25 Michigan.  11:00 a.m. on BTN.  Michigan favored by 27.5, over/under is 54.  Michigan to win, NIU to cover.
Purdue at No. 12 Notre Dame.  1:30 p.m. on NBC.  A great rivalry which most of us in the south don't appreciate.  Two schools about 100 miles apart, and a rivalry that dates to 1896.  Since 1957, they have played for the Shillelagh Trophy.  Notre Dame leads the series 56-26-2.  Irish favored by 7, and the over/under is 58.  I think Notre Dame will win and cover.  I know all the Notre Dame fans will be glad this is back on NBC instead of Peacock.  I watched most of the Peacock game with Mark Dean last Saturday, and that was not a good streaming experience.  The National Broadcasting Company has work to do.
No. 1 Alabama at No. 11 Florida, 2:30 p.m. on CBS from Ben Hill Griffin Stadium.  What a great Week 3 game!  Tide favored by 14.5, and the over/under is 59.5.  An interesting rivalry, as both are charter members of the SEC (1933), but they have only played 41 times.  Bama leads the series 26-14 (2005 Alabama win vacated).  But 10 of those games were in the SEC Championship game beginning in 1992 (6-4 edge for Bama).  Last regular season meeting was 2014.
Kent State at No. 5 Iowa, 2:30 p.m. on BTN.  Iowa favored by 23, over/under is 56.
Georgia Tech at No. 6 Clemson, 2:30 p.m. on ABC.  Tigers favored by 28, over/under is 52.
Tulsa at No. 9 Ohio State, 2:30 p.m. on FS1.  Buckeyes favored by 24.5, over/under is 61,
Georgia Southern at No. 20 Arkansas, 3:00 p.m. on SECN.  Hogs favored by 23.5, over/under is 52.5.  I bet half the Arkansas fan base is still drunk or hungover.
South Carolina at No. 2 Georgia.  6:00 p.m. on ESPN.  Dawgs favored by 31.5, and the over/under is 47.  Big line, but I think a good game to watch.
Stony Brook at No. 4 Oregon.  6:30 p.m. on PAC12.  No line, but one can safely assume that the Seawolves are the underdogs.
No. 22 Auburn at No. 10 Penn State.  Great match-up.  6:30 p.m. on ABC.  A white-out game for the Nittany Lions.  PSU favored by 6, over/under is 53.  I still hate em.  War Eagle.
Virginia (2-0) at No. 21 North Carolina (2-1, 0-1).  6:30 p.m. on ACCN from Chapel Hill.  Still love Mack, but family, so Go Hoos!  Tarheels favored by just 8 at home in Kenan Stadium, over/under is 66.5.
Tulane at No. Ole Miss, 7:00 p.m. on ESPN2.  Believe it or not, this game features the No. 3 Scoring Offense (52 ppg) against the No. 6 Scoring Offense (48.5 ppg).  And Tulane is No. 3.  Hard to guess on Tulane with its resume – 35-40 loss to Oklahoma (good loss), and 69-20 win over Morgan State.  Ole Miss 43-24 over Louisvile (good) and 54-17 over Austin Peay.  Rebels favored by 14, and the over/under is 76.5 (!).  Ole Miss to win and cover.
Fresno State at No. 13 UCLA, 9:45 p.m. on PAC12 from the Rose Bowl.  Bruins favored by 11.
Other Games of Interest This Week
Thursday
Louisiana Lafayette 49-14 over Ohio Thursday night.
Saturday
Connecticut at Army, 11:00 a.m. on CBSSN.  UConn is 0-3 and Army will be 3-0 after this game.  Black Knights favored by 34.5, over/under is 48.5.
Minnesota at Colorado, 12 noon from Folsom Field.  On the PAC12 Network.  Both teams 1-1, Buffs favored by 2.5.
Southern Methodist at Louisiana Tech.  2:30 p.m. on CBSSN.  An Interstate 20 battle, 250 miles between Dallas and Ruston, but a world of difference.  Mustangs are 12.5 point road favorites, o/u is 66.  Pony Up.
Florida State (0-2) at Wake Forest (2-0), 2:30 p.m. on ESPN.  Wow.  Deacs favored by 4.5.
Long Island University at Miami, from historic Yager Stadium in Oxford, Ohio.  2:30 p.m. on ESPN+.  No line?
Southern Cal at Washington State.  2:30 p.m. on FOX.  I am still trying to figure out why on ESPN and other websites the interlocked "S & C" is gold instead of the more traditional interlocked S & C in USC Cardinal edged with USC Gold.  Now that you know I wonder about and research such things, you may understand why writing this take so long.  Art, any help here?  So many conundra.  Or conundrums?  Even that is difficult.
https://www.theguardian.com/notesandqueries/query/0,5753,-5253,00.html
Mississippi State at Memphis, 3:00 p.m. on ESPN2.  Putting Memphis back in the "of interest" category, because I had a great weekend in Memphis last weekend and expect that someday I may be at the Liberty Bowl for a Tigers game.  Both teams 2-0, Bulldogs favored by 3. Memphis has the No. 1 offense in the country – 633.5 yards per game.
Middle Tennessee at UTSA.  5:00 p.m. on ESPN+ from the Alamodome.  2-0 Roadrunners are favored by 13.
Incarnate Word at Texas State, 6:00 p.m. on ESPN3 from San Marcos.
Central Michigan at Louisiana State, 6:30 p.m. on SECN.  Tigers favored by 19.
Utah State at Air Force, 6:30 p.m. on FS2.  Both teams undefeated.  Good game.  Falcons favored by 9.5.
Stanford at Vanderbilt, 7:00 p.m. on ESPNU.  Of interest for personal reasons (Margrave, Biz), but also because I can't help but wonder as I constantly think about conference realignment if the private schools like Stanford, Vandy, and Northwestern are going to be able to stay competitive in whatever the FBS becomes.  Many have the money to do it (those 3 in particular), but do they have and will they have the fan bases and home game attendance?  Just wondering.  We shall see.  Stanford favored by 12, over/under is 49.
No. 1 Texas Volleyball
The Horns kicked butt again last weekend, defeating Arizona 3-1 and Notre Dame 3-1.  The women are back in action Friday night in College Station against Texas Agricultural & Mechanical.  The match will be on SEC+ at 6 p.m.  Go Horns!
Week Two Games
So I am taking advantage of my readers responses, and this week is a limited recap of last week's games.
Last Week's Games – The Big XII
Kansas got beat bad by the Chanticleers, 49-22.  I should note the line was 26.5.  How do they do that?
Land Thieves 76, Catamounts 0.
Iowa 27-17 over Iowa State.  Ames was fired up with College GameDay there.  Great turnout.  It was interesting that so many of the signs were about Texas and OU leaving for the Big 12.
Tulsa led Oklahoma State 14 – 7 after 3.  Cowboys outscored the Hurricane 28-23 in the fourth quarter to win 28-23.  I had some déjà vu – and I was right.  Last year when we were in Memphis, OSU and Tulsa played, and Okie State trailed 7-3 going to the final quarter.  Cowboys won 16-7.
California at Texas Christian.  Heck of a game at Amon Carter, as the game was 21-19 Frogs after 3, and both teams scored 13 in the fourth.  34-32 final.  Texas Christian under Gary Patterson is undefeated against the Pac-12.  He's a damn fine football coach.
Southern Illinois 23, Kansas State 31.  Surprisingly close.
Texas Tech with a narrow 28-22 win over Stephen F. Austin.  Red Raiders got lucky, given 4 turnovers.  Lumberjacks with more yards (375-364) and TOP (40:07 to 19:52).
Mountaineers 66-0 over Long Island University.
Texas Southern 7, Baylor 66.
Other Week 2 Games
The biggest game was No. 12 Oregon upsetting at No. 3 The Ohio State University TM in the Horseshoe, 35-28.  Oregon is not going anywhere but up.  More on that in the weeks ahead.
Texas Agricultural & Mechanical came from behind to beat the Buffalos, 10-7.  Texas Agricultural & Mechanical QB Haynes King hurt early.
Watched a good chunk of Toledo at Notre Dame.  Peacock was not pretty.  Nor was the game, but the Irish with a thrilling win.  16-14 Toledo after 3, then a slugfest fourth quarter.  Rockets scored twice in the fourth, including the TD with 1:35 to play to take a 29-24 lead.  But the Irish got lucky, and they need to think about throwing to Michael Meyer more.  Tight ends do amazing work on offense.  Irish 32-29 in a great game.  But can't blame the Domers for wringing their hands after a come-from-behind rally to beat Toledo.
Ole Miss Rebels destroyed the Austin Peay Governors, 54-17.  Hotty Toddy!
Brigham Young 26-17 over Utah.  Watched some of the Holy War.  Heck of a hard-hitting game.
Miami (Florida) ekes out a 25-23 win over Appalachian State.  Dammit.
Boise State 54-13 over UTEP.
Army 38-35 over Western Kentucky.
Miami (Ohio) 26, Minnesota 31. Gophers were favored by 18.5.  As Jimmy U says, good teams win, great teams cover.
Air Force 23-3 over Navy, covering.
UT San Antonio 54-0 over Lamar
Houston 44 – 7 over Rice
Southern Methodist 35-12 over North Texas. Mustangs were favored by 22.5. Wow.
Memphis 55-50 over Arkansas State.
ULL 27-24 over Nichols.
Louisiana State 34-7 over McNeese.  Orgeron has some challenges.
Michigan 31-10 over Washington.
Vandy 24-21 over Colorado State! Anchor Down.
Washington & Lee Generals
The Generals with a huge 52-0 shutout of Sewanee in Lexington.  W&L was back in the run attack groove, rushing for 472 yards and 7 touchdowns. Passing?  Zero for 5, no yards.  (Mr. Blutarski, zero point zero).  Who needs the forward pass when you can just run the ball?  Like Coach Royal used to say, 3 things can happen when you throw the ball, and 2 of them are bad.
Josh Breece led the Generals with 144 yards on 10 attempts, 2 scores and a long of 56.  Averaging 14.4 yards per carry is good.  I know this.  Sophomore Giorgio Antonacci, playing for the first time this year, was second for W&L, with 95 yards.  On 2 attempts, with a long of 94 (TD).  Efficient.  "Jared Cordova, Will Jackson, Harrison Donovan, Logan Moyer, Tyler Halliday, and Bailey Keel lead dominant performance from the entire offensive line, consistently creating gaps and winning the battle in the trenches."  The game was played in 2 hours and 43 minutes in front of 1,145.
This week the Generals are at home again, hosting Guilford College at Wilson Field.  Kickoff at 1:00 p.m., Shenandoah Valley time.  W&L's first conference match of the year.  The Quakers began playing football in 1893, but the first game with the Generals was 1965.  W&L leads the series 19-14.  In 2019, the Generals defeated the Quakers 52-14.
Juan Heisman Tailgate
Should be a beautiful day in Austin for tailgating and Texas football.  Good food, good beer, good times.  We will have JHT Chicken on a Stick, hot dogs, and sausage. And maybe some beer brats.  Lots of cold beer and seltzers, but we are BYOB this year on your hard liquor.  Texas Beer Company will be with us again, with some K9 Lager, Suds Hazy IPA (which I am looking forward to finally trying), and TBC's excellent Oktoberbest brew – OkTaylorfest.  We will be set up and rolling by early afternoon, but I think most folks plan on getting there around 2:30 or 3:00.  If you can come by, we suggest a donation of $20 if you are eating and drinking adult beverages, $10 if you are a teetotaler.  That helps cover our costs of food and beverages. Thanks for your generosity!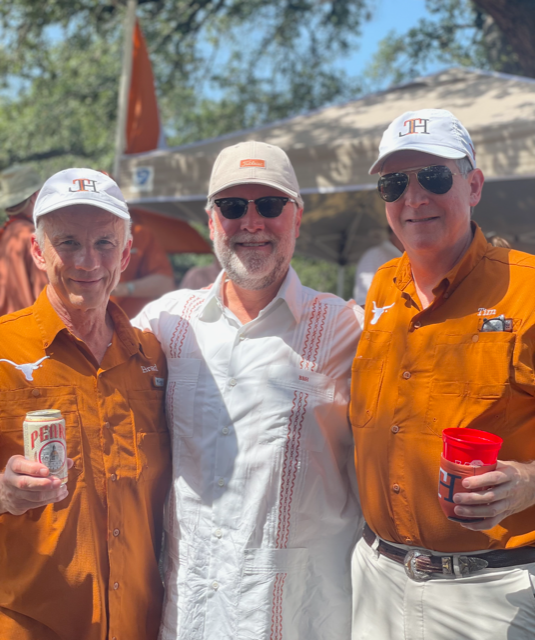 Harry Hilgers
Every so often, the extraordinary intangible rewards of writing this weekly epistle provide me with something really special.  This year, I have already received such reward.  On the Friday morning after the first newsletter went out, I got an email from a gentleman named Harry Hilgers, who sent a very nice note that included "I am a 94 year old, former player at U.T. and high school football coach that still loves U.T. and football at the college level but not the pro type."  Intrigued, we exchanged emails, and I suggested that it would be great to include something from him in one of my newsletters.  Mr. Hilgers obliged, and I am pleased to include it here.
I need to define myself, first, in order for much of what I am going to say will make sense.  I was a Senior in High School at age 16 because our school was the last one to have only 11 grades.  As a result, my last year was played at a time when today's players are still on the JV.  I was the fastest man on the team, by far and yet they decided that I was a guard/quarterback.  I played every down, offense and defense at guard unless the quarterback made a mistake or was too tired to continue and then I would play quarterback.  That was on the T formation.  Our school, Lockhart High School, was the first to use the T.  Our coach, a local businessman and a brilliant person, was our coach since all of the coaches were in the war effort in 1943.  He bought Clark Shaunnesy's book and learned the T from that book.  I sent those facts to Waco so that they would be able to show that fact to future generations.  Our coach, Sid Gambrell, was the brother of Tom Gambrell, a member of the Longhorn Hall of Honor.  He was a home run hitter on the 1915 baseball team and their captain and hit a home run right handed and then, the next consecutive time at bat, another left handed.  That feat was not duplicated until a professional player did it in 1952 but not since has that happened.  Sid was a good coach but we still lost the district to New Braunfels by one point.

When I enrolled at U.T., D.X. Bible was the coach.  In those days, there were not as many coaches as there are today.  Blair Cherry, Eck Curtis, Ed Price, and Bully Gilstrap.  That was it.  D.X. was the most heralded coach to ever be hired at U.T. and whose beginning salary was so high, they had to raise the governor's salary out of embarrassment.  I think that it was less than $250 per month, which then was an astonishing salary.  But, he came just before the war and had his first great squad in 1941 but was cut short after that because of the war when all of the good players were playing for Great Lakes, Fort Sam Houston, Southwestern University and many others.  He had to survive on freshmen and the record reflected that.

I was running second string tailback then when Maxie Bell was the starter.  I was small but fast which is what D.X. wanted as his tailback.  His fullback was a big boy.  I weighed 145 lbs and stood 5 ft. 10.  Before I could ever play a down in a game, I was called by Uncle Sam to the Air Corps which left me with regrets but with no choice.  But, I had learned much.  D.X. ran the single wing, the Y formation, and the double wing.  He had not yet started the "spread" formation which was begun by Dutch Meyer at TCU and later refined by Rusty Russell at SMU.  But, I was a real lover of the game and a student of the game and learned them all, something that would stand me in good stead, later, when I became a coach.

After I came back from Germany and applied for a coaching job, I was hired by Woodsboro, a small town with a large consolidated school district as their assistant coach.  The head coach was a great basketball coach but didn't know football, so for all practical purposes, I was the head football coach and he was very generous to allow that.  I ran into an old fellow player from UT.  Who was the coach at Ingleside, Emory Ballard, who was a "scrub" on the bench with me.  We beat him that year and later he became the coach at San Angelo and I took a better paying job in El Paso where I was the coach of the JV team.  The head coach was Buryl Baty, a great coach, former A&M player, and a proponent of the T formation.  He allowed me to play the "triple flanker" formation if I would play the first half with the T.  I knew both and was happy to oblige but showed him the futility of the T without the right players and demonstrated how the "triple flanker" (Dutch Meyer's name now called the shotgun) could outscore any other type of offense.  I won every game, averaged 3 touchdown passes per game (½) and was voted "Coach of the Year" by the El Paso newspaper.

I learned, very early, that these boys, who were very small, were great at throwing and catching but not at running or butting heads with the much bigger kids, from El Paso and Austin High School, so I put them into to a formation that they could excel at and they did.  On defense, I let them "stand up" instead of getting down in a stance since that way they could use their speed and elusiveness and their bravery and make tackles in the 5/4/2 defense that I had learned from Vernon Hilliard, the coach at McMurray.  We were, easily, the champions and they won for the first time in school history.

That was my last year as a coach and I still have regrets since I loved the game so much, but I had a wife and little baby and felt that I owed more to my family than the $3,600 salary that I was paid.  As fate would have it, I made the right decision for just a few months later, I learned that Buryl, Jerry Simmang and Fred Rosas, who were on a scouting trip, were hit "head on" by an 18 wheeler and both Buryl and Jerry were killed and Fred injured for life.  (I would have been with them on that scouting trip).  We never know what fate has in store for us.

I am going to volunteer to tell you the best coaches that I knew or knew about in those old days.  I think that I can do that better than most since I lived at that time and knew them all either personally or by news accounts and radio broadcasts of their games.  I was given a commemorative copy of the first Life magazine by Kern Tips, still, along with our boy, Craig Way, the best announcer ever.  First, on my list of the greatest coaches is: D.X. Bible, the coach who started U.T. on its path to greatness.  Second, Darrell Royal, who brought a new concept along with a "hitting philosophy" that we had never seen before.  Along with Darrell and at the suggestion and personal hiring by D.X. of their first "brain coach, Lan Hewlett" Darrell brought to the program an insurance program to guarantee that players like Earl Campbell, stayed eligible.  Then, after Darrell, I would have to say, "Bill Snyder" who might have been the very best had he ever had the material to work with.  And, last, but not the least, the one and only, "Dutch" Meyer, the great TCU coach who specialized in upsetting the big boys when he had to work with the leftovers after Texas and A&M were through with recruiting.  I still recall taking my mother to a Texas/TCU game here at Memorial Stadium when I could buy a ticket at the gate for $2.00.  She was a 1913 graduate of TCU and believed that they could and would win.  We kicked off on the opening kick-off to Dean Bagley who took it in the end zone and returned it "all the way" for a touchdown and led the team to an ultimate victory over the heavily favored longhorns.  She was right! I am asked, occasionally, how our teams in 1945 compared with those of today.  I am quick to respond.  Like black and white.  There is simply no comparison.  Today's fourth stringers would demolish the very best in the 1945 era.  Why? More people.  The more people, the greater the chance to find a Vince Young, the one man that I consider to be the best football player to ever play the game by far!
Thanks Harry.  I am happy to share your great memories with several generations of Longhorns younger than you and me – and of course our generations.  Hook Em Harry!
For those of you who might want to know more about Buryl Baty, there is a book about him and his legacy, published by the Texas A&M University Press:  "Champion of the Barrio:  The Legacy of Coach Buryl Baty"   –  http://www.championofthebarrio.com/
Also:
https://www.elpasotimes.com/story/news/history/blogs/tales-from-the-morgue/2012/01/13/1954-early-morning-crash-kills-bowie-high-school-coaches/31486617/
Music
ZZ Top, one of the greatest Texas bands of all time has its roots in Houston.  Billy Gibbons (guitar), Frank Beard (drums), and Dusty Hill (bass) formed the legendary band in 1969. We lost Dusty Hill this summer.  But playing the brainiacs from Houston seems like a good time to enjoy some funky Texas blues rock & roll.
La Grange.  158,643,808 views. Kind of popular.
Tush.  The opening chords conjure up some great, if hazy, memories.
I Gotsa Get Paid
Brown Sugar, live from Gruene Hall
And two from what I think of as the MTV years:
Gimme All Your Lovin'
Legs
Love ZZ Top, but in my life, no piece about Houston music would be complete without Archie Bell & the Drells.  Tighten Up, one of my favorite songs.
40 for Forty
First, thanks to everyone who made donations to HAAM!  HAAM Day was a big success, and I appreciate all who contributed.
This week, I am appealing for your support of The University of Texas at Austin.  40 Hours for the Forty Acres is a university-wide fundraising event for the UT Austin community.  It is the U.T. version of Amplify Austin or North Texas Day of Giving.  I like it, because it gives me a chance to make targeted gifts to programs and schools at the University which I appreciate and like to give extra support.  I am sure all of you are great financial supporters already, but this is a way for me to give and raise money for some specific areas of interest.  For example, Dell Medical School.  I am a big believer and supporter, and it has been a big part of my life since 2012 and the campaign to pass Prop 1.  Also the law school, and of course Texas Athletics.  Other particular causes are the Clements Center for National Security, and the colleges & schools from which my daughters graduated:  Education, Moody, and McCombs.  And Texas Exes.  So even though you are probably a cheerful giver, consider some specific areas where your dollars can make a difference.  Philanthropy helps sustain excellence at the University, and it is key for us to remain a highly ranked, university of the first class.
https://40for40.utexas.edu/amb/tctayloratx

IVY LEAGUE INAUGURAL REPORT FOR 2021 SEASON
By Lonnie Schooler
The "real" college football games begin in earnest this coming weekend, weather permitting.  Anticipation is in the air as the first kickoff brings hopes and dreams for success in the FCS, particularly after last year's COVID-induced hiatus for all Ivy sports.
By the way, in case you were wondering, recent reports indicate that the League currently has twelve of its alumni on NFL rosters this year!  One never knows.
Prediction for the Year:
The 2019 season concluded with one of the most memorable games in Ivy League history, with Yale coming back from a huge deficit to defeat the Harvard Crimson in three overtimes, 50 to 43, overcoming a 17-point deficit in the 4th quarter to send the game to overtime, in a game that was, literally, finished in darkness.
This year, the Princeton Tigers are predicted to prevail, closely followed by the Yale Bulldogs.  The Big Green of Dartmouth are pegged for third place, barely eking out the Harvard Crimson.  Trailing in the second division are the Fighting Quakers of Penn, the Bruins of Brown, the Columbia Lions, and the Big Red of Cornell.
SCHEDULE FOR SEPTEMBER 18:
The schedule for this weekend's games is as follows (all times CDT, and all games available on ESPN+):
In the games starting at 11:00, Princeton travels to the foothills of Pennsylvania to take on the Lehigh Engineers; and the Yale Bulldogs host the Holy Cross Crusaders in New Haven in their annual home-and-home series.
In the games starting at 11:30, the Brown Bruins host their "cross-town" rivals from the University of Rhode Island in Providence (actually, no destination in Rhode Island is a long drive from any other destination in Rhode Island, since Rhode Island is about the size of Harris County); and the Harvard Crimson journey to the nation's capital to take on the Georgetown Hoyas at 11:30.
In the games starting at Noon, the Columbia Lions host the Marist Red Foxes (I am not making up the name of this mascot) in upper Manhattan; while the Big Green of Dartmouth travel to Indiana to take on the Valparaiso Crusaders.
At 1:00, the Big Red of Cornell host the Keydets of VMI in upstate New York.  Finally, the Fighting Quakers of Penn journey to Lewisburg, Pennsylvania to take on the Bucknell Bisons at 6:00 P.M.
Enjoy your football this weekend, now that there is a hint of autumn in the air in the Northeast.  Go Horns!
Photo of the Week
Erin Newman-Mitchell is another great Austin-based photographer I recommend that you follow.
https://www.instagram.com/erinnewmanmitchell/
This photo is so cool. The Sturgeon Blue Moon over the Texas State Capitol this past August.
God Bless Texas
God Bless America
Tim Taylor
Tailgating before Home Football Games
The Juan Heisman Tailgate
Lot 38, East of Sid Richardson Hall.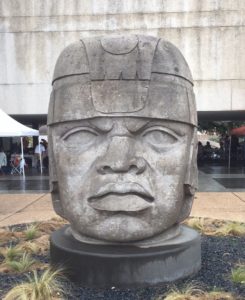 HOOK EM HORNS!!
© Timothy C. Taylor, Sr. 2021.  All Rights Reserved (as to original material).
On Twitter:  @tctayloratx
On LinkedIn:  www.linkedin.com/in/tctatx
On Instagram:  @tctayloratx
On Facebook:  www.Facebook.com/Tim.C.Taylor
and:  www.Facebook.com/Juan.Heisman
You can contact me by mail:
Tim Taylor
P.O. Box 5371
Austin, Texas  78763-5371