Texas Longhorns 41, UTSA Roadrunners 20
The Texas Longhorns had a bit of a slow start, but Sark and his staff righted the ship at halftime, and the Longhorns ran to a 41-20 win over a very good football team from San Antone.  Texas outscored the Roadrunners 24-3 in the second half, thanks to Bijan Robinson and the pick 6 by Jahdae Barron which put the Horns ahead 31-20.  Huge day for Bijan with 183 yards rushing and three touchdowns.  Recap of the game below.
Roschon Johnson and the Paul Hornung Award
Roschon Johnson is on the Paul Hornung Award Honor Roll, and fan voting is underway.  No secret how much I admire Roschon Johnson.  The Louisville Sports Commission started the Paul Hornung Award in 2010 to honor the great Paul Hornung (a Louisville native) "and to promote outstanding performances by versatile college football players who often go unnoticed. Each week during the regular season, a panel of college football experts selects players for the Paul Hornung Award Honor Roll based on performance. A national selection committee comprised of 17 sports journalists and former NFL stars votes for the Hornung Award finalists and the winner, with fan voting powered by Texas Roadhouse comprising the 18th vote."  You can vote every 24 hours through November 6.
https://www.louisvillesports.org/paul-hornung/award-poll/
Texas Longhorns vs Texas Tech Red Raiders
The Longhorns meet the Red Raiders for the 72nd time on Saturday.  The game kicks off about 2:30 p.m. in Jones AT&T Stadium in Lubbock, and it will be broadcast on ESPN.  Dave Flemming on the play by play, Rod Gilmore with insight and analysis, and Tiffany Blackmon on the sidelines, dodging tortillas.
Rod Gilmore is a pretty amazing man.  Born in 1960, he graduated from Stanford in 1982, where he was a teammate of John Elway on the Cardinal football team (and on the field for "the band is on the field!").  In 1986, he graduated from Berkeley Law with his J.D.  He has practiced law in the Bay Area while building a successful side career as a college football broadcast analyst.  He was the 2022 recipient of the V Foundation's John Saunders Courage Award at the Dick Vitale Gala in May.  I know you all know about Jim Valvano and the great speech given at the 1993 ESPY's.  But it is worth re-watching.
Jimmy V's inspiring ESPYS speech – ESPN Video
In 2016, Gilmore was diagnosed with multiple myeloma, a blood cancer.  While fighting this tough cancer for the last six years, Gilmore has maintained his law career and broadcasting career and serves on the Board of Directors of the Multiple Myeloma Research Foundation.
The Texas game will be broadcast around the globe on Longhorn Radio Network, with the Voice of the Longhorns Craig Way, Roger Wallace, and Will Matthews.  One can also listen to the Spanish broadcast with Dr. Rubén Pizarro-Silva and Arturo Mata.  It really is pretty cool:
Texas leads the series with Tech 54-17.  Texas has won four in a row, and in this millennium Texas has won 18 out of 22.  Out of the 17 Red Raider wins, 6 of them came under the legendary Spike Dykes.  Leach beat Mack twice, and Kliffie Kingsbury beat Charlie Strong once and Tom Herman once.
The Longhorns are favored by 7, and the over/under is 61.  The ESPN Matchup Predictor has Texas with an 80.5% chance of winning.
I have a longer than usual articles on Texas Tech and the Red Raiders, as this may very well be the Longhorns' last trip to Lubbock to play Tech in a conference game.
In the meantime, never forget the meaning of Guns Up:
Texas Tech Red Raiders Football History
Texas Technological College started playing football in 1925.  In 1932, Texas Technological College joined the Border Conference.  The Border Conference had been founded the year before by the University of Arizona, Arizona State Teachers College at Flagstaff (now Northern Arizona University), Arizona State Teachers College at Tempe (now Arizona State University), the University of New Mexico, and New Mexico College of Agriculture and Mechanical Arts (now New Mexico State University).  In 1935, the College of Mines and Metallurgy of the University of Texas (now The University of Texas at El Paso) joined the Border Conference, and Hardin-Simmons University and West Texas State Teachers College (now West Texas A&M University) joined in 1941.  The years in the Border Conference were the Golden Years of Texas Technological College football, as the Red Raiders would win the Border Conference championship nine times between 1937 and 1955 (undefeated in conference play each time, although they were 3-0-1 in 1955).
In 1956, Texas Technological College joined the Southwest Conference, becoming a full member in 1960.  The Red Raiders would share in the SWC title twice, in 1976 with Houston, and in 1994 with Texas, Texas Christian, Baylor, and Rice.  Don't remember 1994? It was a weird year.  All five of those schools finished 4-3 in conference.  Houston was 1-6, and Southern Methodist was 0-6-1.  Texas Agricultural & Mechanical went undefeated, 10-0-1 overall and 6-0-1 in the SWC; alas, the Aggies were on probation and ineligible for the SWC title or postseason play.  Southern Methodist tied Texas Agricultural & Mechanical 21-21, which prevented a perfect season and an outside shot at an AP national championship.
For the last twenty years or so, Texas Tech football has been defined by good offenses with great quarterbacks and receivers, tough offensive lineman, and some good running backs.  Kliff Kingsbury, B.J. Symons, Graham Harrell, and Patrick Mahomes all won the Sammy Baugh Trophy, and Harrell also won the Johnny Unitas Golden Arm Award.  [this still hurts; I was there.]  Michael Crabtree was the first two-time winner of the Biletnikoff Award and Warfield Trophy in back-to-back seasons; he is also the only Raider to be a two-time consensus All-American.
Last season, the Red Raiders were 7-6 overall and 3-6 in the Big 12, with wins over West Virginia, Kansas, and Iowa State.
One last historical note.  Tech has beat the No. 1 team twice.  The 2008 Crabtree Catch.  And No. 1 Oklahoma in 2011. The score against the Land Thieves?  41-38.
Texas Technological College
 For many years, I would call the Red Raiders the Sand Aggies.  There were two reasons, the first of which I cited many, many years ago:  In 1917, the Texas Legislature passed a bill to create a branch of Texas Agricultural and Mechanical College in Abilene.  While that bill was, ultimately, not the enabling legislation for Texas Tech, it was the genesis.  And in the 1960's. when it was still Texas Technological College, Governor John Connally (a great governor!) tried to get Tech in the A&M system (didn't work out).  Thus, I would kid my Tech friends (which are legion) that Texas Tech was really just a branch of Texas Agricultural and Mechanical.  Well, that gives rise to the second reason, which is that before that legendary breakfast at the McDonald's in Plainview, most Tech folks that I knew hated the Aggies more than us Longhorns; so suggesting that they were part Aggie was particularly unpopular.  It was all good-natured kidding in a fun rivalry.  But, the feedback grew a bit weird on "Sand Aggies", so I decided to quit using that.  I then decided that South Plains Aggies would be a more appropriate descriptor, but I remembered that the Texas A&M System has a member institution up that way, West Texas A&M University in Canyon, formerly known as West Texas State University.  And while they are the Buffalos, and Randall County is really Panhandle and not the South Plains, I wouldn't want to create any confusion, given my respect for West Texas A&M University, formerly known as West Texas State University.  Why?  Well, a long time ago, when I first started writing these little dispatches, a friend named Adam Jones was putting out good stuff on college football (Jones Top Ten, which I still miss).  And then he wrote a really good book called "Rose Bowl Dreams", subtitled "A Memoir of Faith, Family, and Football".  It is a fine, fine read, and I highly recommend it.
All that is to say, I am just going to stick with Red Raiders, although honestly I liked their original moniker more –the Matadors.  Fit a bit better with Llano Estacado.  Perhaps we will travel down that trail in a couple of years.
Texas Tech is now the flagship of the Texas Tech System (formed 1996), comprised of 5 institutions.  The motto is "From here, it's possible".  Next year, the Sand Aggies South Plains Red Raiders will celebrate their centennial. Congrats.  Enrollment in 2020 was 40,322, with 33,269 undergrads.
Academic Rankings

National

Texas

Texas Tech

Forbes

43

163

THE | WSJ

60

401-500

U.S. News & World Report

38

213

Washington Monthly

40

197

Global

ARWU

37

401-500

QS

72

801-1001

THE

47

601-800

U.S. News & World Report

43

450
Well, better than Alabama.
Notable alumni include, in addition to some of the football stars mentioned elsewhere:  Preston Smith, Governor of Texas (1968 to 1972), Edward Whitacre Jr. (former chairman and CEO of GM), and some great Texas musicians:  Butch Hancock, Jimmy Dale Gilmore, Wade Bowen, Josh Abbott, William Clark Green, Cory Morrow, and Pat Green.
Texas Tech Red Raiders Football 2022
This season, Texas Technological is coached by Joey McGuire, who went to Lubbock last year from Baylor, where he had coached tight ends, defensive ends, and outside linebackers.  Matt Rhule hired McGuire in 2017 after 13 very successful years as head coach at Cedar Hill, including three state titles.  Tim DeRuyter is the defensive coordinator, and Zach Kittley is the offensive coordinator.  Josh Cochran, a T Man who made 23 starts at offensive tackles for the Horns from 2011-2013, is the Tech tight ends coach.
Tech opened the 2022 season with a 63-10 drubbing of Murray State.  Donovan Smith threw for 221 yards and 4 TDs on 14/16 , Tyler Shough was 6/10 for 154 yards and one score before he got hurt.  Loic Fouonji caught 3 passes for 110 yards and 2 TDs; Nehemiah Martinez had 2 catches for 43 yards; and Jerand Bradley caught 6 passes for 108 yards and 2 TDs. SaRodorick Thompson got 48 yards on 7 carries, and Tahj Brooks had 50 yards on 6 attempts (and 3 TDs).
In their second game, Tech beat Houston 33-30 in double overtime.  Tech had 35 first downs to Houston's 16 and 468 yards of offense.  Donovan Smith threw 58 passes, completing 36 for 351 yards and two touchdowns; he also had three passes intercepted.  Of note, Smith was sacked six times for somewhere between 39 and 49 yards (the Tech boxscore and Cougar boxscore are not aligned).  [Also, fourteen tackles for loss by Houston for 67 yards.],  Miles Price had 5 catches for 78 and a score, Nehemiah Martinez had 5 catches for 76 yards and a score, Jerand Bradley had 6 catches for 50 yards.  Tahj Brooks ran for 80 yards and a TD and caught 5 passes for 34 yards.  Donovan Smith also ran for a net of 28 yards (on 20 attempts, with 58 yards of losses – take note PK and GP).
Last weekend Tech lost to NC State 27-14.  That is despite 353 yards of offense to the Wolfpack's 270.  Donovan Smith was 21/36, 214 with 1 TD and 2 interceptions (sacked 4 times); Behren Morton was 4/7 for 85 yards and 1 interception.  SaRodorock Thompson gained 39 yards on 9 carries, Tahj Brooks had 20 yards on 2 carries, and Donovan Smith was minus 9 yards but with a score.  Eleven Red Raiders caught passes:  Price (4, 50 yards, 1 TD), Martinez (4, 46 yards), Brooks (5, 44 yards), White (1, 38), and a bunch of other guys.
Donovan Smith expected to start at quarterback.  71/110 for 786 yards and 7 TDs with 5 interceptions.  A great receiving corps.  Four guys over a hundred yards:  Bradley with 172 yards and 2 TDs.  Fouonji with 168 yards and 2 TDs.  Price with 167 yards and 2 TDs.  Martinez with 165 yards and a score.  RB Tahj Brooks is fifth in receiving with 79 yards on 11 catches.
I assume Tech will try and run Brooks and Thompson, but neither have impressed so far.  But don't be fooled.  Tech running backs have a history of great games versus the Longhorns.
Tech has a dang good defense.  Tyree Wilson (OLB, Edge) leads with 21 tackles (12 solo), 5.5 TFL for 22 yards and 2.5 sacks for 14 yards plus 2 QBH.  Wilson is Tech's top NFL prospect.  Krishon Merriweather (LB) has 19 tackles (12 solo) and 2 QBH.  Marquis Waters (DB) has 14 tackles (10 solo) and 4 QBH.  Going  to have watch him blitzing.  Need RoJo back there blocking for the Texas QB.  Kosi Eldridge (LB) has 13 tackles (8 solo).  And Tech has their own DTD – Dadrion Taylor-Demerson (DB) who has 13 tackles (6 solo).  Next, two big linemen:  Jaylon Hutchings has 12 tackles and Philip Blidi has 11 tackles.
The Texas line has their work cut out for them.
Texas Longhorns vs Texas Tech Red Raiders
Official Preview:
https://texassports.com/news/2022/9/19/no-22-19-football-preview-texas-tech.aspx
Texas Game Notes:
https://texassports.com/documents/2022/9/19/04-TexasGameNotes-TexasTech.pdf
Tech Preview & Game Notes:
https://texastech.com/news/2022/9/19/football-preview-texas-tech-texas-clash-saturday-in-lubbock.aspx
On Monday, all the Texas quarterbacks practiced, including Quinn Ewers.  Some quick healing, but hope we don't need him on Saturday and that he can get 100% healthy for the Red River Shootout.
I have for many years researched and drafted my own statistics comparison.  I am going to crib the good work from the media team at Texas Athletics.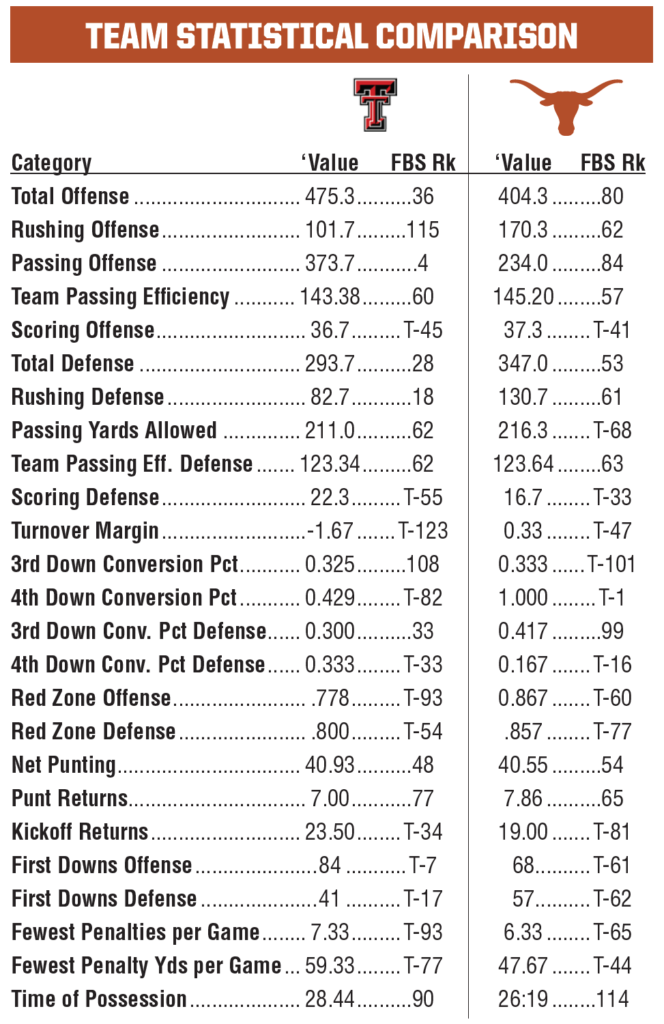 Match-up Comparison
| | |
| --- | --- |
| Texas Offense | Texas Technological Defense |
| Rushing Offense – 170.3 ypg | 82.7 ypg – Rushing Defense |
| Passing Offense – 234.0 ypg | 211.0 ypg – Passing Defense |
| Total Offense – 404.3 ypg | 293.7 ypg – Total Defense |
| Scoring Offense – 37.3 ppg | 22.3 ppg – Scoring Defense |
| First Downs – 22.7/game | 13.7/game – First Downs Allowed |
| 3rd Down Offense – 33.3% | 30% – 3rd Down Defense |
| 4th Down Offense – 100% (4/4) | 33.3% – 4th Down Defense |
| Red Zone Offense – 87/53 | 80/30 – Red Zone Defense |
| LRP – 14/10; 6/20; 4/30; 2/40 | 6/10 – no more – LRP Allowed |
| LPP – 29/10; 9/20; 4/30; 3/40 | 25/10; 10/20; 6/30; 3/40- LPP Allowed |
| LSP – 43/10; 15/20; 8/30; 5/40 | 31/10; 10/20; 6/20; 3/30 – LSP Allowed |
| | |
| --- | --- |
| Texas Defense | Texas Technological Offense |
| Rushing Defense – 130.7 ypg | 101.7 ypg – Rushing Offense |
| Passing Defense – 216.3 ypg | 373.7 ypg – Passing Offense |
| Total Defense – 347.0 ypg | 475.3 ypg – Total Offense |
| Scoring Defense – 16.7 ppg | 36.7 ppg – Scoring Offense |
| First Downs Allowed – 19/game | 28/game – First Downs |
| 3rd Down Defense – 42.6% | 32.5% – 3rd Down Offense |
| 4th Down Defense – 20% | 42.9% – 4th Down Offense (3/7) |
| Red Zone Defense – 86/29 | 78/67 – Red Zone Offense |
| LRP Allowed -10/10; 3/20; 1/30; 1/40 | 12/10; 4/20; 0/30; 0/30 – LRP |
| LPP Allowed – 28/10; 8/20; 2/30; 1/40 | 25/10; 15/20; 9/30; 2/40 – LPP |
| LSP Allowed – 38/10; 11/20; 3/30; 2/40 | 64/10; 19/20; 9/30; 2/40 – LSP |
My observations on the stats:
The one that really jumps out is Tech's run defense:  82.7 yards per game, but more than that – long run plays allowed (or more accurately, not allowed).  In three games, Tech has allowed 6 runs over 10 yards, and that is it.  No runs over 20 yards allowed.  Opponents are averaging 2.33 yards per carry, and the Red Raider defense has only given up two rushing scores in three games.
The other stats of note are the third down conversion numbers.  Texas is not converting well (33.3%), and Tech is only allowing opponents to convert 30%. Tech not so good either at 32.5% on offense, but Texas is allowing 42.6%.
I think this game will come down to the Texas offensive line and Sark's ability to get his offense to execute well, stay out of third and long, and somehow get Bijan and RoJo past the Tech linebackers.  I suspect that Ja'Tavion Sanders is going to need to have a big game.  And this would be great time for Worthy to break-out with a big game, maybe 100+ yards receiving and a couple of scores (return a punt for a TD, please?).  Tech is allowing 7.4 yards per catch.  So as good as the Red Raider defense is, I think our offense will be able to move the ball.  The big question is who will lead them?  Is Ewers well, and if so, should we risk it?  Card has not made mistakes.  Maybe let him see what he can do?  I don't know. Sark is getting paid well for this.
Tech is always up for Texas, and I bet we see their best offensive performance of this short season.  Diamonte Tucker-Dorsey is going to have to step up.  Some of our DBs are going to need to play much better than last week.
The Texas defense needs to be relentless in pressuring Smith.  Tech is worst in the Big 12 with 10 sacks allowed for 78 yards (and tied at 116th nationally in that category).  Texas is only averaging 2 sacks per game, and the Horns probably need to double that in Lubbock.  And should.
Clean football.  Texas was flagged 9 times for 88 yards last week, and 4 of UTSA's first downs came on Texas penalties.  We cannot give Tech free yards and free first downs in Jones Stadium.
Turnovers.  Texas only has one turnover – that Ewers interception at the start of the ULM game.  Tech has been intercepted 7 times and lost a fumble.  The Longhorns must have a similar edge in this game.  Pressure the Tech QB, force a bad throw.  We need the Texas secondary to have a much better game – and we know they can do it.  The reigning Heisman Trophy winner battled to throw 213 yards on the Horns and only completed one pass for a touchdown.
I will go with Texas 38, Tech 30.
Thanks to Kyle Umlang for reminding us of the karma at work in 2020: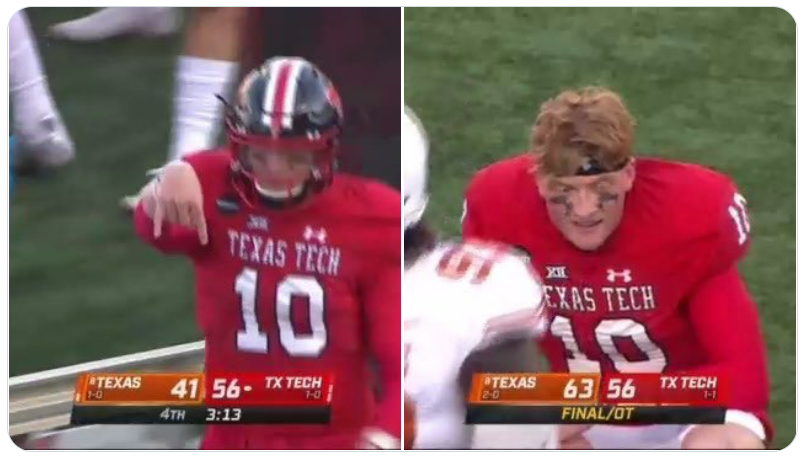 TLSN & Larry Carlson
Billy Dale's History of Longhorn Sports and Texas Legacy Sports Network continues to provide great history and articles.  Here is a link to Larry Carlson's recent post, "Happiness Won't be Lubbock in the Rearview Mirror".  Larry Carlson's sports journalism career: a radio broadcaster on CBS Radio Sports, NBC Radio Sports, Associated Press Radio, KNBT-FM, and KSPL-AM. He was editor for the San Antonio/South Texas Football Magazine. For many of y'all, you may remember him as Sports Director and Host for the Longhorn Locker Room Show on KVET in Austin.
https://texas-lsn.squarespace.com/rear-view-mirror
Roadrunners 20, Longhorns 41
Hudson Card started for the Horns, and Texas had the ball first.  After 3 Bijan runs, Texas had fourth and 1 at their own 34.  Sark sent a message as the Longhorns went for it, and Bijan got 3 up the middle.  After another quick first down with a nice flip and run on a sweep by Keilan Robinson.  After taking a shot down field to Worthy, Texas got a false start penalty, and then couldn't convert on third and 15.
UTSA's first possession showed us that QB Frank Harris was in fact the real deal, and the drive included a couple of good pass plays to Oscar Cardenas, the Roadrunner tight end.  It looked Harris had a big 45 yard touchdown completion to Cephus, but an illegal shift call on UTSA saved the Horns from that score.  UTSA continued the drive, some good defensive play by the Horns, and UTSA ended up with fourth and 1 on the Texas 1, UTSA got flagged for a false start, and Traylor decided to take the 3 points.  Good drive.  79 yards, four third down conversions, five first downs, over 8 minutes of clock.   UTSA 3-0.
The next drive began with some good runs, but the Horns were helped by three UTSA offsides calls (including one on fourth and 4).  Card on a flip toss to Whittington who made a nice run behind Sanders for a first down.  Card completed an 11 yard pass to Whittington on the last play of the first quarter, and Texas started the second period with a first and 10 at the UTSA 20.  A holding call put Texas back to the 30 and a first and 20, but Card fixed that with a quick pass out to Roschon Johnson who made a nice one hand catch then took it 19 yards to the UTSA 11.  Then on a roll right Card flicked to RoJo who took it in for the Texas touchdown.  7-3 Texas.
UTSA got to start at their 35, and Harris went to work.  Brady with 10 yards up the middle, then a 7 yard pass to Clark, and then Harris scrambled into daylight for 11 yards to the Texas 37.  Harris then completed 10 yard and 9 yard passes to Cephus to get to the Texas 18.  Texas made a good stop on second and one, but then Brady converted the first down on a good run.  A bad pass interference on No. 6, and UTSA had a first and goal on the Texas 2.  Brady ran it from there to give the Roadrunners a 10-7 lead and the momentum five minutes into the second quarter.
That momentum would immediately magnify, as on the ensuing kick-off, Traylor called for the onside kick.  UTSA executed it brilliantly and Texas failed miserably in defending it.  Didn't look like the possibility of the onside crossed our minds.
Bad defense let Cephus pick up 17 yards to the Texas 35.  Then a double pass play with RB Brenden Brady winging one into the endzone which Zakhari Franklin hauled in for the UTSA touchdown after getting behind No. 6.  17-7 Texas.  The Horns were on their heels, and my stomach was tight.
Texas got the ball and went tempo.  Bijan for 4, Bijan for four, RoJo for 3.  Card to Whittington for 4 then Card to Worthy for 12 then Card to Whittington for 14, and Texas was at the UTSA 25 in six plays.  Should note these, and many of Card's passes, were short passes that then picked up good yardage with blocking and good running from the receivers.  Cool play with RoJo in the wildcat and both Robinsons with him in the backfield, and RoJo with the hand off to Bijan for 7 yards.  RoJo still in the cat, and he hurdled a UTSA defender on his way to the 2 yard line.  Two plays later, Bijan with a solid run with good O Line blocking for the touchdown.  17-14 with a little over five minutes to play in the half.
UTSA's next drive started at their own 17 and went backwards on first down after a false start.  But Harris escaped a huge blitz and made a good completion for first down to get it out to the UTSA 31.  Later on third and seven, another false start, so third and 12.  Texas held and forced the punt, which went out of bounds on the Texas 12.
Bijan had a good run, then a good pass to Sanders, and on third and one Bijan with a tough hard run to the UT 35.  Then Card to Bijan on second and 10, who picks up 19 to the UTSA 45. Card to Cain for 7, then RoJo had a solid run out of the wildcat to get to the UTSA 29. On second and 10 an illegal snap call had Texas backed up to the UTSA 34.  Card found Worthy to get it to the UTSA 26, but on third and 7 Card couldn't connect with Sanders.  Sark sent in Auburn to attempt a 44 yard field goal into the north endzone, and Bert drilled it.  17-17, and UTSA took a knee after the kick-off to send it to halftime tied.
I thought Texas was lucky to be in the locker room tied.  A lot of help from UTSA penalties allowed Texas to overcome some less than stellar tackling and a big moment when the Roadrunners scored 14 points in under 40 seconds.
UTSA got the ball to start the third quarter.  After Harris scrambled to get a first down, he had Clark open down the left sideline, as Clark had beat No. 6.  The ball was underthrown, and it looked like Texas had dodged a bullet.  But a roughing the passer call gave UTSA the ball at midfield.  A good stop on first down, then an underthrown ball, and it was third and 8.  A delay of game, and Harris couldn't convert the third and 13.
Texas got the ball at the 20 after the punt went into the endzone.  No. 5 gained 2 to the 22.  Then, this, as RoJo in the cat hands off to Bijan Robinson:
Gotta Blast 🚀 @Bijan5Robinson

📺: @LonghornNetwork pic.twitter.com/S5WOxE8fH8

— Texas Football (@TexasFootball) September 18, 2022
Worthy escorted Bijan into the endzone 78 yards later.  Texas 24-17.  That was the play of the game.
With that momentum, Texas forced its first three and out on the next UTSA possession, thanks to good pressure on Harris then a nice pass defense by Jamison.
Texas went to work at its 26, and on the first play Card with a great long pass to Whittington for 26 yards to the UTSA 38.  But the UTSA defense stepped up, and Texas had to punt.  A good one by Trejo, to put UTSA at its own 14.
Traylor and his Roadrunners came to play.  A heck of a drive by Harris, and UTSA got a field goal to close the gap to 4 at 24-20.  Some good defense on that series from Overshown.
A three and out gave the ball back to UTSA with just under two minutes left in the third.  Harris worked hard and completed several big passes, then on second and 6 at the UTSA 43, Jahdae Barron read the play and pass and stepped in front of the Roadrunner receiver to pick off the throw and take it to the house.  Okay.  Maybe that was also the play of the game.  That was the first Longhorn interception returned for a touchdown since DeShon Elliott's 43-yard return at Baylor in 2017.  31-20 Texas with 18 seconds in the third.
On the second play of the possession, Harris converted a second and 8 with a good pass over the middle to Dishman.  A couple of plays later it was third and 8 from the UTSA 34.  Overshown came untouched up the middle to sack Harris in what looked like a textbook tackle.  Jeff Traylor disagreed, and they did decide to review the play.  The Big 12 officials figured out a way to call it targeting.  That play, and bad call, would be one of the most talked about from the game, and as we learned on Wednesday, the Texas appeal to the NCAA to overturn the call was denied.  Agent 0 will sit out the first half in Lubbock.  Brady with a 13 run on first down, but a quarterback hurry by Oghoufo, then after a 9 yard pass UTSA had it third and one at the Texas 29.  Diamonte Tucker-Dorsey stopped Harris short of the marker, and on fourth and 1 the UTSA receiver dropped it on fourth and 1, giving Texas the ball.
A nice flip to Whittington for 12 yards went backwards  for 10 after a holding call (a good call).  On first and 20, Bijan lost 2 yards.  Then on second and 22, Card dropped back and read the field well – it was wide open in front of him.  So Hudson tucked and ran hard for 32 yards to midfield.  Bijan Robinson would then break the Roadrunners with a 10 yard run and then a gem of a rush (and good down field blocks by Whittington and Worthy), 41 yards to pay dirt to give Texas an 18 point lead at 38-20.  Heck of a run!
Down 18, Traylor sent in Eddie Marburger to QB, and Texas forced a three and out.
The next Texas series was all about the Texas running backs, as RoJo would carry 4 times, including a 32 yard beauty, and Keilan would carry twice to get Texas to the UTSA 8.  A Bert Auburn 26 yard field goal was good, to give Texas 41 points.  41-20 Texas with five minutes to play.
Marburger managed to marshal the Roadrunners down the field against mostly back-ups, aided by a pass interference call on the Horns.  With under a minute left, UTSA was in the redzone with a first and 10 at the 18.  But the Texas defense held, and on fourth and 11 the incomplete pass gave the ball to Texas with five seconds left.  Texas took a knee for a one yard loss to end the game.
Offensively, no question the star was Bijan Robinson, with 183 yards rushing three touchdowns including one for 78 and one for 41, plus a big 19 yard catch.  So 202 yards of offense from our man.  RoJo tacked on 81 yards rushing and 23 yards receiving, for 104 yards of offense.  Hudson Card was a solid 15 of 23 for 161 yards and touchdown.  Not spectacular, but given many didn't think he would even play, I would say a clutch performance from the young man.
Defensively, Jaylan Ford led the Horns with 15 tackles (10 solo), and added an assist on a TFL and a forced fumble.  Overshown had 10 tackles and half a TFL.  He played a solid football game.  Ovie Oghoufo continues to shine, finishing with 7 tackles and a QBH.  Cook and Barron each had 6, and Gilbeau, Thomson, and Sweat had 4 tackles each.  Of note, DTD, who came in late after the Overshown ejection, had 3 tackles, and 1.5 TFL with a sack for yards and a forced fumble.  (Both forced fumbles were recovered by UTSA; still goes in the books.)  Barron was named the Big 12 Defensive Player of the Week.  Overall, I think our depth versus a depleted UTSA offensive line was a big difference maker in the second half and contributed to the Texas win.
It has been a pretty good while since we have had an offensive line like this.  The big men up front are really impressing me.  When Texas runs the ball for nearly 300 yards, the line is blocking.  And, Texas averaged 8.3 yards per rush (an average helped a lot by the 82 and 41 yard runs by Bijan and Card's 32).  If we can come anywhere close to that in Lubbock, Texas will win.
Looking back at my predictions:  I thought Texas would rush for well over 200 yards; they were way over of course, thanks to the big Bijan runs, 81 from RoJo, and the big 32 yard scramble from Card.  298 total.  I was off on the passing; really thought that after what Army did Texas would be throwing more.  Just 161 yards (as opposed to 275-300 yards).  Sark said "we are a run first team", and by golly we were.  Slightly off on the final score, but had the 21 point spread right.
Videos
Highlights from ESPN, about 8:36 minutes:
Highlights from Matthew Loves Ball, about 30 minutes.
All of Texas Running Backs Plays from my friend Nash Talks Texas:
The full game:
I have become a big fan of Joel Klatt.  I think he actually watches games and thinks about it.  Klatt has Texas as No. 10 in this Top 10.  I hope this doesn't jinx us, but some very wise observers think mighty highly of the Longhorns.  Check out his weekly piece, Breaking the Huddle:
The Chancellor's Spurs
The game with Texas Technological is a rivalry where we play for The Chancellor's Spurs.  In 1996, when the Texas Tech University System was established and John Montford was named the first chancellor, Montford started this trophy tradition.  The UT System of course had been around a long time, with The University of Texas as the Flagship.  Texas Tech became the flagship (top 18 Wheeler?) of the Tech System.  The Tech System has Texas Tech in Lubbock and two other undergrads – Angelo State and Midwestern State – plus two health science centers, Lubbock and El Paso.  The University of Texas System, led by James B. Milliken, has thirteen institutions, led by The University of Texas at Austin.  Add UT Arlington, UT Dallas, UTEP, UT Permian Basin, UTRGV, UTSA, and UT Tyler.  And our health institutions-  the original, UTMB in Galveston, and the great, world-renowned UT MD Anderson Cancer Center, plus UT Southwestern, UT HSC Houston, and UT HSC San Antonio.  We also have medical schools in two of the universities, UT Dell Medical School in Austin and UT Health RGV and its School of Medicine.  And thanks to the Honorable Kevin Eltife, Chairman of the Board of Regents and Robert E. Lee High School class of 1977, UT Tyler will have a medical school soon.
I confirmed on Wednesday with Chancellor Milliken that The Chancellor's Spurs were safely in his office at 210 West 7th Street, where I expect them to remain: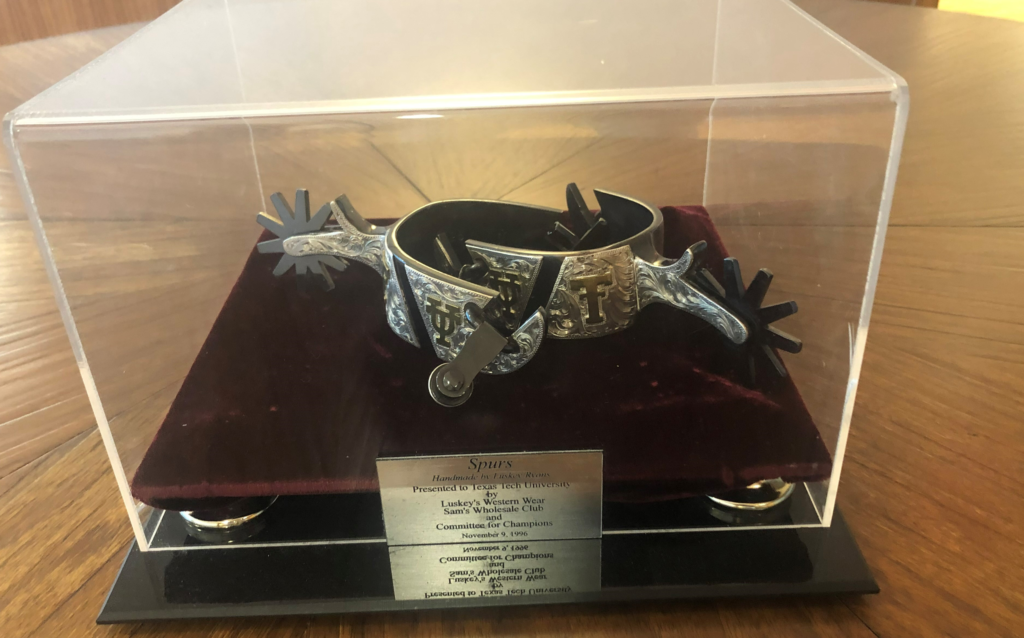 Some Good Stuff
Appalachian State, who you may recall had a big win in College Station a couple of weeks ago, had Troy in Boone and were big favorites.  Trailing 28-26 with seconds left, App State went Hail Mary and won 32-28.
APP STATE WON ON A HAIL MARY ON THE FINAL PLAY‼️ pic.twitter.com/yDlzYYtU19

— ESPN (@espn) September 17, 2022
Eli Manning went undercover to walk on the Penn State football team.  Chad Powers.
Eli Manning went undercover at Penn State as walk-on "Chad Powers" and it's absolute gold. pic.twitter.com/jaEYqBRcMh

— Kendall Baker (@kendallbaker) September 19, 2022
The Polls
Texas dropped one in the AP poll to No. 22 and moved up to No. 19 in the AFCA Coaches Poll.  The Georgia Bulldogs are alone atop both polls, followed by Alabama , Ohio State, Michigan Clemson, the Land Thieves, and Southern Cal.  SEC has 4 of the Top 10 in both polls, plus Oklahoma.  Would be fun to see Michigan and Ohio State keep winning.  They play each other on Saturday November 26, 11:00 a.m.  Georgia and Alabama don't play in the regular season.  Bedlam could be really fun again this year (November 19).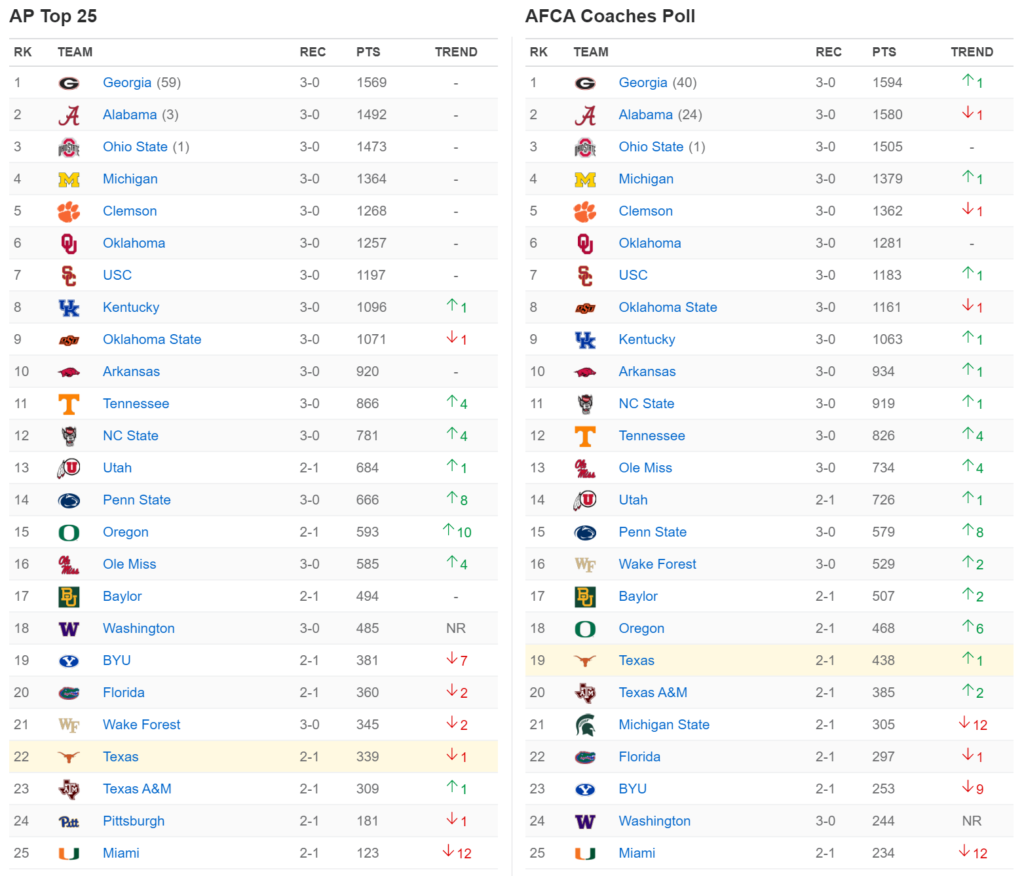 Juan Heisman Tailgate
Another beautiful Saturday afternoon at the Juan Heisman Tailgate.  Not surprised at all that the turnout was much lighter than Alabama.  But we had a great crowd and lots of friends. Another great job by last week's Early Crew, led by Hunter Wilcox, and Butters Barton, who was in line on Red River Street with the Suburban at 4:45 a.m.  Big thanks to Bill Skeen for delivering the pit and for picking it up Sunday afternoon.  Gabe Valadez, JHT manager, and his dad Lupe helped with the food and set-up.  Thanks to Nathan Thornhill for emptying his freezer and supplying the venison sausage (fine deer raised on the San Pedro by Jefe!).  Of note, I was talking to Gabe about the Alabama tailgate, and said I thought we had 200 people there.  Well, Gabe counted – we peaked at 350.  If Bama was 350 for an 11:00 a.m., then we must've had over 300 at Notre Dame, Southern Cal, and LSU.  I never did really count, just guessed.  Hat tip to Gabe.
Good to know as plan for the move to the Southeastern Conference.

And special thanks to Tito's Handmade Vodka and to my friends at Texas Beer Company.  We appreciate the support!
Casey Dobson's Lubbock Travel Alert
Dangerous things happen biennially in Texas.  In odd years, the legislature convenes in Austin.  In even years, the Texas Longhorns football team travels to Lubbock.  For the last few even years, I have enjoyed the tradition of including Casey Dobson's classic piece on Lubbock and Texas Technical.  Just like reading The Night Before Christmas on December 24, we enjoy this timeless classic in even years.  Judge Smails at his finest.
Because business, both personal and legal, sometimes requires travel to Lubbock, I am issuing this personal Lubbock travel alert. Last night, as I was leaving the charming confines of Jones Stadium as the sand aggies ruined our chances for a good bowl trip, the sand aggie partisans were savoring the win with their usual class and good sportsmanship. I could keep the ice being thrown at me from hitting my head by using my hands as a shield, but there was no escaping the Techsters' subtle, ironic wit: "F*** you, you f***ing Texas [DELETE]!" Wow. With all due respect to Duke basketball fans, these Tech kids have got to be the most clever college fans in the country.

As I rounded the last corner before exiting, one particularly erudite young denizen of the South Plains screamed at me to "Get the **** out of Lubbock!" Shocked by his lack of hospitality, I'm afraid my response may have included a mild epithet.

However, as I walked toward my rent car, parked in the 20-square block slum that is immediately adjacent to what Sports Illustrated called the ugliest college campus in America, and then began to drive out of the vast expanse of brown urban blight that is the Hub City, it occurred to me that the young man at the game was trying to help me. While I was cursing the darkness, he was lighting a candle. I AM the **** out of Lubbock, and I intend to stay the **** out of Lubbock.

Accordingly, this is my notice that I will never again travel to Lubbock. For any reason. Ever. I have learned my lesson. Lubbock has whipped me, and I am man enough to admit it. I ain't going there again. Not if I'm offered front row seats at Lubbock Municipal Auditorium for a concert where Willie and ZZ Top are opening for Jesus Christ, and they're going to euthanize Reveille and the Masked Rider between acts. Not if the Victoria Secret models offer to take me there in a luxurious motor home, stocked with Cohibas, condoms, Tanqueray, and Silver Oak, and bearing a bumper sticker "If this van's a rockin…."   Not if the corps of cadets offers to stand in the hot sun along Hwy 87 as an honor guard, wearing nothing but their shiny boots and t-shirts that say "I love Bevo!" on the front and "Hillary Clinton for President" on the back.

Nope. I ain't goin'.
Thanks Casey.  I still laugh when I read it.
Big XII – Week Four
Thursday night, West Virginia travelled to Blacksburg to play Virginia Tech.  Impressive win at a tough place to play, as WVU won 33-10.  Mountaineers were favored by 2.5.
No. 17 Baylor (2-1) heads to Iowa for big a big game with the Cyclones (3-0).  11:00 a.m. on ESPN2 from Jack Trice Stadium.  Iowa State favored by 2.5, and the over/under is 45.5.
The Iron Skillet Game should be fun this year.  The 101st meeting between Texas Christian (2-0) and Southern Methodist (2-1) kicks off at 11:00 a.m. on ESPNU from Gerald J. Ford Stadium in Dallas.  Horned Frogs favored by 2, and the over/under is 70.5.  Texas Christian leads the series 51-42-7.  The Mustangs have won the last 2, under then head coach Sonny Dykes.  This year, Sonny will be in purple on the Horned Frog sideline.  He's not the first to coach in both Fort Worth and Dallas.  Ewing Young "Big 'un" Freeland spent a year at Texas Christian (1915), and two years at Southern Methodist (1922-23, co-coach with Ray Morrison).  Freeland would become the first head coach in Lubbock for the Texas Technological College Matadors (and their first baseball coach and AD).  William Madison "Matty" Bell was at Texas Christian from 1923 to 1928, Texas Agricultural & Mechanical College from 1929 to 1933, and at Southern Methodist from 1935 to 1941 and 1945 to 1949.  The 1945 Mustangs went 12-0 and have a national championship claim, but lost to Stanford in the Rose Bowl.  (Army is generally recognized as the 1945 national champion.)   Matty Bell was in the Navy from 1942 to 1945.  (On a side note, I suspect a disgruntled SMU fan edited Sonny Dyke's Wikipedia page:  "Dykes left SMU without appearing in a conference championship game, without winning a bowl game, and never having finished in the top 25 in the final AP Poll or Coaches Poll."  A bit harsh.)
Undefeated Duke at Undefeated Kansas.  11:00 a.m. on FS1.  Jayhawks were favored by three 3-pointers Monday night, and by a touchdown Thursday night. Over/under is 65.5.
Kansas State (2-1) at No. 6 Oklahoma, 7:00 p.m. on FOX.  Land Thieves favored by 12.5 at home in Norman, over/under is 53.  I would load up on the Land Thieves. This may be one of the best bets of the weekend.
Top 25 – Week Four
Six (6) 11:00 a.m. Top 25 games.
No. 1 Georgia gets Kent State (1-2) at home between the hedges.  11:00 a.m. on ESPN+ | SECN+.  I am surprised there is even a line – Dawgs favored by 45, over/under is 62.
Maryland (3-0) gets to go to Ann Arbor to play No. 4 Michigan in the Big House, 11:00 a.m. on FOX.  Big Blue is looking good.  Michigan favored by 17, over/under is 64.5.
No. 5 Clemson at No. 21 Wake Forest, both 3-0.  11:00 a.m. on ABC.  Tigers favored by 7, and the over/under is 55.5.
Central Michigan (1-2) at No. 14 Penn State.  11:00 a.m. on BTN.  Give the MAC teams credit –they will go play the big boys.  Chippewas are 28 point underdogs. Over/under is 63.  Go Chippewas!
No. 24 Pittsburgh gets Rhode Island at home at Acrisure Stadium.  11:00 a.m. on ACCN.  No line.
Third Saturday in September.  So it is No. 20 Florida at No. 11 Tennessee as the featured SEC game at 2:30 p.m. on the Columbia Broadcasting System.  Volunteers favored by 10.5, over/under is 62.5.  Despite playing in the same conference since 1910, Florida and Tennessee are meeting for just the 52nd time.  The Gators lead the series 31-20.  Florida has won the last 5, and won 11 in a row from 2005 to 2015.
No. 25 Miami (Florida) looks to heal the wounds inflicted by the Aggies with Middle Tennessee.  The Blue Raiders are also 2-1.  2:30 p.m. on ACCN.  Canes favored by 25.5, over/under is 53.5.
No. 15 Oregon (2-1) at undefeated Washington State.  A big game in Pullman.  3:00 p.m. on FOX.  Good luck to the Elf and Cougars.  Ducks favored by 6.5, over/under is 57.5.
Tulsa (2-1) at No. 16 Ole Miss (3-0).  3:00 p.m. on SECN.  Bet it is a glorious day in the Grove.  And a fun game at Vaught-Hemingway.  Rebs favored by 21.5, over/under is 65.5.  Bet the Rebs cover.
North Illinois (1-2) at No. 8 Kentucky, 6:00 p.m. on ESPN2.  The Huskies are 26.5 point road dogs to the Cats.  Over/under is 53.
Big game at Jerry World!  No. 10 Arkansas (3-0) versus No. 23 Texas Agricultural & Mechanical (2-1), 6:00 p.m. on ESPN.  Texas Agricultural & Mechanical favored by 2, over/under is 48.5.
Vanderbilt at No. 2 Alabama, 6:30 p.m. on ESPN.  Tide favored by 40.5, over/under is 59.
Wisconsin (2-1) at No. 3 Ohio State.  6:30 p.m. on ABC.  Buckeyes favored by 19, over/under is 57.
No. 12 North Carolina State hosts Connecticut.  6:30 p.m. on ESPN3.  Got to give UConn credit:  they are playing a tough schedule.  And getting whupped.  31-20 loss at Utah State, 48-14 beating at home by Syracuse, and last week's 59-0 whipping in the Big House.  Wolfpack favored by 38.5, over/under is 49.5
No. 7 Southern Cal at Oregon State, 8:30 p.m. on PAC12 Network.  Both teams 3-0, and Corvallis is a tough place to play, especially at night.  The mighty Trojans favored by just 6, over/under is 70.5.  Very possible an upset brewing.
Good late games.  Love having late night college football on Saturdays.
Wyoming (3-1) at No. 19 Brigham Young (2-1).  9:15 pm on ESPN2.  Cougars favored by 21.5, over/under is 50.
No. 13 Utah (2-1) at Arizona State, 9:30 p.m. on ESPN.  Utes favored by 15.5, and the over/under is 54.  But how many times have we seen the Sun Devils upset someone at night in Tempe?  This week may be a little different, with ASU and Herm Edwards parting ways on Sunday.
Leland Stanford Junior University (1-1) at No. 18 Washington (3-0). 9:30 p.m. on FS1.  Going to be a challenging game for the Cardinal.  U-Dub is tough at Husky Stadium.  Washington favored by 13.5, over/under is 63.5.
Week Four:  Service Academies
Friday night, Nevada (2-2) at Air Force (2-1).  7:00 p.m. on FS1.  Falcons favored by 24, over/under is 46.5.
Navy at East Carolina, 5:00 p.m. on ESPN+.  Pirates favored by 16.5.  Go Navy!
Week Four:  Other Games of Interest
Friday Night
Virginia at Syracuse, 6:00 p.m. on ESPN.  Orange favored by 10, over/under is 53.5.  Go Hoos!
Boise State at UTEP, 8:00 p.m. on CBSSN.  BSU favored by 16, over/under is 45.5.
Saturday
UCLA (3-0) at Colorado (0-3).  1:00 p.m. on Pac12 Network.  Bruins favored by 21.5, over/under is 57.
Notre Dame (1-21) at North Carolina (3-0), 2:30 p.m. on ABC.  Mack and his Tarheels favored by 1.5, after the Fighting Irish were early 1.5 point favorites.
Minnesota at Michigan State, 2:30 p.m. on BTN.  Gophers favored by 3.
James Madison at App State, 2:30 p.m. on ESPN+.  Mountaineers favored by 7.
North Texas (2-2) at Memphis (2-1), 2:30 p.m. on ESPN+.  Tigers favored by 12.5.
Texas Southern at UTSA, 2:30 p.m. in the Alamodome.  No TV, no line.  Birds Up!
Arizona at Cal, 4:30 p.m. on Pac12 Network, Bears favored by 3.
Rice (2-1) vs. Houston (1-2).  5:00 p.m. on ESPN+.   Cougars favored by 17.5.  Go Owls.
New Mexico at LSU, 6:30 p.m. on ESPN+ | SECN+.  Louisiana State favored by 31.5.  Geaux Tigers!
Miami at Northwestern.  The 1-2 Redhawks are 7.5 road underdogs in Evanston.  Since beating Nebraska to open the season, Northwestern has lost to Duke and Southern Illinois.  Go Miami!
Washington & Lee Generals
The Generals delivered another strong rushing attack and beat the Methodist University Monarchs 37-14.  Generals ran for 331 yards and five touchdowns.  Alex Wertz again led W&L, running for 150 yards on 32 attempts with three touchdowns.  Jacob Romero added 81 yards. QB Stephen Murrin (Fort Worth Country Day) had 40 yards rushing and 60 yards passing.  Aden Boyd and Abdulla Mohamed each rushed for a touchdowns.  Linebacker Jalen Todd led the Generals with 9 tackles, all solo.
The Generals are off this weekend, and will open ODAC play at home at Wilson Field on October 1 versus Averett.
Texas Volleyball
The No. 1 Texas Longhorns volleyball team went to Kansas on Wednesday and survived a thriller in five sets against the Jayhawks, after going down 2 sets to none.  The Horns came back to win the third 25-18, survived 25-22 in the fourth game, and then sealed the win with a 15-9 fifth set.  Attawaytogo!  Texas is 9-0.
Big XII – Week Three
No. 6 Oklahoma gave Nebraska a 49-14 spanking.  Land Thieves looked really good and the Cornhuskers did not.
Tech fell to No. 16 NC State, 14-27.  I thought the Red Raiders would cover.
No. 8 Oklahoma State with a big 63-7 beating of Arkansas Pine Bluff.  Spencer Sanders threw for 242 yards (13/16), and four scores. It was 42-0 midway through the second quarter, and Coach Mike Gundy put in Gunnar Gundy at quarterback.  Gunnar would end up throwing for 128 yards with 2 TDs and one interception.  It was 49-7 at half.  Dang
No. 17 Baylor beat the Texas State Bobcats 42-7, covering.
Iowa State now 3-0 after beating Ohio in Ames, 43-10.
What is going on in Lawrence?  Kansas beat the Houston Cougars, who were 8.5 point favorites, 48-30.  For the first time ever, Kansas, Kentucky, North Carolina, and Duke have started a football season 3-0.
West Virginia 65, Towson 7.
K State hosted Tulane, and my comment was "A bit surprised the Wildcats are only favored by 14."  What is a real surprise is the Tulane Green Wave, who went into Bill Snyder Family Stadium and upset the Wildcats 17-10.
Top 25 – Week Three
No. 1 Georgia was not challenged by the Gamecocks.  The Dawgs went to Columbia beat South Carolina 48-7, covering the 24.5 point line.
No. 2 Alabama 63-7 over Louisiana Monroe.  Bryce Young was 13/18 for 236 yards with 3 scores and 2 interceptions.
No. 3 Ohio State took down Toledo 77-21.
No. 4 Michigan shut out UConn 59-0.
No. 5 Clemson 48-20 over Louisiana Tech.
No. 7 Southern Cal 45-17 over Fresno State.
Kentucky shut out Youngstown State 31-0.
Missouri State had a 17-14 lead at halftime in Fayetteville, and the Bears extended that to 24-17 by the end of the third quarter.  No. 10 Arkansas scored three touchdowns (including an 82 yard punt return to give Arkansas the lead) in the fourth quarter to save the game.   38-27 final.  There wasn't even a line for this game.
Washington with a solid 39-28 win over No. 11 Michigan State.
No. 25 Oregon with the 41-20 win over No. 12 Brigham Young.
No. 15 Tennessee all over the Akron Zips, 63-6
No. 20 Ole Miss with a big 42-0 shellacking of Georgia Tech.  Hotty Toddy.
No. 22 Penn State 41, Auburn 12.  Ouch.
Liberty was a 16.5 underdog at No. 19 Wake Forest, and the Demon Deacs scraped out a one point win, 37-36.
No. 12 Miami (Florida) couldn't find the endzone, and Texas Agricultural & Mechanical beat the Canes 17-9.
South Florida at No. 18 Florida.  The Gators were favored by 24, and I figured that was pretty good line.  South Florida 28, Florida 31.  Way closer than I would have guessed.
No. 23 Pittsburgh 34-13 over Western Michigan.
No. 14 Utah 35-7 over San Diego State
Week Three:  Service Academies
Air Force fell at Wyoming, 14-17.  Big win for the Cowboys, who were 16.5 underdogs at home.
Army ran all over Villanova 49-10.  That is not even remotely an exaggeration.  Army attempted one pass. Incomplete.  Army ran the 55 times for 472 yards.  You look at the boxscore, and under Army Receiving it says "No Army Receiving".  I really don't think I have ever seen that, at least not in FBS or FCS.
Navy had the week off.
Week Three:  Other Games of Interest
Miami had the early lead on Cincinnati, but the Redhawks did cover (and lost 38-17, but as Jimmy U reminds me, "Good Teams win, Great Teams cover"). Cinci was favored by 22.
Virginia subdued Old Dominium 16-14.  Sic Semper Tyrannis!
A bit of scare in South Bend, but Notre Dame gets a win, 24-17 over California.
Appalachian State, who the week before beat Texas Agricultural & Mechanical 17-14 in College Station, survived lowly Troy, 32-28, with a time-expiring Hail Mary thriller.  College GameDay in Boone was epic.  Those old hillbillies are pretty clever.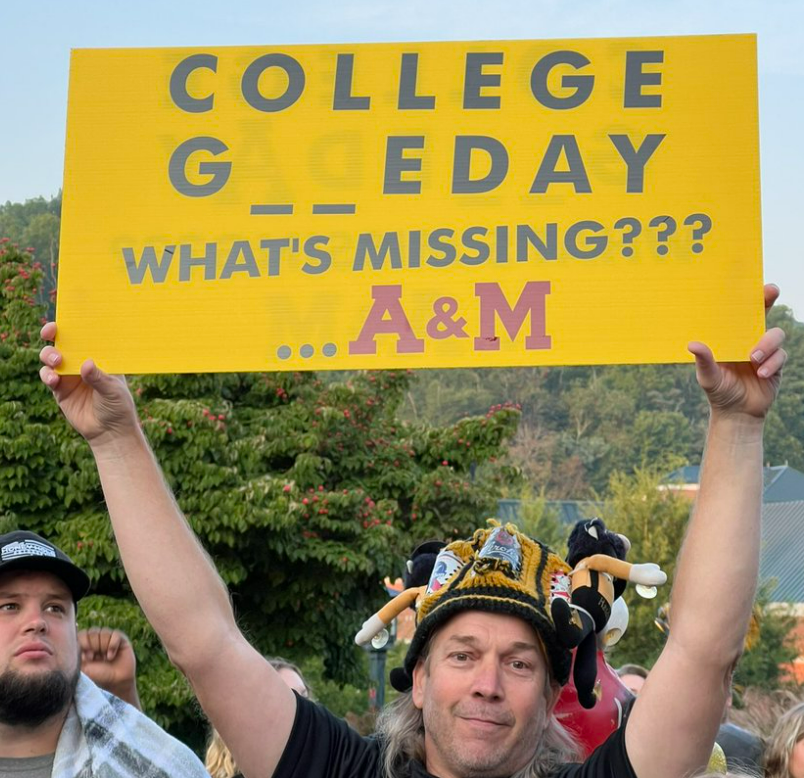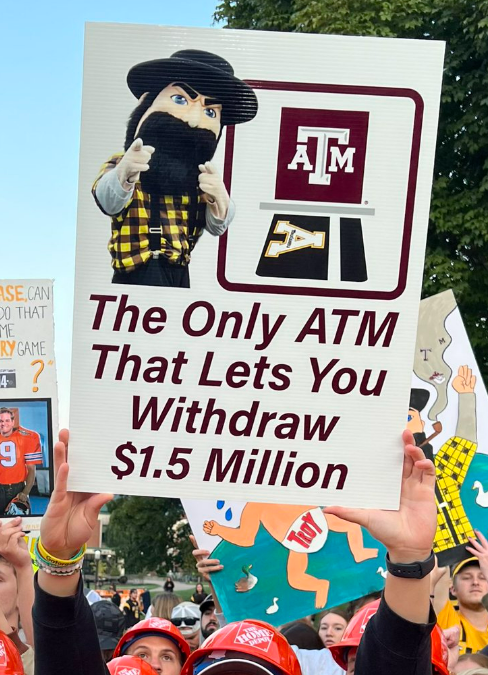 they said 💸💸💸 pic.twitter.com/N8vzdh1vdw

— College GameDay (@CollegeGameDay) September 17, 2022
Washington State 38-7 over Colorado State.  The Cougars are 3-0.  Nice work Eric.
Louisiana State 31-16 over Mississippi State.  Notice the juxtaposition of this score (Mike Leach) to the above score (Mike Leach).
Memphis 44-32 over Arkansas State.
Southern Methodist led at Maryland 27-20 going to the fourth, but the Ponies could not hang on.  Terps win 34-27.  Maryland was favored by 2.5, and over/under was 73.  Dang.
RICE WINS!  Owls beat Louisiana Lafayette 33-21.  Rice is 2-1.  (Ragin Cajuns were favored by 11).
Music
There was a stretch in the Aughts when I spent a lot of time listening to live music, mostly country & western.  My friend Bob Cole owned Hill's Cafe, and the live music shows were epic.  I was fortunate to be able to hang with Bob and his friends in the back house (Bob's office), with the porch right next to the stage.  That decade saw the rise of what I have always viewed as the "next generation" of Texas Music, following Robert Earl Keen and others.  Two of my favorites are Pat Green and Cory Morrow.  I got to know both of these fine artists through Bob and through Clay McPhail and Morris Gottesman (both Juan Heisman Tailgate Men).
Pat and Cory both went to Texas Tech.  Their friendship from Lubbock led to great music and collaboration, just like that of REK and Lyle Lovett from their days at Texas A&M (See, Front Porch Song; I shall write of same before the next game with the Aggies).  I can't include all of my favorite songs from Cory and Pat, but here are a few.
Pat Green & Cory Morrow, Texas on My Mind. Texas on My Mind was written by Django Walker, son of Jerry Jeff and a Loyal Forever Austin High Maroon.  This song is top 5.
Here is a live version from Luckenbach, with Django:
Cory Morrow, Texas Time Travelin'
Pat Green, Carry On.
Some great lyrics from PFG in Carry On:
Ol' Walt Wilkins lives up in Nashville,

You know his eyes have seen the miles,

Walt why don't you jump in Jim T's caddy,

Come down to Texas and drink with me a while,

Yeah, everybody gotta get away sometime,

Forget about yourself for a while,

We'll go down to El Arroyo have some tacos and beer, yeah and let ourselves go.
That was, of course, written back when Clay McPhail owned The Ditch and Pat would make an appearance at Steak Night.  Those were the days.  My goodness we lived large.
Cory Morrow, Big City Stripper.
Pat Green, Take Me Out To A Dancehall.
Pat Green, West Texas Holiday.
Cory Morrow, 21 Days.
Health Alliance for Austin Musicians
Many, many thanks to all who generously donated to HAAM.  I met and surpassed by my personal $5,000 goal.  I am very appreciative.  One last chance to donate for inclusion in our HAAM Day totals:
OneCause Peer-to-Peer Social Fundraising – Tim Taylor
Picture of the Week
My friend Amy Villarreal has a great view of Austin from The High Road.  This sunset photo of downtown taken on Monday is fantastic.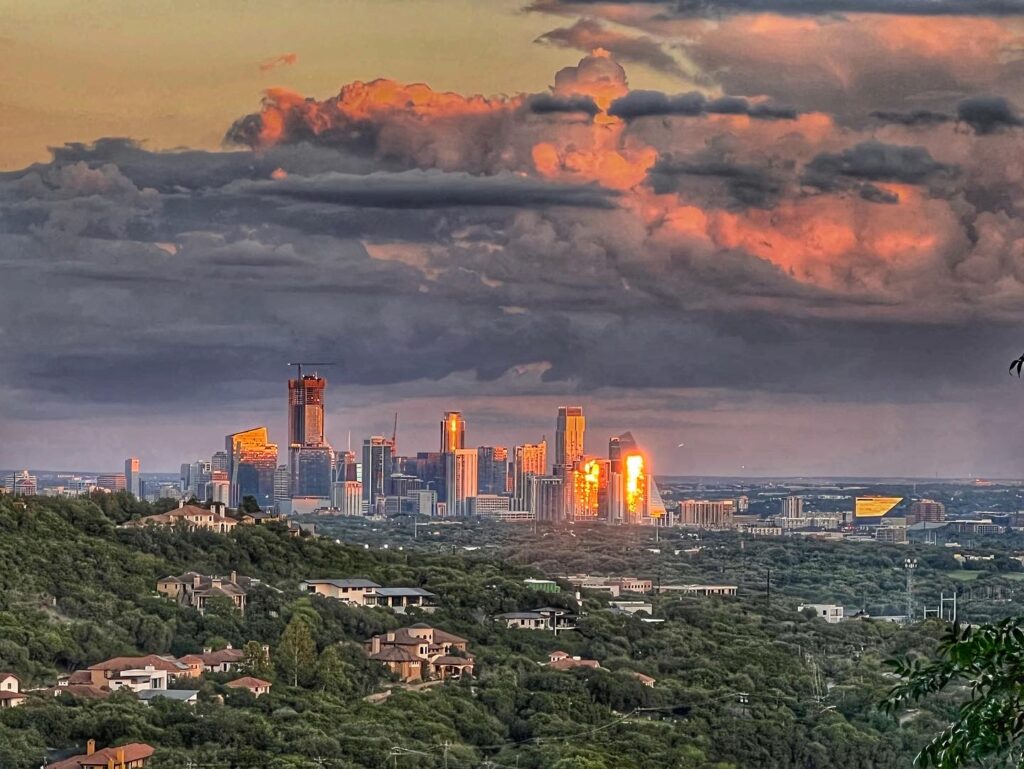 God Bless Texas
God Bless America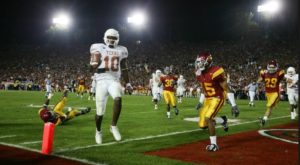 Tim Taylor
Tailgating before Home Football Games
The Juan Heisman Tailgate
Lot 38, East of Sid Richardson Hall.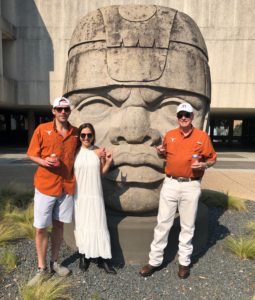 HOOK EM HORNS!!
© Timothy C. Taylor, Sr. 2022.  All Rights Reserved (as to original material).
On Twitter:  @tctayloratx
On LinkedIn:  www.linkedin.com/in/tctatx
On Instagram:  @tctayloratx
On Facebook:  www.Facebook.com/Tim.C.Taylor
and:  www.Facebook.com/Juan.Heisman
You can contact me by mail:
Tim Taylor
P.O. Box 5371
Austin, Texas  78763-5371