Texas Longhorns 34, Texas Tech Red Raiders 37
The Longhorns suffered a disappointing loss in Lubbock to Tech. Just a brutal one. A bit of a review below.  Congrats to all Red Raider friends.  As for the rest of Raider Nation, y'all need to learn some manners.  I expect more and better from Texans.
No words needed, just wow.@kyleumlang @UTBarstool #HookEm pic.twitter.com/Dbo9A3hZt8

— Matthew Myers (@myers0727) September 25, 2022
I hope this ends any further discussion of continuing the "rivalry" with the South Plains Aggies.  Time to move on.
West Virginia Mountaineers vs. Texas Longhorns
Texas and West Virginia kick-off a bit after 6:30 p.m. Saturday night at Darrell K Royal – Texas Memorial Stadium.  The game will be broadcast on FS1, with Tim Brando and Spencer Tillman in the booth.  The game can be heard around the world on the Longhorn Radio Network with the Voice of the Longhorns, Craig Way, joined by Roger Wallace and Will Matthews.
The Longhorns and the Mountaineers are meeting for only the 12th time in football.  West Virginia leads the series 6 to 5 overall, and the Mountaineers are 4-2.  This is the only team in the Big 12 against which Texas does not have a winning record.
The line has moved around a bit.  Thursday night, Texas was favored by 9.5, and the over/under was 63.  The ESPN Matchup Predictor had Texas with an 85.1% chance of winning.  I hope that model is more accurate this week.
The biggest question on most Horns Fans' minds:  Who is starting at quarterback?  Chip Brown reports that both Ewers and Card got equal snaps with the first team this week, but yesterday it sounded like Ewers needs another week to heal.  My vote, FWIW, is let Quinn Ewers get well.  Texas didn't lose in Lubbock because of Hudson Card.  Not remotely.  If Ewers can be as good as he looked before injury, it is critical Texas gets a healthy Quinn back for the Red River Shootout with the Land Thieves and the rest of the season, which is looking tougher ever week.
West Virginia Mountaineers
The Mountaineers are 2-2 on the season.  They opened 2022 with a 31-38 road loss in the Backyard Brawl with No. 17 Pittsburgh.  A tight rivalry game, so not a horrible loss.  Then they lost in Milan Puskar Stadium to Kansas, 42-55.  At the time, that looked particularly disastrous; not so much anymore with the Jayhawks undefeated and with a top 4 scoring offense nationally.  West Virginia then thrashed Towson 65-7 before going on the road to Blacksburg and beating rival Virginia Tech 33-10.
The Mountaineers are coached by Neal Brown, who is in his fourth season after succeeding Dana Holgorsen, who left for Houston after the 2018 season and a 61-41 record.  Neal Brown coached at Troy, Massachusetts, Sacred Heart, and Delaware before joining Tommy Tuberville's Texas Tech staff as offensive coordinator in 2010.  In 2012 he went to Kentucky as OC, then in 2015 became the head coach at Troy.  Like many smart young coaches in the Group of Five, he elevated his team quickly, with a 10-3 record his second year and winning the Sunbelt in 2017 and tying for first in the SBC east in 2018.  He also had bowl wins in 2016, 2017, and 2018.  Also like many Group of Five coaches, he has found the path to success in a Power Five conference a bit tougher.  In his four years at Troy, Brown was 35-16 and 23-9; in his four years in Morgantown he is 19-20 and 11-17.
Historically, West Virginia has ended the season ranked 21 times, including five Top 10 finishes.  The Mountaineers went undefeated in 1988.
My favorite West Virginia alum is Chuck Howley, who was drafted by the Bears in 1958 before being acquired by the Dallas Cowboys in 1960, where he would be a founding member of the Doomsday Defense.  In 1972, in Super Bowl VI, Roger Staubach, Walt Garrison, Duane Thomas, Mike Ditka, Bob Hays, Calvin Hill, and Lance Alworth on Offense and the Dallas Defense, led by Howley, Lee Roy Jordan, Bob Lilly, Jethro Pugh, Cliff Harris, Mel Renfro, and Charlie Waters, to name a few, beat the Miami Dolphins 24-3.  That Dolphins team was quarterbacked by Don Griese and had Larry Csonka and Jim Kiick in the backfield and Paul Warfield catching passes and Shula coaching.  Howley had a fumble recovery and an interception that he nearly returned for a touchdown.  Those years with Tom Landry on the sideline really were glorious.
Where was I?
After last season, Neal Brown went and hired Graham Harrell as his offensive coordinator.  Y'all remember Harrell from his years as quarterback at Texas Tech.  Harrell has installed the Air Raid Offense, and he has a pretty good quarterback, JT Daniels, who is also an alum of Southern Cal and Georgia already.  Daniels (No. 18, 6-2. 226) is 86/132 for 956 yards and 7 touchdowns with just 2 picks.
Daniels top target is Bryce Ford-Wheaton (No. 0, 6-3, 22 lbs), the XWR, who has 27 catches for 319 yards and 4 scores, averaging 11.8 yards per catch. Kaden Prather, another big wide receiver (Z, No. 3, 6-4, 211), has 20 catches for 220 yards and a score.  Sam James (WR, Y, No. 13, 6 foot 182), has 13 catches for 219 yards and 2 scores; a healthy 16.8 yards per catch.  And Reese Smith (WR, H, No. 15, 5-10, 187 lbs) has 7 catches for 73 yards.  The tight ends have not been really involved, yet; Brian Polendey (No. 88, 6-4, 256) has no catches, and the other Mike O'Laughlin (No. 87, 6-5, 255) has 5 receptions for 66 yards.
CJ Donaldson (No. 12, 6-2, 240) has 380 yards rushing on 52 carries, with 6 TDs, and that includes an 82 yard run. Of note, he's averaging 7.31 yards per carry.  Tony Mathis, Jr. (No. 24, 5-11, 207 lbs) leads the Mountaineers with 58 carries and 272 yards with 2 scores.  Justin Johnson, Jr. (No. 26, 5-11, 198) has 30 carries for 145 yards and a score.  The backs have not yet been real involved in the Mountaineer passing game – Donaldson has 5 catches for 16 yards, Johnson has 4 for 29, and Mathis has 2 for minus 7.
The West Virginia offensive line is large.  From left to right:  LT Milum (No. 64, 6-6, 307), LG Gmiter (No. 74, 6-3, 310), C Frazier (No. 54, 6-3, 306), RG White (No. 53, 6-2, 298), and RT Nester (No. 72, 6-7, 320).  1,541 pounds.
The West Virginia Defense is led by No. 8, Lee Kpogba (MLB, 6-1, 230), with 24 tackles (9 solo), 1 TFL for 2 yards, and 3 quarterback hurries.  Always a good sign when your middle linebacker is your best (or one of your best) players.  Marcis Floyd (safety, No. 24, 6 foot, 194) has 19 tackles (13 solo).  Hershey McLaurin (Safety, No. 13, 6-1, 210) has 15 tackles with 7 solo, but of note is number 2 on the depth chart at FS.  Lance Dixon ("Spear", or left corner, No. 5, 6-2, 220) and Aubrey Burks (Free Safety, No. 2, 5-11, 201) have 14 tackles each.  Dante Stills (tackle, No. 55, 6-4, 290) has 2.5 sacks for 21 yards (3 TFL for 22), Davis Mallinger (corner, No. 27, 6-1, 194) has 2 sacks for 13 yards, and Jared Bartlett (weakside linebacker, No. 10, 6-2, 235) has 1.5 sacks for 13 yards).  No. 95, big Jordan Jefferson (nose guard, 6-3, 310), has 3.5 TFL for 5 yards.
The Mountaineer kicker, Casey Legg is 8-8 on the year.
Of note, and I am sure unique in the Big 12:  Only one player on the 2 deep depth chart, the tight end Polendey, is from Texas (Denton Guyton).
West Virginia University
I have probably enjoyed writing about West Virginia and West Virginia University more than any other Big 12 state and school (Texas of course, excluded).  Interesting history and more.  But, holding with tradition, I do that more when Texas is playing there.  So a little on WVU.
West Virginia was created as a 1962 Morrill Land-Grant Colleges Act institution in 1867, as Agricultural College of West Virginia.  That didn't last long, and it was renamed West Virginia University in December 1868.
The Morrill Act of 1862 required the land-grant colleges to have a Cadet Corps, and that military presence and influence would remain on the Morgantown Campus through World War II.
Academic Rankings

National

Texas

West Virginia

Forbes
43
340
THE | WSJ
60
401-500
U.S. News & World Report
38
205
Washington Monthly
40
169
Global
ARWU
37
401-500
QS
72
801-1000
THE
47
601-800
U.S. News & World Report
43
568
Notable alumni include Don Knotts, Billy Mays, Terry Bowden and Tommy Bowden (their dad Bobby coached there before FSU), Pat McAfee, and the most famous – the Logo – Jerry West.
West Virginia Mountaineers vs. Texas Longhorns
This should be a good football game that Texas wins.  The weather should be great.  We are going to have a great tailgate that afternoon.  A Texas win is critically important so we can go to Dallas above .500 and even in conference play.
The history with West Virginia is short and covered above.
Official Preview:
https://texassports.com/news/2022/9/26/football-preview-west-virginia.aspx
Texas Game Notes:
https://texassports.com/documents/2022/9/26/05-TexasGameNotes-West_Virginia.pdf
West Virginia Game Notes:
https://wvusports.com/documents/2022/9/26/G5_Texas_2022.pdf
I decided to go back to doing my own statistics summary.  It has served me well, and it helps me get my head around the opponent and the game.
The Statistics
Offense
| | | |
| --- | --- | --- |
| Statistic | Texas | West Virginia |
| Rushing Offense | #63 – 165.0 ypg | #20 – 217.5 ypg |
| Passing Offense | #73 – 244.8 ypg | #45 – 272.5 ypg |
| Total Offense | #72 – 409.8 ypg | #18 – 490.0 ypg |
| Scoring Offense | #42 – 36.5 ppg | #14 – 42.8 ppg |
| First Downs | #64 – 22/game | #3 – 28.5/game |
| Sacks Allowed | #54 – 7, 54 yards | #33 – 5, 35 yards |
| Tackles for Loss Allowed | #54 –  20, 90 yards | #14 –  14, 57 yards |
| Third Down Conversions | #104 – 33.3% | #21 – 49.2% |
| Fourth Down Conversions | #9 – 83.3% – 5/6 | #5 – 90% – 9/10 |
| Red Zone Offense | #50 – 88% / 53% | #39 – 92% / 62% |
| Long Run Plays | #74 – 18/10, 8/20, 5/30, 3/40 | #47 – 22/10, 8/20, 4/30, 2/40 |
| Long Pass Plays | #61 – 39/10, 14/20, 6/30, 3/40 | #51 – 42/10, 16/20, 6/30, 3/40 |
In Total Offense, Texas is right behind Rice and right ahead of Troy. Not exactly where I expected us to be, even with Alabama on our schedule.
Defense
| | | |
| --- | --- | --- |
| Statistic | Texas | West Virginia |
| Rushing Defense | #63  – 135.0 ypg | #25 – 98.3 ypg |
| Passing Defense | #85 – 245.0 ypg | #47 – 204.5 ypg |
| Total Defense | #75 – 380 ypg | #23 – 302.8 ypg |
| Scoring Defense | #53 – 21.8 ppg | #85 – 27.5 ppg |
| Sacks | #68 – 8, 49 yards | #51 – 9, 62 yards |
| Tackles for Loss | #31 – 27, 99 yards | #88 – 19, 80 yards |
| First Downs Allowed | #92 – 22/game | #31 – 17/game |
| Third Down Conversions | #89 – 40.3% | #94 – 41.2% |
| Fourth Down Conversions | #69 – 53.9% | #76 – 57.1% |
| Red Zone Defense | #77 – 86% / 43% | #59  –  82% / 82% |
| Long Run Plays Allowed | #45 – 14/10, 3/20, 1/30, 1/40 | #32 – 12/10, 1/20, 1/30 |
| Long Pass Plays Allowed | #108 – 43/10, 11/20, 3/30, 1/40 | #50 – 32/10, 14/20, 4/30, 3/40 |
Texas has allowed a running play over 50, 60, 70, and 80 yards.
Texas is last in the Big 12 with 43 10+ yard pass plays allowed.  Obviously not a good national ranking either.
Other
| | | |
| --- | --- | --- |
| Statistic | Texas | West Virginia |
| Turnovers | #18 – 3, 1F, 2I | #50 – 53F, 2I |
| Turnover Margin | #76 – 2:3, -.25 | #91 –  3:5, -50/9 |
| Penalties | #51 – 24, 108 yards | #100 – 30, 240 yards |
*Based on total number of penalties.
Match-up Comparison
| | |
| --- | --- |
| Texas Offense | West Virginia Defense |
| Rushing Offense – 165.0 ypg | 98.3 ypg – Rushing Defense |
| Passing Offense – 244.8 ypg | 204.5 ypg – Passing Defense |
| Total Offense – 409.8 ypg | 302.8 ypg – Total Defense |
| Scoring Offense – 36.5 ppg | 27.5 ppg – Scoring Defense |
| First Downs – 22/game | 17/game – First Downs Allowed |
| 3rd Down Offense -33.3% | 41.2% – 3rd Down Defense |
| 4th Down Offense – 83.3% | 57.1% – 4th Down Defense |
| Red Zone Offense – 88%/53% | 82%/82% – Red Zone Defense |
| LRP – 18/10, 8/20, 5/30, 3/40 | 12/10, 1/20, 1/30 – LRP Allowed |
| LPP – 39/10, 14/20, 6/30, 3/40 | 32/10, 14/20, 4/30, 3/40 – LPP Allowed |
| | |
| --- | --- |
| Texas Defense | West Virginia Offense |
| Rushing Defense – 135.0 ypg | 217.5 ypg – Rushing Offense |
| Passing Defense – 245.0 ypg | 272.5 ypg – Passing Offense |
| Total Defense – 380.0 ypg | 490.0 ypg – Total Offense |
| Scoring Defense – 21.8 ppg | 42.8 ppg – Scoring Offense |
| First Downs Allowed – 22/game | 28.5/game – First Downs |
| 3rd Down Defense – 40.3% | 49.2% – 3rd Down Offense |
| 4th Down Defense -53.9% | 90% – 9/10 – 4th Down Offense |
| Red Zone Defense – 86%/43% | 92%/62% – Red Zone Offense |
| LRP Allowed – 14/10, 3/20, 1/30, 1/40 | 22/10, 8/20, 4/30, 2/40 – LRP |
| LPP Allowed – 43/10, 11/20, 3/30, 1/40 | 42/10, 16/20, 6/30, 3/40 – LPP |
Some Other Stats
I have been hankering for years to get into more advanced metrics and stats, what we call sabermetrics in baseball.  My first toe in the water is "Available Yards Percentage".  I am relying on a website, www.bcftoys.com.  Here is their explanation of this stat:
Net available yards percentage (NAY) is the difference between offensive available yards percentage (OAY) and opponent offensive available yards percentage (DAY). Available yards percentage is calculated by dividing drive yards earned by available yards measured from starting field position to end zone. Available yards percentages as measured from starting field position to the opponent 20-yard line (O20, D20), as measured from starting field position to the opponent 40-yard line (O40, D40), and as measured from starting field position to the offense's own 40-yard line (O60, D60) are also provided.
Of note:  "Ratings and supporting data are calculated from the results of non-garbage possessions in FBS vs. FBS games."
In this statistic, Texas ranks No. 33 and West Virginia ranks No. 31.  So pretty evenly matched.
| | | | |
| --- | --- | --- | --- |
|   | NAY | OAY | DAY |
| Texas | No 33 – .122 | No. 21 – .616 | No. 71 – .478 |
| West Virginia | No. 31 – .138 | No. 33 – .566 | No. 54 – .443 |
Go enjoy:
BCF Toys – 2022 Available Yards Percentage
TCT Preview
Some good stuff here in the stats.  First, we will see a lot of fourth down conversion attempts.  Texas is 5/6 on the season and WVU is 9/10.  Texas is a little better at holding on fourth down, allowing 7/13, while the Mountaineers have allowed 4/7.  I hope Texas isn't put in a situation where we are having to go for it on fourth down often, with a better third down conversion rate.  Texas must improve on that; converting 1 of 3 won't cut it.  But if we need it on fourth down, expect Sark to go.  Likewise, Brown will not be afraid to go for it.  That alone may add some excitement to the game.
I am probably most concerned about seeming some improvement this week from the offensive line.  If we can give Bijan just a little more room, and give Card another second or so, that would be a 14 point difference compared to last week.  It may be a challenge, but this would be good week for Flood to get some progress.  Bijan is still one of the best backs in the nation, averaging 103 yards per game, and some more blocking help would be most welcome.  But it is not just running the ball:  We need to throw the ball to him.  Bijan had one catch for 22 yards against Tech.  He needs to get ball more in the passing game.
Not just Bijan:  RoJo had 2 catches last week for 23 yards and Keilan had that big 25 yards.  When your running backs average 21 yards per catch, throw it.  On the season, Bijan is averaging 19.25 ypc, RoJo 8.25, and Keilan Robinson 16.67.
As for the passing game, Worthy may still be hobbled, but that can't slow down the rest of this talented group of receivers.  Whittington had catches of 14, 15, and 15 yards in the first half.  If my numbers are right, he caught one pass for 9 yards in the second.  Sanders needs more touches, and we saw last week that Tarique Milton can make a good catch, plus you have Cain who has proven to be pretty solid.
JT Daniel is a decent quarterback.  A 139.4 rating, below Card, and a completion percentage of 64.7%, which puts him 9th in the league.  So once again, a big key will be defensive pressure on the quarterback.  Note that the 2 sacks we got against Smith in Lubbock came from Overshown and Cook.  Need more of that – some blitzes and stunts.  And, somehow finding a way to not allow Daniels to complete quick pass after quick pass underneath the coverage.  Hopefully we get four quarters from Overshown, and if Cook and Barron and Jamison and the rest of what we wish was DBU can play better, we will not lose because of JT Daniels.  We beat him when he came here as a Trojan, and we can and should beat him as a Mountaineer.  But the Texas secondary is going to have be a lot better, and the linebackers that pick up a receiver or back have to stay on him.
Stopping the West Virginia ground game may be a taller task.  Donaldson is good and that 7.31 ypc is over a yard better per carry than Bijan.  Jaylan Ford will be a key there, as he has quietly become the leading tackler for the Longhorns, with 38, 25 of which are solo.  Ford needs to find Donaldson and stop him early.  Cook is right behind at 32 (22 solo), and Overshown, despite not playing the first half last week, has 29 (20 solo).  We have a much improved linebacker corps, and with our big men on the line, we need to find a way to have success against the run.
Part of that, and part of holding down the WVU passing game, is going to be tackling.  And not just missed tackles, but how Texas tackles.  As I note below, I didn't re-watch the South Plains Aggies game.  Couldn't do it.  But my sense when I was watching was that we didn't have nearly as many defenders around the ball and closing on the ball as we did in prior games, especially Alabama.   We need to attack and gang tackle and bottle up the guy with the ball.
It will be interesting to see which officiating crew we get and how the game was called.  Last week was actually pretty even handed, at least on paper, although one might wonder if there is in fact a double secret directive to not call holding on offensive lineman blocking against Texas.  The photograph proof is on the Interwebs, if you want to go chase some rabbits.
Finally, the most important thing for a Texas win:  Don't get outmaneuvered at halftime and in the third quarter.  As y'all know, I rarely skip the game review, but my time this week went to figuring out what the hell happened.  And my conclusion is pretty well laid out below.  Some folks have complained about Texas offensive adjustments at halftime, but based on what Donovan Smith and Tech did in the second half, McGuire and his guys figured something out and exploited it, big time.  Can't let that happen.  So, Coach PK and GMFP, we need you.
Preview from Wescott Eberts on BON:
https://www.burntorangenation.com/2022/9/28/23376993/texas-longhorns-west-virginia-mountaineers-preview-graham-harrell
I have been all over the place trying to figure this one out.  Part of me sees a big Texas win, almost a blow-out, part sees another close one with both teams in the 30's, and a very small part of me worries something is broken and Texas loses another close one at the end or in OT.  But in Sark I Trust.
I think Bijan has a break-out game, Card completes passes to a dozen guys, and the Texas defense goes back to September 10 level of play.  I am going with:
Texas Longhorns 45, West Virginia Mountaineers 27
Book it Dan-O.
Longhorns 34, Red Raiders 37
Frankly, haven't been in the mood to re-watch the game.  So not a full recap.  This loss really hurt – but probably not for the reasons you might suspect.  I think Tech is a decent football team.  We don't have a lot of information at the collegiate level, but it appears Joey McGuire is going to a good football coach for Tech.  But I really didn't think that Tech was a better football team than Texas, or that Coach Joey and his staff were better than Texas.  But they were on Saturday, because as they say "Scoreboard don't lie", and the scoreboard said Texas Tech was the better team.  So what hurts so bad is not only the loss, but also the fact that a team I really believe in, and a coach I really like, wasn't the better team.  Not sure I have expressed that well.
There are different ways to dissect a game.  I spent some time trying to figure out this one, because the initial reactions of "well, our defense couldn't get off the field" and "they ran 100 offensive plays to our 60" were probably good reactions Saturday night as I made my first Negroni (shaken, not stirred), but by Thursday night I realized that was not why Texas lost.  I think Texas lost because Tech piled up big play after big play in the second half.  For these purposes, I am just going with plays 10 yards or longer.
In the first half:
| | | | |
| --- | --- | --- | --- |
| Texas Runs | Texas Passes | Tech Runs | Tech Passes |
| 15 – Bijan | 22 – Bijan | 10 – DS | 13 – Sparkman |
| 16 – Bijan | 35 – Keilan (TD) | 19 – ST | 16 – Pryce |
| | 14 – J Whit | 11 – TB | 10 – Pryce |
| | 15 – J Whit | | 13 – Boyd |
| | 39 – X (TD) | | 17 – Brooks (TD) |
| | 15 – J Whit | | |
| | 23 – RoJo | | |
| —- | —- | —- | —- |
| 31 yards | 163 yards & 2 TDs | 30 yards | 69 yards & 1 TD |
Texas had nearly 100 yards more passing than Tech on big plays, and a ten point lead of 24-14 at halftime.  But look what happens in the second half.
| | | | |
| --- | --- | --- | --- |
| Texas Runs | Texas Passes | Tech Runs | Tech Passes |
| 22 – Card | 14 – Cain | | 12 – Cupp |
| 40 – Bijan (TD) | 10 – Sanders | | 10 – Cupp |
| | 28 – Milton | | 24 – Cupp |
| | | | 15 – Bradley |
| | | | 11 – Bradley |
| | | | 13 – Tharp |
| | | | 12 – Pryce |
| | | | 35 – Cleveland |
| | | | 19 –  Cupp (TD) |
| | | | 26 – Pryce |
| —- | —- | | —- |
| 62 yards & 1 Td | 52 yards | 0 | 177 yards & 1 TD |
Not going to take anything away from Bijan Robinson and that 40 yard touchdown run or Card's tuck and run. But in the passing game, just three passes over 10 yards, and 2 of them were in the last seconds when we drove to tie the game.  And look at what Tech did coming out of the locker room:  They saw something in the Texas pass defense and exploited it.  Ten pass completions over 10 yards.  They didn't get any big runs on us in the second half.  I think the longest was a 6 yard run by Smith.  But man did they throw the ball.
One difference was that in the first half Card had okay protection, and Texas did a little better job of trying to pressure Smith.  That flipped, as in the second half Card, who frankly needs an extra second normally, was getting less time when he needed more, as Tech rushed 3 and dropped 8, making the reads harder, and the O line couldn't give Card the time he needed. On the other side, we knew going in that getting pressure on Donovan Smith was a key to the game.  ("The Texas defense needs to be relentless in pressuring Smith.  Tech is worst in the Big 12 with 10 sacks allowed for 78 yards (and tied at 116th nationally in that category).  Texas is only averaging 2 sacks per game, and the Horns probably need to double that in Lubbock.  And should.")  The Texas defense got 2 sacks for 3 yards (Overshown and Jamison), and no quarterback hurries were recorded.  A quarterback who came into the game with, I think, the worst QB rating in the Big 12, sat back there and picked us apart.  And even after that, he is still the 9th rated QB in the Big 12 with a 134.05.  Most of that was because of a 268.03 rating against Murray State.  Against Texas, he was 38/56 for 331 yards and 2 scores, completing 67.9% of this passes and earning a 129.29 rating.
In defense of Hudson Card:  20/30 for 277 yards and 2 TDs, a 66.7 completion percentage, and 2 TDs with the one pick.  His rating was 159.56, and his season rating is 141.23.
The blame for the pain in Lubbock is not on Card.  Nor on Bijan Robinson, who gained 107 yards against a Tech defense that was only allowing 82.7 yards per game.  I am sick about the overtime fumble, but that was good play by the Tech defender, and I read somewhere that Sanders was supposed to be blocking the guy that forced the fumble and missed his block. That happens.  This time it happened at a most inopportune time.
The other big key to the game was turnovers – and Texas doubled their season total with the pick and the OT fumble.
The fourth down conversions.  While the Texas defense held Tech to 7 of 20 on third downs, Tech found a way to convert those fourth downs – 6 of 8.  So, a first down make rate of 13 out of 28, or 46.4%.
Some really big inflection points.  In the second half up 24-14, Tech got ball to start the third quarter.  Texas held on fourth and 5 at the Tech 40.  Horns got the ball in plus territory, and couldn't convert. 1 yard run, 5 yard pass, 2 yard run, Roschon stopped for no gain. A chance to go up by at least 13 if not 17, and instead Tech gets the ball back and goes on a 15 play drive and kicks a field goal get within 7.  Texas answered with a solid touchdown drive that was really mostly the 22 yard Card run and then Bijan's 40 yard TD scamper, but still, 31-17.  A defensive stop next series would be huge.  That's when it hit.  24 yards to Cupp, 15 yards and 11 yards to Bradley, some runs, and a 13 yard pass to Tharp.  4 big plays set up a Sarodorick Thompson touchdown to close it to 31-24.  The Horns answer?  A 2 yard 3 and out drive.  Then Texas held on the two yard line for a huge, what should have been a game winning stop.  But Texas went backwards a yard, punted, gave up a 20 yard return, and Tech had a 30 yard field.  Not a good stretch.
Turnovers.  Before Saturday, Texas only had one turnover – that Ewers interception at the start of the ULM game.  Tech has been intercepted 7 times and lost a fumble.  The Longhorns must have a similar edge in this game.  Pressure the Tech QB, force a bad throw.  We need the Texas secondary to have a much better game – and we know they can do it.  The reigning Heisman Trophy winner battled to throw 213 yards on the Horns and only completed one pass for a touchdown.
Hold on to leads.  We have had 10 point or more leads in the second half and lost far too often.
I had Texas winning 38 – 30.  People questioned why I thought it would close and how was Tech going to score 30.  Well, not sure I knew why, but like of lot of this, it is a sense or feeling, and I figured Tech would get to 30.  Just didn't think they would finish with 3 more points than my beloved Longhorns.
All that matters now:  Respond.  Right the Ship.  Whip West Virginia.
Highlights from ESPN, a little over 10 minutes:
Full Game:
The Polls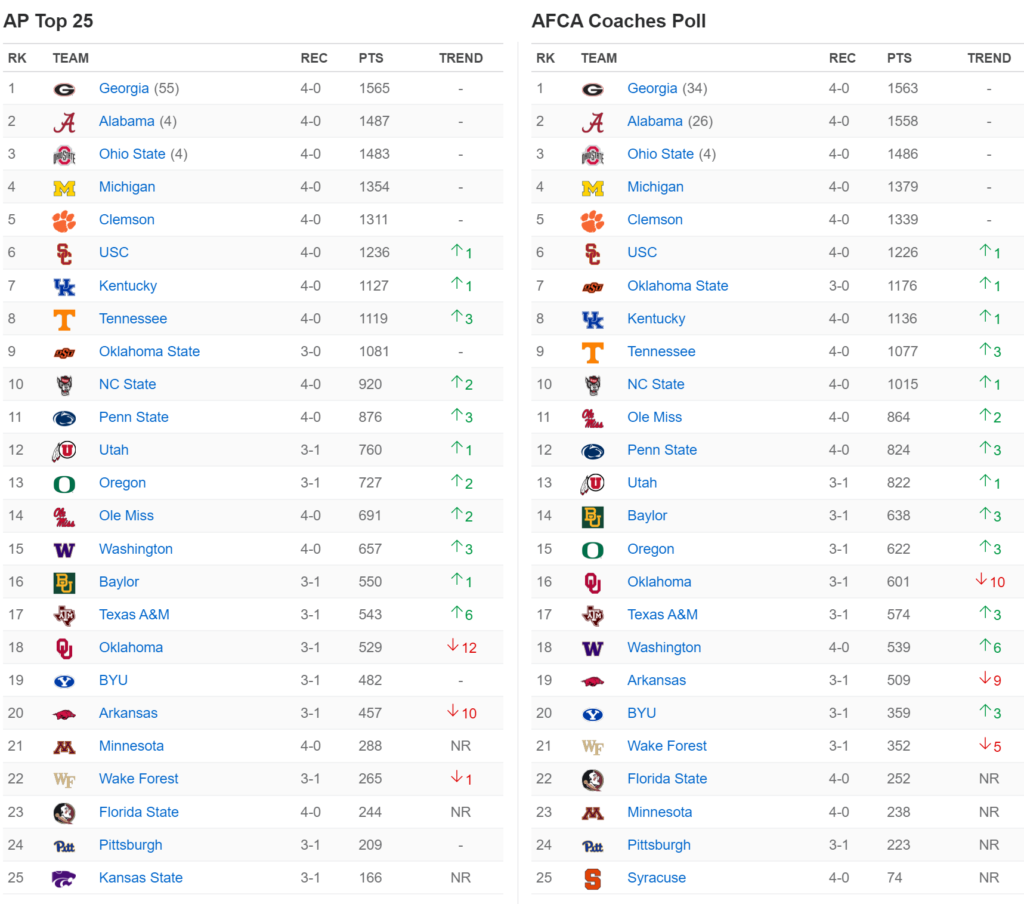 Of note as we enter Week 5, 15 of the teams in the AP Top 25 are undefeated, and that number will be different next week. The Big 12 had 3 top ten teams at one point, and Oklahoma State is carrying that flag alone now.  They are good.
Juan Heisman Tailgate
The Juan Heisman Tailgate Party will be in full swing this weekend.  Going to be good one.  JHT CEO has worked out a deal with a great local company, Duck Camp, to help with this week's tailgate.  They make some great hunting and outdoor clothes and accessories.  We will have some skirt steak and venison sausage, and lots of Tito's Handmade Vodka and Lone Star Beer.  We will be up and running by 2:30 or 3:00, so come by and have a cold one and let's get ready to Beat the Mountaineers.
Big XII – Week Five
No. 18 Oklahoma and Texas Christian have an 11:00 a.m. kickoff at Amon G. Carter, TV broadcast on ABC.  Land Thieves are 6 point favorites, and the over/under is 69.  Boys in Vegas thinking highly of the Horned Frogs.  Don't think so.
Texas Tech (3-1) at No. 25 Kansas State, 11:00 a.m. BIG12 | ESPN+.  Wildcats favored by 7.5 over the South Plains Aggies, over/under is 57.  My guess is Donovan Smith peaked last week.  K State to cover.
The premier game of the day for the conference is in Waco, where No. 16 Baylor (3-1) hosts No. 9 Oklahoma State.  2:30 p.m. on FOX.  Dave Aranda's defense will face the top quarterback in the league: Spencer Sanders 62/95, 305.3 yards per game, 10 TDs, and 1 interception.  He's also averaging 37 yards per game on the ground and has 3 rushing TDs.  Cowboys have the No. 1 scoring offense in the Big 12 at 51.7 points per game.  Baylor favored by 2.5, over/under is 56.5.
Iowa State is at Kansas, 2:30 p.m. on ESPN2.  The Jayhawks have the best record in the league at 4-0 and the No. 2 scoring offense at 48.5 ppg.  Cyclones favored by 3, over/under is 59.  If Kansas wins this one we can say they are for real.
Top 25 – Week Five
Thursday night, No. 19 Brigham Young hosted Utah State in Provo, and the Cougars beat the Mormon Aggies 38-26
Friday night, No. 15 Washington plays UCLA in the Rose Bowl, both teams are 4-0.  9:30 p.m. on ESPN.  Good game. Huskies favored by 2.5, over/under is 64.5.
Saturday
No. 4 Michigan at Iowa, 11:00 a.m. on FOX.  Michigan favored by 10.5, over/under is 42.
Big Game in Oxford!  No. 7 Kentucky at No. 14 Ole Miss, both teams undefeated at 4-0.  11:00 a.m. on ESPN.  Rebels favored by 7, over/under is 54.5.  Breakfast in The Grove.  Hotty Toddy!
Purdue at No. 21 Minnesota.  11:00 a.m. on ESPN2.  Gophers favored by 12, over/under is 52.
Oregon State at No. 12 Utah, 1:00 p.m. on the Pac 12 Network.  Utes favored by 10.5, over/under is 54.5.
No. 2 Alabama at No. 20 Arkansas.  2:30 p.m. on the Columbia Broadcasting System.  Great game.  Crimson Tide favored by 17, over/under is 61.  Roll Tide!
Rutgers at No. 3 Ohio State, 2:30 p.m. on BTN.  Buckeyes favored by 39.5, over/under is 58.
Northwestern at No. 11 Penn State.  2:30 p.m. on ESPN.  PSU favored by 25, over/under is 51.
No. 22 Wake Forest at No. 23 Florida State.  2:30 p.m. on ABC.  Should be a darn good football game.  Seminoles favored by 6.5, over/under is 64.
No. 17 Texas Agricultural & Mechanical at Mississippi State, 3:00 p.m. on the SEC Network.  Both teams 3-1, and surprisingly the Bulldogs are favored by 4; over/under is 45.  Not so sure that Jimbo and his Aggies don't go to Starkvegas and put a whupping on State.
No. 1 Georgia at Missouri, 6:30 p.m. on the SEC Network.  Bulldogs favored by 29, over/under is 54.
No. 10 North Carolina State at No. 5 Clemson, 6:30 p.m. on ABC.  Both teams undefeated.  Good game.  Clemson favored by 7, over/under is 44.
Georgia Tech at No. 23 Pitt, 7:00 p.m. on the ACC Network.  Panthers favored by 22, over/under is 49.
Two late night games to watch after the Horns win:
Arizona State at No. 6 Southern Cal, 9:30 p.m. on ESPN.  Trojans favored by 25.5, over/under is 60.5.
Stanford at No. 13 Oregon, 10:00 p.m. on FS1.  Night games in Autzen Stadium are cool.  Ducks favored by 17, over/under is 62.5.
Week Five:  Service Academies
Georgia State at Army, 11:00 a.m. on CBSSN.  Army favored by 7.5, over/under is 54.  Georgia State is 0-4.
Navy (1-2) at Air Force (3-1).  11:00 a.m. on CBS.  Should be a good one.  Falcons favored by 14, over/under is 38.  Going to have to watch some of this and see the Air Force ground game.
Week Five:  Other Games of Interest
Friday Night
UTSA at Middle Tennessee, 6:30 p.m. on CBSSN.  Some respect for the Roadrunners, favored by 4.  With the Blue Raiders coming of the road win over Miami (Florida), that's pretty interesting.  Over/under is 65.
Saturday
Temple at Memphis, 11:00 a.m. on ESPNU.  Tigers favored by 10 over the Owls, over/under is 50.5.
Texas State at James Madison, 12:30 p.m. on ESPN+ from Harrisonburg.  JMU favored by 21.5, over/under is 51.5.  The Dukes are undefeated and riding high after the upset of App State, who beat Texas Agricultural and Mechanical a couple of weeks ago in College Station.
Virginia Tech at North Carolina, 3:30 p.m. on ACCN.  Big and important game for Mack Brown.  Tarheels favored by 9, over/under is 54.5.  Good Luck Mack!  Light that blue tower.
Miami (Ohio) at Buffalo, 2:30 p.m. on ESPN+.  Redhawks are 1.5 point road dogs.  Buffalo is 1-3.  I like Miami here.
The Citadel at Appalachian State, 2:30 p.m. on ESPN+ from Boone, North Carolina.  No line.
Cal Berkeley at Washington State, 4:30 p.m. on the Pac 12 Network.  Cougars favored by 4, over/under is 53.5.
UTEP at Charlotte, 5:00 p.m. on ESPN3.  Miners favored by 3, over/under is 54.5.  Miners to win and cover.
Louisiana State at Auburn, 6:00 p.m. on ESPN.  LSU favored by 8, over/under is 46.5.  Geaux Tigers!
Virginia at Duke, 6:30 p.m. on ESPN3.  Cavaliers struggling a bit, and Duke playing good football.  Blue Devils favored by 2.5, over/under is 52.  C'mon Hoos, time to get a big win.
Alabama Birmingham at Rice, 6:30 p.m. on ESPN+.   UAB favored by 10, over/under is 51.
Colorado at Arizona, 8:30 p.m. on Pac 12 Network.  Buffs are winless.  Tough start.  Wildcats favored by 17.5, over/under is 57.
As we keep Florida in our prayers, note that both the Gators' game and the SMU at UCF game have been moved to Sunday.
Southern Methodist at UCF, 12:30 noon.  Ponies are 3 point road dogs; over/under is 64.5.  Not sure if it will be on TV now.  Good luck Mustangs.
Washington & Lee Generals
The Generals open ODAC play at home at Wilson Field on October 1 versus Averett University.  A late start, 3:00 p.m.  I think it might be Parent's Weekend.  If so, have fun Jacy & John!  Averett is a small Baptist school in Danville, Virginia, 870 undergrad.  The Cougars are in their first year in the ODAC.  The series is tied 3-3.  The Generals need a big win to get Conference play going.  The Generals should run to Victory.
Texas Volleyball
The No. 1 Texas Longhorns volleyball team remains undefeated after sweeping the Land Thieves last weekend at Gregory Gym.  The Horns are in Lubbock Sunday for a 2:00 p.m. match that will be broadcast on ESPN.
Big XII – Week Four
Thursday night, West Virginia travelled to Blacksburg to play Virginia Tech.  Impressive win at a tough place to play, as WVU won 33-10.  Mountaineers were favored by 2.5.
What a game in Norman!  Holy Cow.  K State and Adrian Martinez looked scary good, as they beat the Land Thieves 41-34.  My expectations of our match with the Wildcats has changed dramatically.  Martinez was 21/34 for 234 yards and a score through the air, but he was the K State leading rusher with 148 yards and 4 touchdowns – on a team with Deuce Vaughn.  Vaughn ran for 116 on 25 rushes.  K State put up 275 rushing yards on the Land Thieves.  Not what one expects from a Brent Venables team.  On the other side of the ledger, the Land Thieves rushed for 220 and Gabriel was 26/39 for 330 yards and four touchdowns.  Not exactly a poor performance.  Dang the conference is going to be tough this year.
No. 17 Baylor went to Ames and Jack Trice Stadium as 2.5 point underdogs and went back to Waco with a 31-24 win.  Aranda is a good football coach.  Baylor is a good football team.
Lots of points in the Iron Skillet Game, Texas Christian prevailed over Southern Methodist 42-34, covering.
Kansas beat Duke 35-27.  The Jayhawks are 4-0.
Top 25 – Week Four
No. 25 Miami (Florida) was favored by 25.5 at home against the Middle Tennessee Blue Raiders, and the Canes lost 31-45.  The Blue Raiders were 0-24 all-time versus ranked opponents.  'Tis a pity
No. 1 Georgia was favored by 45 over Kent State. Final was 39-22.  Don't get it.  But nice work from Vegas on the over/under: 62.
No. 2 Alabama had no trouble with Vanderbilt, 55-3. Alabama covered, over/under was 59.
No. 3 Ohio State hammered Wisconsin 52-21.  I remember those days.
Maryland, who we know is a tough team to beat, covered in Ann Arbor.  No. 4 Michigan wins 34-27.
An absolute gunfight in Winston-Salem, as No. 5 Clemson eventually beat No. 21 Wake Forest 51-45 in double overtime.  Chuck Culpepper saw a heck of a game.
Central Michigan lost to Penn State 14-33.  MAC teams cover.
No. 24 Pittsburgh 45-24 over Rhode Island.
Heck of a game at Rocky Top.  No. 20 Florida at No. 11 Tennessee, and it was thriller.  The Volunteers won 38-33.
No. 7 Southern Cal escaped Corvallis with a 17-14 win over Oregon State.
Not sure what was going on in Bluegrass country, but Kentucky had to battle to beat Northern Illinois 31-23.  Kentucky was favored by 26.5 points.  Of note, the over/under was 53.
No. 15 Oregon beat previously undefeated Washington State 44-41.  The Ducks had to score 29 (twenty-nine – really) points in the fourth quarter to pull out of Pullman with a win.  Bo Nix was 33/44 with 428 yards and 3 TDs (1 pick).  Cameron Ward, the Cougars quarterback under the tutelage of Eric Morris, was 37/48, for 375 yards and 3 TDs, but 2 picks.
An interesting game at Jerry World, as Texas Agricultural & Mechanical and Arkansas battled but Texas Agricultural & Mechanical finished on top of the Pigs, 23-21.  Aggies were favored by 2 …
Guess who is undefeated?  Ole Miss by damn!  Hotty Toddy.  The Rebels tame the Tulsa Hurricane 35-27,
No. 12 North Carolina State 41-10 over Connecticut.
No. 18 Washington moves to 4-0 with the 40-22 win over Leland Stanford Junior University.
Wyoming gave No. 19 Brigham Young a fight in Provo, but the Cougars won 38-24.
Week Four:  Service Academies
Friday night, Air Force took it to Nevada, 48-20.  The Falcons were "W&L-esque" – one pass completion for 80 yards and a score (by Ben Brittain, of Hewitt, Texas).  That was it.  The other AF QB was 0/2.  Air Force ran for 461 yards.
Navy defeats the ECU Pirates 23-20 in two overtimes.
Week Four:  Other Games of Interest
Virginia fell short at Syracuse, 20-22.  Syracuse is 4-0.
How about those Miners!  UTEP 27-10 over Boise.  BSU was favored by 16.
UCLA remains undefeated after a 45-17 trouncing of Colorado, who remain winless.
Notre Dame went to North Carolina as 1.5 point road dogs and thanks to a 24 point second quarter hand Mack his first loss of 2022, 45-32.
Minnesota 34-7 over Michigan State in East Lansing.
James Madison went to Boone and beat App State 32-28, after trailing 28-10 at half.  The Dukes scored 15 in the fourth quarter to secure the win.  App State drops to 2-2, although one of those wins was overly highly regarded Texas Agricultural & Mechanical in College Station on September 10.
Memphis 44-34 over North Texas. Tigers are 3-1.
UTSA beat Texas Southern 52-24.
Cal Berkeley Bears were only favored by 3 at home against Arizona, but got a nice 49-31 win
Rice falls to Houston 27-34.  Bummer.
Louisiana State 38-0 over New Mexico.  Not a big shock.
And Wow!  Miami (Ohio) goes to Evanston as 7.5 point road dogs and shocks Northwestern 17-14.  Northwestern has lost three in a row since beating Nebraska.
Music
Well, Nelly is at Longhorn City Limits Saturday afternoon, and once again my iPod is bereft of any songs by our featured artist.  But I did my research.  He's a big deal.  His song Dilemma as 1.2 billion (with a B) views.  Other songs have hundreds of millions.  Here are a couple.
Dilemma (featuring Kelly Rowland).  Very good song.
Just a Dream
Hot in Herre
Didn't have time to research this guy who is playing at The Moody Center for five (5!) nights – kid named Harry Styles.  Maybe next week.
Here is some music more my style
The Tams, Be Young, Be Foolish, Be happy.
Tyrone Davis, If I Could Turn Back the Hands of Time
Dan Jenkins Medal for Excellence in Sportswriting Dinner
Last Friday night, I had the honor of attending 6th Annual Dan Jenkins Medal for Excellence in Sportswriting Dinner.  My friend, the great journalist Mark Morrison (32 years with Business Week, including 12 as managing editor), is a force on the Headliners Foundation Board of Governors and the leader of its annual dinner to raise money for the Verne Lundquist Sports Media Institute (more below on that). Mark invited a number of us (including Mr. Radio, Ed Clements) who serve on the committee for the Lundquist dinner to join him at The Headliners Club for the Jenkins event.  I had no idea how cool the night would be.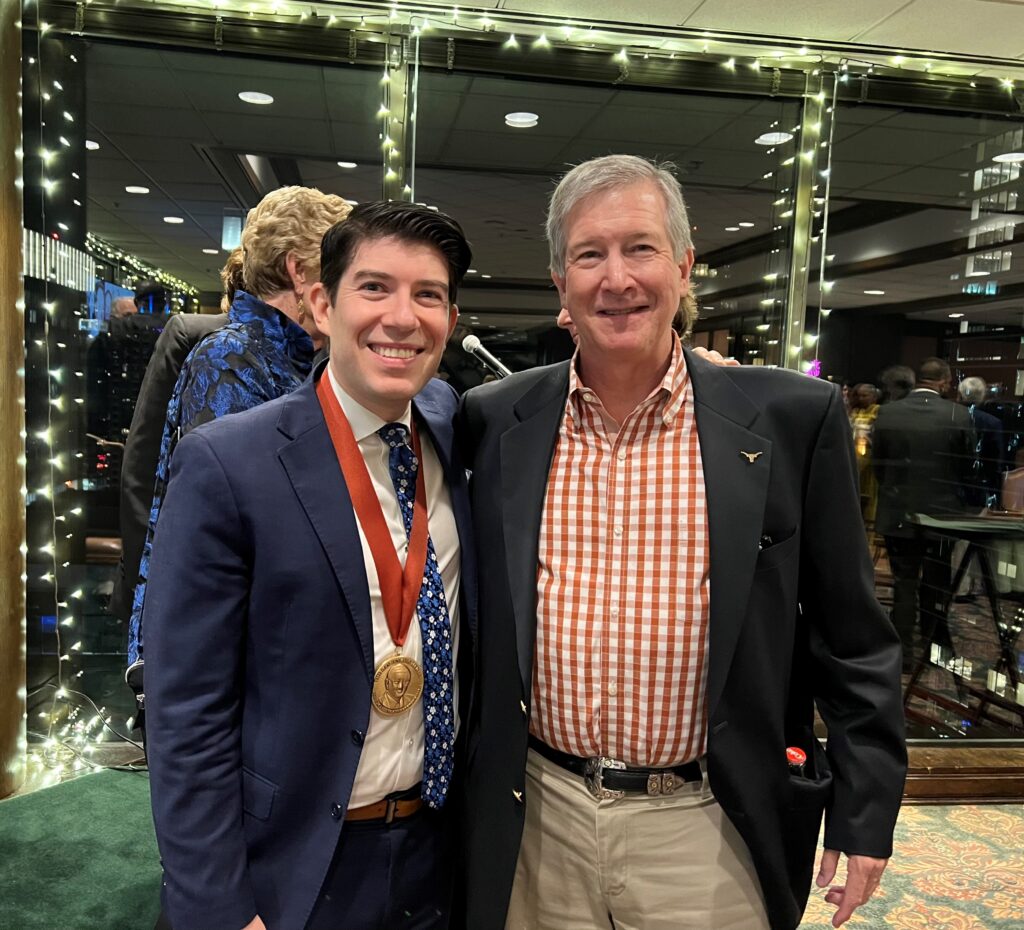 We started with cocktails in the McBee Rooms, where we got to meet and get our photo made with Charles "Mean Joe" Greene, the evening's recipient of the 2022 Jenkins Medal Sports Legend Award.  As I sipped a cold beer, I took note of the nametags of all the great sports journalists who had come to Austin for the evening – including Jeff Passan, Chuck Culpepper, Rick Telander (Chicago Sun-Times), Elizabeth Merrill, Joe Posananski, and Sally Jenkins.  A highlight of the evening was talking with Rick Telander about the 2016 Cubs World Series, especially Game 5 (we were both there), and then his story about having to meet the deadline on Wednesday November 2nd in Cleveland, which, with the rain delay, was going to bleed into Thursday morning.  If I am recounting the story right, Rick said he was sweating his filing deadline, and when the game was going to extra innings, he had to make a decision:  file his story without the result, or take a chance.  Telander rolled the dice and filed his story with the Cubs winning the World Series and breaking the curse.  Pretty cool.
The Club served an excellent dinner, and Morrison table (which included Patti Ohlendorf, Eddie C, Sharon Schweitzer, and Amy Villarreal).  Because it was the first Jenkins dinner since 2019, the recipients from 2020 and 2021 were honored.  The late great Roger Angell, who was the 2021 Lifetime Achievement Medalist, passed away in May, but his memory was honored so well by Joe Posananski.  Among the honorees: Rick Telander, 2020 Lifetime Achievement; Jeff Passan, the 2022 Jenkins Medal for Best Sportswriting; and Sally Jenkins, 2022 Jenkins Medal for Lifetime Achievement.  Chuck Culpepper introduced and presented Sally Jenkins with maybe one of the best such speeches I have ever heard.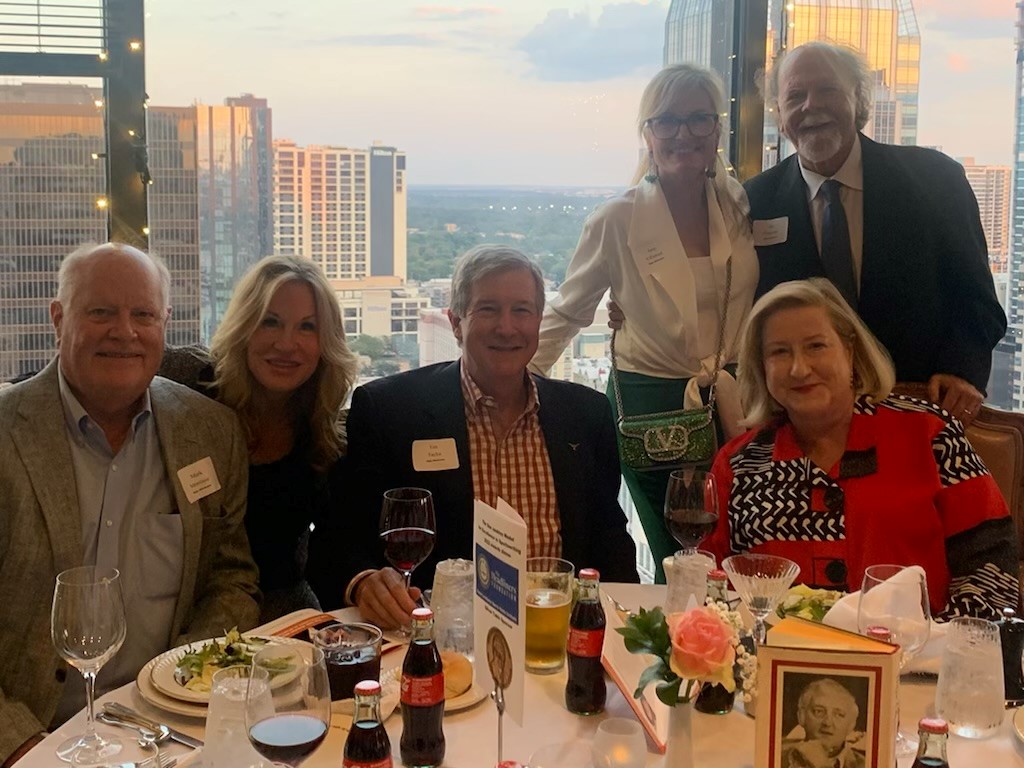 After honoring all the journalists, we heard from Mean Joe Greene.  It was awesome.  Great football stories, and of course we watched The Commercial.  There were commemorative Coca-Cola bottles on the tables, with the Jenkins Medal on the label.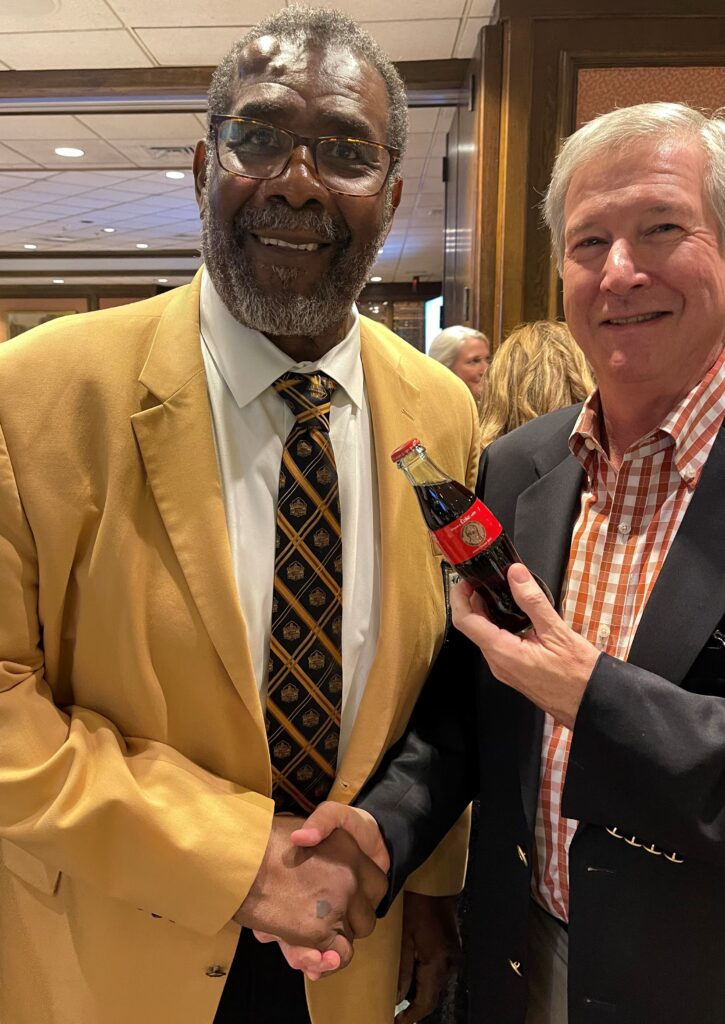 The night ended in the Press Box, with Chuck Culpepper of The Washington Post joining a few of the Lundquist crew for a nightcap or 3.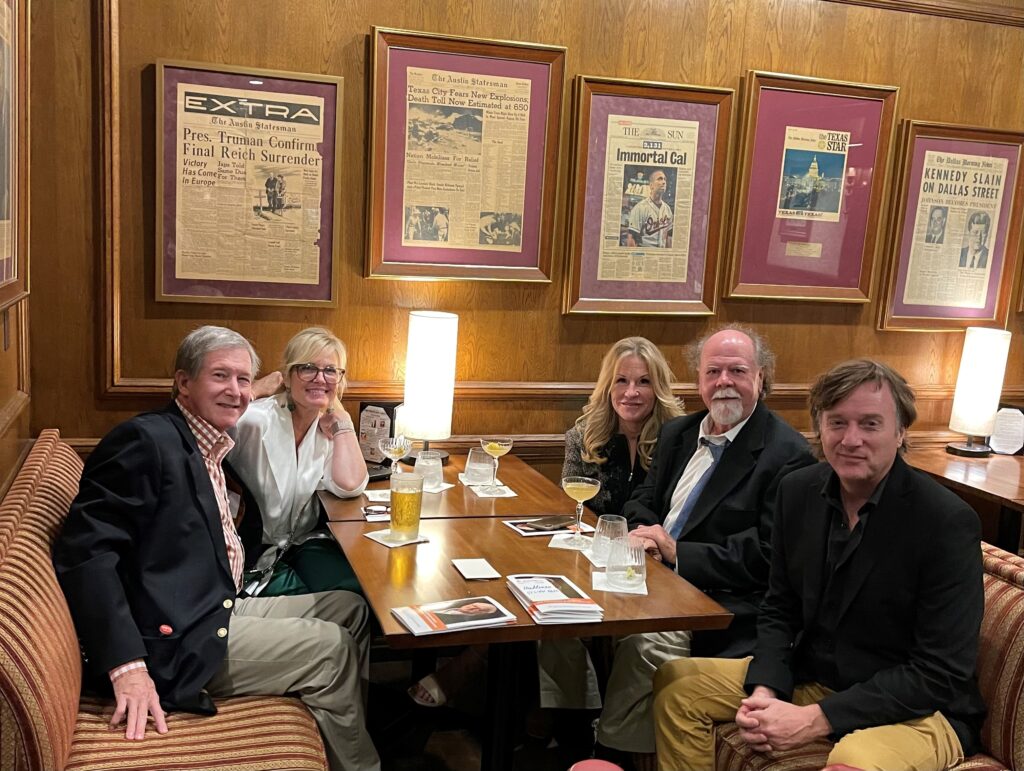 Charity
The Verne Lundquist Sports Media Institute was launched with a fundraising dinner on  February 26, 2019 at the Headliners Club in Austin that featured many of Verne's friends, including celebrity sports stars and broadcast greats.  We finally reconvened early this year, and got to enjoy Verne interviewing Roger Staubach in person.  It was amazing.
Last summer, the Verne Lundquist Sports Media Institute, in partnership the University of Texas Moody College of Communication Center for Sports Communication & Media, sponsored the first sports journalism camp for high school students.
Stepping Up to the Plate | Moody College of Communication (utexas.edu)
You can support this wonderful legacy and the institute which honors our friend (and Loyal Forever Austin Maroon) Verne Lundquist with a donation to The Headliners Foundation.
Donate — Headliners Foundation
IVY LEAGUE REPORT FOR THIRD WEEK OF 2022 SEASON
By Lonnie Schooler
Results of Games Played Sept. 23-24:  The second week of the season featured some conference matchups, as well as some traditional non-conference games, and one very surprising result.
The surprising result occurred in Fairfield Connecticut, where the Sacred Heart "Big Red the Pioneer" team stunned the visitors from Hanover, the Dartmouth Big Green, 38-31 in over-time.  This loss marked Dartmouth's first non-conference defeat after 20 straight victories.  Dartmouth lost despite the efforts of Quarterback Nick Howard and Running Q Jones, who combined for 345 yards rushing!
In other non-conference action, the Columbia Lions over-whelmed the Georgetown Hoyas in Washington, 42-6.  Quarterback Joe Green threw for 263 yards, and the defense shined with three interceptions, including a 93-yard pick six by Rocco Milia.  Columbia has now outscored its opponents 80-9!  Pat Sharkey is beaming at the performance of his alma mater after 2 weeks.
The Princeton Tigers, pre-season favorites to win the Ivy League championship, hosted the Lehigh Engineers, and prevailed 29-17, with Princeton Quarterback Balke Strenstrom throwing for 290+ yards.
Concluding the non-conference action last weekend, the Fighting Quakers of Penn shut out the Lafayette College Leopards, 12-0 at Franklin Field in Philadelphia.  Quarterback Aidan Sayin shined for the Quakers, who now have played six consecutive quarters without surrendering a point.
In conference action during Week 2, the Yale Bulldogs, another pre-season favorite, traveled to upstate New York to take on the Big Red of Cornell, prevailing 38-14.  Yale's QBs threw for 275 yards.  Kurt Nondorf is accepting congratulatory phone calls on his alma mater's triumph.
Finally, the Harvard Crimson ventured south to Providence and defeated the Brown Bruins 35-28.  Harvard's star running back, Aidan Borguet had his second 100+ yard rushing game.  The score does not reflect the fact that Brown trailed Harvard 35-7 entering the 4th quarter, and then scored three straight touchdowns to make the game a close contest.  Chip Babcock should be proud of the Bruins' heroic effort.
SCHEDULE FOR SEPTEMBER 30-OCTOBER 1:
The 3rd week of the season begins on Friday night in the foot-hills of New Hampshire, as the Big Green of Dartmouth host the Fighting Quakers of Penn at 6:00 P.M. (all times Central).
On Saturday, the action commences in New Haven, where the Yale Bulldogs look to continue their winning ways as they host the Howard University Bison at 11:00 A.M.
In Noon action, Princeton travels to upper Manhattan to confront the suddenly ferocious Lions of Columbia; the Big Red of Cornell travel farther upstate to play the Colgate Raiders; the Harvard Crimson host the Holy Cross Crusaders in Cambridge; and the Brown Bruins round out the weekend's action by taking on cross-town rival University of Rhode Island Rams in Providence.
Enjoy your football this weekend, now that there is a hint of autumn in the air in the Northeast.
Picture of the Week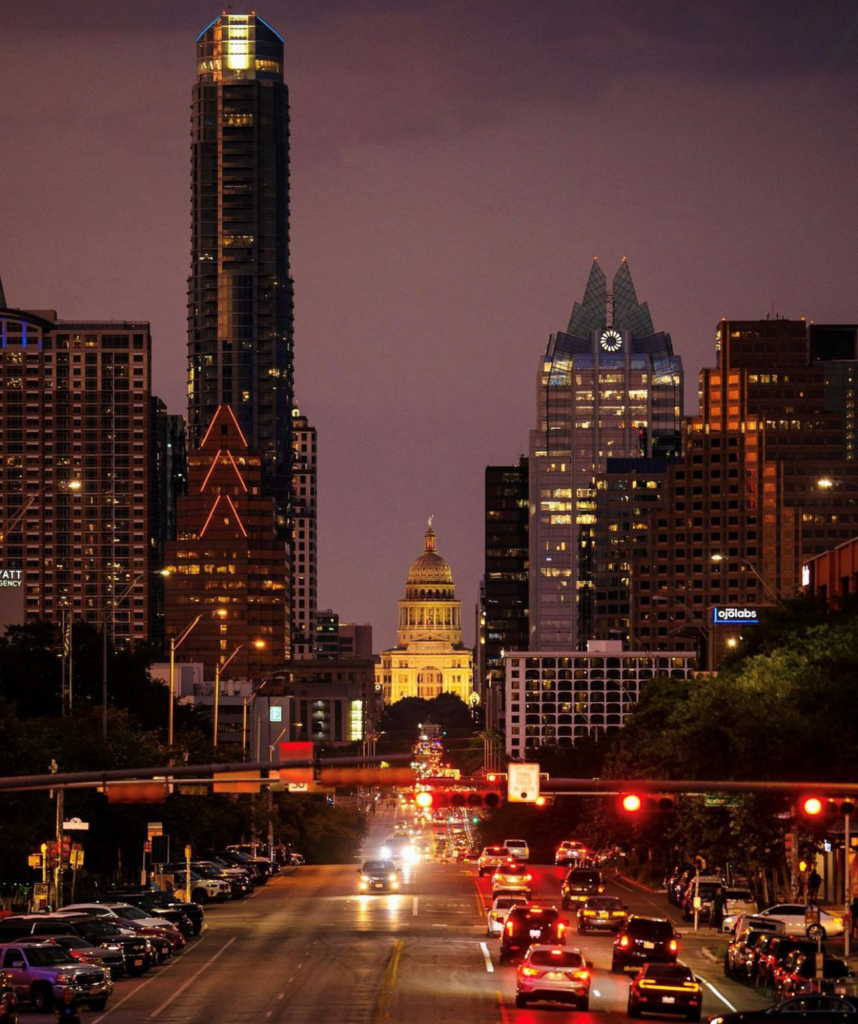 JType may be my favorite Austin photographer, at least on Instagram.  Great shot of downtown looking up Congress Avenue.
Weird.  I think the light is on in my office.
God Bless Texas
God Bless America
Tim Taylor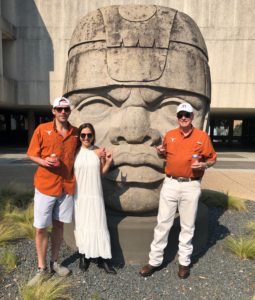 Tailgating before Home Football Games
The Juan Heisman Tailgate
Lot 38, East of Sid Richardson Hall.
HOOK EM HORNS!!
© Timothy C. Taylor, Sr. 2022.  All Rights Reserved (as to original material).
On Twitter:  @tctayloratx
On LinkedIn:  www.linkedin.com/in/tctatx
On Instagram:  @tctayloratx
On Facebook:  www.Facebook.com/Tim.C.Taylor
and:  www.Facebook.com/Juan.Heisman
You can contact me by mail:
Tim Taylor
P.O. Box 5371
Austin, Texas  78763-5371