Texas Tech Red Raiders vs. Texas Longhorns
The Red Raiders and the Longhorns meet for the 71st time Saturday morning at Darrell K Royal – Texas Memorial Stadium.  An 11:00 a.m. kickoff, broadcast on ABC with Dave Pasch, Dusty Dvoracek, and Tom Luginbill.  The game can be heard around the world on the Longhorn IMG Radio Network with the Voice of the Longhorns, Craig Way, joined by Roger Wallace and Will Matthews.  Sirius 77, XM 199, and 953 on the SXM App.  On KGAS in Carthage (104.3 FM and 1590 AM).  KRLD 1080 in Dallas and a good chunk of north Texas, and KTBB 600 in Tyler.
Texas is favored by 9 points, and the over/under is 62.
Texas and Tech began playing in 1928, a game in which Coach Clyde Littlefield's team beat Tech in Austin 12-0.  They met a couple of times in the 1930's, both Texas wins.  Four straight wins between 1945 and 1950, before Tech got their first win against the Horns in 1955 (Ed Price was HC).  Darrell Royal went 13-4 against Tech between 1960 (when Tech joined the Southwest Conference) and 1976.  Fred Akers was 8-2, losing to a David McWilliams coached Red Raider team in 1986.  In 1987, McWilliams coached Texas to a 41-27 win over Spike Dykes.  Between 1988 and 2014, Tech would get 8 wins, and Dykes got back to back wins over Texas twice (1993-94 over Mackovic, and 1997 over Mackovic and 1998 over Mack Brown).  Mack Brown would only lose 2 more to Tech, both in Lubbock – 2002 and then a somewhat memorable game in 2008.  Still hurts.
Texas Longhorns 58, Rice Owls 0
The 96th game between Rice and Texas ended as 73 prior matches with Owls have – with a Texas win.  A dominant performance, 44 to nothing at halftime, and Texas more than doubled the line and hit the over by itself.  Texas rushed for 427 yards, and that includes a Roschon Johnson 72 yard touchdown run, a Bijan Robinson 62 yard touchdown run, and a Keilan Robinson 65 yard touchdown run.  Texas never punted.
Casey Thompson led Texas on seven touchdown drives out of eight possessions against Rice.  In the fourth quarter of the Arkansas game, Casey had 2 series, both resulting in touchdowns.  In the ULL game, Casey quarterbacked 3 drives – one touchdown, one field goal, and a punt.  And then going all the way back to the second half of the Alamo Bowl last December, Casey quarterbacked 5 consecutive scoring drives against Colorado.  One of those was a field goal.  So if my math is right, 16 scoring drives out of 18 possessions, 14 of those touchdowns.  Ball don't lie.
The Battle for the Chancellor's Spurs
The Texas Tech University System was formed in 1996, and formally established by the Lege in 1999.  John Montford was the original Chancellor of the Tech System, and the idea of playing for a trophy was established – the Chancellor's Spurs.  Dr. William Cunningham was Chancellor of The University of Texas System at the time.  Nice trophy.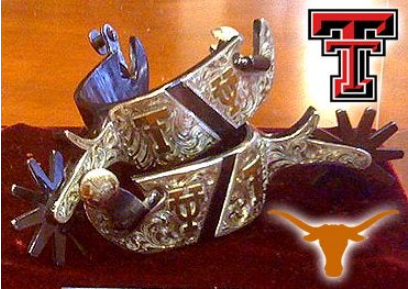 Official Preview:
https://texassports.com/news/2021/9/20/football-preview-texas-tech.aspx
Texas Game Notes:
https://texassports.com/documents/2021/9/20/04_Texas_Tech.pdf
 Texas Tech Red Raiders
Texas Tech arrives in Austin sporting a 3-0 record.
Opening game win over the Houston Cougars, 38-21.  Tech trailed 21-7 at halftime, and then scored 31 unanswered in the second half.  Houston has won both their subsequent matches, 44-7 over Rice and 45-0 over Grambling.  So kinda one quality win.
Tech beat Stephen F. Austin in Week 2, 28-22, a game which they also trailed at the half, 13-7.  The Lumberjacks are 2-1, with wins over the Tarleton State Texans (20-10) and the Mississippi Valley State Delta Devils (58-13).
Last weekend, the Raiders trounced the Florida International Panthers, 54-10.  FIU beat LIU, then lost to Texas State 17-23 before getting walloped in Lubbock.
Head Coach Matt Wells in his third season at Tech, and was reported to be on the hot seat coming into 2021.  I started my research on the Texas Tech football page for Coach Wells, and I couldn't find any place where it stated his actual record in those first two seasons.  "The 2021 season will be Wells' ninth season as a collegiate head coach as he has compiled a 52-48 overall record following six seasons at his alma mater, Utah State, and two years leading the Red Raiders."  And "Through his first two seasons in Lubbock, Wells has set the groundwork for future success at Texas Tech behind a commitment to creating a true developmental program with the Red Raiders."  He is 11-14 in Lubbock, and that won't fly long in the Hub City.  Other folks on the TTU staff include former Tech quarterback Sonny Cumbie, who is OC and QB coach, and former Red Raider running back Sammy Morris, who is Assistant Director for Player Support Development.
On the field, the offense is led by No. 12 Tyler Shough, 6-5, 225, who transferred to Lubbock from Oregon, where he started last year.  He's pretty good. 55 for 81, 804 yards, 6 TDs, 2 picks, averaging 268 yards per game.  He's got 70 yards gross rushing (8 net).  No. 28, Tahj Brooks (5-10, 220 Sophomore from Manor), is the top rusher for Tech, with 284 yards on 35 attempts, averaging 8.1 yards per attempt, 94.67 ypg, and he has 4 TDs.  No. 14 Xavier White, 6', 200 pound junior out of Lubbock Monterrey has 128 yards and a score, averaging 7.1 yards per attempt.  Pretty decent.  Also, SaRodorick Thompson has been hurt, but he played a few downs against FIU.  He was the leading Red Raider rusher last year with 610 yards and 8 scores, and in 2019 he had 765 yards and 12 TDs.  If he is healthy, I think we will see some of him.  Last year, he rushed for 104 against Texas and had 2 TDs, but 75 of that was on one run.
Leading receiver is No. 13 Erik Ezukanma, 6-3, 200, 116.67 yards per game, 16 catches for 350 yards and a TD, and averaging 21.88 yards per catch.  He is very good, one of the best in the Big 12.  Kaylon Geiger, who doesn't have a jersey number or link to his bio on the TTU website (but is #10, a senior wide receiver from Fort Worth), is second with 9 catches for 132 yards.  Big tight end Travis Koontz, #15 (6-4, 255) has 10 catches for 81 yards and 2 TDs.
Texas Technical Defense is led by No. 17, linebacker Colin Schooler, 6-2, 230 senior with 20 tackles (17 solo) and 2 TFL for 7 yards.  Taylor Duck DaMarcus Fields (No. 23, 6-0, 200, Senior DB)  has 14 tackles (10 solo).  A familiar name, Riko Jeffers (No. 6, 6-2, 230 Senior linebacker) has 13 tackles (10 solo).  Senior linebacker Krishon Merriweather (6-0, 240) has 13 tackles (9 solo).  Senior linebacker Bandon Bouyer-Randle (6-2, 240) has 11 tackles (6 solo).  The next guy, Eric Monroe is a senior too.  A very experienced defense, which may explain why they are No. 5 in the country in rush defense.  I think several of those guys are super seniors – 6 year guys.
 Texas Depth Chart
I want to echo what has been in the newspapers and on the blogs a lot the past week:  Casey Thompson is a student of the game.  A voracious watcher of film.  My recollection is that two Texas quarterbacks who had this level of intensity when it comes to studying were pretty good – Colt McCoy and Sam Ehlinger.  Kirk Bohls said "Casey Thompson may be the most studious, well-prepared QB ever at Texas. Once studied film for 12 hours in a day. As Sam Ehlinger's backup."  I think we will see some of the results of his homework this Saturday.  He is QB1.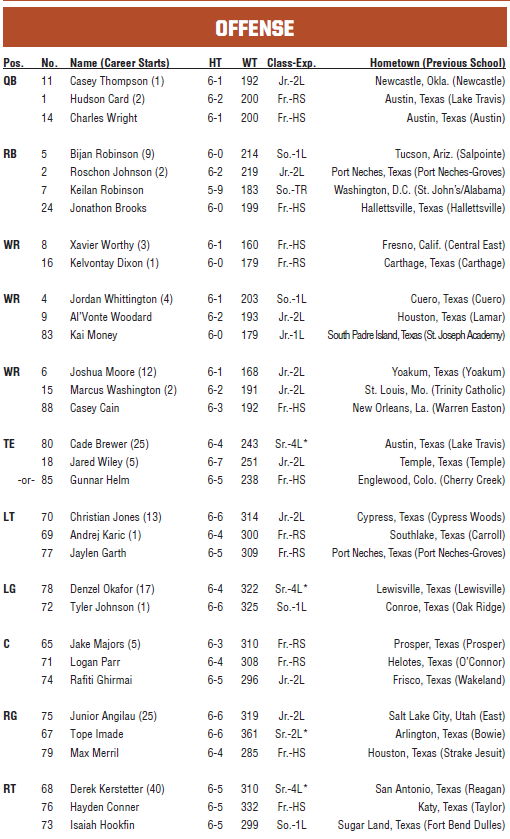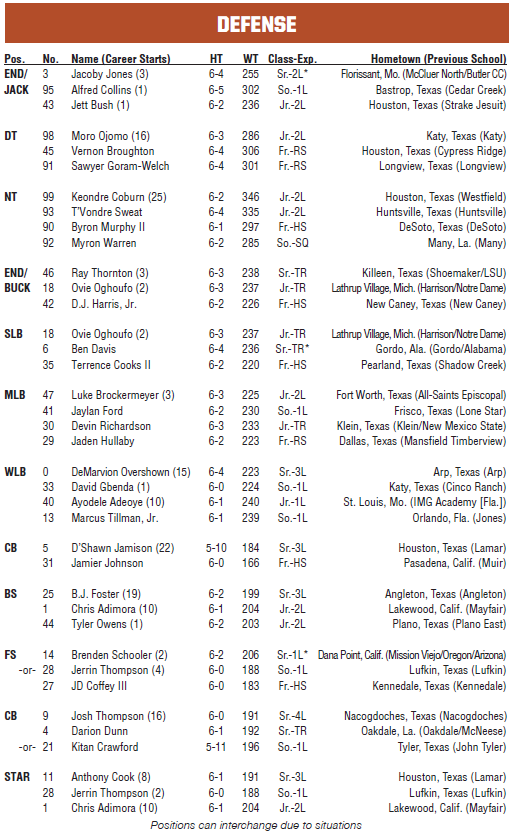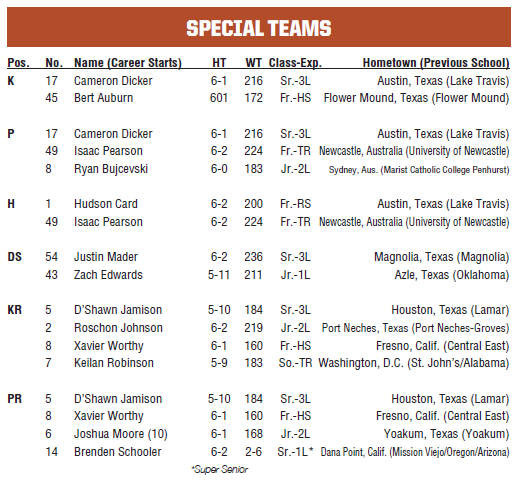 Did anyone else notice that Bert Auburn got some work last week against Rice?
Red Raiders vs Longhorns
Last year's game was an overtime thriller.  You may recall Texas trailed late in the game, then rallied to tie and win in overtime.  Ehlinger brought the Horns back in the fourth quarter from 41-56 deficit, with a touchdown pass to Brennan Eagles with under 3 minutes to play and then a touchdown pass to Joshua Moore with 40 seconds left in the game, punctuated with a pass to Eagles for the 2 point conversion to tie.  In overtime, Texas scored quickly (12 yard TD pass to Moore).  Tech was snuffed on their turn, with the game ending after Caden Sterns picked off Alan "Horns Down" Bowman.  Final was 63-56 Horns.   While Texas won, they didn't cover.  I lost a bet.  I don't mind losing a bet when the Horns win, especially to Ben Richards.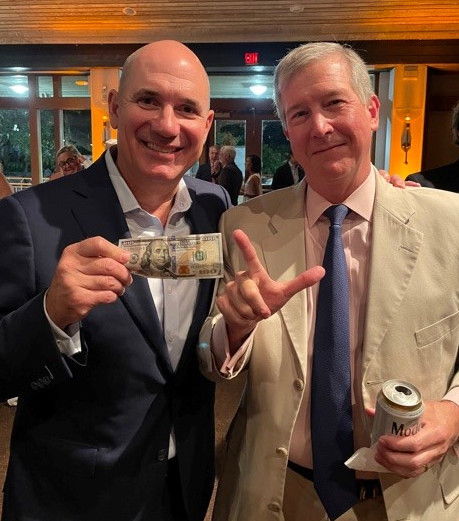 Historically, Texas is 31-7 in Austin.  But worth noting that Tech's only 2 wins since 2009 are in Austin (2015, 48-45, and 2017, 27-23).
The Statistics
The stats are back!
Offense
| | | |
| --- | --- | --- |
| Statistic | Texas | Texas Technical |
| Rushing Offense | #14 – 245 ypg | #63 – 170.7 ypg |
| Passing Offense | #99 – 192 ypg | #41 – 270.7 ypg |
| Total Offense | #39 – 437 ypg | #36 – 441.3 ypg |
| Scoring Offense | #32 – 39 ppg | #26 – 40 ppg |
| First Downs | #73 – 20.7/game | #96 – 19/game |
| Sacks Allowed | #68 – 6, 27 yards | #30 – 4, 31 yards |
| Tackles for Loss Allowed | #60 – 16, 42 yards | #9 – 9, 50 yards |
| Third Down Conversions | #11 – 55.3% | #38 – 46.9% |
| Fourth Down Conversions | #40 – 66.7% | #117 – 0% (0/1) |
| Red Zone Offense* | #27 – 93% / 93% | #37 – 92% / 67% |
| Long Run Plays | #63 – 15/10, 7/20, 3/30 | #82 – 13/10, 4/20, 4/30 |
| Long Pass Plays | #80 – 24/10, 8/20, 3/30 | #73 – 25/10, 13/20, 8/30 |
| Long Scrimmage Plays | #91 – 39/10, 15/20, 6/30 | #94 – 38/10, 17/20, 12/30 |
* 19 teams are tied at #1 with 100% scoring – Texas State leads the nation with 13/13
Defense
| | | |
| --- | --- | --- |
| Statistic | Texas | Texas Technical |
| Rushing Defense | #104 – 184.3 ypg | #5 – 54.3 ypg |
| Passing Defense | #36 – 182.7 ypg | #87 – 236.0 ypg |
| Total Defense | #76 – 367.0 ypg | #29 – 290.3 ypg |
| Scoring Defense | #46 – 19.3 ppg | #59 – 21.3 ppg |
| Sacks | #51 – 7, 37 yards | #37 – 8, 58 yards |
| Tackles for Loss | #67 – 18, 51 yards | #26 – 23, 89 yards |
| First Downs Allowed | #65 – 19/game | #30 – 15.7/game |
| Third Down Conversions | #69 – 36.8% | #24 – 30.2% |
| Fourth Down Conversions | #115 – 100% (4/4) | #111 – 78.6% (11/14) |
| Red Zone Defense | #12 – 58% / 25% | #30 – 70% / 50% |
| Long Run Plays Allowed | #103 – 18/10, 8/20, 3/30 | #12 – 6/10, 1/20, 1/30 |
| Long Pass Plays Allowed | #23 – 18/10, 7/20, 1/30 | #55 – 23/10, 8/20, 5/30 |
| Long Scrim. Plays Allowed | #59 – 36/10, 15/20, 4/30 | #23 – 29/10, 9/20, 6/30 |
Other
| | | |
| --- | --- | --- |
| Statistic | Texas | Texas Technical |
| Turnovers | #12  – 1F; 1I | #77 – 3F; 2I |
| Turnover Margin | #53,  3:2; +.33 | #69, 5:5; 0 |
| Penalties | #13 – 13, 96 yards | #89 – 21, 192 yards |
*Based on total number of penalties.
Match-up Comparison
| | |
| --- | --- |
| Texas Offense | Texas Technical Defense |
| Rushing Offense – 245 ypg | 54.3 ypg – Rushing Defense |
| Passing Offense – 192 ypg | 236 ypg – Passing Defense |
| Total Offense – 437 ypg | 290.3 ypg – Total Defense |
| Scoring Offense – 39 ppg | 21.3 ppg – Scoring Defense |
| First Downs – 20.7/game | 15.7/game – First Downs Allowed |
| 3rd Down Offense – 55.3% | 30.2% – 3rd Down Defense |
| 4th Down Offense – 66.7% | 78.6% – 4th Down Defense |
| Red Zone Offense – 93/93 | 70/50 – Red Zone Defense |
| LRP – 15/10, 7/20, 3/30 | 6/10, 1/20, 1/30- LRP Allowed |
| LPP – 24/10, 8/20, 3/30 | 23/10, 8/20, 5/30 – LPP Allowed |
| LSP – 39/10, 15/20, 6/30 |  29/10, 9/20, 6/30 – LSP Allowed |
| | |
| --- | --- |
| Texas Defense | Texas Technical Offense |
| Rushing Defense – 184.3 ypg | 170.7 ypg – Rushing Offense |
| Passing Defense – 182.7 ypg | 270.7 ypg – Passing Offense |
| Total Defense – 367.0 ypg | 441.3 ypg – Total Offense |
| Scoring Defense – 19.3 ppg | 40 ppg – Scoring Offense |
| First Downs Allowed – 19/game | 19/game – First Downs |
| 3rd Down Defense – 36.8% | 46.9% – 3rd Down Offense |
| 4th Down Defense –  100% | 0% – 4th Down Offense |
| Red Zone Defense – 58/25 | 92/67 – Red Zone Offense |
| LRP Allowed – 18/10, 8/20, 3/30 | 13/10, 4/20, 4/30 – LRP |
| LPP Allowed – 18/10, 7/20, 1/30 | 25/10, 13/20, 8/30 – LPP |
| LSP Allowed – 36/10, 15/20, 4/30 |  38/10, 17/20, 12/30 – LSP |
 Sometimes when I get to this point of the newsletter, I have a pretty good idea of what I think the outcome will be.  I may be wrong, but I have my opinion.  Tonight, I am not sure.  Tech's strong rush defense makes me nervous, because the greatest strength on this Longhorns team right now is our running back corps.  Their overall defense is good too, and I think they will be well-prepared for the Horns.  I think they are good.  Maybe they are just better this year.  They blitz the linebackers a lot, and so I am hoping we see some of that 2 back set with RoJo in the backfield to help block.  With the really superior quality of our RBs, our good tight ends who really haven't shone as much as I thought they would, and Casey Thompson's innate skills, I am guessing we will see more RPO mixed in with the bruising Texas run game (okay, excluding Fayetteville).  I think another big factor on offense will be the great skills our running backs have in catching the ball.  The Texas offense is a whole lot better than Stephen F. Austin (31 yards rushing) and FIU (55 yards rushing).  Although Houston only ran for 77.
The Tech quarterback, Tyler Shough, is an experienced, quality, college football QB.  He's played in big games, and Sonny Cumbie will have him ready to attack the Texas defense.  The good news is, I am assuming that Coach Kwiatkowski has some experience with Shough and will know some his weaknesses.  As usual, Tech has a solid and strong offensive line.  Our D line is going to have to play better and stack things up at the line of scrimmage when Tech runs the ball.  If Snacks and the big men play well, that will be a difference maker.  Overshown needs to have a big game.  I think our secondary can cover the Tech receivers, although Ezukanma is a beast and great receiver.  He will get his catches.
I think Texas gets a nice win on Saturday.  I fear the usual slow start for the Horns at 11 o'clock in the morning, but I see Texas with a single digit lead at half, then a good second half as the Texas run game gets in gear.  Solid performance from Casey Thompson, and I think we see him running a bit more – hopefully because he wants to and not because he has to.  Tech will get to the endzone – at least Ezukanma will.  I think the over/under at 62 might be a bit low.
Texas wins 42-31.
Ray Benson & Asleep at the Wheel
Ray and the Wheel will be entertaining at halftime.  Ray Benson is an Austin treasure.  Hell, he's a national treasure.  His commitment to giving back to the community is legendary, everything from helping start the Health Alliance for Austin Musicians (HAAM) and SIMS Foundation to service on nonprofit boards.
He is also a heck of a musician and songwriter.  AATW is celebrating its 50th anniversary this year.  20 albums and I believe 9 Grammy Awards, I am grateful for Ray.
Ray was kind enough to invite me to join him on the field pregame a few years ago, when he was singing the National Anthem.  It was pretty cool.  Two other guys name Matthew and Roger were hogging a lot of attention.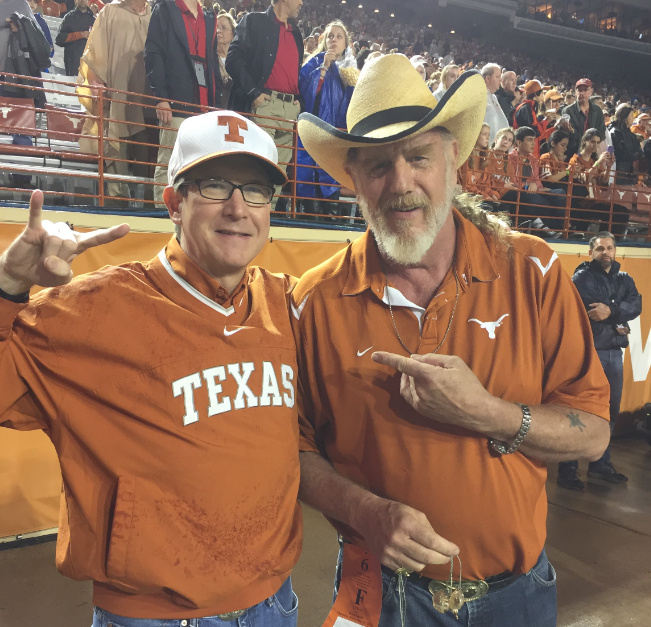 Matt Craig (HornMafia on Barking Carnival) "The Week That Will Be": Twilight's Last Gleaming.
https://www.barkingcarnival.com/2021/9/23/22689093/the-week-that-will-be-twilights-last-gleaming
Longhorns 58, Owls 0
What a fun game, start to finish. First, how did I do?  Well, I underestimated the defense, who shutout Rice (I guessed 52-21).  But was close on Texas scoring, which is nice.
Re-watching and looking at the stats, it was really a solid team performance.  Casey's ill-advised throw which was picked on UT's second series was really the only big blemish.
Texas took the ball and had a 4:39, 69 yard drive, with the highlight play being the 31 yard Xavier Worthy reception.
Rice 3 & out, then the Thompson pick.  Rice did have a nice drive off that – 55 yards to the Texas 7.  But a penalty then a missed field goal.
Next Texas series was 83 seconds and 80 yards, 72 of it on that blistering run by Roschon Johnson.  Texas was up 14-0.  Rice 3 and out, and the great play was Keilan Robinson's blocked punt for a safety, which put the Horns up 16-0.
Texas had a solid drive – 65 yards in 2:56, finished with a Bijan 7 yard touchdown run to put the Horns up 23-0.
Luke McCaffrey, Rice's QB, had some health issue, and Wiley Green came in for the Owls.  He actually got Rice downfield, before the Owls sputtered and punted after getting into Texas territory.
Texas got the ball at its own 11, and 2:14 later was in the endzone.  A couple of passes but a highlight reel run for Bijan – 62 yards to paydirt.  30-0 Horns.
Rice 3 and out, after Jake Constantine came in to QB the Owls, and Texas got the ball back, another drive which Casey led to a touchdown.  A touchdown pass to tight end Jared Wiley for 20 yards!  Yes.
Poor Rice got the ball down 37 to nothing with a minute 38 in the first half, and fumbled on the first play.  A few plays later and a 13 yard TD pass to Worthy to put Texas up 44-0.
Rice managed 28 yards on their first second half drive before punting, and then Texas just got out another hand grenade and pulled the pin.  Keilan Robinson 65 yard touchdown run on the third play of the possession and it was 51-0.
After Rice's next punt (there were 7 in all), Hudson Card came in midway through the third.  Keilan Robinson and Jonathan Brooks show, as Texas had 6+ minute drive for another score (Brooks from 17 yards out) to go up 58-0.
That's where it was when the final frame began.  Sark showed some mercy, and we had guys in who weren't on the depth chart – e.g. Gabe Watson at running back.  Texas ate up most of the fourth quarter with an 8 minute drive that stalled when Watson couldn't convert on fourth and 4 from the Rice 7.  The Owls took over and managed to drive to the Texas 5, and the last play of the game was Texas sacking Constantine for a 2 yard loss.  Fitting.
32 Longhorns got in box score on defense.  Outside of the 22 starters, 53 Longhorns got in the game.  So pretty fun night for the team.
             Hook em!
Highlights
Here is a short one, 3 and half minutes from Big XII.
Just over 10 minutes from ESPN:
Full Game:
William March Rice University
Jeff Zlotky, Princeton undergrad and UT Law, pointed out that I mistakenly included James A. Baker III as a notable Rice alumnus, when in fact, Mr. Baker went to Princeton for undergrad and then UT Law.  His connection to Rice (in addition to his grandfather's role) is that Mr. Baker serves as honorary chair of Rice University's Baker Institute for Public Policy, also known as the Baker Institute.
The Polls
AP Top 25:  Alabama, Georgia, Oregon, Oklahoma, Iowa, PSU, Texas Agricultural & Mechanical, Cincinnati, Clemson, The Ohio State University TM.  Notre Dame at 12, Ole Miss at 13, Iowa State at 14, and North Carolina at 21.  Kansas State enters the AP Top 25 at No. 25.  Texas Christian was next in the voting so "26".
Coaches Poll: Roll Tide, UGA, Land Thieves, Ducks, Texas Agricultural & Mechanical, Iowa, Cinci, Clemson, PSU, and  L'Université de Notre Dame du Lac.  Hotty Toddy at 13 and Iowa State University of Science and Technology at 14. Tar Heels at No. 20.  Oklahoma State at 22.
This Week's Games – The Big XII Week 4
The Iron Skillet Battle
Southern Methodist University and Texas Christian University meet for the 100th time Saturday.  Texas Christian leads the series 51-41-7.  In the last 50 years, the rivalry between the Methodists and Disciples has seen a see-saw of dominance.  The Mustangs won 15 straight from 1972 to 1986.  They didn't play in 1987 & 1988, I am trying to remember why.  Oops, oh yeah.  From 1989 to 1998, the frogs won 6 and the ponies won 4.  But then in 1999, the Texas Christians took over, winning 6 straight, Mustangs won in 2005, then 4 straight for the Frogs before SUM won an overtime in Amon Carter in 2011.  Texas Christian won 7 straight before the Mustangs got the win in 2019.  The game Saturday kicks off at 11:00 a.m. in Amon G. Carter Stadium and will be broadcast on FS1.  Both teams are undefeated.  Texas Christian is favored by 9.5, and the over/under is 65.5.  I like the Ponies to cover.
No. 14 Iowa State in Waco to play the undefeated Brazos Baptists.  2:30 p.m. on FOX.  Very nice time slot for the Cyclones and Bears.  Iowa State favored by 7, and the over/under is 47.5
Kansas (1-2) at Duke (2-1), 3:00 p.m. on ACCN.  Blue Devils favored by 16, over/under is 57.
Great game in Stillwater.  No. 25 Kansas State at Oklahoma State.  6:00 p.m. on Big 12/ESPN+.  This is a good game between two 3-0 teams, and it should not be behind a paywall.  It almost seems like the Big 12 is losing some clout or something.  Okie A&M favored by 6 at home, and the over/under is 46.5.  I kinda like KSU in this, at least to cover.
West Virginia at No. 4 Oklahoma.  6:30 p.m. on ABC.  Land Thieves favored by 17, over/under is 55.5.  I thought this line was high, given the performance of the Land Thieves thus far and West Virginia's good win over the Hokies last weekend.  But then I looked at the Oklahoma dominance:  OU is 8-0 against the Mountaineers since they joined the Big 12.  WVU's only wins against the Land Thieves are the 2008 Fiesta Bowl (one of Bill Stewart's really good teams) 48-28 over Visor Bob, and a 1982 41-27 win in Norman over the Bootlegger's boy.
This Week's Games – The Top 25
A game Friday night – UNLV at No. 22 Fresno State, 9:00 p.m. on CBSSN.  Hard to say a good game, because UNLV is not good, and Fresno State appears to "be back".  The Bulldogs are coming of a big 40-37 upset of then No. 13 UC Los Angeles, and they nearly upset Oregon in Autzen Stadium a couple of weeks ago.  Fresno favored by 30, and the over/under is 59.5.  I would be looking forward to watching this but given how early the alarm is going off (for me, anyway) Saturday morning to get over to Juan Heisman, I am not sure this will be one of those late night games I get to stay up and enjoy.
No. 2 Georgia at Vanderbilt.  11:00 a.m. on $ECN.  Dogs favored by 35, and the over/under is 53.  If I was a betting man, not so sure I wouldn't put a little money on Dores to cover.
Villanova (3-0) at No. 6 PSU (3-0).  11:00 a.m. on BTN.  I know that the Wildcats are going to get slaughtered (so does Vegas – no line), but my gosh this would be an hysterical upset.  Nova with wins over Lehigh, Bucknell, and the mighty Richmond Spiders.  PSU just has wins over No. 12 Wisconsin, Ball State, and No. 22 Auburn.
No. 12 Notre Dame and No. 18 Wisconsin from Soldier Field in Chicago, 11:00 a.m. on FOX. I have to remember to by a new tape for the BetaMax.  Irish undefeated (3-0) and Wisconsin is 1-1.  But Wiscy favored by 6.5.  Over/under is 45.  Irish QB Jack Coan transferred to Notre Dame last year from Wisconsin.  Might hear that mentioned a few times.  Did you know Colt McCoy's dad and Jordan Shipley's dad were college roommates?
UMass vs the Chanticleers of No. 17 Coastal Carolina, 12:00 noon on ESPN+.  CCU favored by 36, over/under is 65.
Colorado State at No. 5 Iowa. 2:30 p.m. on FS1.  Rams are 1-2, Hawkeyes are 3-0.  Iowa favored by 23.5, over/under is 44.5.
No. 7 Texas Agricultural & Mechanical vs. No. 16 Arkansas from Jerry World.  2:30 p.m. on the Columbia Broadcasting System.  For all you people who think I hate the aggies:  GIG EM!  For all you people who think I hate the pigs, you're right!  Texas Agricultural & Mechanical favored by 4.5, over/under is 47.  Aggies win and cover.
No. 9 Clemson at North Carolina State. 2:30 p.m. on ESPN.  Tigers favored by 10, over/under is 47.5.  I got the Wolfpack covering.
Rutgers at No. 19 Michigan at 2:30 p.m. on ABC from the Big House.  The Scarlet Knights are 3-0, and they have actually played a couple of real teams.  61-14 over Temple, 17-7 over Syracuse and 45-13 over the Delaware Fightin' Blue Hens.  The Fightin' Blue Hens (you know they are real when they contract "fighting" and put the apostrophe at the end) have 6 national titles, including the FCS in 2006.  The lost to App State in the finals in 2007 and to Eastern Washington in 2010.  Joe Flacco is a Blue Hen.  But I digress.  The Wolverines are favored by 20.5, which seems big.  Michigan is going to win, but not sure I would be betting on this one.  Over/under is 49.5.
Georgia State at No. 23 Auburn.  3:00 p.m. on SECN from Jordan-Hare on the Plains.  War Eagle favored by 27, over/under is 57, and I like Auburn to cover.
No. 24 UCLA at Leland Stanford Junior University.  5:00 p.m. on PAC12 from The Farm.  Both 2-1, and the line is Bruins by 4.5.  Should be a good game.  Since 1925, UCLA leads the series 45-43-3.  The Tree won the last game in December, 48-47 in double OT.  Not a Bruin fan.  Like Stanford. Taking the Cardinal to win.
Tennessee at No. 11 Florida.  A modern rivalry, but with just 50 prior matches.  "Third Saturday in September".  6:00 p.m. on ESPN.  Despite being members of the Southern Intercollegiate Athletic Association when they first met in 1916, and both in the Southern in the 20's (guess it's almost time to say 1920's), and then founding members of the Southeastern in 1932, they didn't play regularly.  (I feel a research project coming on.).  But since 1992 when the $EC went to 12 teams and 2 divisions (with the Vols and Gators in the East), they have played annually, usually the third weekend of September, and sometimes on the twenty-first.  Gators lead the series 30-20.  Florida favored by 19 at home in the Swamp, and I like that.  Over/under is 63.5.
Nebraska at No. 20 Michigan State.  6:00 p.m. on FS1.  Spartans favored by 5, over/under is 52.  State to win and cover.
Southern Miss at No. 1 Alabama.  6:30 p.m. on SECN.  Tide favored by 45, over/under is 58.5.  Normally, I would think that line is too high.  But Bama has to get ready for the best team from Mississippi who will be in Tuscaloosa the next weekend, and I think Saban will drop the hammer on the boys from Hattiesburg.
Akron at No. 10 Ohio State.  6:30 p.m. on BTN.   Buckeyes favored by 48.5 over the Zips.  This may get ugly.
No. 21 North Carolina at Georgia Tech, 6:30 p.m. on ACCN from Mercedes-Benz Stadium in Atlanta.  Heels favored by 12.5, over/under is 63.5.  Good luck Mack! Be the One!
South Florida ((1-2) at No. 15 Brigham Young (3-0), 9:15 p.m. on ESPN2.  Cougars favored by 23 in Provo, and that sounds about right.  Over/under is 54.
Arizona at No. 3 Oregon, 9:30 p.m. on ESPN.  Looking forward to a night game from Autzen.  Not a big Ducks fan, but a great atmosphere and I like a little PAC12 after dark.  Ducks favored by 28.5, over/under is 58.5.  Arizona 0-3, with losses to Brigham Young (okay), San Diego State (Aztecs are respectable), and the Northern Arizona University Lumberjacks (WTF?).  NAU had losses to Sam Houston (42-16) and South Dakota (34-7).  I shall wager.
Other Games of Interest This Week
Thursday
App State won a 31-30 thriller over Marshall.  Good football game in Boone.
Friday
Wake Forest at Virginia.  Big Game from Scott Stadium on ESPN2.  6:00 p.m.  Demon Deacons are 3-0, Cavaliers are 2-1.  UVA favored by 3.5, and over/under is 68.5.  Hook em Hoos!
Saturday
Miami at Army, 11:00 a.m. on CBSSN.  The Redhawks from Miami are 1-2, Army is 3-0 (but you know that, because I said they would be last week.  Black Knights favored by 7.5, over/.under is 48.5.  Miami to cover.
Louisiana State at Mississippi State, 11:00 a.m. on ESPN. LSU favored by 2. Geaux Tigers!
UT San Antonio at Memphis, 2:20 p.m. from Liberty Bowl.  Both teams 3-0, and the Tigers just favored by 3 over our Roadrunners.  This would be a huge win for Coach Jeff Traylor and UTSA.  Rod Wright is Co-Defensive coordinator and D line coach.
Towson at San Diego State, 2:30 p.m.  No one ranked, no odds.  But of note because the Aztecs are 3-0 with wins over Arizona and Utah.  They might have a big season.
Texas Southern at Rice, 5:30 p.m. from Rice Stadium.  One of these teams will not be winless come Sunday, and it will be alright.  Go Owls.
Navy (0-2) at Houston (2-1).  First American Athletic Conference game for both teams, so despite the bad starts a chance to change that.   Cougars favored by 19 on John O'Quinn Field.  Go Middies.
Florida Atlantic at Air Force, 7:00 p.m. on FS2.  Both teams 2-1, Falcons favored by 4, over/under 54.  Not a bad little game.  And worth tuning in to.
New Mexico at UTEP, 8:00 p.m. on ESPN+ from the Sun Bowl.  Both 2-1, and Miners 1 point home underdogs.
Cal at Washington, 8:30 p.m. on PAC12.  Both 1-2.  Huskies favored by 7.5.
Oregon State at Southern Cal, 9:30 p.m. on FS1 from the Coliseum.  Trojans favored by 11, over/under is 62.  Still don't have an answer on this.  Art?
Colorado at Arizona State, 9:30 p.m. on ESPNU from Sun Devil Stadium in Tempe.  ASU favored by 14.    Over/under is 45.
So, going to be a very nice Saturday night of football.
No. 1 Texas Volleyball
Texas beat Texas Agricultural & Mechanical in College Station last Friday night, 3-1.  A midweek trip to Houston, and the Horns swept Rice.  They are off for a week, and conference play begins.  They will be playing both games with the other school on back to back days, starting Thursday September 30 with West Virginia at Gregory, then again with the Mountaineers Friday night.
Week Three
Last Week's Games – The Big XII
Nebraska gave the Land Thieves a decent game before falling 16-23 in Norman.  Easily covering the 26 point line.
West Virginia defend the home turf at Milan Puskar, jumping out to a 24-7 lead over then No. 15 Virginia Tech at half.  Final 27-21 WVU.  Mountaineers covered too.  I was surprised.
Nevada 17, Kansas State 38.  Wolfpack was favored by 2, and I had K State to win.
Baylor 45, Kansas 7, Bears cover.
Texas Tech drummed Florida International 54-21.
Oklahoma State 21, Boise State 20.  A scoreless second half.  Missed that one.
Iowa 48-3 over UNLV, covering the 31.5 point line as predicted.
Last Week's Games – The Top 25
No big upsets.
The Alabama – Florida game was dang good, as the Crimson Tide held on to win 31-29.
I had a hunch about the Hoosiers, but Cincinnati rallied with 15 in the fourth quarter to win at Indiana, 38-24.
Notre Dame 27-13 over Purdue.
Fresno State's 40-37 upset of UCLA got the Bulldogs ranked.
Ole Miss hung 61 on Tulane, and didn't score in the fourth.  The Rebels have the top offense in college football.  Tuscaloosa going to be fun next weekend.
North Carolina with a dominant 59-39 win over Virginia. Congrats Coach Mack.
Such a pity to see Miami (Florida) lose at home.  Michigan State 38, Hurricanes 17.
Texas Agricultural & Mechanical 34-0 over New Mexico.
Other Games of Interest Last Week
Army rolled over UConn, 52-21.
Minnesota with the 30-0 shutout at Colorado, and the Buffs were favored by 2.5.  Ouch.
Southern Methodist 39-37 over Louisiana Tech.
Florida State (0-2) at Wake Forest (2-0), 2:30 p.m. on ESPN.  Wow.  Deacs favored by 4.5.
Miami (Ohio) 42-7 over Long Island University.
Southern Cal 45-14 over Washington State.
Another hunch I should have played.  Memphis 31-29 over Mississippi State. Bulldogs were favored by 3.
UTSA wins and covers at Middle Tennessee, 27-13.
Incarnate Word 42-34  over Texas State.  Holy cow.
Central Michigan 21, Louisiana State 49.
Utah State 49-45 over favored Air Force.
Stanford 41-23 winners at Vanderbilt.  Impressive road win for the Cardinal.
 Juan Heisman Tailgate
We had a great if light tailgate for Rice.  Great to see everyone.
This week, we will be there early.  Bloody Marys will be served by 8:30 or so, and breakfast tacos by 9:00.  Bloody Marys thanks to our new Vodka sponsor – Tito's.  Really excited to bring Tito's into the JHT Family.  Thanks Bryan! It is a great way to start a day.  Bloody Marias even better.
Good to have my pledge brother Charlie Randolph in Austin for the game.  His first visit to Juan Heisman.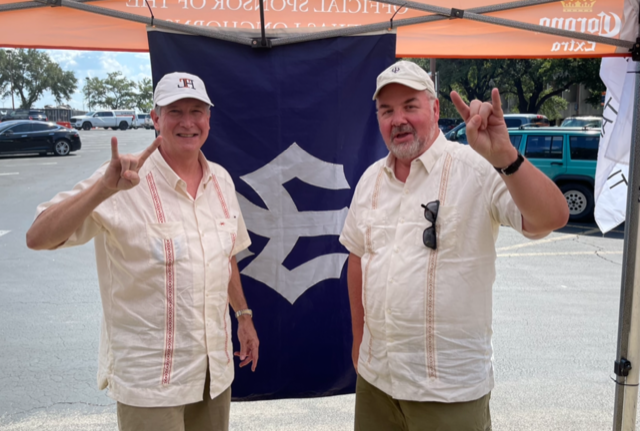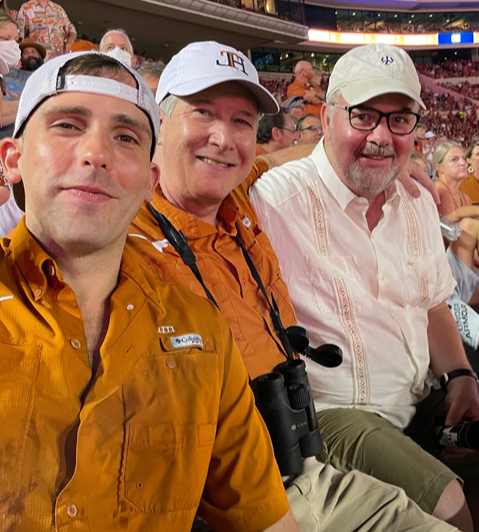 Washington & Lee Generals
The Generals with another big win, 63-7 over Guilford.  When W&L rushes for 553 yards and holds the opponent to zero net yards rushing, they usually win.  7 rushing touchdowns.  Generals also put it in the air, 118 yards and 2 scores.  671 yards of offense to 148 is pretty good.  Three guys played quarterback, but Pollard started and had 82 yards and both the passing TDs.  Alex Wertz rushed for 122, Stephen Murrin (sophomore QB from Fort Worth Country Day) had 116 yards and 3 TDs on the ground.  Coby Kirkland had 85 and a score and Josh Breece had 51 and a TD.  Luke Alison, son of my fraternity brother Bill Alison, from Huntsville, Alabama, was the leading receiver with 2 catches for 54 yards and a TD.
The Generals head east to Ashland, Virginia, to take on rival No. 16 Randolph-Macon.  This will be Game 69.  A very tight series that began in 1903, with the Yellow Jackets leading 33-32-3.  Randolph-Macon is 3-0, including a 31-13 ODAC road win over Bridgewater last week.  They held Bridgewater to 21 rushing yards, so you can figure out pretty easily where the game will be decided.  Good luck Gennies!
I want to salute Phillip Sampson, from Houston, who was a brother of Kappa Alpha Order a few years behind me (Class of 1990).  Phillip has been elected to the W&L Athletics Hall of Fame.  Phillip:
"earned a total of seven letters as a member of the track & field and football teams, serving as a team captain for both sports during his senior campaigns.  In track & field, he was a two-time ODAC Champion in the pole vault, setting the indoor and outdoor school records in the event which both stood for 30 years.  As a sophomore in 1988, he qualified for both the indoor and outdoor NCAA Division III Championship in the event.  Across his four years, Sampson helped lead the Generals to a combined five ODAC Indoor and Outdoor Championship titles.  On the gridiron, Sampson started 29 games at quarterback and he re-wrote the program record book.  He graduated with the top marks in 12 different passing categories, including career completions (397), career completion percentage (.561), career passing yards (4,439) and career passing touchdowns (32).  A two-time winner of the Dan Ray Justice Award as the team's Offensive MVP, Sampson earned First Team All-ODAC, First Team All-State and Honorable Mention All-America accolades as a senior."
Music
Got to play The Wheel.
Better Times, a song that Ray and AATW recently released.  Very good song.  Got to hear Ray play this on his birthday last spring.
Get Your Kicks (On Route 66).  A Wheel classic.  Texas music aficionados may recognize some of the guests.
It's All Your Fault, from Austin City Limits
Half A Hundred Years – a song celebrating this half century of amazing music.  Ray has sung and played with some of the greatest of all time.
Always play Miles.  Miles and Miles of Texas.
ALS
Several people have sent news stories about Longhorn Legend Steve "Mongo" McMichael and his fight with ALS – Lou Gehrig's Disease.
https://abc7chicago.com/steve-mongo-mcmichael-2021-als-lou-gehrigs-disease/11023710/
Brutal disease, and one which has received attention in this newsletter many times.  Our good friend Rusty Perry fought ALS for years. In the course of his battle, which sadly is never won (yet), Rusty began raising money for ALS research, originally through Hunting and Fishing for a Cure.  Since Rusty's death in December 2017, his wife Amy and his family and good friends have kept the dream of a cure alive.  Today, they continue to raise money through the Rusty Perry Foundation, Inc.
https://www.rustyperryfoundation.com/
I hope you will make a contribution.
IVY LEAGUE FOR THE SECOND WEEK OF THE 2021 SEASON
By Lonnie Schooler
The "real" college football games began in earnest last weekend.  Anticipation was in the air as the first kickoff brought hopes and dreams for success in the FCS, particularly after last year's COVID-induced hiatus for all Ivy sports.
By the way, in case you were wondering, recent reports indicate that the League currently has twelve of its alumni on NFL rosters this year!  One never knows from where the next NFL star might come!
RESULTS OF GAMES PLAYED ON SEPTEMBER 18:
In the opening weekend of the Ivy season, VMI defeated the Big Red of Cornell in upstate New York, 31-21.  The Big Green of Dartmouth bested the Valparaiso Crusaders on the road, 28-18.  The Columbia Lions prevailed at home over the Marist Red Foxes, 37-14 (an impressive start for Pat Sharkey's Lions).  The Yale Bulldogs proved too hospitable a host to the Holy Cross Crusaders in New Haven, losing 20-17 in their annual home-and-home series.  The Brown Bruins lost to cross-town rival the University of Rhode Island, 45-24.  Harvard had little difficulty in finishing off the Georgetown Hoyas in Washington, 44-9.  Preseason favorite Princeton triumphed on the road against Lehigh, 32-0.  Finally, the Fighting Quakers of Penn went to the home of the Bucknell Bisons and easily prevailed, 30-6.
SCHEDULE FOR SEPTEMBER 24-25:
This weekend, several of the teams play in conference match-ups.  The schedule for this weekend's games is as follows (all times CDT, and all games available on ESPN+):
On Friday evening, the Brown Bruins travel to Cambridge to take on the Harvard Crimson at 6:00 P.M. in the inaugural conference game of the year.
The remaining games all occur on Saturday:
The Big Red of Cornell travel to New Haven to play the Yale Bulldogs at 11:00 A.M.  The Hoyas of Georgetown travel to New York to play their second game against an Ivy school, the Columbia Lions, with kickoff at Noon.
The Stetson University Hatters (I am not making this up) journey to mid-state New Jersey to take on the Princeton Tigers at Noon.  The Sacred Heart Big Red Pioneers travel to the hills of New Hampshire to play Dartmouth with a 12:30 kickoff.
Finally, the Fighting Quakers of Penn journey to the Allegheny mountains to play the Lafayette College Leopards at 2:30.
God Bless Texas
God Bless America
Tim Taylor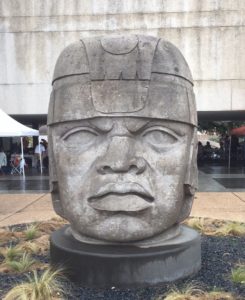 Tailgating before Home Football Games
The Juan Heisman Tailgate
Lot 38, East of Sid Richardson Hall.
HOOK EM HORNS!!
© Timothy C. Taylor, Sr. 2021.  All Rights Reserved (as to original material).
On Twitter:  @tctayloratx
On LinkedIn:  www.linkedin.com/in/tctatx
On Instagram:  @tctayloratx
On Facebook:  www.Facebook.com/Tim.C.Taylor
and:  www.Facebook.com/Juan.Heisman
You can contact me by mail:
Tim Taylor
P.O. Box 5371
Austin, Texas  78763-5371