Texas Longhorns 70, Texas Tech Red Raiders 35
A very good surprise in the thrashing of the Red Raiders.  Outstanding offensive performances by Casey Thompson (Big XII Offensive Player of the Week and Maxwell Player of the Week), Bijan Robinson, Xavier Worthy (Big XII Newcomer of the Week), and Jordan Whittington.  Nine touchdowns on eleven possessions:  just the Tech interception in the endzone in the second quarter, and the turnover on downs with 48 seconds left in the game.  Texas did not punt for the second game in a row – the first time that has happened in Texas football history.  More on the Tech game below.
For those who didn't know or weren't sure what "All Gas, No Brakes" meant, the combined first halves of Texas offense for the Rice and Tech games (mostly first string) look like this:  69 yard TD drive, interception, 80 yard TD drive, 65 yard TD drive, 89 yard TD drive, 62 yard TD Drive, 44 yard TD Drive (42 offensive points plus the safety, score of 44-0), and Tech:  75 yard TD drive, 80 yard TD drive, 75 yard TD drive, 60 yard TD drive, 84 yard TD drive (35 points on offense, score 42-0).  Over 783 yards and 79 offensive points (the first half game scores would have been identical except add the safety against Rice).
An update to the Casey Thompson ledger:  8 touchdowns on 9 possessions on Saturday.  24 scoring drives out of 27 possessions since the Alamo Bowl.  (I used the word "ledger" very intentionally, since those who know me know that despite a pre-med degree in Chemistry and the math that went with that, my accounting skills are non-existent.  So I may be off a score or possession here.  I will get it on a spreadsheet next week. For sure.)  Anyway, that is Casey Thompson seven touchdown drives out of eight possessions against Rice.  Two against Arkansas game, on two possessions.  Casey quarterbacked 3 drives against ULL – one touchdown, one field goal, and a punt.  5 consecutive scoring drives against Colorado.  One of those was a field goal.  I think I am right.  24 scoring drives on 27 possessions, with 22 touchdowns.  Like I said, ball don't lie.
Cool Stuff
I have missed doing this, and I suspect many of y'all have seen some of this. But fun and cool stuff.
Justin Tucker set an NFL field goal record with the 66 yard game winner against Detroit (against whom the long standing record of 63 yards was set by Tom Dempsey in 1970).  This post on Instagram has all the views.  (Aggie friends, y'all might not want to watch this.  May trigger you.  27-25, you know).
Jordan Spieth's shot up the hill at the Ryder Cup.  Great USA Victory!
https://www.instagram.com/p/CUNd7n0rNag/
The Texas media team is just phenomenal.  Party on Wayne.  We are not Worthy.
And every Texas score in the Tech game, in one post on the Gram
Best Stuff
Each week, one of the Longhorns has the honor of carrying a flag onto the field with the number 48, in memory of and in honor of Jake Ehlinger.  RIP Jake.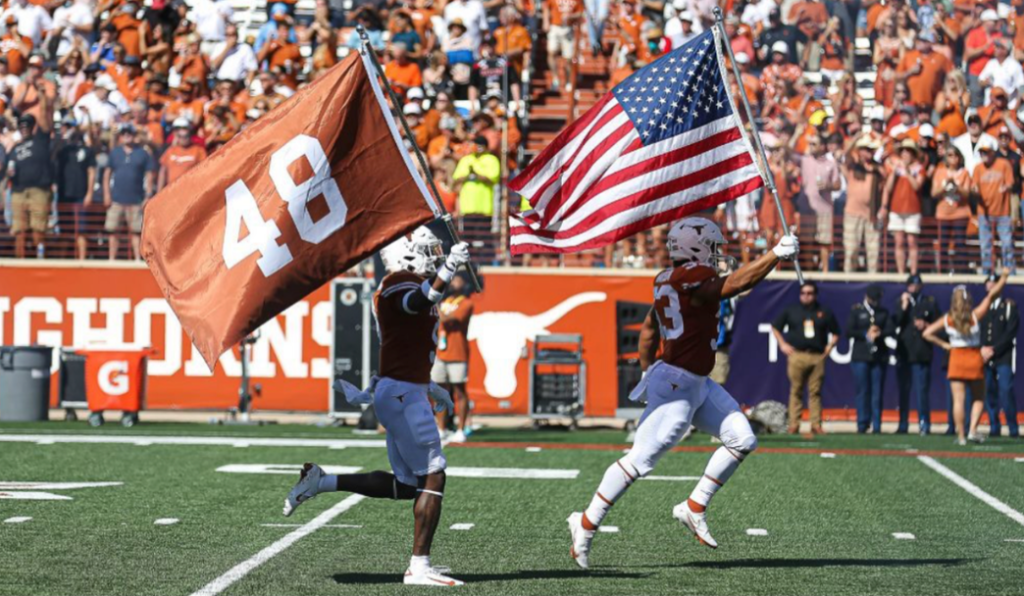 Texas Longhorns vs. Texas Christian Horned Frogs
The Longhorns head to Fort Worth to play the Horned Frogs for the 92nd time.  A once lopsided series decisively in favor of Texas, the Gary Patterson era has been one of Texas Christian dominance.  Patterson's Frogs are 7-3 against Texas.  Before his arrival in Fort Worth, the record was 60-20-1.  I will do the math for you:  All-time record is 63-27-1.  That includes a 24 game winning streak from 1968 to 1991.  Here is the odd stat of the week (courtesy Jody Ferguson):  Since joining the Big XII, TCU is 2-8 the week before their game with Texas.  Think this game looms large on the horny toads' calendars?
This week's game will be on ABC at 11:00 a.m., again with Dave Pasch, Dusty Dvoracek, and Tom Luginbill.  Unlike last week, I will be in the air-conditioned comfort of my home instead of in the stadium where it might be a bit wet.  As always, the game will be on the radio and internet around the world on Longhorn IMG Radio Network with the Voice of the Longhorns, Craig Way, and Roger Wallace and Will Matthews.  In Amarillo, tune in on KGNC 710 AM.  A little further south, KVNS AM 1700 in McAllen.  A bit to the east, KCMC in Texarkana, 740 AM, 107.9 FM.
Texas is favored by 4, and the over/under is 65.
Official Preview:
https://texassports.com/news/2021/9/27/football-preview-at-tcu.aspx
Texas Game Notes:
https://texassports.com/documents/2021/9/27/05_TCU.pdf
 Texas Depth Chart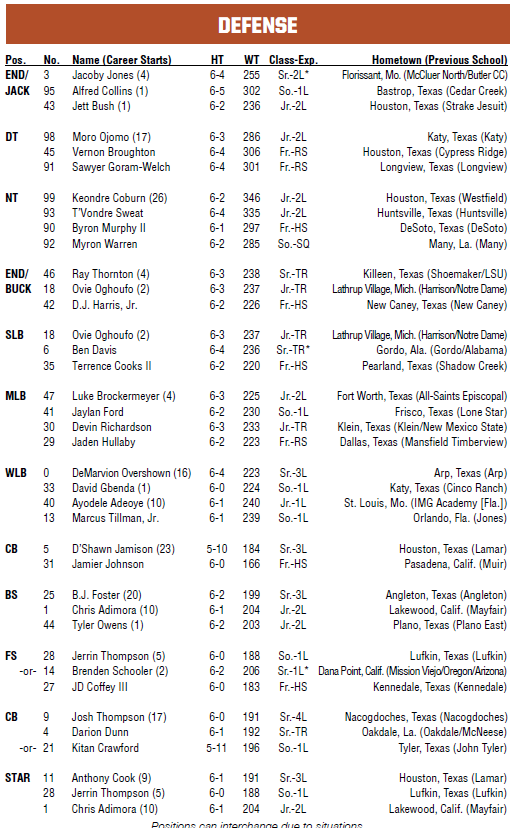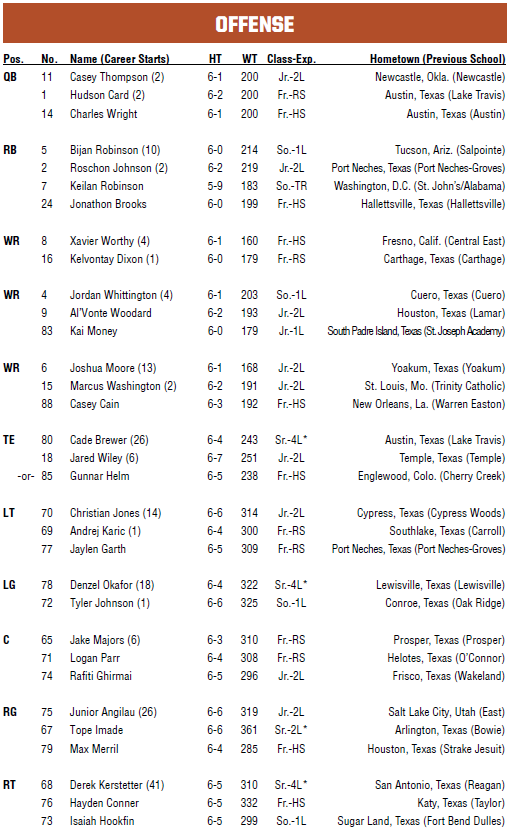 Update on Texas individual stats:
Casey Thompson:  42/54 for 565 yards, 8 TDs, 2 interceptions, and 207.15 rating.  Casey also has 80 yards on the ground and 3 rushing touchdowns.
Bijan Robinson:  436 yards on 70 carries, 6.2 yards per attempt, 5 TDs, and 109 yards per game. Plus 145 yards receiving on 8 catches for a 18.13 average, 2 TDs.
Roschon Johnson:  206 yards on 25 carries, 8.2 yards per attempt, 3 TDs, and 51.5 yards per game.  RoJo has 4 catches for 37 yards.
Keilan Robinson has 175 yards on 23 carries, 7.6 yards per attempt, 2 TDs, and 43.75 yards per game.
Xavier Worthy:  Leads Texas (barely) with 246 yards on 14 catches, 4 TDs.
Jordan Whittington:  245 yards on 18 catches, 2 TDs.  (Need a stat program that tells me how many of those were conversions for first downs)
Bijan is third.
Overshown leads Texas with 34 tackles (14 solo), 2 TFL for 6 yards and half a sack.
Brockermeyer with 24 tackles (6 solo), 3 TFL for 7 yards and the other half of Agent 0's sack.  He also has the pick and 2 QB hurries.  Happy for Luke.
Next Horn defenders:  Foster, Cook, Thompson, Oghoufo, Ford, and Jones.  Then T'Vondre Sweat who has 12 tackles.
Horned Frogs
Patterson's Froggies are 2-1.  They are playing their fourth straight home game at Amon Carter.  They opened with a 45-3 shellacking of Duquesne.  TCU struggled to beat California, 34-32.  The Golden Bears are 1-3.  They (Cal) lost to Nevada 17-22, beat the Sacramento State Hornets (2-2 FCS team) 42-30, and lost to Washington last week 24-31.  So Cal isn't so good.  Then the Frogs lost last weekend to SMU, 42-34.  That game is covered below.   Not exactly a sparkling 2-1 record.
The team stats are covered below.  No. 15 Max Duggan is back at quarterback and off to a respectable start.  717 yards, 47/78, with 7 TDs and 2 picks.  239 yards per game.  The Frog ground game is led by No. 6 Zach Evans, who has 331 yards on 42 attempts, for a 7.9 yard average; he has 2 rushing TDs, and has a long run of 51.  Duggan is actually the second Frog rusher, with 164 gross (110 net), and 2 scores on the ground.  No. 33 Kendre Miller has 102 yards and two scores.  Texas Christian receiving corps led by No. 4 Taye Barber, 7 catches for 161 yards, averaging 23 per catch and has a TD.  No. 1 Quentin Johnston has 9 catches for 133 yards and 2 scores.  No. 11 Darius Davis with 103 yards on 7 catches.
Longhorns vs Horned Frogs
This will be, like all of the games with Texas Christian for the last decade, a tough game for Texas.  But not as tough.  I am really believing in this team.  If the defense can avoid the big lapses they had against Tech, the Horns can win.  The statistic that jumps out below is the Frog rush defense.  No. 102 in the country, giving up 181.3 yards per game.  The Longhorns are 7th in rushing offense, with 267.8 yards per game. Now Patterson will have something special for Texas.  Always does, and it isn't because he loves us.  Nonetheless, I think Texas will get the run game going and put up 200 yards, give or take a few.
TCU plays good offense when it counts:  No. 7 in third down conversions, and tied with several for red zone offense, with 100% scoring on red zone opportunities.  They don't make a lot of big plays, but seem solid.
The Statistics
Offense
| | | |
| --- | --- | --- |
| Statistic | Texas | Texas Christian |
| Rushing Offense | #7 – 267.7 ypg | #28 – 206.3 ypg |
| Passing Offense | #77 – 219.8 ypg | #50 – 254.3 ypg |
| Total Offense | #18 – 487.5 ypg | #29 – 460.6 ypg |
| Scoring Offense | #3 – 46.8 ppg | #28 – 37.7 ppg |
| First Downs | #48 – 22.3/game | #12 – 25.7/game |
| Sacks Allowed | #50 – 7, 35 yards | #22 – 5, 46 yards |
| Tackles for Loss Allowed | #34 – 19, 52 yards | #6 – 11, 66 yards |
| Third Down Conversions | #2 – 59.6% | #7 – 55.0% |
| Fourth Down Conversions | #37 – 66.7% | #65 – 50% |
| Red Zone Offense* | #13 – 95% / 95% | #1 – 100% / 77% |
| Long Run Plays | #26 – 27/10, 10/20, 5/30 | #80 – 18/10, 8/20, 2/30 |
| Long Pass Plays | #70 – 35/10, 14/20, 6/30 | #70 – 35/10, 9/20, 7/30 |
| Long Scrimmage Plays | #39 – 62/10, 24/20, 11/30 | #83 – 53/10, 17/20, 9/30 |
* Texas is #1 in touchdown percentage, which is impressive.
Defense
| | | |
| --- | --- | --- |
| Statistic | Texas | Texas Christian |
| Rushing Defense | #91  – 170.2 ypg | #102 – 181.3 ypg |
| Passing Defense | #79 – 235.0 ypg | #56 – 210.0 ypg |
| Total Defense | #86 – 405.2 ypg | #80 – 391.3 ypg |
| Scoring Defense | #67 – 23.3 ppg | #79 – 25.7 ppg |
| Sacks | #59 – 9, 54 yards | #121 – 3, 19 yards |
| Tackles for Loss | #68 – 24, 76 yards | #127 – 12, 37 yards |
| First Downs Allowed | #67 – 19.3/game | #34 – 17/game |
| Third Down Conversions | #66 – 37.3% | #108 – 45.7% |
| Fourth Down Conversions | #112 – 78% | #1 – 0% (0/3) |
| Red Zone Defense | #13 – 64% / 36% | #53 – 78% / 67% |
| Long Run Plays Allowed | #97 – 22/10, 10/20, 3/30 | #107 – 24/10, 1/20, 1/30 |
| Long Pass Plays Allowed | #48 – 30/10, 11/20, 5/30 | #5 – 18/10, 12/20, 7/30 |
| Long Scrim. Plays Allowed | #74 – 52/10, 21/20, 8/30 | #33 – 42/10, 22/20, 8/30 |
Other
| | | |
| --- | --- | --- |
| Statistic | Texas | Texas Christian |
| Turnovers | #7  – 1F; 1I | #21 – 1F, 2I |
| Turnover Margin | #53, 5:4, +0.25 | #36, 5:3,  +0.67 |
| Penalties | #14 – 18, 127 yards | #25 – 20, 165 yards |
*Based on total number of penalties.
Texas is No. 4 in penalty yards per game, at 31.8
Match-up Comparison
| | |
| --- | --- |
| Texas Offense | Texas Christian Defense |
| Rushing Offense – 267.7 ypg | 181.3 ypg – Rushing Defense |
| Passing Offense – 219.8 ypg | 210.0 ypg – Passing Defense |
| Total Offense – 487.5 ypg | 391.3 ypg – Total Defense |
| Scoring Offense – 46.8 ppg | 25.7 ppg – Scoring Defense |
| First Downs – 22.3/game | 17/game – First Downs Allowed |
| 3rd Down Offense – 59.6% | 45.7% – 3rd Down Defense |
| 4th Down Offense –  66.7% | 0% – 4th Down Defense |
| Red Zone Offense – 95/95 | 78/67 – Red Zone Defense |
| LRP – 27/10, 10/20, 5/30 | 24/10, 1/20, 1/30 – LRP Allowed |
| LPP – 35/10, 14/20, 6/30 | 18/10, 12/20, 7/30 – LPP Allowed |
| LSP – 62/10, 24/20, 11/30 | 42/10, 22/20, 8/30 – LSP Allowed |
| | |
| --- | --- |
| Texas Defense | Texas Christian Offense |
| Rushing Defense – 170.2 ypg | 206.3 ypg – Rushing Offense |
| Passing Defense – 235.0 ypg | 254.3 ypg – Passing Offense |
| Total Defense – 405.2 ypg | 460.6 ypg – Total Offense |
| Scoring Defense – 23.3 ppg | 37.7 ppg – Scoring Offense |
| First Downs Allowed – 19.3/game | 25.7/game – First Downs |
| 3rd Down Defense – 37.3% | 55.0% – 3rd Down Offense |
| 4th Down Defense –  78% | 50% – 4th Down Offense |
| Red Zone Defense – 64/36 | 100/77 – Red Zone Offense |
| LRP Allowed – 22/10, 10/20, 3/30 | 18/10, 8/20, 2/30 – LRP |
| LPP Allowed – 30/10, 11/20, 5/30 | 35/10, 9/20, 7/30 – LPP |
| LSP Allowed – 52/10, 21/20, 8/30 |  53/10, 17/20, 9/30 – LSP |
I think the match-ups tell the likely story:  Texas is going to dominate the game with a strong rushing attack.  But the key will be protect Casey (TCU may be at the bottom of the rankings in sacks and TFL, but I expect Texas will see something from the Frog defense that isn't on any tape.)
Last week's good start despite the 11:00 a.m. kickoff was encouraging.  If the Horns are awake and have their engines humming in the first quarter, I think Texas cruises to victory.  A slow start, and it may be a long battle, but Texas eventually wins.  One wild card is the weather, but maybe more in our favor given the probable dominance of our rushing attack.
I am going to stay conservative, and say Texas wins 45-31.
            Hook em!
Matt Craig (HornMafia on Barking Carnival) "The Week That Will Be": Cattle Call.
https://www.barkingcarnival.com/2021/9/30/22701664/the-week-that-will-be-cattle-call-texas-longhorns-football
Longhorns 70, Red Raiders 35
Let's focus on the positive first:  The Texas offense was outstanding.  Great games from Casey Thompson, Bijan Robinson, Roschon Johnson, Xavier Worth, and Jordan Whittington, and solid performance for all the offense.
The Horns first drive started on the Texas 25.  Casey converted one third down with a 10 yard pass to Worthy, then converted the next third down and 8 with a pass to Whittington.  On a second and 20, Thompson showed good pocket presence and completed a 15 yard pass to Whittington.  Texas went for it on fourth and 3 on the Tech 38 with a quick pass to Robinson who took it for touchdown.  7-0 Horns.
Tech moved the ball at the start of their first possession, but on third and 9 at the Texas 48, the Horns got great pressure on Shough, and the pass fell incomplete.
Next series, Thompson checked down to Bijan who turned the first down play into a 16 yard gain.  A few plays later, a big first down pass to Marcus Washington for 22 yards down to the Tech 30.  Thompson on second and 1, a nice RPO and Casey kept it for a rush to the Tech 6.   RoJo barreled in to put Texas up 14-0.
Tech's next possession, Shough moved the Red Raiders, including an 18 yard completion to Ezukanma.  In Texas territory, SaRodorick Thompson was stacked up by Cook for no gain, then on third and 6 Collins got in the backfield for a 1 yard TFL.  Tech elected to punt.  Another great punt block by Keilan Robinson which was scooped for a touchdown.  But Keilan was lined up in the neutral zone.  So Tech went for it on 4 and 3. Nice rolling pass to the tight end, then SaRodorick Thompson as expected.  Big 17 yard gain to the Texas 16.  Some good goal line defense, as Texas held them out for a few plays, Tech even backed up on a false start.  But on third and goal from the 6, Shough kept it for the TD.   14-7 Texas.  A huge 14 point swing after the blocked punt was called back.  I thought this giant momentum swing would impact us and that Texas was in for tight first half I predicted.  Glad they proved me wrong!
Next possession started with a 22 yard Bijan Robinson run to midfield.  Four rushing plays with RoJo and Bijan, including a big 12 yard pop from Bijan, and Texas was First and 10 on the Tech 24.  Third and 7 on the 21, and Casey tucks and runs for the first down.  First and goal.  RoJo down to the 4, then third and goal from the 1, and Casey snuck it across.  21-7 horns.
Nest possession was a pick 6 on the first play, and Josh Thompson took it to the house.  28-7 Texas.
Tech got the ball with about 10 to play.  Henry Columbi in at QB for the Red Raiders.  Tech got stacked up on a third and 4 at the line of scrimmage with a nice play with Overshown and Foster tackling SaRoderick for a 2 yard loss.  Tech couldn't convert fourth and 6 after pressure on Columbi, and Texas got the ball on the Tech 40.
Texas with another nice drive (although Tech got to Thompson for a sack), but a beautiful 23 yard pass to Worthy in the north end zone, 35-7.
Tech moved the ball. But it was on a first down at the Texas 40 where the defense erred.  B.J. Foster was beat bad, and Columbi connected with Myles Price for a long touchdown.  35-14.
Bijan with another big run to start the next series, a 12 yard rush.  Texas got a big pass interference call, but the completion to Joshua Moore would have been much better. Bijan with some tough running and lots of yards after contact.   Whittington caught a pass that was maybe intended for another receiver, but 25 yards to the Tech 10 was excellent.  15 seconds left in the half, and RoJo in the backfield with Bijan.  Direct snap to RoJo, and they swept right with Bijan blocking, and Roschon got it over the white line.  Cade Brewer with a nice block too.  42-14 at half.
Tech ball to start second half.  Columbi still quarterbacking, and on third and five, Luke Brockermeyer with a tipped ball interception, and he moved it down to Tech 25.  Then on third and 15, Casey pushed a little too hard, and he was intercepted in the end zone.  Really his own miscue in the game.
Tech had a third and 11, and Columbi completed a pass but Raiders were holding.  Then on third and 20, and the Texas defense pulled out this play.  I was watching through my binoculars when the Texas defense got in this line up.  Before the ball was snapped I said Holy $#it Charles, watch this.  I was right.
Woah @CoachK_FBCoach 👀 pic.twitter.com/x9uCzP0fsZ

— Texas Football (@TexasFootball) September 25, 2021
Tech punting from back of endzone, and Jamison had a great return but stepped out at the Tech 7.  So a very short field for the Sark offense.   Second and goal, and a jet sweep left for Jordan Whittington for the touchdown.  49-14 Texas.
Tech answered.  On third and 3, with some contact between the Texas defender (Jamison) and Tech receiver, Fouonji, but he managed to catch the ball and then Schooler unintentionally blocked Jamison, and Fouonji took it to the house for a 69 yard touchdown.  49-21.
Next possession Texas had a third and 6 and Whittington turned a short pass into 36 yard gain.  First and 10 from Tech 47.  Bijan bounced it outside to the west, and he took it 33 yards to the 14.   RoJo with an 11 yard gain to the 3.  Then a quick cool pass play to Worthy.  56-21 Texas.
Next Tech possession, and Jamison was beat again, and a 75 yard touchdown to Geiger.  56-28 Texas.
Next Texas possession, a 9 yard completion to Moore. Then on 1st and 10, and a pass to Worthy, who broke a couple of tackles about the Tech 46 and went 62 yards for another Texas score.  63-28.
Tech converted third and 16 as Columbi saw green and scrambled for the first.  But SaRodorick could not convert the third and four.  On fourth and 2, Texas blitzed, and Barryn Sorrell (No. 88, Freshman from Holy Cross in New Orleans), with the tackle for loss and the turnover on Downs.
Texas took the ball as we rolled into the final frame.  Hudson Card in for Casey. Lots of Keilan Robinson, including a 30 yard run to the Tech 21.  Card kept for a 13 yard gain to the 1.  First and goal from the one, and Keilan in for the 10th Texas touchdown.
Tech and Columbi with one more drive, which featured Brenden Schooler with a body slam of Tech's Xavier White.  70-35.
Texas got the ball with 6:40 to play, and we got to see a lot of Jonathan Brooks. 7 straight carries for 46 yards. Some nice runs.  And we got to see Austin High Maroon Charles Wright take some snaps.  A great moment for many, but especially for Eric and Suzie.  Loyal Forever.
So as I said at the top, focus on the positive first.  Have to be objective and look at the negative.  Texas gave up 128 yards rushing, which isn't terrible, but 392 yards passing, which is.  Most of that (I think about 300) in the second half.  This isn't a Mike Leach Air Attack Tech team ranked in the top 15 or top 10.  This is not a great Red Raider team, good, but not great.  Columbi with two long touchdown passes, 75 to Geiger and 69 to Fouonji.  Miles had a 40 yard touchdown catch too.   That's a lot of big plays, and not what we understand to be the Kwiatkowski bend but don't break defense.  It was broken badly a few times.  Now, I think that is a fixable problem, and not going to call names, but I was a little surprised that we don't have a little bit of a change in the defensive backfield.  We will see how they handle Duggan and whatever surprises Patterson has cooked up.  Texas Christian has a habit of turning Texas over, and that won't be good.
I feel a bit bad with the criticism, but let's face it, Texas could have and should have won this 70-28 or 21.  All Gas and No Brakes needs to be both sides of the ball.
I think the most important thing about this game was seeing Casey Thompson play well (one interception excepted) against a decent football team.  Getting to re-watch the game, I saw Thompson working through his progressions, moving in the pocket but not being panicked by the pass rush (which was often stout).  He has been good, and he will get better.  The next two weeks will be the tell.
Overall, an excellent game by Sark and his staff and the team.  Offensive line was much better, running backs were stellar, Casey played well, and the linebackers looked good, but the defensive line and defensive secondary have room to improve.  This would be a good week to do it.
So, I underestimated again.  It was a nice win, but it was not a slow start.  To the contrary, I think it as 28 to 7 before noon.  And it was a double digit lead at half, not single digit lead.  Casey did run a little – 37 yards gained and a TD.  The Texas run game was in gear all game.  And yes, the over/under at 62 was a wee bit low.  70-35 much more satisfying than 42-31.  I like when I am wrong to the positive.
Highlights
Here is a short one, 4 minutes from Big XII.
Just over 12 minutes.
About half an hour from this guy.
Full Game:
And the Highlights, en Español.
Texas vs. Texas Tech as heard on Longhorns En Español 🤘 pic.twitter.com/cxIY47gttL

— Texas Football (@TexasFootball) September 30, 2021
The Bookends
It was great to enjoy the game with my oldest and youngest.  Love you Claudia & Charles!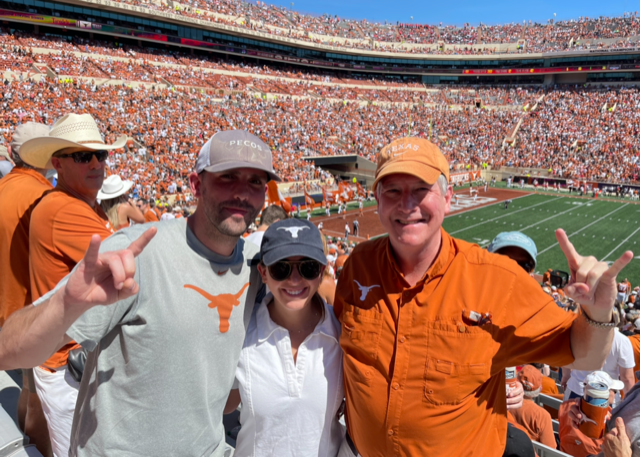 The Polls
AP Top 25:  Alabama, Georgia, Oregon, PSU, Iowa, Oklahoma, Cincinnati, Arkansas, Notre Dame, Florida.  Ole Miss up to No. 12.  Michigan No. 14, and Texas Agricultural & Mechanical drops to No. 15, Oklahoma State enters the Top 25 at No. 19, and Baylor comes in a No. 21.  Texas was just 7 votes behind No. 25 Clemson.
Coaches Poll: Roll Tide, UGA, Ducks, Land Thieves, Hawkeyes, PSU, L'Université de Notre Dame du Lac, Cinci, Gators, and The Ohio State University TM at No. 10.  Pigs at No. 11 and Hotty Toddy at No. 12.  Texas Agricultural & Mechanical 13, Michigan 14, Okie A&M 18, and Baylor 24.  Texas 18 votes behind No. 25 Wake Forest.
The polls are interesting.  As Kyle Umlang pointed out:  Texas fell 21 spots because the Horns got beat by unranked Arkansas.  Texas Agricultural & Mechanical dropped only 8 spots because they got beat by Top 10 Arkansas.
No. 1 Texas Volleyball
Texas opened Big 12 play Thursday night at Gregory Gym with a 3-0 sweep of West Virginia.  They play again Friday night.
Week Five
Headline game of the week is in Tuscaloosa, as the No. 12 Ole Miss Rebels seek to upset the No. 1 Alabama Crimson Tide.  That is the 2:30 p.m. game on the Columbia Broadcasting System, and I have bit on that game below.  Two top 10 match-ups, with No. 8 Arkansas at No. 2 Georgia, and No. 7 Cincinnati at No. 9 Notre Dame.  There are a couple of other prominent games with undefeated teams (No. 5 Iowa at Maryland, No. 21 Baylor at No. 19 Oklahoma State.
This Week's Games – The Big XII Week 5
No. 6 Oklahoma gets to go to Manhattan, Kansas, for a big game with the Wildcats.  2:30 p.m. on FOX from Bill Snyder Family Stadium.  Land Thieves favored by 11.5, and the over/under is 52.5.
Texas Tech and West Virginia meet in Milan Puskar Stadium.  2:30 p.m. on ESPN2.  Mountaineers favored by just 7, over/under is 55.5.  I like the Mountaineers in this one.
Big game in Stillwater between undefeated teams.  No. 21 Baylor at No. 19 Oklahoma State, 6:00 p.m. on ESPN2.  Cowboys favored by just 3.5 at home, over/under is 49.5.  Guess we will see who is actually good.
Kansas at Iowa State, 6:00 p.m. on FS1.  I am still stunned Iowa State is 2-2.  Cyclones favored by 34.5, over/under is 56.5.
This Week's Games – The Top 25
Friday Night
The first game Friday night is with two undefeated Big 10 teams.  No. 5 Iowa at Maryland.  7:00 p.m. on FS1.  The Hawkeyes are favored by 3.5, and the over/under is 47.5.  Just don't like the Terps.  Only thing I have ever really liked about Maryland is the Preakness Stakes, Cal Ripken playing baseball, Earl Weaver cussing umpires, and a fun wedding weekend decades ago in Baltimore.  As for the latter, one of my favorite memories was being in some famous Maryland crab house, where the steamed blue crab was brought out on huge trays and dumped on sheets of butcher paper.  I remember asking where the crab were from, assuming local from the Chesapeake Bay.  Nope, Texas and Gulf of Mexico.  Anyway, Go Iowa.
No. 13 Brigham Young (4-0) at Utah State (3-1).   8:00 p.m. on CBSSN, from Maverik Stadium in Logan, Utah.  Attentive readers may assume I have a typo there. Nope, it is "Maverik Stadium", in a corporate sponsorship with the Maverik Convenience Stores out there, and it is really "Merlin Olsen Field at Maverik Stadium".  It was Romney Stadium for many decades, named in 1927 after the great Utah Aggie coach Ernest Lowell "Dick" Romney, who was there in Logan from 1918 to 1949 (he played football, basketball, and baseball there before becoming a coach).  He also was AD and head basketball coach from 1919-1941.  His brothers were all athletes and coaches, G. Ottinger "Ott" Romney, W.W. "Woody" Romney, Milton "Mitt" Romney, and Floyd Romney.  Coach Mitt Romney's son Mitt has done well in politics.  I have no idea why I clicked that many links.   Cougars are favored by 9.5, and the over/under is 63.5.  I like Brigham Young to cover.
Saturday
Going to have to be checking other games during commercial breaks at Amon G. Carter!
No. 8 Arkansas at No. 2 Georgia, 11:00 a.m. on ESPN.  Big battle Between the Hedges.  Bulldogs favored by 18 over the Razorbacks, who seem to again be underestimated.  Over/under is 49.5.  This is going to be a very telling game.  Georgia's defense is the No. 1 scoring defense (5.8 points per game), No. 7 rush defense (69.5 ypg), No. 2 pass defense (115.8 ypg), and No. 1 total defense (185.3 ypg). I don't care who you have played, that is good defense.  I much prefer Georgia over the pigs (that is putting it mildly), but I like Arkansas to cover.  But Robbie, pretty sure your Dawgs are going to win.
No. 14 Michigan (4-0) at Wisconsin (1-2), 11:00 a.m. on Fox.  Badgers favored by 2, over/under is 43.5.  Y'all know I like Michigan.  September 7, 2024, the Big Blue will be in Austin.  We don't play in Ann Arbor until 2027, but I am going.  Michigan to win this week.
Louisville at No. 24 Wake Forest. How 'bout those Demon Deacons!  4-0 and ranked!  Guess what, they have beaten Old Dominion, Norfolk State, Florida State, and Virginia, the latter being the only team on that list that has a pulse.  But I like Wake, and they are favored by 7.  Over/under is 62.  Kind of think Louisville will cover.
No. 7 Cincinnati at No. 9 Notre Dame, both undefeated. 1:30 p.m. on NBC from Notre Dame Stadium in Notre Dame, Indiana.  Bearcats favored by 1.5, over/under is 50.5.  Irish to win.
UL Monroe at No. 16 Coastal Carolina, 1:30 p.m. on ESPN +.  Chanticleers favored by 34.5, over/under is 57.
Biggest game in the country is in Tuscaloosa.  The Crimson Tide and Rebels square off in Bryant-Denny Stadium at 2:30 p.m., and the game will be on CBS.  That isn't said very often in a series where one of the teams has dominated 52-10-2 (the record varies a little based on sources I reviewed, because both teams have had victories vacated).  Ole Miss has 10 wins over Alabama in 127 years, and one of those 10 wins was the first game in 1894, a 6-0 Ole Miss win in Jackson, Mississippi.  The Rebels got 5 wins in the 20th Century.  Which is remarkable in that there were so few wins, especially when one of the greatest eras of Ole Miss football was the early 1960's under legendary head coach Johnny Vaught.  Ole Miss had three MNC's – one in 1959, three in 1960, and one in 1962, and won the SEC in 1960, 1962, and 1963).  You know why?  Because Alabama and Ole Miss didn't play between 1944 and 1964.  Here is another thing I didn't know.  I looked at the series history, and Ole Miss didn't play a home game in Oxford against the Tide until 1993.  Almost all of the Ole Miss home games had been in Jackson.  I don't know how I have missed that over the years, but I have.  So I asked my good friend Burwell B. McClendon, III, Ole Miss Rebel and Jackson native, why.  Turns out Ole Miss played a lot in Jackson, because the Jackson Memorial Stadium was considerably bigger than the old campus stadium in Oxford.  (Same was true for Mississippi State and Southern Miss, who played big home games in Jackson).  Anyway, Ole Miss won in 2014 (over No. 3 Tide, 23-17) and in 2015 (over No. 2 Tide, 43-37).  Alabama has won 5 straight, all games which they have entered ranked 1 or 2.  Alabama favored by 14.5, over/under is 79.    Ole Miss to cover, and I am betting the over!
No. 3 Oregon at Stanford, 2:30 p.m. on ABC.  Ducks favored by 8, over/under is 57.5.  I like the Ducks to cover.
No. 11 Ohio State at Rutgers, 2:30 p.m. on BTN.  Buckeyes favored by 15, over/under is 58.
No. 10 Florida (3-1, 1-1) at Kentucky (undefeated).  5:00 p.m. on ESPN.  Gators favored by 7.5, and the over/under is 55.  Interesting game against the spread, would probably take the Gators straight-up.
Louisiana Tech at No. 23 North Carolina State.  5:00 p.m. on ESPN+/ACCNX.  Wolfpack favored by 18, over/under is 55.  NC State is pretty good, and probably 3 touchdowns better that the LA Tech, especially at home.
Mississippi State (2-2, 0-1) at No. 15 Texas Agricultural and Mechanical (3-1, 0-1).  Lawd that's a lot of maroon.  6:00 p.m.; on the $ECN.  Texas Agricultural and Mechanical favored by 7, over/under is 46.
Indiana at No. 4 Penn State, 6:30 p.m. on ABC.  PSU favored by 12.5, over/under is 53.5. Go Hoosiers.
Western Kentucky at No. 17 Michigan State.  Spartans are 4-0.  6:30 p.m. on FS1.  Michigan State favored by 10.5, over/under is 64.5.
Boston College (4-0) at No. 25 Clemson (2-2).  6:30 p.m. on ACCN. Tigers favored by 14.5, which may seem high to some given Clemson's stumbles this year.  But BC's wins are over Colgate, Massachusetts, Temple, and Bishop Sycamore.  Just kidding, they also beat Missouri 41-34.  But I get the love for Dabo at home.  Over/under is 46.
No. 22 Auburn at Louisiana State, 8:00 p.m. on ESPN.  Night games in Death Valley are usually fun to watch.  I think this one will be.  LSU favored by 3, over/under is 55.5.
Arizona State at No. 20 UCLA, 9:30 p.m. on FS1.  A good game in the Rose Bowl.  Both teams 3-1 and 1-0 in PAC-12.  Bruins favored by 3, and the over/under is 55.5.
No.  18 Fresno State at Hawaii, 10:00 p.m. on CBSSN. Bulldogs favored by 10.5 over the Rainbow Warriors, and the over/under is 64.5.
Other Games of Interest This Week
Thursday
A darn good game from south Florida with Virginia and Miami (Florida).  Miami had a 33 yard field goal with 3 seconds left to win, but the Cane kicker doinked it off the left upright.  Cavaliers win 30-28.  Hook Em Hoos!
Saturday
Duke at North Carolina, 11:00 a.m. on ESPN2.  The promising season for Mack Brown and the Heels is dimming.  A chance to get well against the Blue Devils.  UNC favored by 20, over/under is 72.5.  Wow.
Memphis at Temple, 11:00 a.m. on ESPNU.  Tigers favored by 11 at the Linc.  Over/under is 59.5.  Memphis will win and cover.
Southern Cal (2-2, 1-2) at Colorado (1-3, 0-1).  1:00 p.m. on the PAC12 network. Trojans 7.5 point road favorites. Over/under is 51.  Hard to not like that line for Southern Cal.  Keontay Ingram is the leading Trojan running back, with 225 yards on 46 carries and 3 TD's.
UCF at Navy, 2:30 p.m. on CBSSN.  Tough year thus far for the Middies, as they are 0-3.  Maybe they can turn it around Saturday in Annapolis.  Central Florida favored by 16.5, over/under is 53.  Go Navy!
Central Michigan at Miami.  MACtion!!  2:30 p.m. from Yager Stadium in Oxford, Ohio.  Line is even!   Over/under is 56.  Taking the Redhawks for sure.
South Florida at Southern Methodist, 3:00 p.m. on ESPNU.  The Mustangs are undefeated.  Expect that to continue against the Bulls, who are 1-3 and not good.  Southern Methodists favored by 21, over/under is 68.5.  Pony up.
Army at Ball State, 4:00 p.m. on ESPN+ from Scheumann Stadium in Muncie.  Black Knights are also undefeated, and Army is favored by 95.  Over/under is 47.5.  Go Army.  I'm with you.
UNLV at UTSA.  Roadrunners undefeated (joining SMU and Baylor in representing Texas in that category).  5:00 p.m. on ESPN+.  UTSA favored by 21, over/under is 56.5.  UTSA running back Sincere McCormick is No. 11 in the nation in rushing, with 452 yards on 103 carries (which leads the nation) and with 5 touchdowns.  He's pretty good.  I am vaguely tempted to make a road trip to the San Antone.  Bird up.
Southern Miss at Rice, 5:30 p.m. on ESPN3.  Owls are favored by 1.5, over/under is 45.  Good luck Owls.
Air Force at New Mexico, 5:30 p.m. on FS2.  As noted below, Air Force has the No. 1 rushing offense in football.  So if you like to watch a great running offense, tune in.  Falcons favored by 11.5 from "Dreamstyle Stadium" in Albuquerque.  I wish some really rich guy would buy the name rights and call it Bugs Bunny Stadium.  If you know, you know.
Old Dominion at UTEP, 8:00 p.m. on ESPN+ from the Sun Bowl.  Miners are 3-1 and favored by 5.5.
Juan Heisman Tailgate
We had a great turnout at Juan Heisman, especially given the 11:00 a.m. kick time.  Lots of great friends, including Tom Campbell.  Actually, a bigger crowd that we anticipated, as we chowed through 100 big Santa Rita breakfast tacos pretty quick.  But we had plenty of Tito's Vodka, and the bloody marys flowed until kick-off.  Really appreciate Bryan Plater & Tito helping us out.  Vodka is a good thing to have lots of.
Tom Campbell with me in front of Juan Heisman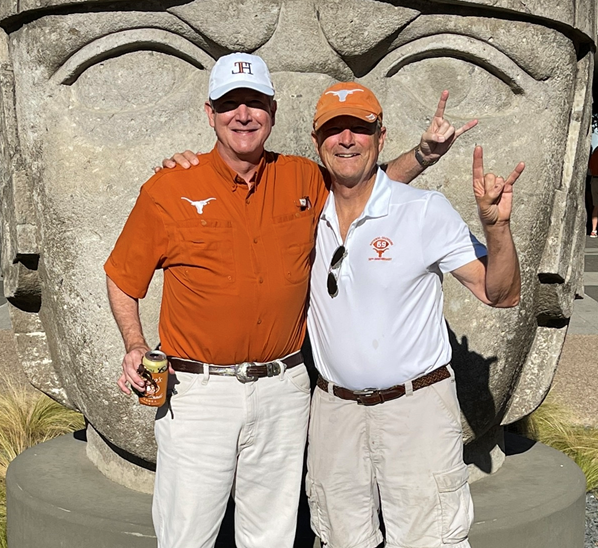 Last week's newsletter got behind schedule, and I didn't get to mention a special guest we had for the Rice tailgate.  The Master of Stats, Kyle Umlang, came by Juan Heisman.  I know many of y'all are much into social media, and Twitter may seem foreign.  But I promise you, sports twitter is entertaining and Kyle's stats and tweets are worth it.  Follow him @KyleUmlang (and while you are at it, follow me (@tctayloratx).  Kyle's #AggieFactThursday are great.  He also has a best seller on Amazon – 101 Aggie Facts.  Buy it.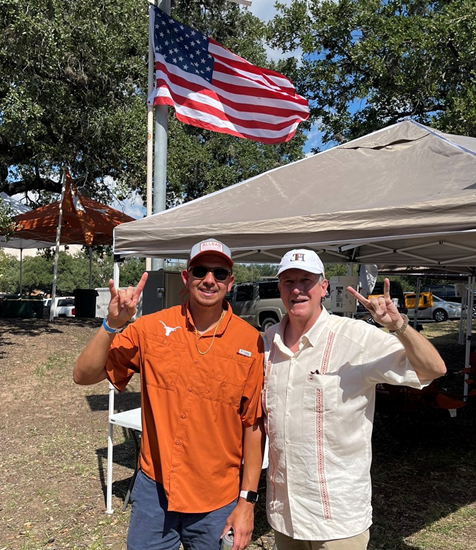 Washington & Lee Generals
W&L played and won a thriller in Ashland, 25-24 over Randolph-Macon.
Washington and Lee scored on the game's final play and then was successful on a 2-point conversion run for a 25-24 win over 16th-ranked Randolph-Macon.
The Generals (3-1, 2-0) started the final series on their own 1-yard line with 7:38 left in the fourth quarter.  W&L took the ball 99 yards in an incredible 17 plays, converting on one third-down and overcoming a personal foul penalty while deep in Yellow Jacket territory.  The last seven plays of the drive were engineered by sophomore backup quarterback Stephen Murrin (Fort Worth Country Day), who took over for senior Jack Pollard, when he was injured on the 10th play of the series.  W&L drove to the Yellow Jacket 1-yard line, where it faced a 4th-and-goal with one second remaining on the clock.  Murrin punched it in and the Generals set up a 2-point play for the win.
Congratulations to Josh Breece.  Against Randolph-Macon, he broke through the 4,000-yard career rushing mark. His career total of 4,010 yards ranks No. 1 in D3 and 4th across all divisions.
Guys on College Gameday called it: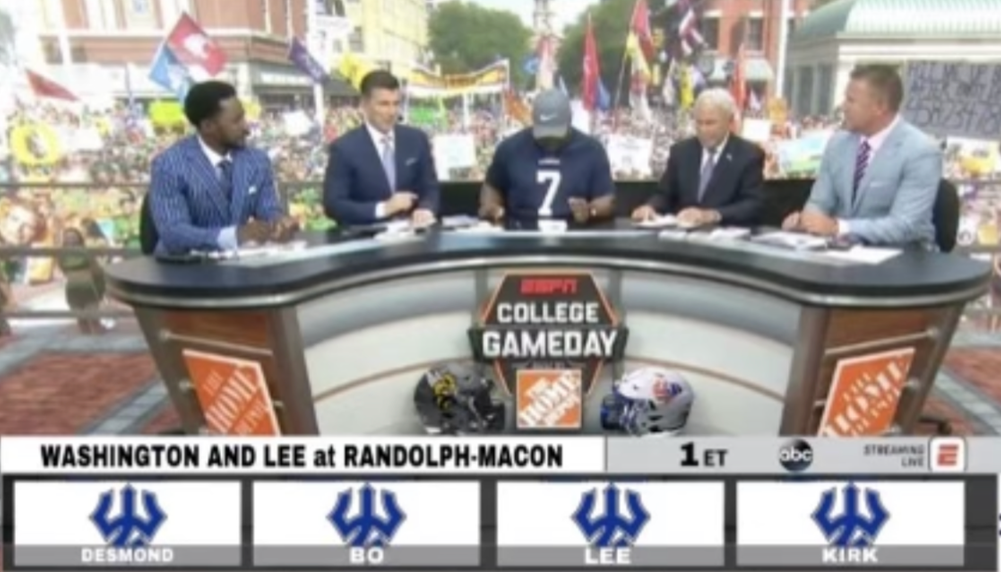 Want to guess on what team has the most rushing yards in the country?  Yes, W&L at an even 1,400, and ranked third in yards per game (350). In FBS, on Air Force has more yards on the ground, at 1,429.
This week the Generals are road tripping again, this time to Farmville to play rival Hampden-Sydney.  The Tigers are 2-2.  The game starts at 1:00 p.m. Virginia time.  Tigers are 2-2, and I think W&L wins again to take sole possession of the ODAC lead.  Go Gennies!
Last Week's Games – The Big XII Week 4
Southern Methodist University won the Battle for the Iron Skillet 42-34 over Texas Christian University.  Mustangs had two guys rush for over 100 yards – Ulysses Bentley IV (153) and Te Siggers (110).  Bentley's long as just 16 yards, but he averaged 7.7 yards per attempt.  That's some solid running.  350 on the ground for SMU – a new Pony Express?  Southern Methodist hadn't rushed for that many yards against a Power 5 school since 227 against Texas Tech 19 years ago.  Pony QB Tanner Mordecai threw for 4 touchdowns by also 3 interceptions, and 2 of those led to Texas Christian field goals.  Duggan had a good day for the Frogs – 16/28, 276 yards, and 3 TDs, no picks. Mustangs had 595 yards of offense, Texas Christian 446, for a combined total of 1,041 yards.  SMU did indeed cover.
Oklahoma battled to beat West Virginia 16-13.  Had a hunch on that line and should've played it.
Okie State 31-20 over K State to stay undefeated.
Congratulations to Baylor who upset Iowa State 31-29.
Kansas falls to Duke 33-52.
Last Week's Games – The Top 25
Big game for many around these parts was in Arlington, where Arkansas beat Texas Agricultural and Mechanical 20-10.
As I correctly surmised, NC State beat Clemson, 27-21 (in overtime, but I had 10 points so OT didn't make me sweat).
Tough trip to Atlanta for Mack Brown and UNC, who fell 45-22 to Georgia Tech.  Ouch.
No other major upsets, other than for those of us who thought the Georgia-Vandy line at 35 was too high.  A 62-0 blowout, with the Commodores getting 53 yards on 28 rushes and completing 5 passes for 24 yards.
Villanova didn't even earn a spread against Penn State, but managed to only lose by 21.
Notre Dame and Wisconsin was tight at the end of three quarters, with the game tied at 10.  Then someone woke up the echoes and the Irish blew out the Badgers with 31 points in the fourth quarter.  Wow.
Other Games of Interest Last Week
Wake Forest 37-17 over Virginia.
Army stayed undefeated with a 23-10 win over Miami.
Navy fell short in Houston, 20-28.
Air Force all over Florida Atlantic, 31-7.
Louisiana State was favored by 2 over Mississippi State.  Tigers 28, Bulldogs 25.  Dang.
UT San Antonio at Memphis.  As I said, this would be a huge win for Coach Jeff Traylor and UTSA.  And it was.  Roadrunners undefeated after taking down the Tigers in Shelby County, 31-28.  Bird up.
Rice wins!  42-34 over Texas Southern.
Oregon rolled Arizona 41-19.
UC Los Angeles dropped Stanford 35-24.
But the big upset was Oregon State 45-27 over Southern Cal in the Coliseum.  The last time the Beavers won there was when I was a baby in the fall of 1960.
Music
Does For Worth Ever Cross Your Mind, by the King.  Mr. George Strait.
Big Balls in Cowtown, written by Hoyle Nix, a staple of Bob Wills, and played often by Ray Benson and Asleep at the Wheel.  Let's ride with Bob.
Hey Baby by Bruce Channel. Not a song that jumps to your mind when thinking about Fort Worth, but the great Delbert McClinton is on harmonica.  And Delbert's harmonica playing influenced John Lennon, with it showing up in Love Me Do and Please Please Me.  Hey Baby was also a staple on the tapes at the KA house.
Giving it up for Your Love, Delbert McClinton, Live from Austin, Texas.
Every Time I Roll the Dice, Delbert McClinton.
One of my favorite music sections was my piece last year on one of my favorite songs, Mack the Knife, in the post-Red River Shootout newsletter.  It included a pretty good look at the song and history, and you can read it here:
https://austinhornsfan.com/red-river-rivalry-2020-defeated-in-dallas/
Anyway, the Louis Armstrong House Museum's Instagram had this great photo last week from date when Armstrong recorded that great hit.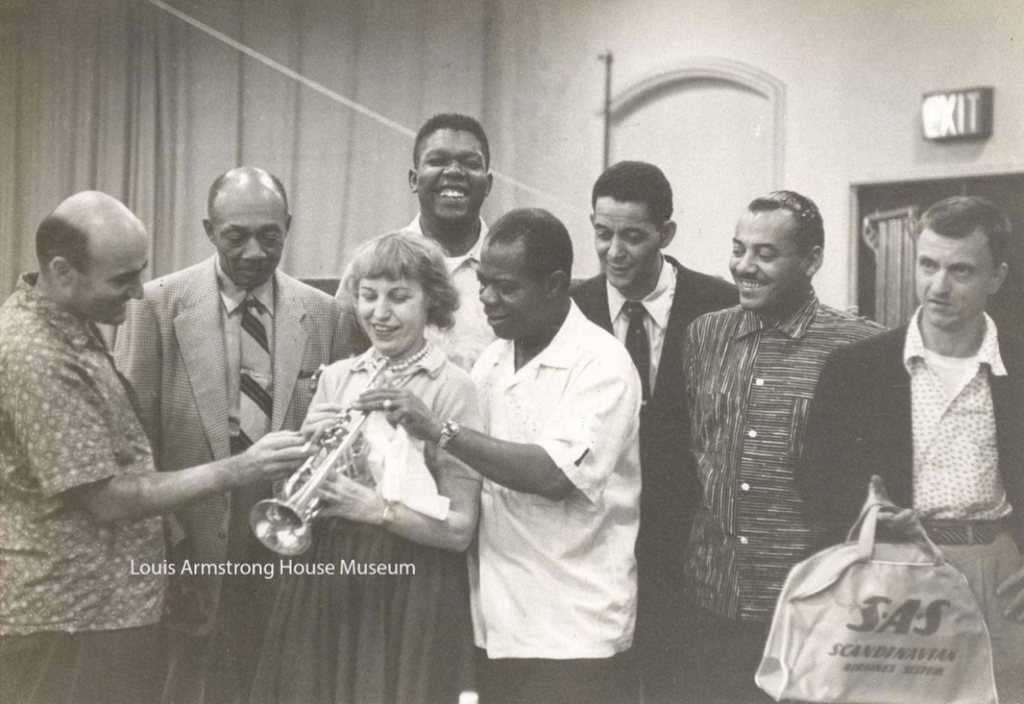 From left to right:  Columbia Records producer George Avakian, Edmond Hall, Lotte Lenya, Arvell, Louis Armstrong, Trummy Young, Billy Kyle, and Barrret Deems.
Charity
Many of you pointed out that I only referred to Steve McMichael as Mongo and not Bam Bam. I remember his moniker, it was just all the links I had were Mongo.
Let's keep raising money to fight ALS this week.  I encourage you to contribute through the Rust Perry Foundation.
https://www.rustyperryfoundation.com/
IVY LEAGUE FOR THE THIRD WEEKEND OF THE 2021 SEASON
By Lonnie Schooler
Now into the third weekend of the Ivy football season, already some teams are separating themselves from the pack.  The Ivy's guaranteed television exposure is proving very popular among alumni and football fans everywhere.
RESULTS OF GAMES PLAYED ON SEPTEMBER 24 AND 25:
In the second weekend of the Ivy season, the first conference game of the year also kicked off weekend play on Friday, September 24, as the Brown Bruins traveled to Cambridge to take on the Harvard Crimson in a game broadcast on ESPNU.  Unfortunately for Chip Babcock's Bruins, the Crimson easily prevailed, 49-17.
The second conference matchup of the year occurred on Saturday morning, with the Big Red of Cornell in New Haven to play the Yale Bulldogs.  In a much closer game than anticipated, Mr. Nondorf's Bulldogs won, 23-17, after surrendering a 13-point lead, but rallying in the last quarter.
In other Ivy action, Pat Sharkey's Columbia Lions hosted the Georgetown Hoyas in upper Manhattan.  For the second weekend in a row, an Ivy team put the hurt on the Hoyas, 35-24.  The pre-season favorite Princeton Tigers hosted the Stetson Hatters later last Saturday, and easily prevailed, 63-0.  The Sacred Heart Big Red Pioneers ventured into the New Hampshire White Mountains to take on the Big Green of Dartmouth, and the Greenies had no problems defeating Stetson, 41-3.
Rounding out the weekend's action, the Fighting Quakers of Penn journeyed to the Pocono Mountains to play the Lafayette College Leopards, coming up short 24-14.
SCHEDULE FOR SEPTEMBER 24-25:
This weekend, several of the teams play in conference matchups.  The schedule for this weekend's games is as follows (all times CDT, and all games available on ESPN+).  All games occur on Saturday, except for the kickoff game on Friday night, described below:
The Lehigh Engineers host the Yale Bulldogs in the Poconos Mountains of eastern Pennsylvania in a game with an 11:00 A.M. kickoff.  The Columbia Lions travel the New Jersey Turnpike to Princeton, to take on the Tigers, with kickoff at Noon.
The Harvard Crimson travel to Worcester, Mass. (pronounced "Wuh-ster" in case you were wondering) to play the Holy Cross Crusaders, in a game with a 12:30 kickoff.  The Big Red of Cornell also travel to eastern Pennsylvania to take on the Bucknell Bisons at 2:30 P.M.  The Brown Bruins travel to neighboring Smithfield, R.I., to play the Bryant Bulldogs at 3:00 P.M.
Finally, in the marquee matchup of the weekend, and the only one featuring a conference game, the Penn Quakers kick off the weekend's festivities on Friday night at 6:00 P.M. against the Big Green of Dartmouth at Franklin Field in Philadelphia, in a game being nationally televised on ESPNU.  Go Quakers.
Enjoy your football this weekend, now that there is a hint of autumn in the air in the Northeast.  Oh, and how about them Horns?!?  Put up a big 70 spot against the Red Raiders!  Go Horns.
Cool Photo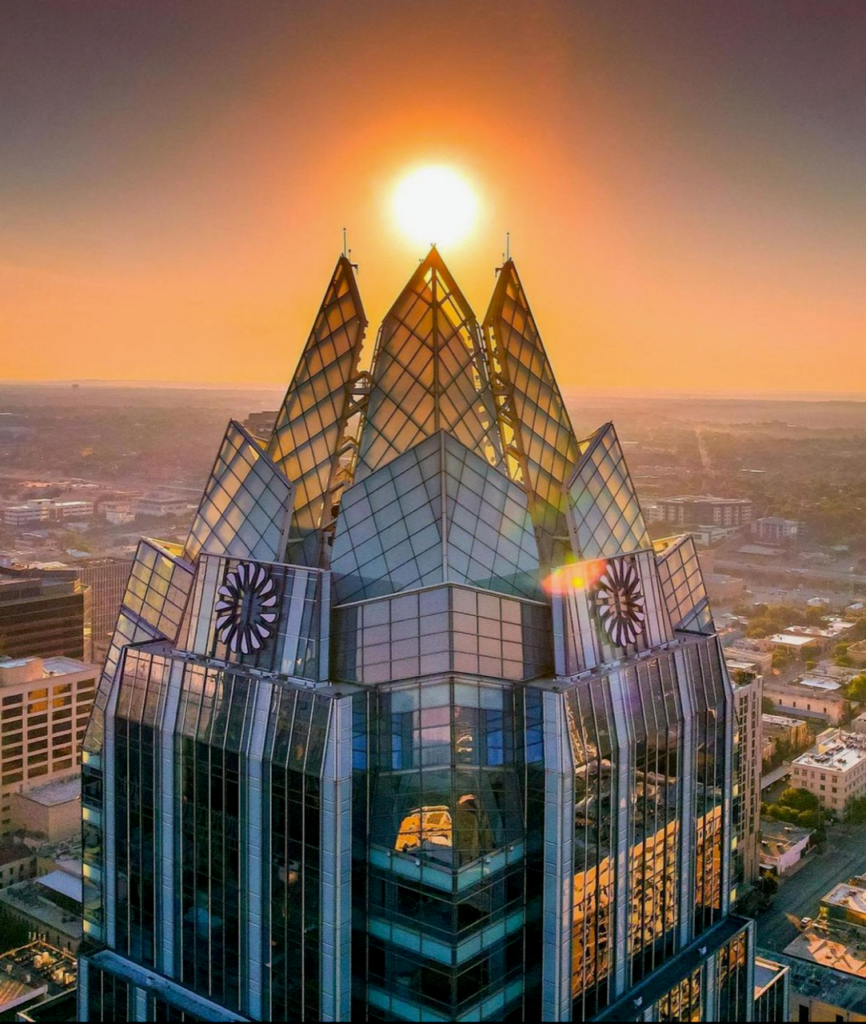 Another new photography account to follow, @aerialaustin_, and I believe that photographer is named David Aguilar.  This photo of my favorite building in Austin, built by our friend Tim Hendricks and Cousins Property, and home to our great friends at Frost.
 God Bless Texas
God Bless America
Tim Taylor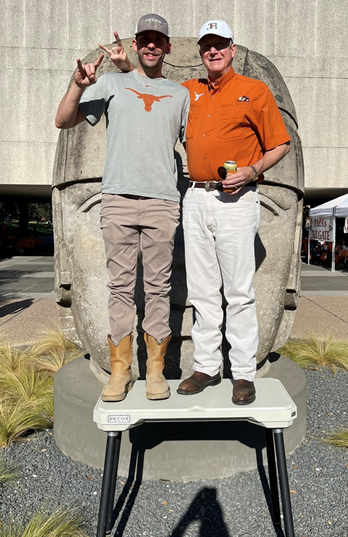 Tailgating before Home Football Games
The Juan Heisman Tailgate
Lot 38, East of Sid Richardson Hall.
HOOK EM HORNS!!
© Timothy C. Taylor, Sr. 2021.  All Rights Reserved (as to original material).
On Twitter:  @tctayloratx
On LinkedIn:  www.linkedin.com/in/tctatx
On Instagram:  @tctayloratx
On Facebook:  www.Facebook.com/Tim.C.Taylor
and:  www.Facebook.com/Juan.Heisman
You can contact me by mail:
Tim Taylor
P.O. Box 5371
Austin, Texas  78763-5371