Texas Longhorns vs. Oklahoma State Cowboys
Texas is ranked No. 6 in the AP Top 25 and No. 7 in the Coaches Poll as it heads into this week's game with the Cowboys.  The Horns are undefeated in conference play and alone at the top of the Big 12.  This is the best the Longhorns have been at this point in the season since 2009.
The game kicks off Saturday night in the Pickens Palace at 7:14 p.m.  If you have had your TV tuned to ABC, ESPN, ESPN2, ESPNU, ESPN News, or the Longhorn Network this week, then you know that it will be broadcast on ABC.  Amazing how much the World Wide Leader has been pumping this one.  Texas and OSU get the A Team, with Chris Fowler, Kirk Herbstreit, and Maria Taylor.  I've liked Fowler a long time, since the days when he would come to Austin to emcee LiveStrong Galas.  He is buddies with Lance Armstrong.  He has been with ESPN for about 23 years.  Anyway, great broadcast team.
I know many of you will still tune in to the Longhorn IMG Radio Network to hear the great Craig Way with the play by play, with able assistance from Roger Wallace and Quan Cosby.  In Austin, on Bob Cole's Austin Radio Network (104.7 the Horn, the legendary KOKE-FM [98.5 & 99.3], and 1260 on the AM dial).  In Fort Stockton, KFST, 860 AM; San Angelo, KKSA 1260 AM; and in Orange, KOGT, 1600 AM.
Texas is a 3 point favorite, and the over/under is 62.
Cover Photo
A note on this week's cover photo.  Austin and the Texas Hill Country have witnessed extraordinary rains and flooding, especially the Llano River and the Highland Lakes.  Thursday, the sun came out, and that photo is the sunset we witnessed Thursday evening.
The University's Series with Oklahoma A&M and Oklahoma State
Texas holds a decisive advantage in the overall series of 24-8 which began in 1916 (a 14-7 thriller played in San Antonio).  Six of those eight wins have come while Coach I'm A Man Gundy has been coaching the Cowboys.
Texas got the wins in 1920 and 1922 (21-0 and 19-7).  A 7-3 win in 1917 was followed with a big win of 27-5 in the great undefeated season of 1918.  In 1944, Oklahoma A&M beat the Horns 13-8, but Texas won in 1946, 54-6, then 34-7 in 1963, 19-0 in 1967, and 31-3 in 1968.
Texas and Oklahoma State first met in conference play in 1996, and it went pretty well, as Texas pounded the Pokes 71-14.  OSU got a win in 1997, 16-42.  Tough year for Mackovic.  Mack Brown won his first match with the Cowboys in 1998, 37-34.  The next 9 years, Texas beat the Pokes 34-21, 42-7, 45-17, 17-15, 55-16, 36-10, 38-35, 28-24 (OSU was ranked #7, Texas was #1; we had a crabby game in Lubbock the next weekend), and 41-14.  Quite a run by Coach Brown's team.  2001 to 2004, the OSU coach was Les Miles.
Lots of trends ended with the wins and a great season in 2009.  Texas would lose to OSU 16-33 in 2010 and 26-38 in 2011.  2012 was a 41-36 Texas win in Stillwater.  In 2013, No. 12 OSU beat us bad, 38-13.  The StrongHorns got a 28-7 win in 2014, but the next 2 Charlie Strong teams lost to ranked Okie State teams 27-30 and 31-49.
Last year was the tough overtime loss in Austin, 10-13.
So, Okie A&M has won the last 3, the longest winning streak they have had in the series.  Texas needs to go to Stillwater and end that.
A few of the Texas wins over the Cowboys in the Mack Brown era were spectacular come from behind wins, with 3 of the games being decided on the last drive of the game.   Vince Young engineered a couple of memorable comeback wins, and this play is probably my favorite OSU highlight.  The Legendary VY Pump Fake:
http://www.espn.com/video/clip?id=16369844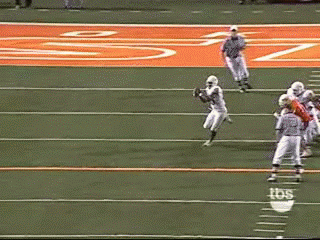 Longhorns vs. Cowboys
I didn't go back and look but it seems like we play these guys a lot around Halloween.  And this game scares me a bit.  The wise Dan Herd observed at dinner Monday night, as Kerry Cammack prodded me for a preview of this week's email and we discussed the Horns, "Texas has gone from the hunter to the hunted".  Yep, and when the hunter is hungry and a proud program playing at home on national television, you better be ready for a fight.
The good news is that Sam Ehlinger is cleared to start.  The bad news is that Kris Boyd, Davante Davis, and Lil'Jordan Humphrey will not start.  They were late for a team function.  Going to have get Marcus to teach them his motto:  "Early is on time, and on time is late".
On the season, the Cowboys are 4-3 and 1-3 in conference, with the sole Big 12 win being a 48-28 win over Kansas in Lawrence.  After opening the season with wins over Missouri State (58-17, South Alabama (55-13), and Boise State (44-21), Oklahoma State was ranked No. 15 in the AP Top 25.  That went south pretty quick, with a 17-41 loss to Tech at home, a 42-48 loss to Iowa State at home, and then a 31-12 beating Kansas State put on them 2 weeks ago in Manhattan.
Now tied for next to last with K State and Texas Christian University, the Cowboys are going to be fighting to get bowl eligible.  After Texas, they get to go to Waco, then Bedlam on November 10 in Norman (I will be an OSU fan that day!) and then West Virginia (so probably 1-2 in that stretch.  Texas Christian to end the season in Fort Worth.  As our men say, this is going to be a dogfight.
Every game is a dogfight. #ThisIsTexas #HookEm pic.twitter.com/UcycbO9xmm

— Texas Football (@TexasFootball) October 26, 2018
The Statistics
Offense
| | | |
| --- | --- | --- |
| Statistic | Texas | Okie State |
| Rushing Offense | #81 – 159 ypg | #36 – 201.1 ypg |
| Passing Offense | #48 – 257.4 ypg | #23 – 291.9 ypg |
| Total Offense | #66 – 410.4 ypg | #13 – 493 ypg |
| Scoring Offense | #53 – 30.7 ppg | #16 – 39.4 ppg |
| First Downs | #34 – 23.3/game | #30 – 23.4/game |
| Sacks Allowed | #32 – 11, 79 yards | #97 – 20, 146 yards |
| Tackles for Loss Allowed | #38 – 38, 140 yards | #112 – 55, 230 yards |
| Third Down Conversions | #41 – 43% | #59 – 40% |
| Red Zone Offense | #118 – 75% / 58% | #30 – 89% / 60% |
| Long Run Plays | #101 – 30; 4; 3; 0 | #21 – 53; 17; 9; 4 |
| Long Pass Plays | #58 – 67; 25; 11; 4 | #22 – 79; 37; 17; 8 |
| Long Scrimmage Plays | #79 – 97; 29; 14; 4 | #11 – 132; 54; 26; 12 |
I have added the ranking and stats (offense and defense) for long run plays and long pass plays to supplement the summary of long scrimmage plays and to add additional insight.  All of the yardage of plays are listed in this order:  plays over 10 yards, 20 yards, 30 yards, and 40 yards.
Defense
| | | |
| --- | --- | --- |
| Statistic | Texas | Okie State |
| Rushing Defense | #31  – 126.4 ypg | #48 – 142.6 ypg |
| Passing Defense | #80 – 234.4 ypg | #98 – 252.1 ypg |
| Total Defense | #47 – 360.8 ypg | #72 – 394.7 ypg |
| Scoring Defense | #45 – 23 ppg | #77 – 28.4 ppg |
| Sacks | #95 – 12, 85 yards | #1 – 30, 176 yards |
| Tackles for Loss | #46 – 47.5, 165 yards | #11 – 60, 244 yards |
| First Downs Allowed | #30 – 18.1/game | #82 – 21.1/game |
| Third Down Conversions | #51 – 37% | #62 – 38% |
| Red Zone Defense | #26 – 76% / 56% | #21 – 74% / 57% |
| Long Run Plays Allowed | #29 – 27/5/1/1 | #55 – 35/9/2/2 |
| Long Pass Plays Allowed | #71 – 64/21/12/8 | #71 – 64/31/8/3 |
| Long Scrim. Plays allowed | #48 – 91; 26; 13; 9 | #73 – 99; 40; 10; 5 |
Other
| | | |
| --- | --- | --- |
| Statistic | Texas | Okie State |
| Turnovers | #5  – 3F, 3I | #86 – 4F, 8I |
| Turnover Margin | #21 :  +0.71  11:6 | #98 : -0.43  9:12 |
| Penalties | #96 – 53, 437 yards | #92 – 52, 514 yards |
Match-up Comparison
| | |
| --- | --- |
| Texas Offense | Okie State Defense |
| Rushing Offense – 159 ypg | 142.6 ypg – Rushing Defense |
| Passing Offense – 257.4 ypg | 252.1 ypg – Passing Defense |
| Total Offense – 410.4 ypg | 394.7 ypg – Total Defense |
| Scoring Offense – 30.7 ppg | 28.4 ppg – Scoring Defense |
| First Downs – 23.3/game | 21.1/game – First Downs Allowed |
| 3rd Down Offense – 43% | 38% – 3rd Down Defense |
| Red Zone Offense – 75%/58% | 74%/57% – Red Zone Defense |
| LRP – 30/4/3/0 | 35/9/2/2 – LRP Allowed |
| LPP – 67/25/11/4 | 64/31/8/3 – LPP Allowed |
| LSP – 97; 29; 14; 4 | 99; 40; 10; 5 – LSP Allowed |
| | |
| --- | --- |
| Texas Defense | Okie State Offense |
| Rushing Defense – 126.4 ypg | 201.1 ypg – Rushing Offense |
| Passing Defense – 234.4 ypg | 291.9 ypg – Passing Offense |
| Total Defense – 360.8 ypg | 493 ypg – Total Offense |
| Scoring Defense – 23 ppg | 39.4 ppg – Scoring Offense |
| First Downs Allowed – 18.1/game | 23.4/game – First Downs |
| 3rd Down Defense – 37% | 40% – 3rd Down Offense |
| Red Zone Defense – 76%/56% | 89%/60% – Red Zone Offense |
| LRP Allowed – 27/5/1/1 | 53/17/9/4 – LRP |
| LPP Allowed – 64/21/12/8 | 79/37/17/8 – LPP |
| LSP Allowed – 91; 26; 13; 9 | 132; 54; 26; 12 – LSP |
OSU's offense isn't quite the pass-happy air raid of years past, as you will note from #23 national ranking in pass offense.  Still respectable, but only fifth in the Big 12.  This year's Cowboy offense is much more balanced, and it is led by junior running back, Justice Hill, ranked fourth in the league in rushing.  684 yards on the season, averaging 6.1 yards per carry and 97.7 per game, with 7 rushing touchdowns.  He ripped Kansas for 189, but Iowa State held him to 66, and K State shut him down – just 41 yards on 11 touches.  Quarterback Taylor Cornelius is the second leading Cowboy runner, with 190 yards.
Cornelius, a senior, is a good QB, ranked third in the Big 12.  2014 yards and 16 TDs, but his completion percentage is 56% and his Rating is 149.76.  By comparison, Ehlinger (ranked 6th) has 1,534 yards, 11 TDs, a 65.7% completion rate, and a rating of 143.56.
Top Poke receiver is Tylan Wallace, with 718 yards on 40 catches, 4 TDs, and averaging 17.95 yards per catch.  Tyron Johnson has 20 catches for 399 yards and 3 scores, averages 19.95 ypc.  Landon Wolf and Dillon Stoner each have 16 catches with 220 yards and 215 yards respectively.
Where OSU is excelling this year is defense, especially pass rush.  Led by RS junior defensive end Jordan Brailford (6-3, 250), with 8 sacks for 46 yards (he's top in the Big 12, with Omenihu right behind him with 6 for 42) and 12.5 TFL for 56 yards (also on top of the Big 12).  As noted above, they are the top sack team in FBS.  Another DE, Jarrell Owens from Palestine, Texas (6-3, 265) has 4 sacks for 17 yards and 5.5 TFL for 20 yards.
Those two big men aren't close to the top of the Cowboy defense in tackles.  Justin Phillips (RS Senior linebacker from Pearland, Texas, 6-0, 230), has 53 tackles, 37 solo, plus 6.5 TFL and a sack.  Calvin Bundage (Junior LB from Edmond, OK), has 44, 29 solo.  The third leader on the OSU D is another LB, senior Kenneth Edison-McGruder from Houston, with 36 tackles (26 solo), and 4.5 TFL.  Really good line backing.  Cornerback Rodarius Williams out of Calvary Baptist in Shreveport is a darn good DB, with 7 break-ups and a pick.  Look for Texas to work freshman safety Kolby Peel (6-0, 210).
Cowboy placekicker is Matt Ammendola, who is 11 of 12, with a long of 48.  Something tells me we better block one.
Looking at the team stats, it is interesting how close the Texas averages offensively correspond to the OSU defensive averages.  Rushing, passing, total, scoring – all close.  And OSU, tops in the conference in red zone defense, mirrors our offensive acumen in the red zone.  None of that is bad news.  Texas is 6-1 with those stats, and undefeated in the Big 12, right?  Where I am a little nervous is that number one sack attack.  The offensive line is going to have to block well, and I am hoping that Herman, Hand, & Beck have some plans in place to get an extra blocker in the backfield to give Sam plenty of time to work his reads and if necessary help him out of trouble and into positive yardage.  Our predilection to the screen pass makes me nervous too, because a defense that gets that kind of push and penetration can wreak some havoc.  Watch for how that goes early.
What makes me most confident offensively:  OSU gave up 621 yards to Tech, and 224 of that was on the ground.  Iowa State ran for 140 and passed for 325 with a third string freshman QB.  And Kansas State ran for 291; recall that the Wildcats gained just 107 on the ground against Orlando's Texas defense.  If those guys can do it, so can we.
On the other side, I feel really good.  Iowa State shut down the Cowboy run game, and Texas is right behind ISU in Big 12 rush defense (Cyclones allowing 110.3 ypg, Texas at 126.4).  We are still a far superior run defense to Kansas State, who also unsaddled the Pokes.  Given Gundy's greater reliance on the run game this year, I am hoping we stop them well on first downs and force Cornelius in to second and long and third and long, then let Omenihu and Nelson attack and sack.  The one place I am nervous defensively is our moderate susceptibility to give up big yardage plays, and Okie State is still good at that.  Seventeen running plays over 20 yards and 9 over 30 is really good.
Keys to the game:
Protect the quarterback.
Start fast on offense, start strong on defense, and get an early double-digit lead.
Take advantage of season-long strength in turnover margin. We need an early interception.
Reduce the penalties. They suck as bad as we do in that department, so play smart and clean, and turn that to our advantage in this game.
We need big games from Tre Watson and Keaontay Ingram. Young is going to have to contribute too, and I won't be surprised to be some other running plays we might not be used to seeing the Longhorns implement.
Our receivers don't quite have the size advantage that have had the least few weeks, but there is still one. Use it.
I have Texas winning this 31-24.
Previews on the Interwebs
Paul Wadlington, on Inside Texas
http://insidetexas.com/oklahoma-state-football-preview/
Predictions from the Horns Digest – 247Sports team.  If you can't access it, I will give you the short version:  they all have Texas winning, and my man Chip Brown has Texas 27-20.
https://247sports.com/college/texas/LongFormArticle/Texas-Longhorns-vs-Oklahoma-State-Cowboys-predictions-123772085/#123772085_10
Oklahoma A&M
Yes, Oklahoma State was once Oklahoma A&M.  Oklahoma Territorial Agricultural & Mechanical College was founded December 25, 1890.  Oklahoma wasn't a state then, and as noted on their website, OSU was founded "just twenty months after the Land Run of 1889".  Founded as a land-granted university under the Morrill Act.  1890 was the year that the Oklahoma Territorial legislature authorized the establishment of three schools:  the state university in Norman, Oklahoma Agricultural & Mechanical in Stillwater, the Territorial Normal School (now the University of Central Oklahoma).
Anyway, 67 years later, someone at Oklahoma A&M, who was obviously pretty bright, woke up and looked south across the Red River (and the Neches and Trinity and all the way to the banks of the Brazos) to College Station, and said "We need to change our name".  So they became Oklahoma State University on July 1, 1957.  (Okay, technically they were "Oklahoma State University of Agricultural and Applied Sciences" until 1980).
By the way, speaking of bright, their motto right now is "America's Brightest ORANGE".
Pistol Pete
Their mascot is Pistol Pete.  Probably my favorite mascot in the Big 12 after Bevo.  Mainly because of the man for whom he is named.
Based on the famous cowboy Frank Eaton, his story is one of the great (and true) tales of the Old West.  Frank was just eight years' old when he witnessed his father's murder.  Frank's life mission was to avenge his father's death.  By age 17, he had killed a couple of the murderers, and went on to become a Deputy U.S. Marshal under Judge Parker (the Hanging Judge) in Indian Territory.  For more on Pistol Pete:
http://www.eatonhome.org/legend.html
Here is a sample from that web article:
In 1885, Eaton served as scout for Capt. Emmett Crawford in his fight against Geronimo and the Apache's.  It was during these battles that Eaton was nearly scalped.  Afterwards, he returned to Indian Territory where he served as a deputy U. S. Marshal under Isaac Parker, the "Hanging Judge," adding six more notches to his pistol in the line of duty.
In 1887, Eaton learned Wyley Campsey was tending bar in Albuquerque, New Mexico, so he headed west.  With the help of Pat Garrett, Eaton located Campsey and entered the saloon.  Campsey was at the bar with two of his hirelings.  Eaton ordered Campsey to "fill your hand, you son of a bitch!" shooting him twice through the heart as he reached for his gun under the bar.
For fans of True Grit, you might recognize that challenge.
Also of interest, at least to those of us in Austin and fans of Texas cowboys and the stories of the cattle drives, is that Frank Eaton's buddy was Rolla Goodnight.  Rolla was Charlie Goodnight's cousin.
Worth a look:  http://www.pattianndickinson.org/hollywood_the_hard_way__a_cowboy_s_journey_109702.htm
After the Civil War, Charlie Goodnight, with his friend Oliver Loving, formed a partnership to drive cattle to western markets.  They established the famous Goodnight-Loving Trail.  The breed of cattle which many of those cattlemen drove to market descended from the cattle brought to the New World as far back as Christopher Columbus, in 1493.  In the decades that followed, Spanish explorers and colonists of the New World continued the import and expansion of this breed, particularly in Mexico.  The breed grew tougher and tougher, and when early settlers of the Nueces Strip sought to raise cattle, they chose the wild Mexican cattle descended from those brought by the Spanish, and bred them with some of their own cattle they had brought to Texas.  The result was the Texas Longhorn.
Stillwater
For those of you making the trip, enjoy the fine dining of Stillwater.  Here is the link included on the Okie State website.  Pretty dismal.  http://www.visitstillwater.org/visitors/dining/
There is hope.  Stillwater does have a bucket list eating and drinking spot.  One of these days.   http://www.eskimojoes.com/
Polls
Big moves this week.
AP Poll:  Alabama, Clemson, Notre Dame, Louisiana State, Michigan, Texas, Georgia, Oklahoma, Florida, and Central Florida.  West Virginia at 13, Washington State at 14, Texas Agricultural & Mechanical at No. 16.  Appalachian State ranked for the first time ever at No. 25.
Coaches Poll:  Bama, Clemson, L'Université de Notre Dame du Lac, Bayou Bengals, Wolverines, UGA, Longhorns, Land Thieves, Buckeyes, and UCF Knights.  West Virginny at 12, Wazzu & the Pirate at 15, and Texas Agricultural & Mechanical at No. 17.
The College Football Playoff Rankings will come out next Tuesday.  Lots of forecasting already, and Alabama, Clemson, Notre Dame, and LSU are the chosen 4 at the moment for most.  The Sporting News has Michigan and Texas as the "first two out".  Not surprising, as we are the top seeds from the Big 10 and the Big 12 at the moment.
http://www.sportingnews.com/us/ncaa-football/news/college-football-playoff-field-four-in-two-out-week-9-alabama-clemson-notre-dame-lsu/8wuzas22hjx51dg1ksc0a3p94
Review of what lies ahead for all of the current contenders below.
The Playoff Picture
Alabama is so good it is boring.  They have outscored their opponents 433 to 127.  The team who scored the most on them was Arkansas, the doormat of the SEC West, who scored 31 (Bama had 65, so it wasn't close).  The Tide is averaging over 54 points per game, and Tua Tagovailoa and many of the other starters haven't played in the fourth quarter.  The Crimson Tide have their bye week this weekend, and then have their last big challenge in Baton Rouge on November 3.  A night game in Death Valley might be enough to stop Saban's blitzkreig.  Maybe.  After that they get Mississippi State at home, Citadel at home (why?), then the Iron Bowl with Auburn on November 24.  A one loss Alabama probably still makes the final four.  But at least some interesting scenarios if LSU can get the win and then win out.
Clemson showed either that they are as good as their number 2 ranking, that NC State was terribly overrated, or both.  I lean toward the latter. Tigers are good.  Sitting atop the ACC, the only thing that might hurt Clemson is strength of schedule.  The only ranked teams they have beaten are the aggies and NC State, and my guess is there is a good chance come December 2 the aggies will be the only Clemson opponent still in the Top 25.
Notre Dame on paper has the smoothest run to the playoffs.  On paper.  I am guessing they thump Navy this weekend.  Then at Northwestern, then Florida State and Syracuse at home.  The Irish should be solid favorites in all of those.  ND closes with a real rivalry game, Southern Cal in LA on November 24.
Louisiana State.  The Tigers have two monstrous games in front of them.  Alabama on November 3 (at least they get them in Red Stick).  Then at Arkansas and home with Rice (bet that is an extra fun tailgate).  But LSU closes the regular season in College Station.  Texas Agricultural & Mechanical has a decent shot to run the table between now and then, with games at Mississippi State and Auburn before getting Ole Miss and UAB at home.  LSU and Texas Agricultural & Mechanical is pretty decent rivalry.
Michigan and Texas are in discussion because of their current status as the highest ranked teams in the Big 10 and Big XII.
Michigan has two really tough road games left – at PSU on November 3 and at Ohio State on November 24.  In between, they play at Rutgers and have the Hoosiers in the Big House.  Then a Big 10 Championship Game.
We all know what Texas has:  Hard games.  In Stillwater:  why do we play there so often on the last Saturday in October?  West Virginia here in Austin on November 3.  Mountaineers are really good, and we are 3-3 since 2012.  At Tech on November 10, in what I am sure will be a night game.  Saturday nights in Lubbock are never easy.  Then a really good Iowa State team here on November 17 before that Friday after Thanksgiving match in Lawrence with the Jayhawks.  If Texas does win out, then we would most likely play the Land Thieves again at Jerry World on December 1, as WVU would have 2 losses.  That will be fun.  By the way, in case you missed it, the Big 12 CG will be at 11:00 a.m.
Georgia, as we know, lost at Louisiana State.  The Dawgs are still in position to make a run.  Florida this week in the World's Largest Outdoor Cocktail Party.  Always a good game, just like Texas and the Land Thieves.  Then at Kentucky.  Auburn on November 10, then a breather with Massachusetts.  Georgia closes the regular season on November 24 with Georgia Tech.  The problem for the Bulldogs is with the loss to LSU, I don't think they get in the playoffs unless they win out, including the SEC Championship, which means (almost certainly) either Alabama or a rematch with LSU.
Still in the playoff picture:  Land Thieves, West Virginia, and maybe Washington State if they win out.  Ohio State if they beat Michigan and win the Big 10 Championship Game.  Florida just has one loss too, so if they beat Georgia and win the SEC Championship Game, they will get a look.
Big 12 ‑ Week 9
A full slate of conference games this week that started Thursday night.
Baylor lost at No. 13 West Virginia, 58 to 14.  Actually, it wasn't that close.   41-0 at half.  The line was Mountaineers by 14.5 and the over/under was 67.
Texas Tech at Iowa State in what should be a very entertaining game in Jack Trice Stadium.  11:00 a.m. on ESPN2.  Cyclones favored by 4, and the over/under is 56.  Tough one to call here, as the Sand Aggies are playing good football.  Fourth in the conference in rushing, averaging 169 yards per game, and no surprise No. 1 in the conference in passing, averaging 383 yards per game.  No. 1 in total offense, and No. 2 in scoring offense.  But Iowa State is too.  Iowa State No. 1 in Big 12 in rushing defense, No. 2 in pass defense, No. 1 in total defense, and No. 2 in scoring defense.  Bet you didn't know that.  Pretty sure if I had to bet, I would bet on Iowa State.  And those defensive stats explain a total of 56 when you are used to seeing Tech score 56.
Stunning to realize Texas Christian is 1-3 in the Big 12.  Good news for the Frogs is that they get to play Kansas Saturday.  2:00 p.m. on FOX Sports 1.  Horned Frogs favored by 13.5, and the over/under is 49.  Take TCU in that one.
Also 1-3 in the Big 12 is Kansas State.  Tough task for Coach Snyder and his Wildcats, with a 2:30 kickoff in Norman with the Land Thieves.  FOX.  OU favored by 24.5, and the over/under is 64.5.  If it weren't for that good game KSU had against OSU, I would say the Land Thieves cover.  Not so sure.
This Week in College Football
No. 25 Appalachian State played (I think for the first time) as an AP Top 25 team, with a game against Georgia Southern Thursday night.  App State was favored by 11, and the over/under was 47.5.  Well, that didn't last long.  Georgia Southern had a 17-7 lead at half and cruised to 34-14 beating.  Now they are 7-1 and 4-0 in the Sunbelt.  Would not be surprised to see GSU ranked next week.
Friday night, No. 23 Utah plays in the Rose Bowl with UC Los Angeles.  9:30 p.m. on ESPN.  Utah favored by 10.5, and the over/under is 55.  Bruins going to be turned into winter coats for the Utes.
No. 2 Clemson in Tallahassee for an ACC match with the Seminoles.  11:00 a.m. on ABC.  Tigers favored by 17 over Florida State, and the over/under is 49.5.  Look for Clemson to continue to roll to and through the ACC Championship Game and into the CFP.
No. 20 Wisconsin at Northwestern.  11:00 a.m. on FOX.  The Wildcats are having a good season and sit alone atop the Big 10 West at 4-1.  But Wisconsin, Iowa, and Purdue are all 3-1.   Wiscy favored by 4.5, and the over/under is 53.  I think Northwestern covers. So do a lot people, as the line had dropped 2 points this week.
World's Largest Outdoor Cocktail Party!  And it is an extra big one this year.  Florida and Georgia each 6-1, with the Gators ranked No. 9 and the Bulldogs at No. 7.  2:30 p.m. on the Columbia Broadcasting system.  Georgia favored by 6.5, the point over/under in the game is 52, and the over/under on PI arrests is 114.  Bet the under on the game and the over on the arrests.
No. 18 Iowa at No. 17 Penn State.  2:30 p.m. on ESPN.  PSU favored by 6.5, and the over/under is 52.5.  Go Hawkeyes.
Big game in Houston between two good men with ties to The University.  No. 21 South Florida at Houston.  Bulls undefeated, but Major Applewhite and his Cougars are 6-1 and favored by 7.5.  The game will be on ABC at 2:30.  Will be an interesting game, but I am guessing Major overcomes Strong.  Over/under is 75.  Dang.
No. 12 Kentucky at Missouri.  Hard to imagine Kentucky at 6-1, at least in football.  Missouri is 4-3, and quite interestingly are favored by 7. They are 0-3 in the SEC.  3:00 p.m. on $EC Network.  Over/under is 56.
No. 15 Washington at Cal.  5:30 p.m. on FOX Sports 1.  The Huskies are favored by 12 over Berkeley, and the over/under is 45.  I expect Washington cover.
Maroon Day in Starkville.  No. 16 Texas Agricultural & Mechanical at Mississippi State.  6:00 p.m. on ESPN.  Bulldogs a 1 point home favorite, and the over/under is 44.  I think that Aggies cover and win this one.
Biggest game of the night outside of Stillwater, Oklahoma is on the Farm.  No. 14 Washington State at No. 24 Stanford.  6:00 p.m. on the Pac 12 Network.  Cardinal favored by 3, and the over/under is 53.5.  I'm not betting against the Pirate.  But then again, I guess it depends on the officiating crew.  See below under Good Stuff.
No. 22 NC State in Syracuse to play Syracuse.  6:00 p.m. on ESPN2.  I like the Vegas line of Wolfpack by 2.  Over/under is 66.  Tough place to play, and I think we learned last week that North Carolina State isn't quite as good as once thought by some.
No. 3 Notre Dame at Navy.  A great traditional football game.  This year, playing at SDCCU Stadium in San Diego, a big Navy and Marine town.  These teams have met 91 times, with the Irish leading the series 75 to 13, with 1 tie.  Notre Dame had a nice streak, winning 43 straight from 1964 to 1980. (Of course, Roger Staubach and Navy beat the Irish in South Bend in 1963, but would lose the Cotton Bowl and the National Championship to Darrell K Royal and the Texas Longhorns a couple of months later).  The Irish have won 6 of the last 7.  7:00 p.m., on CBS.  Notre Dame favored by 24, and the over/under is 53.   Irish win, but Middies cover.  By the way, it was announced Thursday that in 2020, Notre Dame and Navy will start the season on August 29 in Dublin, Ireland.  Cool.  There is a little brewery in that town near St. James Gate that I am longing to visit.
No. 19 Oregon at Arizona.  9:30 p.m. on ESPN.  Ducks favored by 9.5, and the over/under is 65.  Oregon to win, Cats to cover.
Other Games of Interest This Week
Thursday night, a heck of a game between Georgia Tech and Virginia Tech.  VT was favored by 3 over GT, and the over/under was 58.5.  The Ramblin' Wreck whipped the Hokies, 49-28 in Blacksburg.
In addition to the Utah-UCLA game Friday night, there are four other games on.  If you watch any of them instead of Game 3 of the World Series, why?  LA Tech at FAU, 5:30 on CBSSN, Miami (FL) at Boston College, 6:00 p.m. on ESPN, Indiana at Minnesota, 7:00 p.m. on FOX Sports 1, and Wyoming at Colorado State, 9:00 p.m. on CBSSN.  Or, you can watch a World Series game from Chavez Ravine which is a must win for the Dodgers.
Saturday
North Carolina at Virginia.  Tarheels are 1-5, Wahoos are 5-2.  11:20 a.m. on the ACC Network from Scott Stadium in C-ville.  UVA favored by 9, and the over/under is 50.  Hoos to cover and win.
Nebraska looking to get their second win of the season for Coach Scott Frost, hosting 4-4 Bethune-Cookman.  11:00 a.m. on the Big 10 Network.  No line.
Army at Eastern Michigan.  11:00 a.m. on CBS Sports Network.  Pick em.  Go Army.
Purdue at Michigan State.  11:00 a.m. on ESPN.  Boilermakers coming of a huge win, Spartans coming off a huge loss.  But State favored by 2.0.  Over/under is 48. Both teams 4-3.  This game almost meaningless.
Which brings me to Vanderbilt at Arkansas.  11:00 a.m. on SEC Network.  3-5 Commodores favored by 1.5 over the 2-6 Hogs.  O/u at 53.5.  Anchor Down.
Arizona State at Southern Cal.  2:30 p.m. on ABC.  Trojans 4 point home favorites, over/under is 53.
Southern Methodist hosts Cincinnati.  2:30 p.m. on the CBS Sports Network.  Ponies are 10 point home dogs.  Don't think they will cover.  At least they won't be competing for fans with the undefeated Highland Park Scots, who play at Sunset the night before.
Rice at North Texas.  This could get ugly.  Mean Green favored by 30, and that may be low.  3:00 p.m. at Apogee Stadium in Denton.
New Mexico State will be down the road in San Marcos.  2-6 New Mexican Aggies versus the 1-6 Texas State Bobcats.  6:00 p.m.  Texas State favored by 3, and if you are betting on this game, you may want to get some help.
Boise State at Air Force, 6:00 p.m. on CBSSN.  Broncos favored by 9.
Tennessee at South Carolina.  6:30 p.m. on the SEC Network.  Cocks favored by 8.5, over/under at 54.5.  Tough year for Rocky Top.
UTEP Miners one of worst teams in the FBS as they are still without a win.  They get 6-1 UAB in the Sun Bowl.  6:30 p.m. in most of Texas, 5:30 p.m. in El Paso.  Blazers favored by 16.
Undefeated Mary Hardin-Baylor back home in Belton to host McMurry University at Crusader Stadium.  1:00 p.m.
MIT plays "WPI".  Had to look that one up.  Worcester Polytechnic Institute.  The Engineers, whose mascot is Gompei the Goat.  They've been attempting to play football since 1887.  MIT is undefeated, and will likely remain so.
Slippery Rock plays California University.  I had completely forgotten there was a California University of Pennsylvania, which is located in California, Pennsylvania.  Couldn't resist:
"Founded in 1852 as the California Academy, the school soon was chartered as a normal school to prepare men and women to teach in Pennsylvania's public classrooms. It was re-named the South Western Normal College in 1875 and California State Normal School in 1914.  The school achieved collegiate status in 1928 and became California State Teachers College. It granted four-year degrees in elementary and secondary education and was known for its strengths in industrial arts and special education.  With the introduction of liberal arts programs in 1959, the school's name was changed to California State College. A graduate program was introduced at Cal State in 1962, and in 1974 the college developed a special mission in science and technology.  In 1983, the college became part of the commonwealth's State System of Higher Education and changed its name to California University of Pennsylvania. In the same year, Cal U's College of Science and Technology became fully operational; it was renamed the Eberly College of Science and Technology in 1996."
Davidson hosts Stetson.
Previews on the Interwebs
HornMafia:  The Week That Will Be:  Back in the Saddle
https://www.barkingcarnival.com/2018/10/24/18021582/the-week-that-will-be-back-in-the-saddle-texas-longhorns-football
Week 9 College Football Viewing Schedule:
https://www.burntorangenation.com/2018/10/25/18024826/college-football-viewing-schedule-week-nine-game-time-television
Bill Connelly:
https://www.sbnation.com/college-football/2018/10/25/18021968/college-football-picks-week-9-2018-predictions-odds-spreads
Good Stuff
Congratulations to UT President Greg Fenves, recipient of the Dallas Holocaust Museum's 2018 Hope for Humanity Honoree.  And his dad, Steven Fenves, a holocaust survivor.
Thank you to everyone who joined us as we honored @gregfenves, @UTAustin President, as our 2018 Hope for Humanity Honoree and honored Holocaust Survivors, including Fenves' father, Steven Fenves. #H4HFenves pic.twitter.com/7kY6ZR2g0o

— Dallas Holocaust Museum (@DallasHolocaust) October 25, 2018
There are good people in this world.  Pay it forward this week please.
These men noticed a lady paying for her gas with pennies and decided to give her some money. Little did they know, she had just lost her husband and was having a rough time. We can all make a difference. pic.twitter.com/j2Pu7erH80

— Kevin W (@kwilli1046) October 25, 2018
Meet Tyler Trent.
https://abc7news.com/sports/purdue-student-with-terminal-cancer-gets-to-watch-upset-he-predicted-/4530024/
And this:
I can't recall being more nervous for an interview. I cried every time I thought about it. But my "co-host" @theTylerTrent has strength you lean into. We smiled a lot. What a joy to be part of this. S/C at midnight eastern. pic.twitter.com/u7Bc5Bwtzg

— Scott Van Pelt (@notthefakeSVP) October 24, 2018
You have to read this article about Mike Leach and Pac-12 officiating.  Unbelievable.  Makes a betting man a bit nervous.
https://sports.yahoo.com/yahoo-sports-exclusive-wsus-mike-leach-called-pac-12-officiating-via-text-controversial-usc-game-044605525.html
Big 12 ‑ Week 8
What a game in Fort Worth.  Land Thieves and Texas Christians were tight at half, as OU held a narrow 28-24 lead.  Then the Land Thieves went nuts, outscoring the Frogs 24-3 in the second half en route to a 52-27 steamrolling of the Frogs.  OU covered, and they were way over the 62.  Kyler Murray had a nice game.
Kansas at Texas Tech.  Sand Aggies covered with a 48-16 win and they hit the over.
Last Week in College Football
Michigan with a big win over Michigan State, 21-7.
Iowa shut out Maryland 23-0 and covered.
As predicted by the boys in the desert, Temple upset Cinci.  24-17, even covering.
Wisconsin takes down Illinois, 49-20.
No. 1 Alabama 58, Tennessee 21.  It was 28-0 after 1, 42-14 at half.  I wonder what ad sales for the second half of Bama games are like.
So much for a great game between undefeated North Carolina State and Clemson.  41-7 Tigers, easily covering the 17.5 spread.
Washington 27-13 over Colorado.
PSU 33, Indiana 28.  Hoosiers covered.
What a game in Death Valley.  Coach O and his Tigers with a huge 19-3 win over Mississippi State.  LSU covered.
UCF 37, ECU 10.
USF struggled to beat UConn, 38-30.
A big game in West Lafayette, Indiana, as No. 2 Ohio State went there as the presumptive victors over Purdue.  Ha ha.  Purdue scored 28 in the fourth quarter to stun the Buckeyes 49-20.
Washington State was favored by 3 over Oregon.  Not close.  34-20 Wazzu.
Vanderbilt 7, Kentucky 14.
Other Games of Interest Last Week
Ole Miss drops to 1-3 in the SEC with a 16-31 loss at home to Auburn.
Virginia with a great road win at Duke, 28-14.
Arkansas 23-0 over Tulsa.
Miami (OH) with a tough road trip to the Hudson River Valley.  Army with a big win, 31-30.
The Citadel 34-32 over Virginia Military Institute.  VMI winless this year.
Southern Methodist wins!  27-23 over Tulane.  And the Mustangs were the underdogs.
Houston 49-36 over Navy.
UTEP loses 24-31 at Louisiana Tech.  At least the Miners covered.
UT San Antonio gets run over at Southern Mississippi, 27-17.
Rice 17, Florida International 36.  At least Rice has UTEP in their conference.
Mean Green of UNT lose to the Blazers of UAB, 21-29.
Texas State with another loss, last week to Louisiana Monroe, 14-20.  Bobcats not good.
Southern Cal got scalped at Utah, 41-28.  Didn't even cover.  So un-LA.
UCLA pulled out a win over Arizona, 31-30.
Mary Hardin-Baylor crushed the Belhaven Blazers, 49-0.
MIT 13-0 over the U.S. Coast Guard Academy.
Slippery Rock 28-13 over Clarion.
Davidson lost at Marist, 41-48 in Overtime.
This Week in Schadenfreude:  Ohio State gets the anger spotlight all to itself.  [And they deserve it.  My favorite tweet of last weekend:  Urban Meyer is going to delete this whole game from his phone]
https://www.sbnation.com/college-football/2018/10/22/18007474/ohio-state-lost-purdue-2018
Juan Heisman Tailgate
We will be back for the West Virginia game.  Tamales and Frito pie.  Come hungry, my friends.
Music
Well, it was bound to happen.  I got slammed at work even more than normal and got a late, late start Thursday night on this email.  I usually do the music last.  So, a quick recycle from an OSU email a while back, with some of the best Texas music ever.
Bob Wills and his music represent for me the quintessential Texas sound.  Many of the great genres of American music synthesize elements from others, and Western Swing is no exception.  It just happens to be among the greatest.  These are among my favorites from Bob Wills and his Texas Playboys:
San Antonio Rose, with singalong lyrics:
South of the Border (Down Mexico Way):
Stay a Little Longer:
Steel Guitar Rag:
The influence, depth, and reach of Bob Wills and Texas Swing was big.  How about Mick Jagger and the Rolling Stones with "Bob Wills is Still the King" (and check out the "steel man"):
Washington & Lee
Great win for the Generals at Ferrum last weekend, 38-35.  A last second 31 yard field goal gave W&L the conference road win.
Another punishing run game from W&L, as they ran for 452 yards on 67 attempts.  Add 13 pass attempts (actually completed 9 for 102 yards), and you realize W&L tallied 80 plays to Ferrum's 45.  Time of possession 38:09 to 21:51.  So how is it tied 35-35 with seconds to play?
After jumping out to a 14-0 lead on two big touchdown runs by Josh Breece (64 yards [a 1 play drive] and 39 yards [a 4 play drive], the General kick-off was returned for touchdown.  A third W&L TD was immediately answered by a 73 yard strike.  That rarest of plays from the Gennies, a long pass touchdown – 47 yards, was answered 2 plays later as Ferrum's Brian Mann ran 71 yards for a score.  After trading a few more scores, W&L got the ball with 4:43 to play on their own 31.  I love a good 4 minute drill.  12 plays, 55 yards, and game winning field goal.  Nicely done.
This week, Washington & Lee is on the road to Greensboro, North Carolina, to play Guilford.  W&L holds an 18-13 series advantage, and the Generals have won 6 of the last 8.  Guilford is 2-4 overall and 1-3 in the ODAC.  1:00 p.m. Eastern time, if you happen to be near Greensboro.
Texas Longhorn Baseball
Sunday October 28, an 18 inning match with San Jacinto College starting at noon.
The annual Orange and White Fall World Series will be November 1 (6:00 p.m.), 2, and 4 (1:30 p.m.).  Longhorn Network will broadcast games 1 and 3.
Texas Longhorn Basketball
For me, the best thing I will see in the Frank Erwin Center in November is Andrew Jones on the court.  After Jones was diagnosed with leukemia last January, he became that guy that all of college basketball was rooting for.  Teams wore jerseys and warm-ups with his name and number, in Austin and when we were on the road.  #AJ1 was all over social media, and something as simple as a video of Andrew shooting a basketball wearing a medical mask and rubber gloves got nearly 10,000 likes.  Longhorn Nation, and the college basketball world, prayed.  Prayers work.  Jones came back to the Forty Acres, and he will be playing basketball for Texas this season.
Kerwin Roach returned for his senior season, and having his experience will help.  Matt Coleman has a year of Division I college basketball under his belt, and I think under Shaka's tutelage we may see the star point guard we need.
Some of my friends have been carping about Smart and "where is the Havoc?"  For those unfamiliar with Havoc, when Shaka was at VCU and became one of the hottest young coaches in college ball, his team played a beautiful, aggressive, full-court defense that reminded me of Strollin' Nolan's 40 minutes of hell, combined with a super-fast paced, up tempo offense.  Too many Texas fans expected that immediately in Austin.  As I have said for two years, Shaka didn't recruit these guys, and Rick Barnes sure didn't recruit them for that kind of tempo and play.  That has changed.  We may not see Texas wreak havoc, but I think we will see them give teams hell.  If we score in the first 7 seconds of the shot clock with any regularity, we will win a lot of games.
https://www.burntorangenation.com/basketball/2018/10/24/17999746/texas-longhorns-shaka-smart-up-tempo-offense-pace-havoc
Texas opens at home on November 6 with Eastern Illinois, then play those ugly ole Hogs in the Armed Forces Classic at Fort Bliss on Friday November 9.  Back home for Louisiana Monroe on November 12 and The Citadel on November 16 (all of those home games at 7:00 in the Frank).
Great Thanksgiving in Las Vegas, as Texas plays North Carolina at 6:30 p.m. that Thursday evening.  Please, please make Roy cry.  The Friday, the Horns play either Michigan State or UCLA.
If you think that big chunks of the nation don't view Texas a national power in men's basketball, then query why we are in a high profile tournament with three of legendary programs, so legendary that Michigan State is the least of the three?
Bitterwhiteguy on Barking Carnival does nice work covering Texas hoops.  Two good articles on the team.
The 2018 Texas Backcourt.
https://www.barkingcarnival.com/2018/10/22/17912900/the-2018-texas-backcourt-eli-long-courtney-ramey-andrew-jones-matt-coleman
The 2018 Texas Frontcourt.  I'm pretty pumped to see Dylan Osetkowski 2.0.
https://www.barkingcarnival.com/2018/10/24/17914016/the-2018-texas-frontcourt-jericho-sims-dylan-osetkowski
IVY LEAGUE REPORT
By Lonnie Schooler
The League's intra-conference was in high gear last weekend, as the eight teams squared off against League opponents.
RESULTS OF OCTOBER 19-20 GAMES:
The game on Friday night was nationally broadcast on ESPNU, and featured the Yale Bulldogs traveling to Franklin Field in Philadelphia to take on the Fighting Quakers of Penn.  Yale prevailed relatively easily, 23-10.  Penn made the game interesting in the last five minutes, when its quarterback completed an 85 yard pass play from his own endzone, to advance the ball to Yale's 15, with about three minutes left in the game.  Alas, Penn could not score and the game ended with Yale running out the clock.  Yale is now 2-1 in conference play, and the Quakers are 1-2.
On Saturday, the premier League matchup of the day occurred between Princeton and Harvard from Cambridge.  Princeton prevailed 29-21 in a hard-fought game, thus remaining unbeaten in conference play.  Harvard has now dropped to 1-2, a strange situation for the team that in recent years has been very competitive for the championship almost every year.
In other games on Saturday, the Big Red of Cornell traveled to Providence and vanquished the Brown Bruins, 34-16, in a game that was not as close as the score would indicate.  Finally, the co-league leading Big Green of Dartmouth journeyed to storied Baker Field in upper Manhattan and fought off the Columbia Lions, 28-12.  Dartmouth remains unbeaten in league play, sharing the top spot with Princeton.  As things now stand, it appears that the Dartmouth vs. Princeton matchup should decide the League champion.
SCHEDULE FOR OCTOBER 26-27:
League conference play continues in earnest this weekend.
All of this weekend's games will be played on Saturday.  The weekend kicks off with Yale traveling to upper Manhattan to face off with Columbia at Noon (all times are CDT).  Penn travels to Providence to take on the Brown Bruins, also at Noon.  Cornell travels to the New Jersey heartland to joust with Prince-ton, also at Noon.  Finally, the Harvard Crimson travel to the New Hampshire countryside to meet the Big Green, at 12:30.  All of these games are listed as being broadcast (apparently on apps and online) on ESPN+.  Given pre-season predictions about Harvard's competitive capabilities in League play, this game could represent a "trap game" for Dartmouth, but based upon each team's record, it appears Dartmouth.  Cornell has scored one big upset, against Harvard, but beating Princeton at home seems too tall a challenge for the Big Red.
Therefore, by nightfall, it appears that Dartmouth and Princeton should remain unbeaten and tied atop league standings.
Enjoy your football this weekend, now that autumn is in full swing in the Northeast (as the weather in Boston during games 1 and 2 of the World Series indicate).  [Editor's note:  I watched those games, and the weather in Boston was not autumnal.  It was winter, at least by Austin standards!)
Scouting
Huge thanks to the folks who have responded to my appeal for the Boy Scouts event on November 14.  I think we have raised over $5,000 from this, and the event is oh-so-close to topping $300,000.  That would really, really make me happy.  If I haven't mentioned, in addition to the fact we are honoring my friend Tim Crowley and raising money for the Scouts, I am the event chairman.  Help me out here – any donation helps.
The Capitol Area Council's Distinguished Citizen Award Dinner recognizes a member of the Austin community as its distinguished citizen.  Funds raised by the event support the delivery of youth leadership training and character development programs to more than 22,000 youth across 15 Central Texas counties, including nearly 7,000 "at-risk" boys and girls.  Past recipients include the late Frank Denius, DeLoss Dodds, Bill Powers, Gary Farmer (JHT Crew Man and official venison sausage supplier of the Juan Heisman Tailgate), Juan Heisman Tailgate friends and supporters Joe Holt and David Roche (in the early days, we used Roche's barbecue pit for the tailgate), and Admiral William H. McRaven, former Chancellor of The University of Texas System.
This year's Distinguished Citizen is our friend Tim Crowley.  Most of us from the Juan Heisman Crew will be at the Hilton Austin on November 14 to salute and honor Tim, a great Longhorn, community leader, and friend.  If you can't attend, please consider a donation:
JDRF
Last chance reminder for friends in Virginia and the DC area:  the JDRF Hope Gala, is Saturday night! You can still donate to the cause, even if you can't attend.
https://jdrf-capitol.ejoinme.org/MyEvents/DCHopeGala2018/tabid/982420/Default.aspx
God Bless Texas.
Tim Taylor
Tailgating before Home Football Games
The Juan Heisman Tailgate 
Lot 38, East of Sid Richardson Hall.
HOOK EM HORNS!!
© Timothy C. Taylor, Sr. 2018.  All Rights Reserved (as to original material).
On Twitter:  @tctayloratx
On LinkedIn:  www.linkedin.com/in/tctatx
On Instagram:  @tctayloratx
On Facebook:  www.Facebook.com/Tim.C.Taylor
and:  www.Facebook.com/Juan.Heisman