Good Morning Longhorn Fans!
Welcome to the 131st Season of Texas Longhorns Football!
Traditions
I always start my first newsletter of the season with some of my favorite Texas videos.  I have those below.  But first, a couple of more recent ones.
Don't miss the Earl Campbell run at the 1:26 mark or so in this one.
"Texas Lives Within You, Forever"
Three of my all-time favorites.  The first is a campus fly-over set to the Eyes of Texas.  The other two are among my favorites from the "What Starts Here Changes the World" series, narrated by the legendary Texas Ex Walter Cronkite.
When will get remakes of some of these What Starts Here videos remade in HD with the new Austin skyline?  Couldn't be hard today with drones and our technology.  CDC?
Another good one and highly recommended:
Special shout out to one of my favorite Longhorns, Michael Shaw, who makes an appearance at the 1:07 mark.
https://news.utexas.edu/2019/02/06/directing-positivity-michael-shaw-connects-the-campus/
The 2023 Season
A quick look at the season.  Blessedly, our last season in the Big 12.  The Horns may just possibly face some bias.  This clip from Commissioner Bret Yormark talking at an event in Lubbock where South Plains Aggie Coach McGuire was present:  "Coach, I'm not going to put any pressure on you, but I'm going to be in Austin on Thanksgiving. And you better take care of business like you did right here in Lubbock last year."
Big 12 Commissioner Brett Yormark today: "Coach (Joey McGuire), I'm not going to put any pressure on you, but I'm going to be in Austin on Thanksgiving. And you better take care of business like you did right here in Lubbock last year." pic.twitter.com/KRDohHn288

— Joe Cook (@josephcook89) August 23, 2023
As the Vice President and Lois and Richard Folger Athletics Director at The University of Texas at Austin Chris Del Conte said "Embrace the Hate".
I have my predictions for each game below (except ones I fear we might not win).  In August of most years, as I mix the Burnt Orange Kool-Aid, Texas might very well go undefeated and play for a national championship.
Last year I had Texas with 9 wins.  Just out of curiosity, I went to see how I did ("NP" means no preseason prediction):
2022 Season Results:
ULM: W, Texas won 52-10.
Alabama: NP, the closest of losses. Should have been a W.
UTSA: W, Texas won 41-20
Texas Tech. W, Texas lost 34-37 in OT.  Still pissed off.
West Virginia: W, Texas won 38-20
Land Thieves in the RRS: W, and Texas curb-stomped the Thieves 49-0. That was big fun.
Iowa State. W, Texas won 24-21
Oklahoma State. NP, and Texas lost 34-41,  It was a tough one.  Especially in hindsight when Gundy's Cowboys cratered and lost 5 of their next 6.  Sort of sad I never made it to Stillwater…
Kansas State. W, Texas won 24-27
Texas Christian, W. Texas lost 10-17.  The Frogs were much better than anyone would have guessed.  What a season.
W.  Texas won 55-14.
Baylor, NP. Texas won 38-27.
So 8-4 in the regular season, then the Alamo Bowl loss to Washington.  Not far from my predicted 9 regular season wins.
So what about 2023? Well, at least we have some new faces on the schedule, albeit two teams with whom we have a lot of history, especially Houston.  But guess what?  Texas is going to win either 10 or 11 games in the regular season, play in and win the Big 12 Championship Game, and then either sneak into the College Football Playoffs or play in another New Year's Day 6 Bowl Game!
Just a few thoughts, and not much of a look into the 2023 teams.
Rice, September 2, 2:30 p.m.  Darrell K Royal – Texas Memorial Stadium.  W.  This won't be close.  Horns will win and cover.  Unfortunately, "our tv partners" [in this case, FOX], has pegged this for a mid-afternoon start in one of the hottest summers of my lifetime, maybe in the history of Austin.  I will complain more next week.  But:  "partners" is a complete misnomer and overly kind by CDC to call them that.  Partners owe each other a fiduciary duty.  That means you act in your partner's best interest, with duties of good faith, care, and loyalty.  Scheduling Rice at 2:30 p.m. on September 2 is a breach of that duty.  Can't wait to be away from this B.S.  Anyway, the Rice Owls went 5-8 in 2022.  No real signature wins (maybe 33-21 over U La La or their 42-41 OT win over LA Tech in Ruston).  Will dive deeper next week, but this will be a good tune up for Texas before heading to Tuscaloosa.
Alabama, September 9, 6:30 p.m., in Tuscaloosa; ESPN.  The Crimson Tide is, of course, favored.  But let's see how this one goes.  I have a feeling this game will go the Longhorns' way.  In 2022, Bama went 11-2, including 7-0 at home.  Their 2 losses:  epic game in Knoxville with the Vols winning 52-49, and then a close loss (31-32) at Louisiana State.  They smoked Big 12 Champ K State in the Sugar Bowl, 45-20.
Wyoming, September 16, 7:00 p.m., DKR-TMS, on the Longhorn Network.  W.  This will be a fun game.  Cowboys went 7-6 in 2022.
Baylor, September 23, TBD, in Waco.  W.  Dave Aranda is a very good coach.  So the Bears have a chance to be good.  I like one of the new features on the schedule page of TexasSports.com.  You can either click "Purchase Tailgate" for home games or "Book Flights" for away games.  Learned you can fly First Class to Waco from Austin on our Airline Partner, American Airlines.  You go through DFW, the travel time is just under 4 hours, and there are just a couple of first class seats left for the 6:00 a.m. departure out of ABIA that gets you to Waco at 9:56 a.m.  For $602.  Economy is a bargain at $255.
Kansas, September 30, TBD.  DKR-TMS.  W.  Jayhawks had a great season last year.  By Lawrence standards.  Won their first 5.  Followed that with losses to Texas Christian, the Land Thieves, Baylor, the South Plains Aggies, Texas, and K State.  With a win over then No. 18 Okie State in the middle of that losing stretch.  Very good bowl game, losing to the Arkansas pigs 53-55 in triple overtime in the Liberty Bowl.  So 6-7 in 2022, but with some nice wins and gutsy games.
Land Thieves in the Red River Shootout, October 7, TBD.  The Cotton Bowl, broadcast on ABC.  W.  The Land Thieves are supposed to be a lot better.  After last year's 6-6 regular season and loss to Florida State in the Cheez-It Bowl, of course Oklahoma will be better.  Great football program and a Blue Blood.  But not better enough to avenge last year's shut-out by the Longhorns.
Houston Cougars, October 21, in Houston.  TDECU Stadium.  W.  Cougars went 8-5 with a 23-16 Independence Bowl win over Louisiana (of Lafayette, U La La).  Welcome back to the big leagues.
Brigham Young, October 28.  DKR-TMS.  W.  Always an interesting game.  Not a big fan.  At least we are playing them here, and this time no one will get fired after the game.  And earn a nickname like "Tarmac Manny".
Kansas State, November 4, TBD.  DKR-TMS.  W.  Sort of amazing that in the Big 12 era Texas is just 10-9 against the Wildcats.  Even odder than 7 of those losses came under Mack Brown. Go figure.  Texas has won the last 6, and we will say adios to K State with a solid win in November.
Texas Christian, November 11, TBD.  Fort Worth.  W.  I am still admittedly impressed with the 2022 Horned Frogs. That was one heckuva season.  But the Horns are going to get the win in Amon G. Carter this year.
Iowa State, November 18, TBD.  Ames.  W.  Still in shock over the gambling scandal.  The Cyclones may have a long, long year.
Texas Tech, Friday November 24, 6:30 p.m.  DKR-TMS.  W.  Last year's loss still burns.  If the Big 12 refs treat us that poorly every game, then my predictions may be a bit off.  We shall see.  With Commissioner Yormark, the boss of the officials, states publicly who he wants to see win, there may be some subconscious bias.  Or just as likely, blatant and overt.
2023 Dr Pepper Big 12 Football Championship, 11:00 a.m. on ABC.  At Jerry World.  W.  I don't care who are playing.  Hook Em.
One thing I am certain of:  When the College Football Playoff expands to 12 teams next season, Texas is playing.  Bring me some more Kool-Aid!
Alignment, Leadership, and Success
Great interview with Chairman Kevin Eltife (Tyler Lee class of 1977).  14 minutes and worth every second.  CDC, President Hartzell, and the Chairman have talked about their alignment on issues and goals for several years; Kevin really hammers it home.  If you love The University, watch this.  This is good.
The Preseason Polls
AP Top 25:  Georgia, Michigan, The Ohio State University TM, Alabama, Louisiana State, Southern Cal, PSU, Florida State, Clemson, Washington, and Texas at No. 11.  Notre Dame at 13, K State at 16, Texas Christian at 17, Land Thieves at 20, North Carolina at 21, Ole Miss at 22, Texas Agricultural & Mechanical at 23, and Tulane pre-season ranked at No. 24.
AFCA Coaches Poll:  Georgia, Michigan, Bama, Buckeyes, Bayou Bengals, Men of Troy, PSU, FSU, Clemson, Tennessee.  Texas at No. 12.  L'Université de Notre Dame du Lac at No. 13.  Texas Christian 16, K State 17, Land Thieves 19, Mack & the Heels at 20, Hotty Toddy at 22, South Plains Aggies at 24, and Texas Agricultural & Mechanical at 25.
2023 Longhorn Football Prospectus:  Thinking Texas Football
 Paul Wadlington's preseason book on the Longhorns is a must read.  Here is the link to purchase it.  I highly recommend it. Great stuff, and Paul is a good and entertaining writer.
2023 Longhorn Football Prospectus: Thinking Texas Football (smashwords.com)
The 2023 Texas Longhorns
I had grand intentions of taking a deep dive on every position and the team and coaches, but like many things I intend to do, work and life have other plans.  Nothing bad, just busy.  So, a quick look this week at the offense (not going to look at prior stats except for the running backs – get Paul Waddlington's TTF e-book), and then hopefully next week Sark will actually release a depth chart which will make my job a little easier.
The first place to start and the talk of Texas and much of the nation is the Longhorn quarterback room.  Quinn Ewers, Maalik Murphy, and Arch Manning are 1, 2, and 3 based on everything I hear, with Manning pushing Murphy for the 2 spot.
But Quinn Ewers (No. 3, 6-2, 195 lbs, RS Sophomore) is the starter and has earned it by all accounts.  While he has earned the starting spot, he is going to have to prove it this year.  I heard some stats about his overthrows in a game or two last year, and they blew my mind (thank you Rod Babers).  What matters is that Quinn Ewers is one of the most talented young quarterbacks in the country, and I think everyone believes he has the potential to lead us to the College Football Playoffs.  I know I do.
Maalik Murphy (No. 6, 6-5, 238 lbs, RS Freshman) is a special talent, and I think the time will come at Texas when that talent is tapped and we are witnesses.  Before Murphy got to Austin, one of my readers with whom I have become pen pals was telling me about Murphy.  He isn't just a casual fan; Harry Hilgers is 97 years old and was coaching high school football in Texas when Kern Tips was calling Southwest Conference games on the Humble Football Network.  He came to The Forty Acres to play for D.X. Bible, but the War came before Harry got to play a game at Texas Memorial Stadium.  When he came back to Texas, he became a high school football coach, which he did well for decades.  Suffice to say, Harry knows football and football talent.  In the Spring Game, we saw what Maalik can do, and I saw what Harry had been telling me about.  So don't be surprised to see Maalik Murphy on the field at some point this season; I just hope it is not because of an injury to the man ahead of him.
The Arch Manning story is among the most documented of any Texas recruit I can recall.  Football royalty, exceptional natural talent, and by every account just a fine young man from Isadore Newman School.  Arch Manning (No. 16, 6-4, 212 lbs, Freshman) could probably start this season at most schools, including Texas.  But his parents and grandfather and uncles know the game, and they know that Arch has a long and possibly unimaginably successful future.  It doesn't have to start by being a starter as a freshman.  Watch, listen, learn, grow.
The other scholarship player in the quarterback room is Loyal Forever Austin High Maroon Charles Wright (No. 14, 6-1, 203 lbs, RS Sophomore).  Charles probably won't see a lot of game time, but it would be nice to see him coming in for some final late game drives with the Horns up by 5 or 6 touchdowns.
Loaded with talent.  But also note:  The first three are sophomore, freshman, freshman.  If Sark can keep these guys healthy and happy, this isn't the Texas QB Room for 2023, this is the Texas QB Room for a couple of years.
Wide Receivers.  This is probably our second best unit on offense.  Xavier Worthy (No. 1, 6-1, 172 lbs, Junior) is one of the best in the nation.  Exceptional speed and skill, quick and crafty, and without a broken hand a very good receiver.  On multiple preseason all-something lists and post-season watch lists.  Adonai "AD" Mitchell (No. 5, 6-4, 196, Junior) transferred to Texas from Georgia (but a Texas kid – Missouri City), and he is getting rave reviews.  Probably going to start split out and allow Worthy to play more in the slot. Jordan Whittington (No. 13, 6-1, 204, Senior from Cuero) is, as an attentive reader knows, one of my favorite players.  Ever since I saw him lead Cuero to a state title and be named both offensive and defensive MVP, I have been a big fan.  Jordan has been injury prone, and I am praying he plays every game this year.  We need him, he deserves it.  Isaiah Neyor (No. 9, 6-3, 215, Senior) transferred to Texas from Wyoming last year and was projected to be huge contributor before getting hurt early.  He has big upside for us this season.  Watch for a lot of playing time for Johntay Cook II (No. 2, 6 foot, 186 lbs, Freshman from DeSoto), DeAndre Moore Jr. (No. 11, 6 foot, 195 freshman), and Casey Cain (No. 8, 6-3, 197 lbs, Sophomore).
Running Back will be interesting.  If I am remembering the stats right from the RBI Austin Texas Football preview lunch on Wednesday, Rod Babers said something to the effect that last season (or maybe the last half of the season), Bijan and Roschon accounted for 60% of our offense.  Both are playing on Sundays this fall (and Bijan is looking to be all-world for Tommy Nobis's old team, the Atlanta Falcons).  Anyway, this running back room is well stocked, but the experience is thin.  Jonathan Brooks (No. 24, 6 foot, 191 lbs, Sophomore) is projected to be the starter.  He is a great back, but he rushed 30 times for 197 yards last year.  Keilan Robinson (No. 7, 5-9, 188 lbs, Senior) had some great moments last year and is a good running back and very good receiver and great on special teams.  But he rushed 25 times for 86 yards.  Jaydon Blue (No. 23, 6 foot, 191 lbs, Sophomore) had 15 carries for 33 yards.  Some quality guys, but no Bijan Robinsons.  However.  Freshman CJ Baxter (No. 4, 6-1, 218 pounds) is getting great reviews from fall camp, and Horns247 has him number 2 on their projected depth chart.  And, our offensive line:
Offensive Line.  I don't remember the last time we returned all five starters on the O Line.  Maybe it wasn't that long ago, but it sure seems like this is a big year.  The Big Humans are big.  And Good.  Best is our left tackle, Kelvin Banks, Jr. (No. 78, 6-4, 324 lbs, Sophomore).  All-American good.  Hayden Conner (No. 76, 6-5, 320 lbs, Junior) will be next to Banks at left guard.  Jake Majors (No. 65, 6-3, 315, Junior) is back at center.  It sounds like DJ Campbell (No. 52, 6-3, 343 lbs, Sophomore) will start at right guard.  Christian Jones (No. 70, 6-6, 321 lbs, Senior) will be at right tackle.  Cole Hutson (No. 54, 6-5, 318 lbs, Sophomore) is a returning starter, and looks to be the top of the second team, which is also stacked.  Watch for Malik Agbo, Neto Umeozulu, Cameron Williams, Connor Stroh (anyone else remember Stroh's Beer from Detroit?  Haven't had that since college probably), and Connor Robertson.  We will have to play a lot of guys in the Rice game since it is going to be so hot the turf might melt.  Winning and championships begin in the trenches, and this is probably the best offensive line we have had in a long time, maybe over 10 years.  And Texas will need them.  They are going to have to give a young running back corps holes and blocks so we can have an effective running game.  Because if we don't, as good as our quarterbacks and receivers are, Texas cannot be one dimensional against modern college defenses.  Texas will not win the games I am expecting Texas to win.
Tight End.  As longtime readers know, I am a big, big proponent of great tight ends and proper usage thereof (and of the Oxford comma).  Jermichael Finley, Pat Fitzgerald, David Thomas, Kerry Cash, Bo Scaife, Pete Lammons (look him up).  The Longhorns have a potential name to add to that list in Ja'Tavion Sanders (No. 0, 6-4, 243 lbs, Junior).  JT was first team All-Big 12 last year, and he has a higher ceiling this year.  Backing him up is Gunnar Helm (No. 85, 6-5, 250 lbs, Junior).  Several other guys in the tight end room.  Watch for Juan Davis, Spencer Shannon, and Will Randle all to get on the field.  Randle played at Newman with Arch and was his top target.
Defense and Special Teams next week.  But here is the spoiler:  This defense is special.
The Alabama Game
Yes, a ways off, but if any of you haven't been thinking about this game a lot since last year's epic game and close loss, well, then as Lyndon B. Johnson used to say, your mind is wandering.  My mind doesn't wander much.
I am most curious about this tidbit about the game:  It is the first edition of the "Allstate Crossbar Classic".  "Through an agreement with Learfield, the media, data, and technology services leader in intercollegiate athletics, the annual event will highlight a marquee regular-season matchup that will be played at the home field location of the host team. The Allstate Crossbar Classic will bring a bowl-style atmosphere and promotion to an early-season game, amplifying the excitement of some of college football's most passionate fans."  Crossbar as in the horizontal bar in the goalpost?  If so, why?
Texas Longhorns Football History
Texas is among the most storied football programs in American college football history.  Not as many national championships as Alabama or Notre Dame or even those guys in Norman, but a blue blood nonetheless.
All-Time Wins
| | | | |
| --- | --- | --- | --- |
| 1. | Michigan | 144 years | 989 wins |
| 2. | Alabama | 131 years | 953 wins |
| 3. | Ohio State | 132 years | 953 wins |
| 4. | Notre Dame | 136 years | 938 wins |
| 5. | Texas | 130 years | 936 wins |
| 6. | Oklahoma | 128 years | 934 wins |
| 7. | Penn State | 136 years | 920 wins |
| 8. | Nebraska | 133 years | 912 wins |
| 9. | Georgia | 130 years | 868 wins |
| 10. | Southern Cal | 135 years | 867 wins |
| 10. | Tennessee | 132 years | 867 wins |
This is harder to track than one might think, and difference sources will give you different numbers, as the win totals do not include vacated games and seasons.
By Winning Percentage
| | | | |
| --- | --- | --- | --- |
| 1. | Ohio State | 953-331-53 | .733 |
| 2. | Alabama | 953-335-43 | .732 |
| 3. | Michigan | 989-353-36 | .731 |
| 4. | Notre Dame | 938-334-42 | .730 |
| 5. | Oklahoma | 934-338-53 | .725 |
| 6. | Texas | 936-390-33 | .701 |
| 7. | Southern Cal | 867-363-54 | .696 |
| 8. | Penn State | 920-406-41 | .688 |
| 9. | Nebraska | 912-417-40 | .681 |
| 10. | Tennessee | 867-410-53 | .672 |
Here is a cool interactive graphic of all-time wins over time created by the inimitable Kyle Umlang.
All-Time Wins in College Football | FBS | Flourish
The Austin Horns Fan Dispatch:  Administrative Notes
I continue to use my antiquated tradition of sending this email manually (which as I read what I wrote is a bit of an oxymoron).  Usually sometime after midnight on Friday morning, I start the process of emailing out several days of writing.  I make mistakes sometimes, so if you don't get the email one week, ping me.  If you want me to add a different address for you, let me know.  Some of you get this more than once.  Sorry.  If you want me to add any friends or family, let me know.
Second, and importantly, the views expressed in my emails are mine alone, and not that of my employer, Jackson Walker LLP, any of my law partners, or of any other organization with which I am affiliated.  If you want to unsubscribe, email me, and I will do my best to find you in the morass of email distribution lists and delete you.
Finally, feedback is welcome.  I love to hear from folks.  I try to respond to every email.
Juan Heisman Tailgate:  Twenty-Fifth Anniversary Season
The Juan Heisman Tailgate returns to Lot 38 for our 25th season.  What started with a few of us meeting in the parking lot for a couple of beers while our sons threw a football around soon expanded to a bigger group of friends over the first few years, to the point where we sometimes needed two coolers.  A few years into the Mack Brown era, with Texas beginning to win a lot of football games, the tailgate party grew quickly.  David Roche had an incredible nice trailered smoker and grill he let us use, and that great smoker became a centerpiece of the tailgate and allowed us to produce a lot of good food.  In 2004, we combined with Debbie and John Fincher's tailgate for a birthday tailgate party for Debbie.  A memorable day, and a photo of Charles and me that I have long treasured.  Sits by my desk in the home office.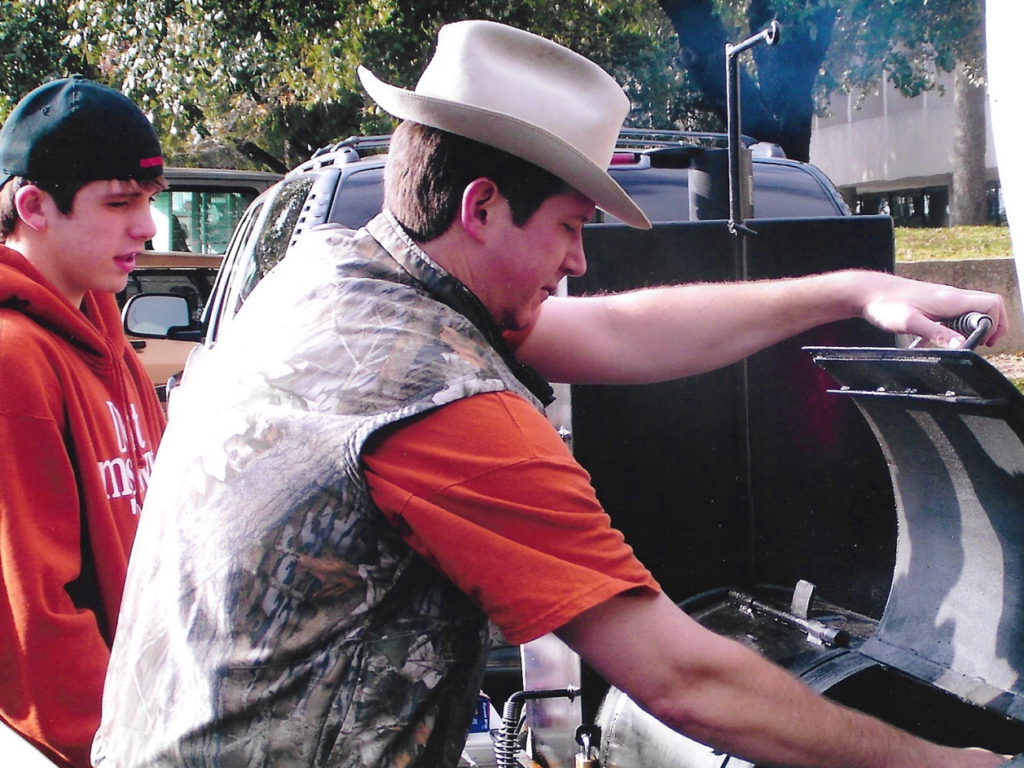 For those observant readers, you may recognize the Suburban in the background.  It was brand new.  This will be that warhorse's 20th season of service to the Juan Heisman Tailgate.
By the next year and what would be the 2005 championship season, we probably had 75 or 80 people at most tailgates, sometimes even more.  We partnered with some great friends over the next few years, especially Nancy and Ted Heaton.  Some epic parties in the pink lot with Tailgate Teddy.
After we moved back to Lot 38 several years ago, a few more people joined the crew, the Dunn family tailgate merged with us (and have become great friends), and we had good friends like Debbie and John Fincher and Rebel Hirsch tailgating across in the breezeway.  Tim Crowley was always there ahead of most other early crew guys (Skeen, Jack Nash, Rick Whiteley, Barry Barksdale, and others) way before dawn with his police tape to secure Mount Juan Heisman.  We brought in some professionals, Marcus Crawford and Otis Edmond, to help cook and manage the tailgate party.  Wes Poole took over Rebel's spot in the breezeway across the way.  And then in 2016, after a lunch with Judd Messer (at Headliners, of course, where all great deals in Austin are made), we welcomed Judd, James Barton, Collin Shaw, Hunter Wilcox, and Grant Martin to the JHT Crew.  The Young Guns brought new energy and ideas and friends.  Since then, more young guys have joined (Spence Howden, Joe "Attawaytogo" Robertson, Rye Hinkle, Sloan Byerly, and Scott Stewart).  Today we have about 50 men who host a pretty good party every game.  Judd Messer is our CEO, Brad Laughlin is our CFO, and Hunter Wilcox is in charge of the Early Crew – the guys who get there before dawn every week to secure the tailgate spot and set up the tents.  So many other guys contribute in so many ways.  Bill Skeen has been taking care of our smoker the last few years after a long stretch of good care from Jack Nash.  Gary Farmer, Nathan Thornhill, Richard Hill, and others supply the venison sausage which is a staple at almost every tailgate party.  Tony Dewar, Scott Ferguson, and Jody Ferguson have handled the TV and satellite for years.  Tom Terkel, Kent Lance, Jim Stone, and Scooter Walters have provided some memorable wines over the years.  Brad Hawley provides commentary, sometimes witty.  It is truly a team effort, and it is all about a few simple binding traits we all share:  we love the Longhorns, we love to have fun, we respect and love each other and all of our families, and we want our friends and families to have a welcoming place to gather before heading into DKR Texas Memorial Stadium to watch some football.
So what's on tap for 2023?
First, we welcome back Tito's Handmade Vodka as our distilled spirits sponsor and supplier.  One thing about great vodka – it doesn't matter what hour of the day the party starts, you can make an appropriate cocktail with vodka!  Thanks to Bryan Plater and Bert and all our friends at Tito's Handmade Vodka.
Second, Texas Beer Company, the great craft brewery in Taylor, Texas (Taylor, not Tyler; I am Taylor from Tyler not Tyler from Taylor, but Texas Beer is from Taylor) will be back most games with their great beers.
Third, and huge good news, is that Twin Liquors and my longtime good friend David Jabour have agreed to help with our beer supply and other beverages.  I have been fortunate to know David for nearly 40 years, and David and his family and Twin Liquors give back to the community in so many ways.  Just great people, and I am grateful to partner with them. Thanks David!  We are very thankful to have y'all with us.
Finally, if the schedule (i.e., kick-off times) cooperate, we will be bringing back the lamb and wine tailgate party when the weather cools.  One of my favorite pictures from 2018 when Scooter showed up with two Methuselahs of 2013 Silver Oak.  It did not last long.  And no, I didn't drink that bottle by myself.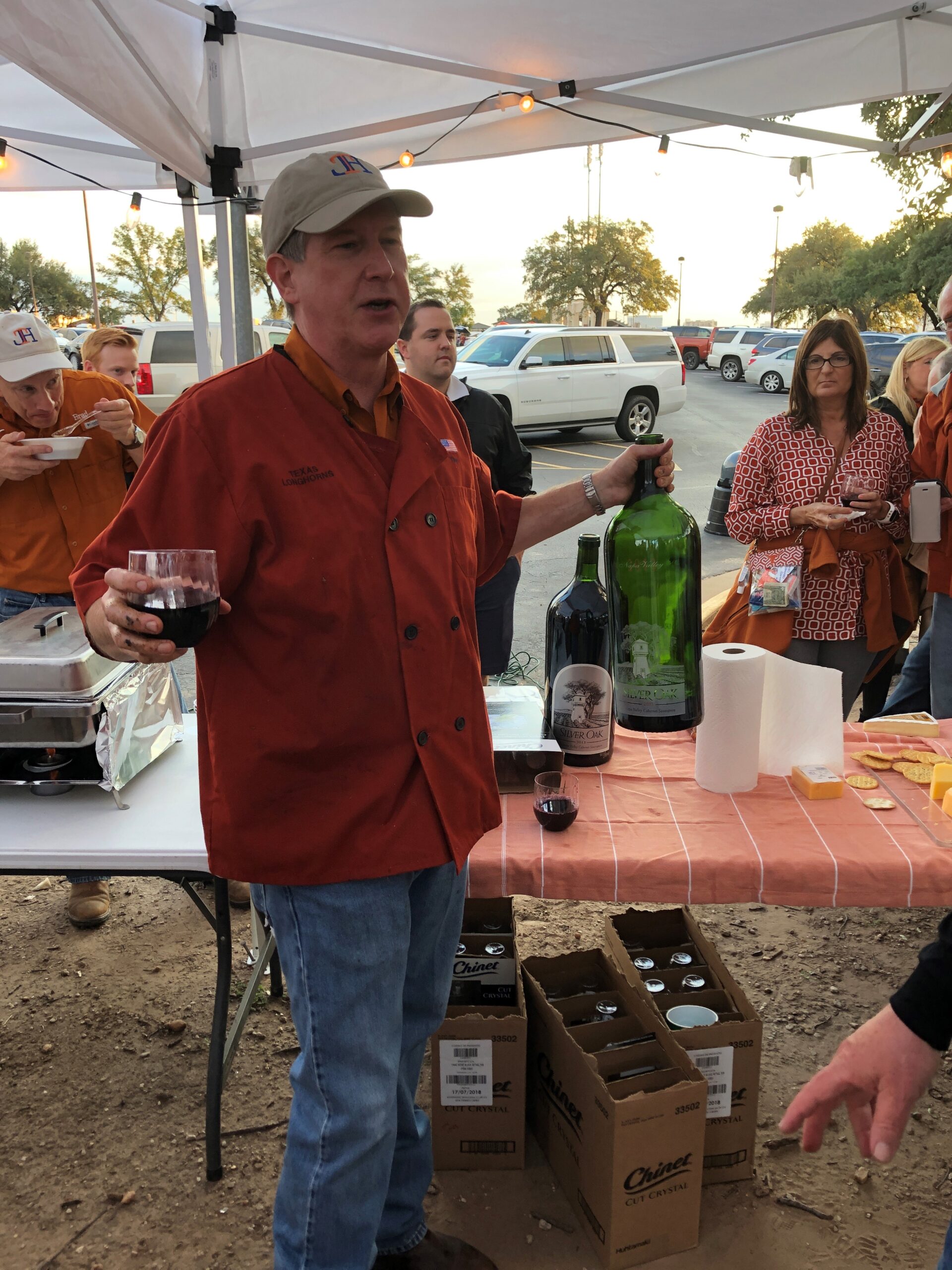 Over my right shoulder is JHT OG Brad Laughlin having some frito pie, another annual staple of the tailgate.
Some of the JHT Crew in 2019, with the flag donated by Crewman Tom Kelly, in front of Juan Heisman.  Wes Poole with a cameo appearance on the far right in his trademark Stetson.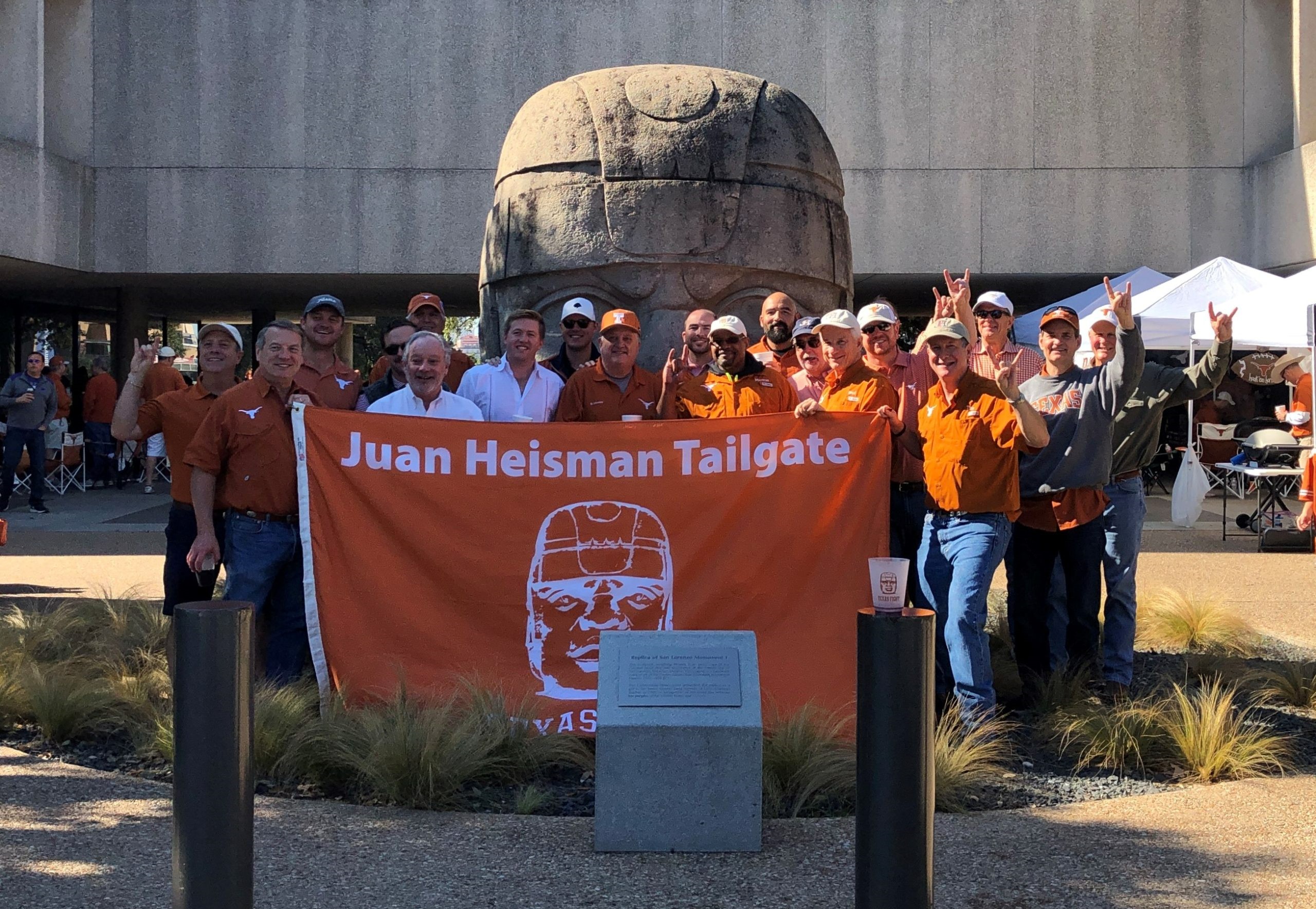 Finally, and most importantly, Juan Heisman is where so many have enjoyed watching our children grow up together and get to know our friends.  I can't possibly name them all, but Charles Taylor, Yates Hawley, and James Laughlin were at the very beginning of the tailgate.  Chris Crowley, Walt Ferguson, Wesley Gottesman, Elizabeth Crowley, and Emily and Sarah Jane Edelman.  My daughters Kathryn, Mary Elizabeth, and Claudia.  And now, a third generation of kids have come to Juan Heisman, with Covert Crowley probably being among the first.
And this season, I am hoping to have Peter and Micah Dean there.  Photo below of Charles, Kathy, and me with Kathryn and her husband Mark and his parents Helen and Rich Dean at the Notre Dame tailgate, September 4, 2016.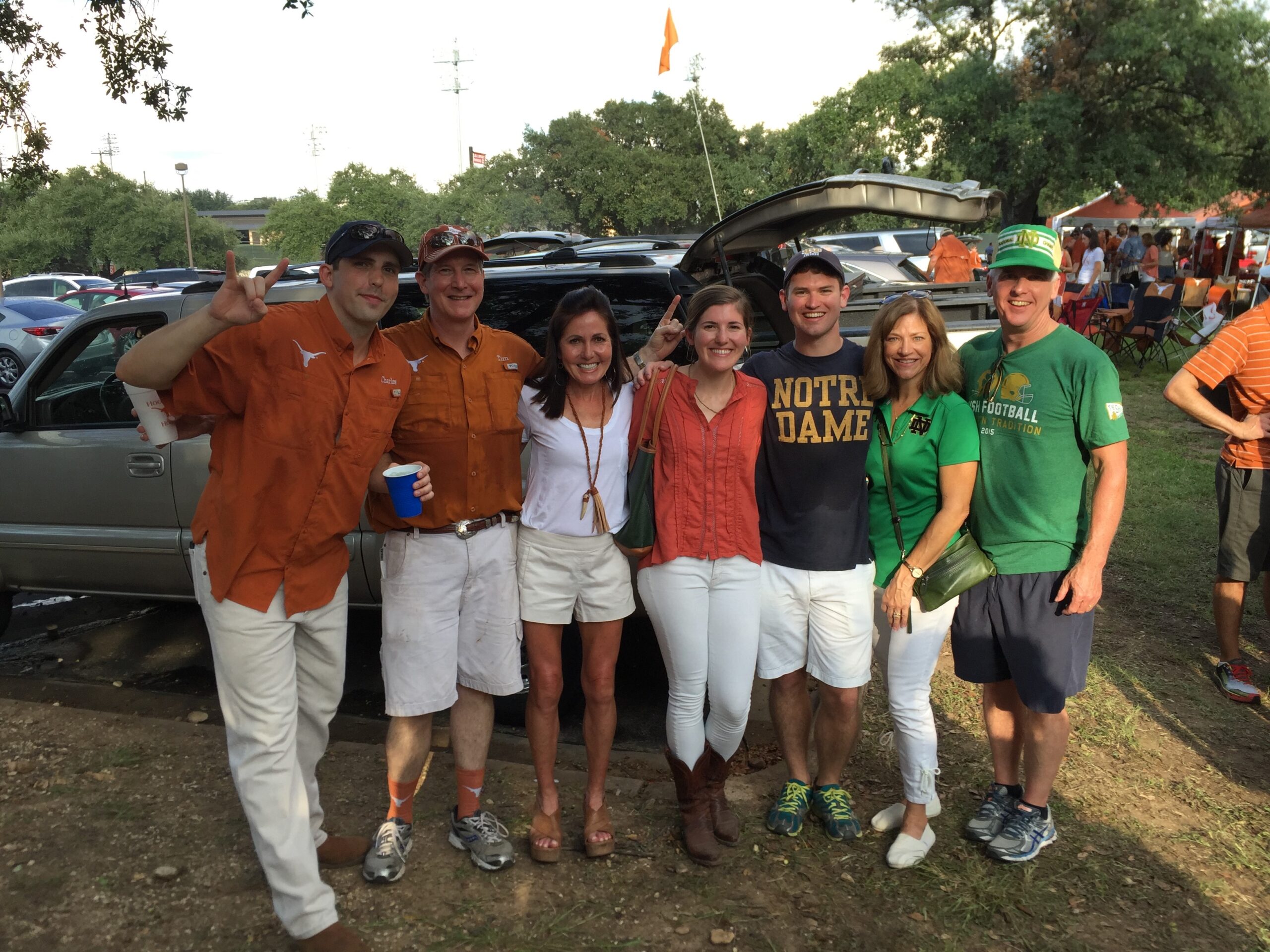 So a favor for those who have been to the tailgate:  Please share a story or a photo of one of your favorite Juan Heisman Tailgate moments.  I hope to have an online special edition of The Austin Horns Fan Dispatch with stories and pictures of the tailgate party over the years.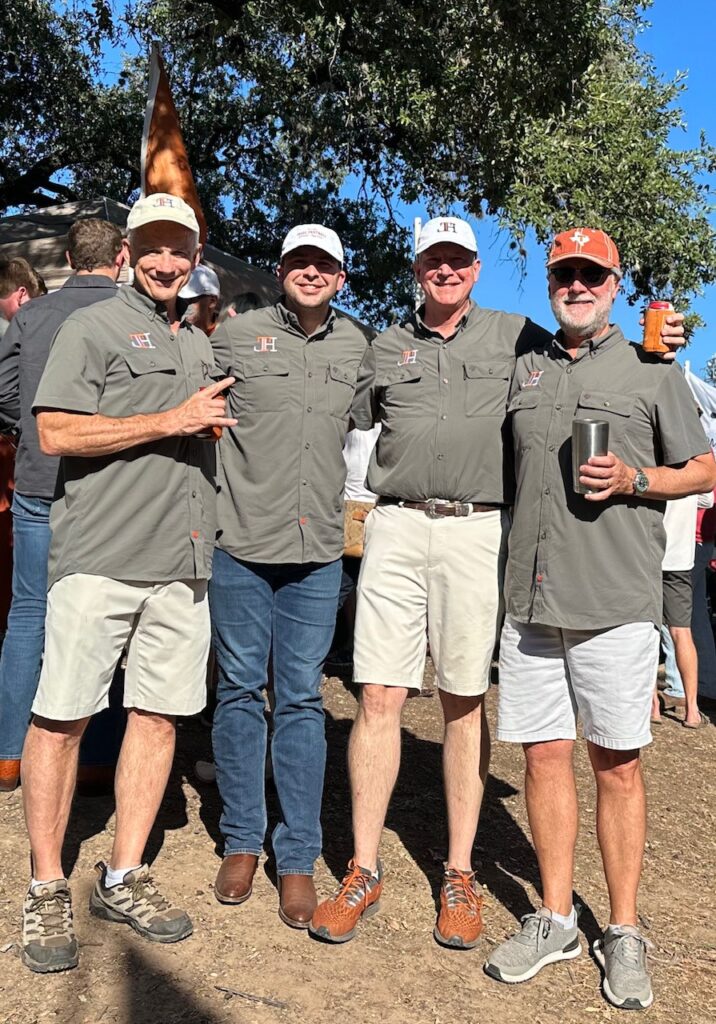 College Football is Back!
The pundits (or someone) used to call this "Week Zero", when we started playing a few games before what everyone thought of as the first weekend and week, Labor Day weekend.  This year, it looks like most are just saying "Week 1" is this weekend through Labor Day.  Works for me.  A look at some of the games between now and next week's Austin Horns Fan Dispatch.  No Big XII games for now.
Top 25 – Week One – First Weekend
Saturday, August 26
Navy vs. No. 13 Notre Dame, 1:30 p.m. on NBC, from Dublin, Ireland.  Should be quite a party, even if the Midshipmen are supposed to be handled easily by the Irish.  Can't wait to watch this one.  Notre Dame favored by 20.5, over/under is 49.
San Jose State at No. 6 Southern Cal, 7:00 p.m. on the PAC 12 Network.  Wish I could watch at least some of this one.  Just to see how good the Trojans are.  Southern Cal favored by 30.5, over/under is 66.5.
Thursday August 31
Florida at No. 14 Utah, 7:00 p.m. on ESPN.  This will be a good football game and a good game to watch while writing next week's newsletter.
SEC Week One – First Weekend
Yep, going to try and cover the SEC games every week.
Hawai'i at Vanderbilt, 6:30 p.m. Saturday on the SEC Network.
Week One – First Weekend:  Other Games of Interest
And thus begins my effort to begin keeping straight what teams are in what conference.  At least for this season.
UTEP at Jacksonville State, 4:30 p.m. Saturday, on CBSSN.  A Conference USA match-up.  Teams from the UT System are always of interest to me.  I began following UTSA when they first started playing, and look at what that program has become.  UTEP has a long and rich athletic history, especially in basketball.  And, one of my favorite newsletters ever was about a UTEP vs. Texas game.  Good luck to the Miners.
Texas Athletics Hall of Honor
Eleven great former Longhorns will be inducted into the Hall of Honor this fall.  The 69th Men's Hall of Honor class:    Quan Cosby (Football, 2005-08), David Denny (Baseball, 1982-85), Kris Kirchner (Swimming & Diving, 1980-81), James H. Means, Jr. (Track & Field, 1963-64, '66-68), Jonathan Scott (Football, 2002-05), and Jordan Spieth (Golf, 2011-12).  The 24th Women's Hall of Honor class: Beth Barr (Swimming & Diving, 1990-93), Jamie Carey (Basketball, 2002-05), Gia Doonan (Rowing, 2013-17), Dr. Kelly McDonald Freeman (Soccer, 2001-04), and Susan Shurr (Track & Field, 1982-85).
As you might guess, I am partial to my friend Quan Cosby.  Quan my brother, well deserved, and yes the Lendy Holmes video will be in the newsletter before the RRS with the Land Thieves.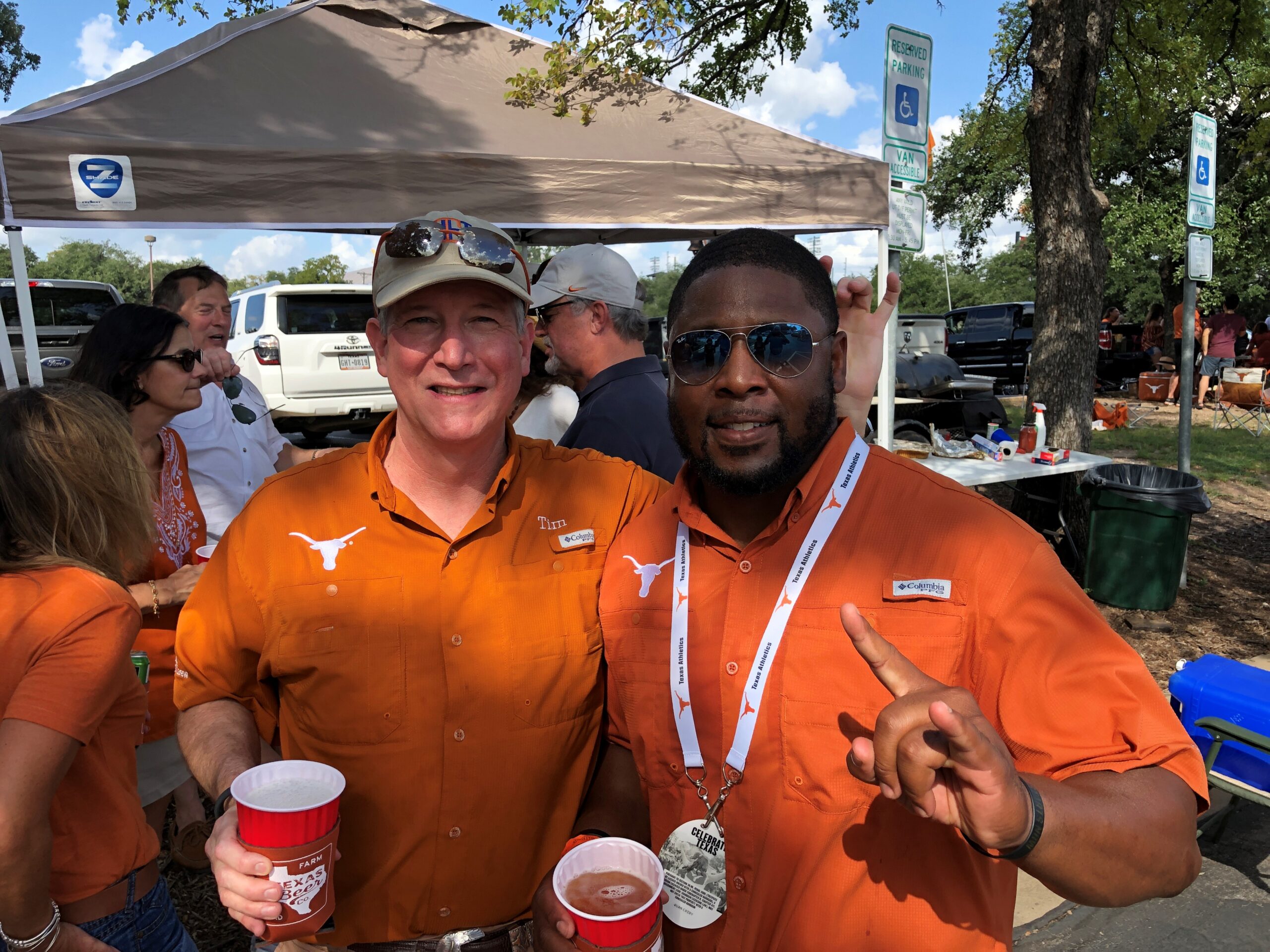 Juan Heisman Tailgate, September 21, 2019.
Bill Little; 1942-2023 – requiescat in pace
For me to try and write even briefly about the man who is recognized as the face and voice of Texas athletics for over half a century – all of my adult life and most of my childhood – is daunting.  People say he was the face, the voice, of the Texas Longhorns.  For me, Bill Little was more than that – he was the soul of the Texas Longhorns.  He had a unique ability to put into words, beautifully, the emotions we all feel and describe the experience we have, or see or hear, as Texas fans.  His tenure with Texas does in fact span the eras of every football coach the Horns have had in my life – from Coach Royal to Steve Sarkisian today.  Little has left an imprint on my life and my love for the Longhorns and a legacy as a sports information director that will likely never be matched, at Texas or any other school.  This article on TexasSports.com is so very good, and I think we can see how Bill's legacy and language lives today not only in the communications men and women at UT, but also in great writers like Jenna McEachern, who helped with this story.
Legendary Longhorn Athletics administrator Bill Little passes away – University of Texas Athletics (texassports.com)
Jack Collins; 1940-2023 – requiescat in pace
Jack Collins was a friend to hundreds, a trusted banker and advisor, a great Longhorn, and a true gentleman.  His great place in Texas football history is told well in the article from The University, linked below.  For me, he was always a gentleman with a firm handshake, a warming and engaging smile, and a great attitude.  You felt better after talking to Jack Collins.  For all his accomplishments on the football field, especially at Highland Park and here as a legendary Texas Longhorn on Darrell K Royal's first teams, he is most widely known as the young man on the cover of the first edition of Dave Campbell's Texas Football.  I was fortunate to be at The Headliners Club one night several years ago when Dave Campbell regaled a crowd with his encyclopedic knowledge of all things football in the State of Texas and with fascinating stories of how his great magazine began and grew to become the bible of the sport of football in Texas.  And there in the crowd with us mortals was Jack Collins.  Afterwards, Jack came up and had a long visit with Dave, and I took this picture.  Still makes me happy.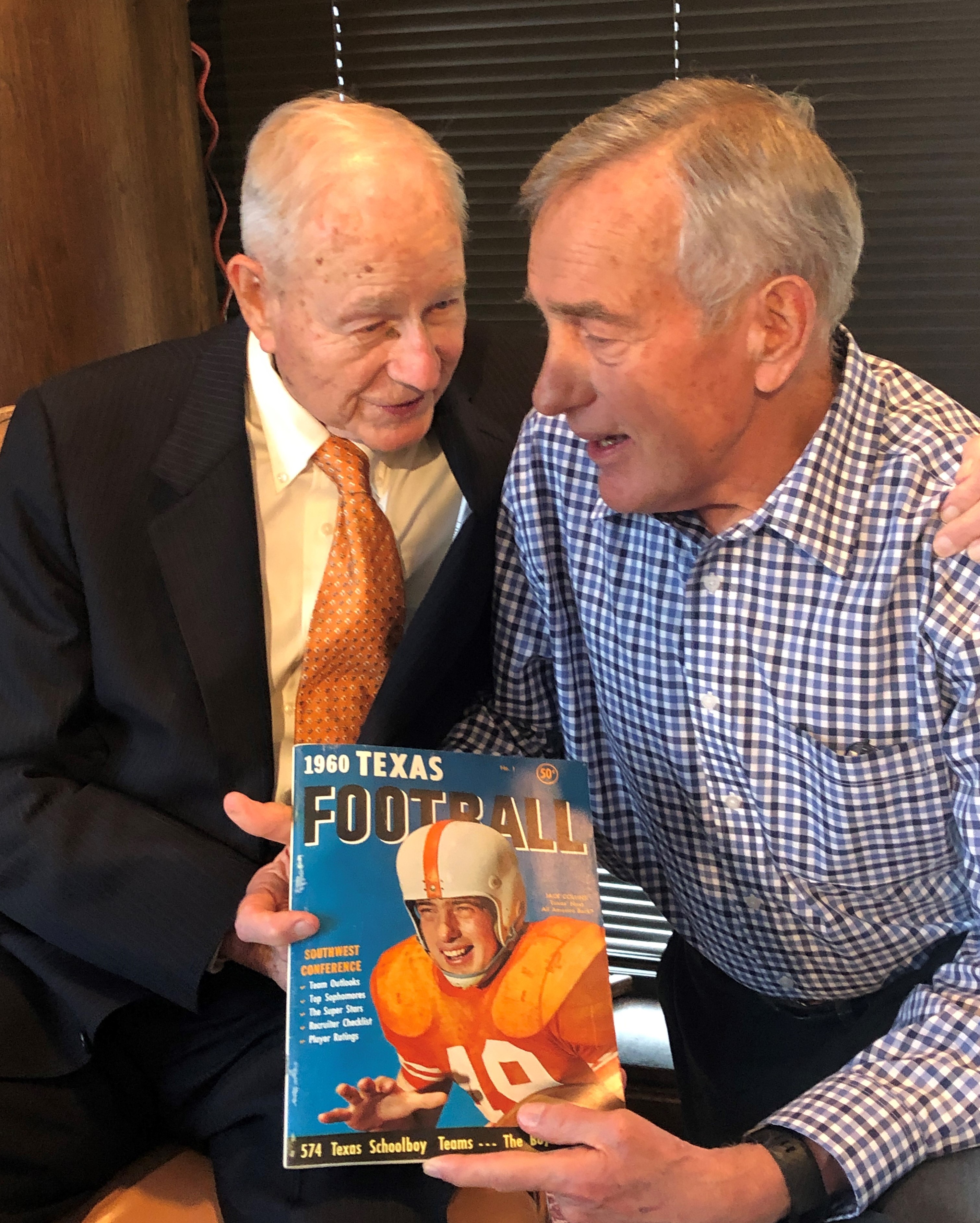 Article on TexasSports.com.
Former Football player Jack Collins, Jr., passes away – University of Texas Athletics (texassports.com)
Honor Flight Austin
I was deeply honored to be asked to join the Honor Flight Austin Advisory Board.  Honor Flight is a truly amazing program, started to honor and pay respect to The Greatest Generation.  Please watch these videos.
I write this newsletter for fun and because I love Texas and the Longhorns.  I don't charge a penny for it, and I never will.  I don't want to monetize this.  I want to enjoy it and love writing.  But, I do ask that if you enjoy this, please support the charities and organizations I profile each week.  This is a big one.
Honor Flight Austin – Honor Flight Austin
Conference Realignment:  There I was dipping my cookie in my milk …
Yeah, it blew up.
It is blowing up right now.  Stanford, Cal, and Southern Methodist are all possible additions to the ACC.  Good to have Pacific coast schools in the Atlantic Coast Conference.  The Athletic reported that the Southern Methodists told the ACC that they would not ask for their distribution of revenue for 5 years if they will just let them in the club.  I always thought Methodists got in to fancy clubs as easily as Episcopalians.  FSU and a few others apparently black-balled the westerners last week, but now reports are that adding the schools will mean more TV/media revenue, and surprisingly the enticement of even MORE money (SI.com reported $70 million) is influencing the holdout schools to agree to the expansion.  Shocking that ESPN and money is what is really driving analysis and decision making.  I am writing this at 11:00 p.m. Thursday (8.24.2023), and I bet this changes before I hit send in a few hours.  It is, as they like to say, a dynamic and fluid situation.
I could write two of these newsletters about this topic. What a year.
Here are a couple of articles that have some good info and graphics.  Of course, there are still changes going on, so some of this may be outdated.
Conference realignment: Pac-12 in pieces. Football landscape in 2024 (usatoday.com)
College Football Expansion and Realignment Conference News and Rumors Tracker – AthlonSports.com | Expert Predictions, Picks, and Previews
Because of the volume of information and how the landscape is changing quicker than anyone could have fathomed, here is where we are today in the Big XII, the SEC, and the Big 10, and where those 3 conferences are expected to be (as of today) in 2024.  I have not a clue what the PAC 12 might look like in 2024 if it even exists, but I know this, it is no longer the Conference of Champions (especially if Stanford and Cal go to the ACC).
Also, I am just talking about football.  As I have mentioned in the past, the non-football alignments and conference memberships have long had other quirks (did you know that Missouri, North Dakota State, South Dakota State, Northern Iowa [damn you Jesperson], Air Force, Norther Colorado, Utah Valley, Wyoming, and Cal Baptist all compete in the Big XII wrestling conference?).  And men's soccer?  See below.
2023-24
Big XII:
In 2023, Texas and the Land Thieves are on their way out the door, playing their last season of Big XII football.  Brigham Young, Houston, Cincinnati, and Central Florida all join and are on Big XII schedules this year.  Distance from Orlando to Provo:  2,319 miles.
In 2024, with Texas and OU out, the Big XII will be adding some decent schools. Colorado rejoins, and Arizona, Arizona State, and Utah join the party.  Not bad adds, and having Utah and Brigham Young in the same conference at least brings in a rivalry game.  Morgantown to Tempe:  2,072 miles.
SEC:
The Southeastern Conference is holding steady in 2023. For now, in 2024 only Texas and Oklahoma are joining.  Regardless of any further expansion, the SEC and Big 10 stand head and shoulders above the rest of the conferences, and given the size of the schools and alumni bases, I think these two superpowers will win any arms race.
Big 10:
The mighty Big 10 was a pretty cool conference, nicely geographically structured like the SEC.  and will be in 2023.
Then, last season the shocker of the University of California Los Angeles and Southern Cal bolting from the PAC 12 to join the Big 10.  And then a few weeks ago, Oregon and Washington.  So the 2024 Big 10 will go from a conference with Nebraska as its westernmost member, to a coast to coast super conference with four schools claiming every state in the continental United States that has Pacific Ocean beaches.  The Jersey Shore to Santa Monica.
I think this is all pretty sustainable for the current SEC in all sports.  Big 10 probably too, given the money they will be earning.  But I think the Big 12 and the ACC (if the Stanford, Cal, & Southern Methodist story plays out) will be hard pressed to have financial stability in all of the sports outside of football and men's basketball.  Just some enormous travel distances and expenses for the non‑revenue sports.
My prediction (and that of many others) is that within a few years, the top football teams from what is now, for all intents and purposes, the Power 4 conferences, will separate from the NCAA and form a college football association with just that four super conferences of 16-20 teams each.  The quid pro quo will be that the NCAA keeps March Madness, and the billions it generates, and the conferences will reorganize mostly around regions and rivalries.  I am not just day-dreaming.
'Why are we making all the other sports suffer?' College hoops coaches on football-driven realignment – The Athletic
I can see the possibility of the New Power 4 surviving for all major sports (my guess would be football, men's and women's basketball, and baseball), but as I noted above, there are myriad examples of what is "the conference" in most sports is not universal.  The Big XII wrestling conference, described above.  Another example?  The Sun Belt Men's Soccer Conference, which includes Kentucky and South Carolina from the SEC and West Virginia from the Big XII.  They will be playing in 2023-24 with Marshall, ODU, James Madison, Coastal Carolina, Georgia Southern, and Georgia State.
We shall see.  One thing we know for sure:  We don't know what the future holds.  So hold on tight.
Jim Nicar:  Texas Memorial Stadium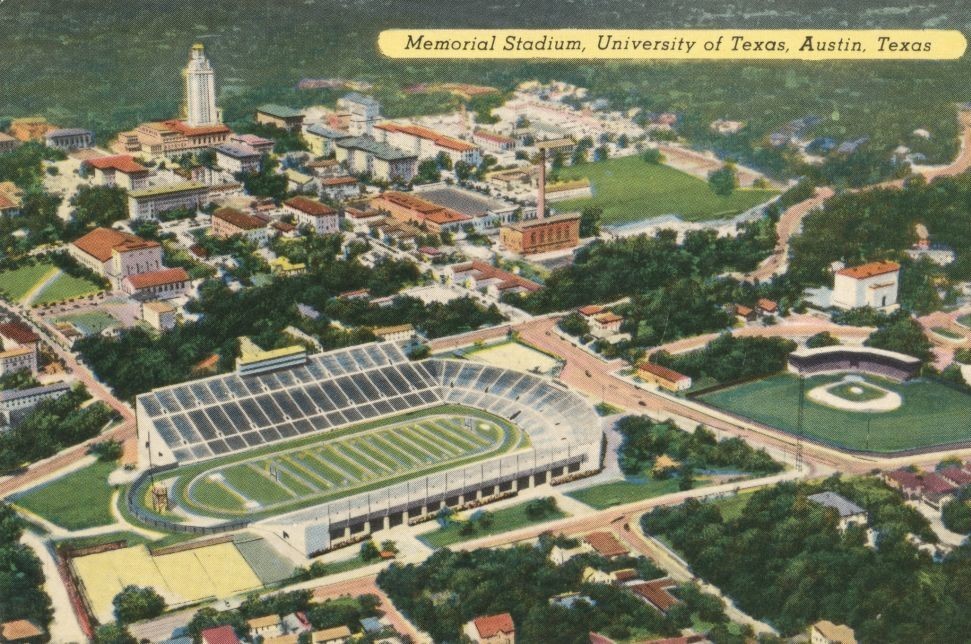 1950: An old colorized postcard view of the UT campus. Texas Memorial Stadium wouldn't have lights until 1955, and the long building just north (right) of the stadium is the original Longhorn Band Hall, opened in 1947.
1950: An old colorized postcard view of the @UTAustin campus. Texas Memorial Stadium wouldn't have lights until 1955, and the long building just north (right) of the stadium is the original Longhorn Band Hall, opened in 1947. pic.twitter.com/qxcIKVhmjO

— Jim Nicar 🇺🇸 🇺🇦 (@JimNicar) July 31, 2023
Texas One Fund
No long sales pitch on this.  If you are a Texas Longhorn, you need to be giving money to Texas One.  That simple.  We will compete and win national championships only if we are competing with our peers on the funding and NIL.  This is where to make your impact on Texas Athletics and vote for your Longhorns with dollars.
Music
Robbie Robinson passed away earlier this month.  He wrote The Weight and it was big hit song for The Band.  He was an extraordinary influence on American (and Canadian) music.  So once again, The Weight, both the version from Playing For Change I featured a few years ago, and a version from The Band from The Last Waltz.
The Weight, PFC:
The Weight, The Last Waltz (that's the Staple Sisters)
Yazoo Street Scandal
Up on Cripple Creek (from The Ed Sullivan Show; old folks, explain it to the kids)
Acadian Driftwood (live at Winterland, with Neil Young and Joni Mitchell)
The Night They Drove Old Dixie Down, from The Last Waltz
Picture of the Week
JType is one of my favorite Austin photographers and Instagram account to follow.  This photo of August's sturgeon moon is outstanding.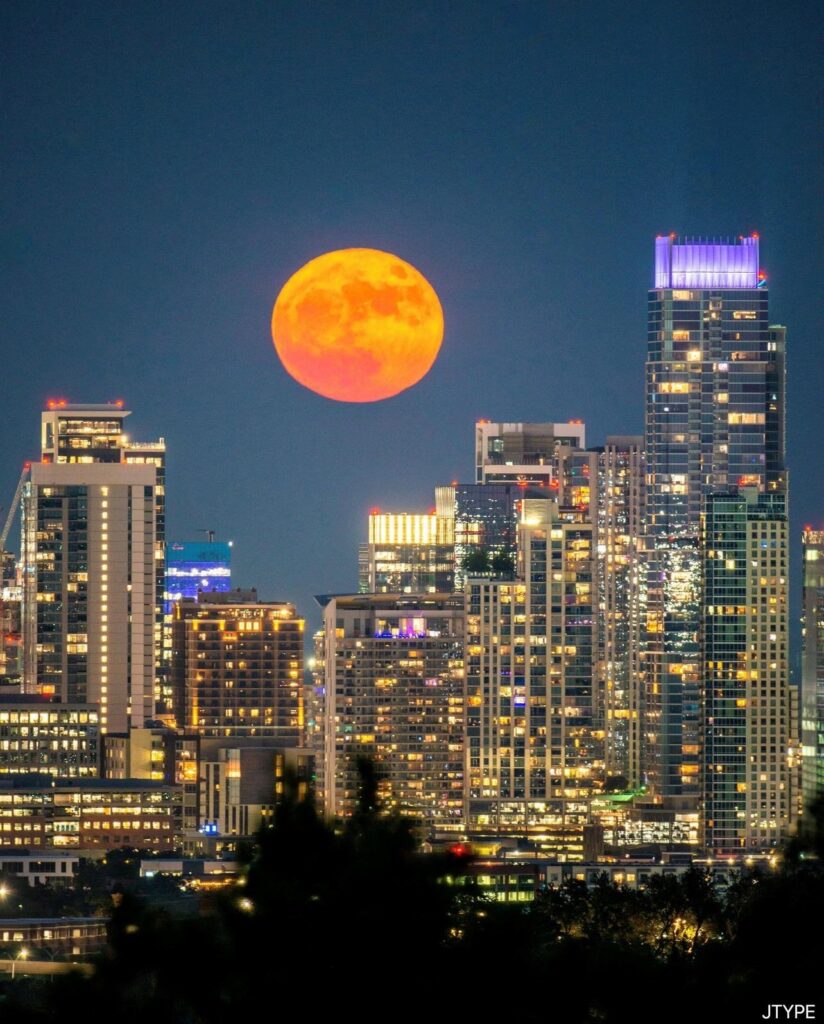 https://www.instagram.com/p/Cviqbpupr3H/
Website is:  https://jtypephotography.com/
Instagram:  @jtype
This photo is from the Instagram account, posted around August 5, 2023.
Photo © JType
Thanks for reading.
God Bless Texas
God Bless America
 Tim Taylor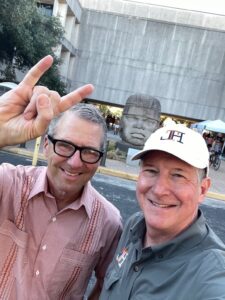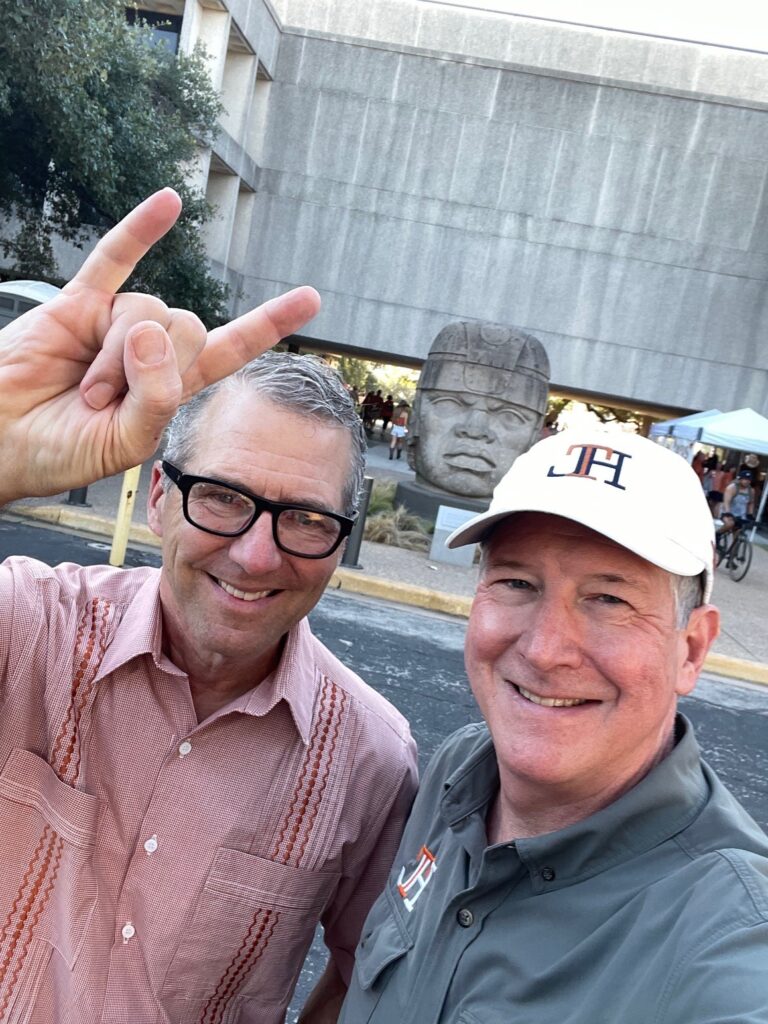 Tailgating before Home Football Games
The Juan Heisman Tailgate
Lot 38, East of Sid Richardson Hall.
HOOK EM HORNS!!
The Austin Horns Fan Dispatch
© Timothy C. Taylor, Sr. 2023.  All Rights Reserved (as to original material).
On Twitter:  @tctayloratx
On LinkedIn:  www.linkedin.com/in/tctatx
On Instagram:  @tctayloratx
On Facebook:  www.Facebook.com/Tim.C.Taylor
and:  www.Facebook.com/Juan.Heisman
You can contact me by mail:
Tim Taylor
P.O. Box 5371
Austin, Texas  78763-5371