Good Morning Longhorn Fans!
West Virginia Mountaineers vs. Texas Longhorns
Texas and West Virginia meet for the 8th time at 2:30 p.m. on Saturday in DKR Texas Memorial Stadium.  Both are 4-1 in conference, both with six wins.  Longhorns have one more loss than do the Mountaineers.  Texas opened as 2.5 point favorites in Vegas, 2 points offshore.  By Monday night Texas was -2 in Vegas and -1.5 offshore.  Over/under opened at 58.  Those lines were still holding Thursday night.
Saturday looks to be one of the best tailgating and game days in Austin this season.  Crisp and cool early in the morning, low 70's about noon when the tamales and Frito pies will be ready, and mid-70's as the Golden Knights parachute into DKR and the Horns and Mountaineers kick off.  Looking forward to all of it.
The game will be broadcast on FOX, with Gus Johnson (PxP), Joel Klatt (analyst [not abbreviatable]), and Jenny Taft (SL).  On the radio, the great Craig Way, Roger Wallace, and Quan Cosby.  Broadcast in the greater Rollingwood-Austin-Webberville metroplex on Bob Cole's Austin Radio Network – 104.9 The Horn, on KOKE (98.5 and 99.3), and on 1260 AM.  In Breckenridge, catch the Horns on KROO, 1430 AM.  In Henderson, hometown of the great Joe Holt, KWRD, 1470 AM.
Big Games
Texas and West Virginia is one of several great games this weekend.  I have my usual summary below.  Here are some other big ones:
6 Georgia and No. 9 Kentucky, 2:30 on CBS
14 PSU at No. 5 Michigan, 2:45 on ESPN
4 Notre Dame at Northwestern, 6:15 p.m. on ESPN
1 Alabama at No. 3 Louisiana State, 7:00 p.m. on CBS
Longhorns Trapped by Cowboys
I guess my track back to the cattle drives and longhorns and cowboys backfired.  Dang that was extra ugly.  That first quarter was catastrophic.  Proud of the way the Horns battled back.  Sick the Horns didn't get the victory.  However, I suspect that game provided Coach Herman and the staff with a lot of teachable moments, in football and life.  More on the game below, and I hope to not have to write about that kind of loss again anytime soon.
Honoring Veterans
 The University does an excellent job in honoring and remembering our veterans.  Saturday is the annual Veteran's Recognition Game, and it will be especially poignant as it will be the first UT Veterans game that I will attend without Frank Denius in the stadium.  As I have thought about it, I suspect it will be the first such game that anyone who is in the stadium on Saturday will have attended without Mr. D there too.  I miss him a lot.
General Lawson Magruder has succeed Mr. Denius as chairman of the Veterans Committee, and he will be the honorary captain.
Pregame, we will be treated to a flyover (T-38's from Laughlin), and the Army Golden Knights will parachute into Darrell K Royal Texas Memorial Stadium.  How cool is that?  Watch this video from the jump in 2014 (really, watch this one; 2:22):
If memory serves me right, one of those soldiers landed on Joe Jamail Field with the game ball, and handed to the honorary captain that day, Frank Denius.
Which brings me to:  This stadium was built and dedicated to the memory of 5,280 Texans who died in World War I and in honor of the nearly 200,000 who served.  Planning for the modern stadium to replace the old Clark Field included fundraising.  Thanks to Jim Nicar for this: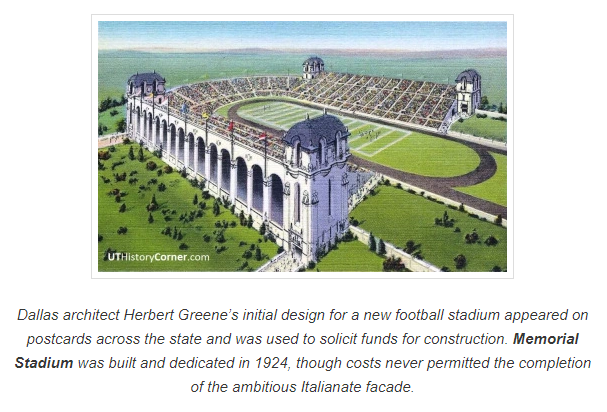 Received this from several sources.  The email that circulated asserts it is from 1924, so this is what you would have seen for that first year.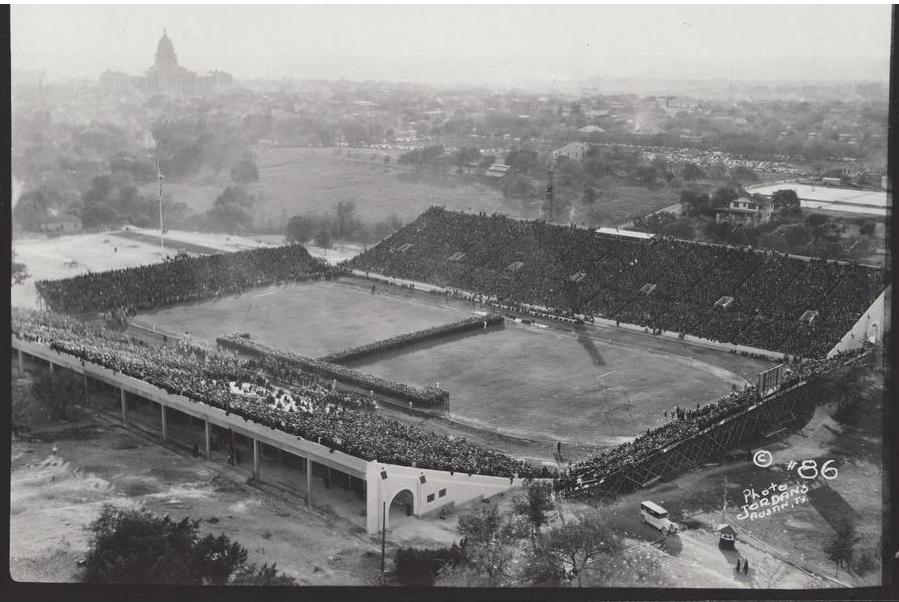 When Texas Memorial Stadium was enlarged after World War II, it was rededicated to the men and women who died in that war.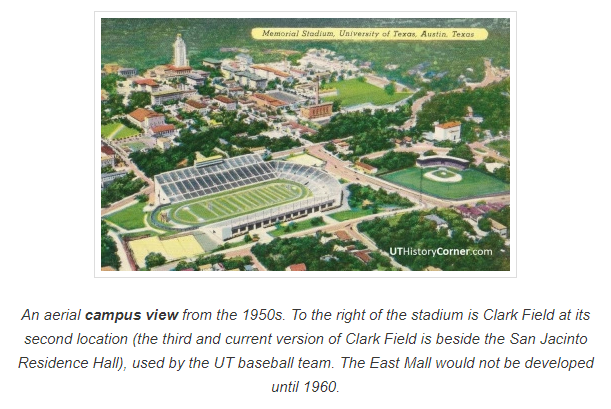 Also courtesy of Mr. Nicar.  jimnicar.com
Please take note of the plaques you pass in the stadium and as you come up the ramps to your seats.  Read the names, remember their sacrifice, and say thank you.
Good stuff on the Special Forces and other units on the team.
https://texassports.com/news/2017/11/9/football-a-daily-reminder-special-forces-honor-veterans-heroes.aspx
A couple of other links with stories on honored Longhorn Veterans.
Dr. Jim Broaddus:
https://texassports.com/news/2018/10/10/football-texas-lottery-veteran-recognition-dr-james-broaddus.aspx
Love this one, as Tom Hatfield is a great historian and friend.  And Tom assisted Mr. Denius in writing his autobiography.
https://texassports.com/news/2018/9/6/football-texas-lottery-veteran-recognition-dr-thomas-hatfield.aspx
If you haven't read On the Way, I highly recommend it.
https://utpress.utexas.edu/books/denius-on-the-way
 Mountaineers vs. Longhorns
This will be the eighth time Texas has played West Virginia.  We trail in the series 3-4.  Coach Ed Price's Longhorns lost to West Virginia October 6, 1956, by a score of 6-7.  After a scoreless first half, the Mountaineers took a 7-0 lead in the third quarter.  Joe Clements connected with Walter Fondren for a 5 yard touchdown pass early in the fourth quarter, but Texas missed the point after.  That West Virginia loss was one of nine losses in 1956, resulting in the departure of Ed Price and the arrival of Darrell K Royal.  That worked out okay.
In the modern era:  2012, Texas lost to #8 WVU 45-48.  In 2013, a big 47-40 overtime win in Morgantown.  Charlie Strong won his first game against Holgo, 33-16, in 2014.  But losses in 2015 (20-38) and 2016 (20-24).  Last year, that great win on the road, 28-14 (on a personal side note, that was the weekend Parker Fleming snuck down to Austin from D.C., to ask about marrying Mary Elizabeth; glad to report I said yes, then she said yes, and we are 8 days from the big day.  I am so happy for them and for our families.  I will always remember that Saturday in November, 2017.)
Dana Holgorsen and his Mountaineers bring a decent but not great resume to Austin.  The opening weekend win over Tennessee (40-14) clearly was not the quality win many thought Labor Day weekend.  The 52-17 romp over Youngstown State was what it should have been.  The hurricane cancelled what would have been a good test, a game at North Carolina State.  A 35-6 win over K State in Morgantown suggested that the Mountaineers were indeed good, but it was the win over the Sand Aggies in Lubbock on September 29 that really looked good (still does).  A home 38-22 win over Kansas was nice (hey, some good teams have lost to Kansas in recent years days).  After that win, West Virginia rose to No. 6 in both the AP Top 25 and the Coaches Poll.  But the rising Cyclones shut down Holgo and Grier, taking down the Mountaineers 30-14.  Last week was a routine 58-14 beating of the Brazos Baptists.
Back to the Iowa State loss.  West Virginia got a 7-0 first quarter lead, but ISU answered quickly, and it was 20-14 Iowa State at half.  The Cyclones shutout the potent Mountaineer offense in the second half, and their offense tacked on 10 in the fourth for that 30-14 win.  Iowa State held WVU to 52 net yards rushing on 27 attempts (166 gross – 64 lost yards 60 of which were on 7 sacks).  Will Grier was shut down – 100 yards on 11 for 16, with one interception.  WBU was penalized for 103 yards, but that wasn't the differentiator, as ISU had 95 penalty yards.  No, it was the Iowa State defense.  A defense that held WVU on third down 9 times:  yes, a Dana Holgorsen offense converted one third down in a whole football game.  My hope is that Orlando watched a lot of film from Jack Trice Stadium 10.13.18.  And I hope that is translated to a great scheme that is well executed on Saturday.  Texas can do it.  Remember, this squad beat Kyler Murray and the Land Thieves.
Will Grier is having a good year and still somewhat in the Heisman discussion, although the Iowa State game probably ended a real run for him.  Grier is No. 5 in the country in passing based on yards per game, with 324.6.  Based on rating, his 188.74 is good for third in the FBS, behind only Tagovailoa (238.85) and Kyler Murray (227.85).  [To give you an idea of how far ahead Tua is than the rest of the world, the delta between Tua and Grier is 50.11; the guy who is 50.11 behind Grier is No. 61 Justice Hanson from Arkansas State.  Ehlinger is No. 53, rating of 140.37.]
Obviously, Oklahoma State's Tylan Wallace should also be in the Heisman discussion as a wide receiver, based on last week's performance.  But as good as Wallace and the OSU receivers were, I think West Virginia's, as a whole, may be better.  First, credit where credit is due:  in the conference, both Lil'Jordan Humphrey (ranked 7) and Collin Johnson (ranked 10), have more yards per game than any Mountaineer.  But WVU's wide receivers, Sills, Simms, and Jennings, are ranked 12, 13, and 14 respectively.
David Sills (a senior, wears #13, 6-4, 210 pounds) has 37 catches for 529 yards (75.6 ypg), with 9 touchdowns.  Marcus Simms (junior, #8, 6-0, 194), has 29 catches for 511 yards (73 ypg), with 2 scores.  Gary Jennings (senior, #12, 6-2, 215) has 33 catches for 502 yards (71.7 ypg), and 8 touchdowns.  Fourth among the WVU WRs is #1, T.J. Simmons (6-2, 200), who 17 catches for 256 yards and a score.  That foursome have longs of 65, 82, 53, and 59, respectively.  Seven other Mountaineers have at least 4 catches this year.
The WVU running game is a triumvirate of solid backs.  Kennedy McKoy (#6, 6-0, 198) has 366 yards on 64 attempts, 2 scores, 5.7 yards per carry average.  Leddie Brown (4#, 5-11, 211) has 312 yards on 58 carries and 4 TDs, but 222 of those yards came against Youngstown State and Baylor.  Martell Pettaway (#32, 5-9, 210) has 295 yards on 53 carries and 1 score.
I suspect you will hear the name David Long often on Saturday.  Long (linebacker, #11, 5-11, 221), leads WVU in tackles (68), solo tackles (45), tackles for loss (12.5, for 35 yards), and sacks (3 for 17 yards).  Hope there is a very good plan for this guy, and a good Plan B, and a workable Plan C.
Kenny Robinson, Jr. (safety, #2, 6-2, 198) has 45 tackles (26 solo), 2 interceptions, and 2 breakups.  Josh Norwood (cornerback, #4, 5-10, 174) has 32 tackles (20), 4 TFL, and 7 BU.  Dravon Askew-Henry (safety, #6, 6 foot and 202) has 29 tackles (20), 3.5 TFL, and 2 picks.  Linebacker Dylan Tonkery (#10, 6-0, 222) is second on WVU with 6 TFL; 22 tackles (10).  Cornerback Derrek Pitts, Jr (#1, 6-0, 180) has 5 TFL, 23 tackles (18).
Mountaineer kicker is Evan Staley, who is 7 for 11.  Perfect inside of 40 (4-4), 3-5 from 40-49, and 0 for 2 longer than 50.
The Statistics
Offense
| | | |
| --- | --- | --- |
| Statistic | Texas | West Virginia |
| Rushing Offense | #82 – 154 ypg | #89 – 147.9 ypg |
| Passing Offense | #43 – 255.4 ypg | #9 – 331.3 ypg |
| Total Offense | #66 – 409.4 ypg | #15 – 479.2 ypg |
| Scoring Offense | #56 – 31.3 ppg | #16 – 39.9 ppg |
| First Downs | #32 – 23.4/game | #39 – 23/game |
| Sacks Allowed | #31 – 12, 83 yards | #78 – 19, 135 yards |
| Tackles for Loss Allowed | #38 – 42, 147 yards | #24 – 38, 188 yards |
| Third Down Conversions | #40 – 42.9% | #25 – 44.9% |
| Red Zone Offense | #107 – 79% / 64% | #29 – 89% / 71% |
| Long Run Plays | #101 – 35; 4; 3; 0 | #91 – 37; 10; 4; 2 |
| Long Pass Plays | #49 – 78; 30; 13; 4 | #34 – 90; 33; 18; 9 |
| Long Scrimmage Plays | #71 – 113; 34; 16; 4 | #34 – 127; 43; 22; 11 |
Reminder:  Last week I added long run and long pass plays, and I am including plays of 10+, 20+, 30+, and 40+ yards.
Defense
| | | |
| --- | --- | --- |
| Statistic | Texas | West Virginia |
| Rushing Defense | #36  – 133.3 ypg | #34 – 132.9 ypg |
| Passing Defense | #90 – 245.3 ypg | #57 – 216.6 ypg |
| Total Defense | #57 – 378.6 ypg | #37 – 349.5 ypg |
| Scoring Defense | #53 – 24.9 ppg | #23 – 19.6 ppg |
| Sacks | #80 – 15, 116 yards | #69 – 16, 107 yards |
| Tackles for Loss | #29 – 58, 216 yards | #7 – 65, 249 yards |
| First Downs Allowed | #44 – 19.3/game | #59 – 20.1/game |
| Third Down Conversions | #68 – 39.0% | #44 – 35.8% |
| Red Zone Defense | #10 – 72% / 53% | #91 – 86% / 64% |
| Long Run Plays Allowed | #44 – 36; 8; 1; 1 | #55 – 38; 10; 3; 0 |
| Long Pass Plays | #87 – 76; 26; 15; 10 | #51 – 65; 19; 10; 4 |
| Long Scrim. Plays allowed | #76 – 112; 34; 16; 11 | #43 – 103; 29; 13; 4 |
Other
| | | |
| --- | --- | --- |
| Statistic | Texas | West Virginia |
| Turnovers | #4  – 3F, 3I | #54 – 3F, 8I |
| Turnover Margin | #23 :  +0.71 | #46 : -+0.29 |
| Penalties | #108 – 64, 523 yards | #73 – 53, 516 yards |
Match-up Comparison
| | |
| --- | --- |
| Texas Offense | West Virginia Defense |
| Rushing Offense – 154 ypg | 132.9 ypg – Rushing Defense |
| Passing Offense – 255.4 ypg | 216.6 ypg – Passing Defense |
| Total Offense – 409.4 ypg | 349.5 ypg – Total Defense |
| Scoring Offense – 31.3 ppg | 19.6 ppg – Scoring Defense |
| First Downs – 23.4/game | 20.1/game – First Downs Allowed |
| 3rd Down Offense – 42.9% | 35.8% – 3rd Down Defense |
| Red Zone Offense – 79%/64% | 84%/64% – Red Zone Defense |
| LRP – 35; 4; 3; 0 | 38; 10; 3; 0- LRP Allowed |
| LPP – 78; 30; 13; 4 | 65, 19, 10, 4- LPP Allowed |
| LSP – 113; 34; 16; 4 | 103; 29; 13; 4 – LSP Allowed |
| | |
| --- | --- |
| Texas Defense | West Virginia Offense |
| Rushing Defense – 133.3 ypg | 147.9 ypg – Rushing Offense |
| Passing Defense – 245.3 ypg | 331.3 ypg – Passing Offense |
| Total Defense – 378.6 ypg | 479.2 ypg – Total Offense |
| Scoring Defense – 24.9 ppg | 39.9 ppg – Scoring Offense |
| First Downs Allowed – 19.3/game | 23/game – First Downs |
| 3rd Down Defense – 39.0% | 44.9% – 3rd Down Offense |
| Red Zone Defense – 72%/53% | 89%/71% – Red Zone Offense |
| LRP Allowed – 36; 8; 1; 1 | 37; 10; 4; 2 – LRP |
| LPP Allowed – 76; 26; 15; 10 | 90; 33; 18; 9- LPP |
| LSP Allowed – 112; 34; 16; 11 | 127; 43; 22; 11 – LSP |
On the season, Texas is better in the turnover department.  Need to keep that up. We should be able to, but that means not only staying error free on offense, but forcing turnovers on defense.  We need the Wolf of DKR to be hungry and get fed.
This is as good a defense as I can remember West Virginia having in a long time.  We have a decent but not great offense, and all of the WVU basic defensive stats are below our season averages, significantly in a few categories.
No surprise that our defense has way better season averages than does West Virginia's offense.  But, as noted above, Iowa State solved Holgo and Grier. So can Herman and Orlando.  The key will be execution.  It doesn't help that Chris Nelson is out with an ankle injury, but – next man up. Play well Mr. Wilbon.
There are a few things Texas can do (or really not do) that would go a long way toward avoiding another loss.  First, I am not a big fan of onside kicks, and I sure hope we don't need on Saturday.  If we do, I hope it is better planned and executed.  Second, play smart, especially in the kicking game.  Field awareness return men.  Third, play with passion and emotion, but control it.  Don't get stupid penalties.  Everyone needs to play smart.  If we can avoid turnovers and drive-killing and drive-extending penalties, we can win this football game.  [@evanasmith]
The official preview from Texas Athletics:
https://texassports.com/news/2018/10/29/no-15-15-football-preview-no-12-10-west-virginia-nov-3-2018.aspx
Texas Game Notes:
https://s3.amazonaws.com/texassports_com/documents/2018/10/29/2018_Texas_Football_Notes_09_West_Virginia.pdf
Previews on the Interwebs
Must-win Matchup:  West Virginia's WRs vs. Texas' DBs.
https://www.burntorangenation.com/football/2018/11/1/18048800/must-win-matchup-west-virginia-wr-texas-secondary-david-sills-garry-jennings-marcus-simms-tj-simmons
Paul Wadlington on Inside Texas
http://insidetexas.com/west-virginia-football-preview/
I have really struggled with this week's prediction.  But here is what I think.  I think the defense plays better, but Will Grier still gets close to 300 yards.  We shut down their run game, and while Grier is getting yards, we also get a couple of picks.  I am putting Sterns down for one, and going out on a limb and saying Kris Boyd wins a jump ball with David Sills to snuff a big Mountaineer drive.  Ehlinger has a big day, as do LJH and Collin Johnson.  Keaontay Ingram gets the ball a lot, as we grind clock to keep the ball out of Grier's hands.  140 yards and 2 scores, one of them a big one.
Texas wins 45-37.
World Champion Red Sox
Congratulations to the 2018 World Champions.  The Red Sox have won 4 of 18 World Series in this millennium.  Hard to believe after a somewhat tough stretch between 1918 and 2003.
Most of y'all know I am a Cubs fan first.  As a Texan, I was proud to cheer on the Astros last year.  I didn't write about the Cubs and MLB early in the football season, as the Cubs faced a tough September to get to the postseason, and the superstitious multiplier effect on an East Texas baseball fan results in an astronomically irrational fear of jinxing one's team.
Didn't matter.  Cubs lost a couple they should have won the last few days of the season, and the Brewers were on fire and tied Chicago as the regular season came to a close.  162 games, and they both had records of 95-67.  The Brew Crew and the Northsiders faced off in a Game 163 to determine the winner of the NL Central on October 1.  The Cubs, who had been one of the offense powerhouses all season long, managed a single run.  Forced into the Wild Card against the Colorado Rockies (they wear purple!), and again the Cubs manage a single run, this time over 13 innings.  Two runs in twenty-two innings.  For garden seed.
So, into the playoffs we lunged, and I cheered for the Astros in the AL and (don't tell any of my friends in Chicago), the Brewers, as Longhorn Corey Knebel was a key member of the Milwaukee pitching staff.  As you know now, I managed to not have a dog in the fight by the time the Series rolled around.  But I watched some or most of the games, including the historical record setting 18 inning affair last Friday night, as the Dodgers and Sox fought for 7 hours and 20 minutes.  (Truth be told, I basically caught the "second" game, as I got home from dinner and started watching about the ninth inning).  Quite a series, with two surprising heroes for Boston.  David Price with two of the 4 wins, and Steve Pearce as MVP.  Great story there
103 days until pitchers and catchers report.
Vin Scully, with the Field of Dreams speech.
Texas Longhorns vs. OSU Cowboys
I have most of my usual review below.  The first quarter implosion was bad enough when I watched.  I went back and watched parts again and read the play by play, and I have to say it was stressful.
I do have some observations below, but I think looking at these statistics tells most of the sad story.
Match-up Comparison – First Half
So the numbers listed for Texas is what we have been giving up on average per game, and the numbers for OSU is what they averaging per game. The third column is their first half last Saturday.
| | | |
| --- | --- | --- |
| Texas Defense | Okie State Offense | OSU 1st Half |
| Rushing Defense – 126.4 ypg | 201.1 ypg – Rushing Offense | 137 yards |
| Passing Defense – 234.4 ypg | 291.9 ypg – Passing Offense | 241 yards |
| 1st Downs Allowed – 18.1/g | 23.4/g – First Downs | 19 |
| Total Defense – 360.8 ypg | 493 ypg – Total Offense | 378 yards |
| Scoring Defense – 23 ppg | 39.4 ppg – Scoring Offense | 31 points |
We gave up more yards rushing, more yards passing, and more first downs than we have been averaging per game, and 34.7% more points in a half than we have averaged surrendering per game.  The Cowboys averaged 11.5 yards per pass (per pass, not per completion).  Texas had 31 offensive plays, OSU had 53.  This was Diazocial bad.
In fairness, Texas played a much better second half, and Sam Ehlinger darn near pulled off another Stillwater Comeback.
The rest of the stats comparison to season averages.  Game number first, season average for Texas in parenthesis.  OSU numbers on the right are all their season averages.  As you will note, offensively we were close or above season averages, and
 Full Game Historical Comparison
| | |
| --- | --- |
| Texas Offense | Okie State Defense |
| Rushing Offense – 119 (159 ypg) | 142.6 ypg – Rushing Defense |
| Passing Offense – 283 (257.4 ypg) | 252.1 ypg – Passing Defense |
| Total Offense – 402 (410.4 ypg) | 394.7 ypg – Total Defense |
| Scoring Offense – 35 (30.7 ppg) | 28.4 ppg – Scoring Defense |
| First Downs – 24 (23.3/game) | 21.1/game – First Downs Allowed |
| 3rd Down Offense – 42% (43%) | 38% – 3rd Down Defense |
| Red Zone Offense – 100% (75%) | 74% – Red Zone Defense |
| | |
| --- | --- |
| Texas Defense | Okie State Offense |
| Rushing Defense – 181 (126.4 ypg) | 201.1 ypg – Rushing Offense |
| Passing Defense – 321 (234.4 ypg) | 291.9 ypg – Passing Offense |
| Total Defense – 502 (360.8 ypg) | 493 ypg – Total Offense |
| Scoring Defense – 38 (23 ppg) | 39.4 ppg – Scoring Offense |
| First Downs Allowed – 27 (18.1/g) | 23.4/game – First Downs |
| 3rd Down Defense – 50% (37%) | 40% – 3rd Down Offense |
| Red Zone Defense – 57% (76%) | 89% – Red Zone Offense |
We knew we were shorthanded on defense, but we still deferred to the second half.  Why?  Wouldn't taking the ball first and grinding time while Davis and Boyd were on the bench have been to our benefit?  Instead, we kicked off, they got a great return, Dicker hit Chuba Hubbard at least 5 yards out of bounds, and OSU started at midfield.  Basically, 2 plays and 108 seconds later, it was 7 to nothing.  12 yard pass and then a 40 yard touchdown pass to Tylan Wallace.
Credit Texas for answering in that environment.  Ingram got 5 touches on that first series.  He would get 6 more the rest of the game.  Just an observation, but we did score on that drive.
OSU drove it again it to take a 14-7 lead.  Texas started the next series with a delay of game.  We did get a first down, but we never ran the ball once in the 5 plays of that possession.  And then the Cowboys drove again.  At least this time Texas held them to 3.  But it was 17-7 after that first quarter.
Texas was 3 and out on the next series, and once again the Cowboys just curb-stomped the Texas defense, going 64 yards for the touchdown.  That drive included pass completions of 27 yards and 13 yards.
While I was getting despondent, Sam gave me hope.  The next drive included a great 34 yard pass and catch with LJH and then a 36 yard completion to Tight End Andrew Beck for 36 yards, setting Texas up at the Cowboy 2 for Sam to run it in.  Down 10, 14-24.  Not great, but not insurmountable.  But, after trading punts, OSU got the ball and started driving.  We had them stopped, and on fourth and 1, Gundy and his Okie Aggies got away with a complete BS play in punt formation where they moved guys around, simulating a snap, and when Graham jumped, the penalty was on us.  Pretty sure Herman burned that timeout just to chew out the referees, and I would say it was timeout well spent.  But it didn't change the call, and the Cowboys took advantage of what was essentially a turnover, and finished the drive with a few runs and 36 yard touchdown pass to, who else, Tylan Wallace.  31-14.    Wallace had 64 yards in the first quarter, 84 in the second, for a 148 yard career (I assume) half.  I can't help but wonder what that half would have been like if Kris Boyd had been covering him from the get-go.
Texas closed to 28-31 early in the fourth, and I felt pretty confident that it was Go Time for Herman and Ehlinger as soon as we could get the ball back.  Sure enough, Texas forced a 3 and out.  But a really, really unfortunate punt return (or lack thereof) had Texas backed up to its own 2.  On third and 9, Ehlinger connected with LJH for 19 yards and a first down.  Had the play stood, I am pretty sure we could have driven for a score.  But a holding call on Vahe backed us up to another third and long, and after an incomplete pass, we punted from the endzone.
That gave the Cowboys the ball on the Texas 35, and a few plays later on third and 10, Taylor Cornelius trotted into the endzone to put the Okie Aggies back up 10.
Texas got the ball with 5:44 to play.  Being the Kool-Aid mixer that I am, I really thought we were going to get a quick score, then get the ball back and either win or force overtime.  I mean, that's what Texas does in Stillwater, right?  Well, we did score, but we used nearly 4 minutes to do it.  The onside kick failed, and I had a hangover on Sunday.
Sam played well, well enough to win most of the time.  22 for 42 with 2 scores.  Only sacked once (which was impressive – recall OSU was No. 1 in the country before they played us).  So kudos to the line for protecting Sam and Sam for being elusive.  He also had another game without an interception.  By the way, I am sick of announcers talking about it. They always seem to do it at crucial times, and my baseball superstitions get riled up.  You don't talk about it when a guy is throwing a no hitter.
Texas managed 119 yards rushing.  Ingram with 52 and Ehlinger with 47.  Both average 4.7 yards per carry.  The fact that Keaontay was getting us nearly 5 yards per carry (an accurate average, as his long was 15) makes me wish he had gotten more touches, but I know it is hard to focus on running the ball when you are playing from behind.
LJH and Collin had good games, with 69 and 65 yards respectively.  Beck with 59, Duvernay with 49.  Ingram had 3 catches for 30, including that sweet play for a touchdown. Watson had 20 yards receiving and 6 rushing.
Texas defense was torched in the passing game, but I have to give them credit for 3 sacks and 11 tackles for loss.
Special teams play cannot help but be graded on Brandon Jones.
I thought Texas would win 31-24.  If Texas had just surrendered 7 points instead of 17 in the first quarter, then that was a 35-28 win.  I knew Boyd and Davis were sitting, but I thought it was for the first series, not the whole first quarter.  I didn't know that until I saw Brian Davis's tweet right at game time.  My stomach knotted up, and that gut reaction was right.
On a related note:  In my opinion, way too much noise in social media about the first quarter benching of Boyd and Davis for violating team rules.  And, honestly, I wish our guys would avoid getting into wars of words with people on Instagram and Twitter.  I don't think it is good for the program or the school.  But that is the world we live in.  I just wish the guys didn't feel the need to respond to criticism and jabs; let Coach Herman and John Bianco's staff handle that, publicly and privately.  Do your talking on the field.
Polls
CFP Rankings:  Alabama, Clemson, Louisiana State, Notre Dame.  Then, Michigan, Georgia, OU, Washington State, Kentucky (!), and Ohio State.  West Virginia at 13, Texas at 17.  Texas Agricultural & Mechanical at 20. Iowa State at 24.
The $EC has 7 in the top 25.  Not a huge surprise.  What is a surprise is the ACC: five teams.  Syracuse at 19, NC State at 21, Boston College at 22, and Virginia at 25.  See notes below on Separation.
I think they did a pretty good job, certainly no surprises in the Top 4.  Also, please note that all rankings referenced in the game previews are now with reference to the team's ranking in the CFP.
AP Poll:  Alabama, Clemson, Louisiana State, Notre Dame, Michigan, Georgia, Oklahoma, Washington State, Kentucky, and Ohio State. West Virginia at 13, Texas at 17, Texas Agricultural & Mechanical at No. 20.  The University of Virginia ranked No. 25.
Coaches Poll:  Bama, Clemson, L'Université de Notre Dame du Lac, Bayou Bengals, Wolverines & UGA 5, Land Thieves, Buckeyes, UCF Knights, and West Virginny.  Texas at 15, Virginia at 22.
Separation
The World Wide Leader has labeled this first Saturday in November as "Separation Saturday".
In the Big 12, Texas, Oklahoma, and West Virginia are all 4-1.  We know the game in Austin will create a big separation for one of us.  The Land Thieves will be in Lubbock, and as good as Kyler & The Thieves are, that is has "trap" written on it almost as much as a game in Stillwater last weekend.  But for a moment, let's assume that Texas wins out after this weekend, OU wins this weekend and runs the table until their final regular season game with West Virginia on November 23, and that WVU does that same.  In that scenario, if Texas beats West Virginia, then Texas will play the winner of the OU-WVU game in the Big 12 CG on December 1.  Here is what is a bit mind-blowing:  If Iowa State wins out, they play on December 1.  Anyway, this Texas team does, as Coach Herman has said, still have all of its goals in front of it.  Win this weekend, run the table, and play for a conference championship.
The other conference which will see a big shakeout this weekend is the ACC.  In the Atlantic, Clemson is secure at 5-0.  Boston College is second at 3-1, and Syracuse is third in the division at 3-2.  In the Coastal, the Cavaliers are on top at 4-1, with Virginia Tech and Pitt at 3-1.  Virginia and Pitt play each Friday night.  Boston College and Virginia Tech play Saturday.  In addition to some clarification and separation in the Coastal, the ACC teams in the CFP should see a shake-up next week.  Hoping for the best for Virginia.
Big 12 ‑ Week 10
Interesting early game 100 miles north of DKR, on the banks of the Brazos.  Oklahoma State at Baylor, 11:00 a.m. on FOX Sports 1.  Both are 2-3 in the Big 12.  Cowboys favored by 7.5, and if they play like they did last week in the first half, they will win by 30. Over/under is 68.
No. 24 Iowa State plays now not winless in the Big 12 Kansas.   As you may have heard, Kansas beat Texas Christian last week.  More below.  11:00 a.m., and I don't think there is any national broadcast.  Cyclones favored by 14.5, and the over/under is 46.5.
Kansas State at Texas Christian.  Purple on purple violence.  2:30 p.m. on Fox Sports 1.  Loser of this one will be dead last in the Big 12.  Both come in 1-4 in conference, 3-5 overall.  Frogs favored by 8, and the over/under is 46.
Should be one heck of game in Lubbock.  Land Thieves and Sand Aggies at 7:00 p.m. on ABC.  Already seeing articles about the historic game two years ago, when Baker Mayfield and Patrick Mahomes squared off in what would be a record setting game.  If you are bored, use the google.  No. 7 Land Thieves favored by 13.5.  Over/under is 77.5.  Guns up!
This Week in College Football
Central Florida remains undefeated and is ranked No. 12 in the CFP and No. 9 in the AP.  The Temple Owls gave a valiant effort Thursday night, but UCF won 52-40.
How 'bout them Hoos?! Ranked No. 23 in the AP and 25 in the CFP, they have a Friday night game with Pittsburgh.  6:30 p.m. on ESPN2.  Virginia favored by 7.5, the over/under on points is 48, and the over/under on number of tailgates playing Dave Matthews Band is infinity.
Louisvile at No. 2 Clemson, 11:00 a.m. on ABC.  Tigers favored by 39.5, and the over/under is 61.  Clemson should destroy Louisvile, but that is a big line.
Nebraska at No. 10 Ohio State.  11:00 a.m. on FOX.  Buckeyes favored by just 18, and the over/under is 72.5.  Not very often do I think you take the favorite in the Big 10 when the spread is over 17, but take it here.
No. 19 Syracuse.  At Wake Forest.  11:00 a.m. on ACC Network.  Cuse favored by 6.5, and the over/under is 75.5.  I know.  I checked that twice.  Vegas does not think as highly of Syracuse as the Committee does.  I tend to agree.
No. 20 Texas Agricultural & Mechanical at Auburn.  11:00 a.m. on the Entertainment and Sports Programming Network.  Big game for aggy.  And War Eagle is favored by 4.  Over/under is 48.5.  Not positive aggies win this, but pretty sure they cover.
No. 2 Georgia at No. 9 Kentucky.  Biggest game in Lexington in decades, at least in football.  2:30 p.m. on CBS.  Georgia favored by 9, and the over/under is 44.
No. 16 Iowa at Purdue.  2:30 p.m. on ESPN2.  Boilermakers are 3 point favorites over Iowa.  Over/under is 52.  I would take Iowa and the points.
Florida State at No. 21 NC State.  2:30 p.m. on ABC.  Wolfpack favored by 9, and the over/under is 53.5.
Yet another big game in the Big House.  No. 5 Michigan hosts No. 14 PSU.  2:45 p.m. on ESPN.  Wolverines favored by 10.5, and the over/under is 52.5.   Michigan wins this one.
No. 22 Boston College at Virginia Tech.  Eagles narrow 2 point favorites.  Over/under is 57.  2:45 p.m. on the ACC Network.
Missouri in The Swamp to play No. 11 Florida.  3:00 p.m. on the SEC Network.  Gators favored by 6, and the over/under is 57.5.  Florida to win and cover.
No. 15 Utah at Arizona State.  Can Herm Edwards get another upset?  I don't think so.  Utes favored by 7, and the over/under is 56.  3:00 p.m. on Pac-12 Network.
No. 4 Notre Dame at Northwestern.  Speaking of traps.  Caution, Irish.  6:15 p.m. on ESPN.  Notre Dame favored by 10, and Northwestern should cover that.  Over/under is 53.5.
Louisiana Tech at No. 18 Mississippi State.  Line is State by 23, and the over/under is 48.5.  6:30 p.m. on the SEC Network.
BIG GAME in Death Valley.  No. 1 Alabama at No. 3 Louisiana State.  7:00 p.m. on CBS.  How good does Vegas think Alabama is?  How about 14.5 point road favorites against the No. 3 team in the country in one of the toughest places to play in the country in a rivalry game?  This might be good.  Hope it is.  It will be interesting to see how Alabama's starters do if they have to play in the fourth quarter.  Over/under is 54.
No. 23 Fresno State at UNLV.  9:30 p.m. on the CBS Sports Network.  Bulldogs favored by 26, and the over/under is 60.  Let's say it is safe to assume that Las Vegas is probably pretty darn good at setting the line in UNLV games.
Starting around 9:45, I will start flipping from CBS to ESPN.  No. 8 Washington State has Cal in Pullman.  Should be an entertaining game.  Cougars favored by 9.5, and the over/under is 50.
Other Games of Interest This Week
Friday night Pac 12 action, with Colorado at Arizona.  9:30 on FOX Sports 1. Cats favored by 2.5 and the over/under is 56.5.
Hotty Toddy!  Ole Miss hosts South Carolina.  11:00 a.m. on the SEC Network.  Breakfast with Bloody Marys in the Grove.  Should be a great day in Oxford.  Pick em, and the over/under is 68.5.  Go Rebs!
UTEP at Rice. Could this be the week for the Miners?  2:30 p.m. at Rice Stadium, if you are in Houston and bored.  1 win and 16 losses between these two.  Rice favored by 1.  O/u is 44.5.
Houston in Dallas to play the Southern Methodists.  6:00 p.m. on ESPNU.  Stunned the line is only 14.5.  Over/under is 71.  I would load up on the Cougars.
UTSA in Birmingham to play UAB.  Blazers are on top of the C-USA with a 5-0 record.  6:30 p.m. at Legion Field.  UAB favored by 22.
Stanford at Washington.  Nine weeks ago, I thought this might be a game with national playoff implications.  Now it hardly matters in the Pac 12.  Sad. Huskies favored by 10, and the o/u is 45.5.
Trojans in Corvallis to play the Beavers.  9:00 p.m. on FOX Sports 1.  Southern Cal favored by 17, and the over/under is 61.5.
Mary Hardin Baylor stays in Belton, hosting Louisiana College at 1:00 p.m. in Crusader Stadium.
MIT plays at Norwich University.
Slippery Rock hosts Gannon University.  1:00 p.m. in Mihalik-Thompson Stadium.
Davidson with a long road trip.  At San Diego.  4:00 p.m.
Previews on the Interwebs
HornMafia:  The Week That Will Be:  Coming Home
https://www.barkingcarnival.com/2018/10/31/18051012/the-week-that-will-be-coming-home-texas-longhorns-football-big12
Week 10 College Football Viewing Schedule:
https://www.burntorangenation.com/2018/11/1/18053946/week-10-college-football-viewing-schedule-game-time-television
Bill Connelly:
https://www.sbnation.com/college-football/2018/11/1/18050008/college-football-picks-week-10-2018-predictions-odds-spreads
Big 12 ‑ Week 9
Iowa State is for real.  40-31 beating of the sand aggies.  Cyclones covered, and over by 15.
Well, so much for my presumed good news for the Frogs getting to play Kansas.  What a stunner.  27-26 Jayhawks.  They stormed the field.  Rock Chalk.  Sorry Frogs, we feel your pain.
Texas Christian has good company in the Big 12 cellar, and they both wear purple.  The Land Thieves destroyed Snyder's Wildcats, 51-14.  OU covered.  The over/under was 64.5.  Dang.
Last Week in College Football
Utah 41-10 over UCLA.  No surprise there.
Clemson scored more than the 49.5 o/u, beating Florida State 59-10 and covering.
I had a feeling about Wisconsin at Northwestern.  Sure enough, the Wildcats covered.  And won.  31-17.
Georgia flexed their muscles and hammered Florida 36-17.
Iowa 24, Penn State 30.
I thought Major Applewhite and Houston could beat Strong and USF, but I didn't expect the 57-36 win.  Impressive.  And over.
Kentucky scored as time expired to survive at Missouri, 15-14.  Kentucky show me they are for real.
Washington lost 10-12 at Cal.  Sounds like a barn burner.
Texas Agricultural & Mechanical lost to Mississippi State 13-28.  I was wrong on the Aggies covering and winning.  Oh darn.
Washington State at Stanford was quite a game.  41-38 Cougars.  I like that score.
NC State lost 41-51 at Syracuse.
Notre Dame double up Navy, 44-22.
Oregon continued the Pac 12 tradition in 2018 of losing when you shouldn't.  A mediocre Arizona team beat the crap out of the ducks, 44-15.
Other Games of Interest Last Week
Wahoo Wa!  Virginia 31-21 over the Tarheels. Nice work by the boys in the desert:  UVA was favored by 9, and the over/under was 50.  Hoos to cover and win? You bet.
Nebraska 45-9 over Bethune-Cookman.  A win is a win.
Army 37-22 over Eastern Michigan.
Purdue lost at Michigan State, 13-23.
Anchor Down!  Vanderbilt 45, Arkansas 31.  I bet that was a nice ride east bound on I-40.
Arizona State upsets Southern Cal 38-35.  Sorry Art.
Southern Methodist covered against Cincinnati, losing 20-26.  As Jimmy U says, good teams win, but great teams cover.
Rice covered too! They only lost 17-41 to North Texas.
Tennessee's woes continued in South Carolina.  Gamecocks won 27-24.
UTEP shutout 19-0.  They are the only winless team in FBS.
Mary Hardin-Baylor 80, McMurry 7.
MIT trips at WPI.  Worcester Polytechnic Institute with the 13-6 win.
Slippery Rock 44-21 over California University.
Davidson lost a tight one to Stetson, 53-56.
This Week in Schadenfreude:  We are this week's featured fans.  Thanks to the Acho tweets and Boyd's response.
https://www.sbnation.com/college-football/2018/10/29/18033536/week-9-reaction-texas-miami
Juan Heisman Tailgate
Huge tailgate tomorrow!  Tamales and Frito pie.  Jalapeno cheese venison sausage.  Rose Marie's homemade queso and salsa.  Texas Beer Company brews, and lots of good beer from Mexico to pair with the tamales.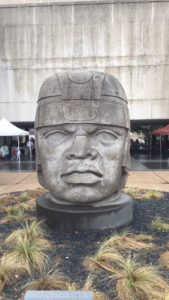 The legendary Juan Heisman above, and the OGs of JHT below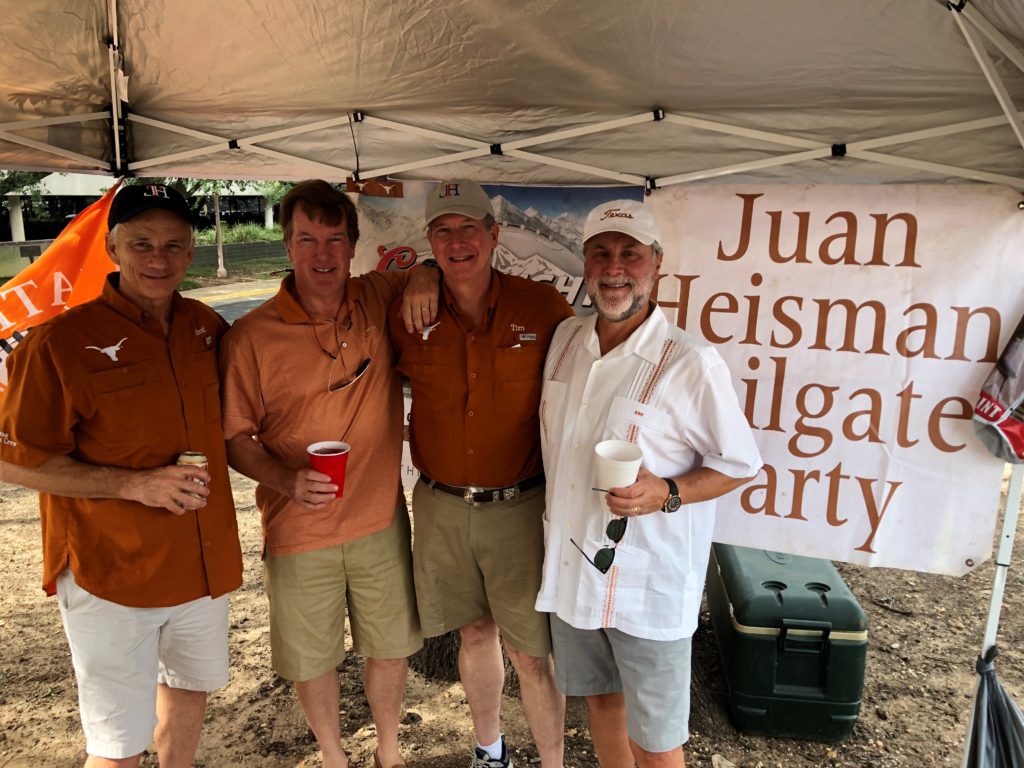 Music
Longhorn City Limits returns!  The main act is Hayes Carll.  Great songwriter and musician.  A few songs below.  They are not very polite, so if you offend easily, skip them.  But, if you like good music, enjoy.  Big thanks to my buddy Will Wynn for introducing me to Hayes.
Drunken Poet's Dream
One Bed, Two Girls, Three Bottles of Wine.  Pretty funny.
KMAG YOYO
She Left Me for Jesus
Washington & Lee
Tough loss at Guilford, 40-3.
This week, Washington & Lee hosts Hampden-Sydney, our main rival in athletics.  Generals need a win.
Texas Longhorn Basketball
Horns open at home next Tuesday, November 6.  7:00 p.m.
Andrew Jones.  So proud of and happy for this young man.
IVY LEAGUE REPORT FOR WEEK 8 (NOV. 2-3, 2018)
By Lonnie Schooler
The League's intra-conference schedule continued in full swing last weekend, as the eight teams squared off against each other to determine who can reach the top of the heap.
RESULTS OF OCTOBER 27 GAMES:
As you will see from the following recap, the biggest factor in any of the games played last weekend was the weather, particularly the monsoon that engulfed the East Coast.
The weekend kicked off with Yale traveling to upper Manhattan to face off against the Columbia Lions.  In one of the big surprises of the year, the Lions prevailed over the Bulldogs 17-10, coming back from trailing 10-3 at halftime to score touchdowns in each of the last two quarters to hang on for victory.  Given the weather conditions in New York, the victory was all the more remarkable because Columbia achieved only about 50 yards passing on 20 attempts!  Both Columbia and Yale now sit at 4-3 and tied for 4th in the League.
The Fighting Quakers of Penn traveled to Providence to take on the Brown Bruins.  For some reason, the timing of this matchup (when it occurs in Providence) seems always to coincide with truly gruesome weather.  This year provided no exception.
The Quakers prevailed, 13-7.  The game was not as close as the score would indicate, as Brown did not manage any score until the final 20 seconds of the game.  Also, the Penn passing attack was completely stymied by the conditions.  When I say "the conditions", I mean the condition of the field (a soggy mess) by the second quarter because of all of the rain and wind.
Nevertheless, the game yielded a startling statistic from the game stats for this contest, 246 yards rushing (on 34 carries) achieved by Penn running back Karekin Brooks.  According to Penn's Athletic Department, this performance ranks in the top 10 of all-time rushing performances in Penn football history.
Penn now advances to a record of 5-2, and is in sole possession of third place.
The game of the week was played in Hanover, New Hampshire, as the Crimson of Harvard came to take on the Big Green.  Given pre-season predictions about Harvard's competitive capabilities in League play, this game could have been a "trap game" for Dartmouth, which currently is undefeated and tied for first place with Princeton.  Dartmouth indeed jumped out to a 21-0 lead in the first half.  Harvard rallied in the second half to close the gap to 21-17, but Dartmouth scored a late field goal and held on to win, 24-17.  Harvard's quarterback, Tom Stewart, was passed for 270 yards and also was the team's leading rusher with 76 yards.  By contrast, the Big Green compiled only 49 yards passing, by over 320 yards rushing!  The loss drops Harvard to a record of 3-4, and Dartmouth advances to a record of 7-0.
Finally, in a home game, the undefeated Princeton Tigers proved way too much for the hapless Big Red of Cornell, prevailing 66-0.  The Tigers led 45-0 at halftime, and coasted to victory thereafter.  Princeton amassed only 140 yards in passing, but had eight runners in double figures rushing.  Again, the weather prevailing in the area dictated that passing attacks were going to suffer.
SCHEDULE FOR NOVEMBER 2-3:
League conference play continues in earnest this weekend.  The weekend kicks off with a game on Friday night high above Cayuga's waters in Ithaca, New York, as the Penn Quakers travel to play the Big Red of Cornell.  The game will be played at 5:00 P.M. CDT, and will be broadcast on ESPNU.
The remaining games will be played on Saturday, and all of these games will be broadcast on ESPN Plus.  At 11:00 A.M., the Columbia Lions square off with the Harvard Crimson in Cambridge.  At Noon, the Bruins of Brown travel down I-95 to take on the Yale Bulldogs.
And in the marquee matchup of the weekend, indeed, the season, the Big Green of Dartmouth travel to Princeton to tangle with the Tigers at Noon in a matchup of the two unbeaten League teams.  Presuming no tie, the League will likely have its front runner decided by nightfall on Saturday.
Enjoy your football this weekend, now that (finally) there is a little bit of a nip in the air in Houston, and congratulations to the Boston Red Sox for a well-earned and well-deserved World Series victory over the Dodgers; and congratulations to the U of H Cougars for a signature victory over Charlie Strong and South Florida to jump into the top 25 rankings at last.
God Bless Texas.
Tim Taylor
Tailgating before Home Football Games
The Juan Heisman Tailgate 
Lot 38, East of Sid Richardson Hall.
HOOK EM HORNS!!
© Timothy C. Taylor, Sr. 2018.  All Rights Reserved (as to original material).
On Twitter:  @tctayloratx
On LinkedIn:  www.linkedin.com/in/tctatx
On Instagram:  @tctayloratx
On Facebook:  www.Facebook.com/Tim.C.Taylor
and:  www.Facebook.com/Juan.Heisman