Texas Longhorns 17, West Virginia Mountaineers 13
 A win!  It was a glorious day in Austin to celebrate and recognize Veterans and to watch Texas Longhorns Football.  We had a flyover, and I was fortunate to run into some of the pilots at halftime.  Nice young men.  The Texas defense wasn't so nice to West Virginia, especially in the run game.  Texas allowed just 43 yards rushing.  West Virginia averaged just 1.7 yards per carry.  The Mountaineers came to Austin averaging 172 yards per game.  That is a remarkable stat, and the decision by Ash and his coaches to make WVU one dimensional and try to beat us through the air paid off.  In hindsight, as we have watched our defensive line develop into the strength of the Texas D, it isn't such a surprise.  But a heck of a game plan – and it worked.   Hat tip to Coach Ash and especially D-line Coach Oscar Giles.  More on the game below, but I am so glad Texas won that game.  Horns are in a 3 way tie for third place with K State and the Land Thieves, with Iowa State at the top followed by Okie State.  The goal of a Big XII Championship is alive and well.
Highlights from ESPN, 10 minutes.
Highlights from Big 12, under 6 minutes:
It was a big weekend for college football, with Notre Dame beating Clemson in double overtime, Indiana over Michigan, and Cincinnati, Brigham Young, Coastal Carolina, Marshall, and Liberty all winning and remaining undefeated.
Good Stuff – Kai Money
Want something to make you smile?  How about Kai Money getting put on scholarship.  Love how the Longhorns do stuff like this.
Congratulations @KaiMoney7 you're on scholarship! 🤘 pic.twitter.com/z56HMl1izW

— Texas Football (@TexasFootball) November 13, 2020
Iowa State vs. Texas Longhorns
The Iowa State game on the Friday after Thanksgiving is set for 11:00 a.m.  Talk about a Bloody Mary morning.
Idle Week Texas Longhorns
Texas needs it.  Lots of players banged up, including Sam Ehlinger I think.  An extra week to heal before the stretch run.
Texas 17, West Virginia 13
Texas got the ball first, and one of the highlights of the game was the first play of the game.  From the Texas 25, Bijan Robinson took the ball from Sam in the backfield and bounced out on the right side of the line and broke off a 54 yard run to the West Virginia 21.  That first play of the day would also be the longest play of the day, but so be it.  On third and 7, Sam with a nice pass to Eagles for first down on the WVU 7.  On third down, again to Eagles for the score.  7-0 Texas in under 2 and a half minutes.
West Virginia answered with their own scoring drive.  Jarret Doege picked apart the Texas secondary, with the big one a 38 yard completion on third down from midfield.  On first down from the UT 12, Leddie Brown took it to the house to tie the score at 7.
My sense that this might be a fairly high-scoring game was being confirmed, but that was proven wrong, as we know.
Next Texas series opened with another really good run (and stiff-arm) by Robinson, 18 yards, plus a face mask, and Texas was in Mountaineer territory.
THE SPIN 🔄
THE STIFF ARMS 💪 💪 pic.twitter.com/cCMhTLRXIQ

— ESPN College Football (@ESPNCFB) November 7, 2020
But the drive stalled immediately.  Bujcevski with a great punt downed (caught) at the WVU. It looked like a pass in footie, perfectly placed by Ryan and caught over the shoulder by Al'Vonte Woodard.  One of the best punt plays you will see, and just makes me scratch my head and wonder why we haven't been trying to run that play with our Aussie punters more often.  That is how they play their game.  Trust me.  I watched a lot of AFL in 2020.  [Belated congratulations to the Richmond Tigers, winners of the 2020 Grand Final over the Geelong Cats, 81-50; video highlights below]
So Texas has WVU pinned at their own 3, and the defense forces a 3 and out.  Texas gets the ball back in Mountaineer territory – the 48.  Texas ends up a yard short on third down at the WVU 39, and of course we go for it.  I get it, we are good on fourth down and somewhere in the binder it says "go for it" highlighted with a 2 stars in red sharpie next to it.  But we just showed we can pin them deep, and we have a huge field position advantage.  Robinson stopped for no gain, WVU takes over.
The Texas D did what we would see them do all day – rise to the occasion.  They got a stop (after one third down conversion), but the ensuing punt, fielded by Jamison at the 11 and tackled at the 9, was, in the context of this little series of possessions, an enormous flip of the field.
Sam and the offense fixed that, with a solid little drive that included a 12 yard completion to Jake Smith, a 10 yard run by Sam for a first down, and a 21 yard pass to Tarik Black.  Texas stalled at the WVU 17, and the Horns settled for a Dicker the Kicker 34 yard field goal to take a 10-7 lead.
A great 3 and out by Texas after the kickoff.  The next Texas drive stalled after one third down conversion (Sam using his legs).  Texas D got another 3 and out, but again couldn't do anything.  But, Bujcevski with another beauty, 49 yards, downed at the WVU 2.
West Virginia moved the ball though.  Leddie Brown some small runs, Doege some good passes.  But the roughing the passer on third and 10 (pass was good for 6) hurt.  Mountaineers got it down to the Texas 37, and after a great play by Cook on third down, to drop Brown for a 2 yard loss after the catch, West Virginia went for it on fourth and 5 at the Texas 37 (same binder I guess).  Doege dropped back to pass, and Sweat got big and swatted the ball back to Doege, who caught and then threw it again.  Nope.  That was not a first down, that was a penalty.
Texas got the ball at the WVU 49 but could not do much.  Then Dicker missed a 48 yarder, and we went to halftime up 10-7.
WVU got the ball to start the second half and executed a very good 66 yard drive which stopped at the Texas 9 when Sweat again made a play.  The short field goal was good, and we had a tie game 5 minutes into the second half.
Texas answered with a 65 yard drive, all Bijan and Sam  (and Joshua Moore, who recovered Robinson's fumble).  The 33 yard touchdown pass to Jake Smith put Texas up 17-10.
After trading punts, West Virginia put together a drive after getting great field position on a punt return (Texas 48).  The Mountaineers had third and goal at the Texas 8 when Overshown sacked Doege for 9 yards, forcing the field goal.  17-13 Texas.
POUNCED on him 😏🤘 pic.twitter.com/3VRIf2x5Cj

— Texas Longhorns (@TexasLonghorns) November 9, 2020
The fourth quarter consisted of 5 scoreless drives.  Some bad penalties gave WVU some opportunities, but the Texas defense held.  As did the Mountaineer defense.  But Texas got the win.
As noted above, the Texas defense won the game with that decisive and dominant rushing defense.  Leddie Brown was the second leading rusher in the Big 12, and he netted 47 yards.  The Texas defense swarmed for 24 lost yards on TFLs and sacks.  Yes, Doege got 317 yards through the air, and 10 Mountaineers caught the ball.  Unfortunately one of them was the quarterback, and in hindsight that was a really, really critical play.  I like T'Vondre Sweat.
Mitchell and Overshown led the defense with tackles, 9 and 8 respectively. Overshown added 2 TFL for 13 (9 yard sack) and the forced fumble.
Sam with another pedestrian passing performance, 15/31, 184 yards, 2 TDs.  But no interception, and he added 51 on the ground (net of 39).  Bijan Robinson with another 100 yard day, 12 rushes for 113.
Much cleaner game, as Texas only got flagged 4 times for 45 yards.  Neither team turned the ball over.
I don't know when Texas last won a game with defense and special teams, but I sense it has been a really, really long time.  This win came at a critical time, as Texas keeps their title hopes alive.
Polls Week 11
AP Top 25:  Alabama, Notre Dame, The Ohio State University™, Clemson, Texas Agricultural & Mechanical, Florida, Cincinnati, Brigham Young, Miami (Florida), and Indiana.  Oklahoma State at 14, Iowa State at 17, and Land Thieves at 19.  The Southern Methodists are at No. 19.  Texas up to 21.
Coaches Poll:  Roll Tide, L'Université de Notre Dame du Lac, The Ohio State University™, Clemson, Gators, Texas Agricultural & Mechanical, Cinci, Brigham Young, Miami (Florida), and Indiana.  Okie State drops to 13.  Iowa State hangs at 17.  Land Thieves up to 18.  Southern Methodists drop to 19.  Texas at No. 24, and Army at No. 25.
This Week in the Big 12
 A really light schedule.
Texas Christian at West Virginia.  11:00 a.m. on FOX.  Frogs are 3-3, WVU 4-3, 3-3.  Mountaineers favored by 3, over/under is 45.5.  So Texas beat West Virginia, but Texas Christian beat Texas, and West Virginia is favored.  Actually, think that is about right.  Will either be close like that or somehow West Virginia finds its mojo and lights em up.  Either way, very good odds that some couches and hillbillies will get lit up.
Baylor at Texas Tech, 3:00 p.m. on Fox Sports 1.  Both teams with just a single win.  Baylor favored by 1.5, over/under is 57.5.  If Charlie Brewer plays as well as he did last week, Baylor gets this.
This Week in the Top 25
Friday Football
East Carolina (1-5, 1-4) at No. 7 Cincinnati (6-0).  6:30 p.m. on ESPN2.  Bearcats favored by 27.5, over/under is 55.5.  Cincinnati will win, probably cover, and might get into the top 5 for Week 11.
Saturday
Lots of good games at 11:00 a.m.
No. 9 Miami (Florida) (6-1, 5-1) at Virginia Tech (4-3, 4-2).  11:00 a.m. on ESPN.  I just have to believe that this is the week that the Hokies get a win and the Canes lose.  Tells me something that Virginia Tech is favored by 2 after losing to Liberty last week.  Over/under is 67.5.
No. 10 Indiana at Michigan State.  11:00 a.m. on ABC.  Hoosiers favored by 7, over/under is 52.  Not sure Spartans can pull the upset, but do think they may cover.
No. 15 Coastal Carolina at Troy.  Chanticleers undefeated; Trojans 4-3, 2-2 in the Sun Belt.  CCU favored by 11, over/under is 53.  Like the Chanticleers to cover in this one.  11:00 a.m. on ESPN2.
Middle Tennessee at No. 16 Marshall.  Thundering Herd undefeated, Blue Raiders 2-5, 2-3 in Conference USA.  11:00 a.m. on the CBS Sports Network. Marshall favored by 24 at home, over/under is 57.  Marshall to win and cover.
No. 22 Liberty hosts Western Carolina in Lynchburg.  The Flames are undefeated, but so are the Catamounts.  Although the Catamounts are also winless.  First game of the season for WCU, who only have 3 games on the books for the season so far.   No line, so I am sure something weird will happen.  11:00 a.m. on ESPNU, surprisingly.
South Alabama in Lafayette to play the Ragin' Cajuns.  No. 25 Louisiana is 6-1, 4-1 in the Sunbelt.  The Jaguars are 3-4, 2-2 in Sunbelt.  ULaLa favored by 15.5, over/under is 53.5.  1:00 p.m. on ESPN+
No. 2 Notre Dame at Boston College.  Irish undefeated, of course, and Boston College is 5-3, 4-3 in ACC.  2:30 p.m. on ABC.  Notre Dame favored by 13.5, over/under is 50.  I think the Irish will win, but won't be shocked if Boston College covers.
No. 20 Southern Cal at Arizona.  2:30 p.m. on FOX.  Trojans favored by 14 over the Wildcats, who are playing in their first game.  Over/under is 67.5.  Southern Cal to win and cover – good luck Arthur!
No. 6 Florida host the Pigs in the Swamp.  Hope they make them squeal.  Gators 4-1, Arkansas 3-3.  Florida favored by 17.5, and the over/under is 60.5.  6:00 p.m. on ESPN.  Florida wins.
No. 11 Oregon at Washington State, 6:00 p.m. on FOX.  Both teams 1-0.  Ducks favored by 10, over/under at 57.5.  Will probably tune into this one for the pre-dinner cocktail before switching to:
No. 19 Southern Methodist at Tulsa.  6:00 p.m. on ESPN2.  Mustangs are 7-1, 4-1 in the American, Golden Hurricane is 3-1, 3-0 in American.  Tulsa's only loss was that opening weekend in Stillwater, 7-16.  A "good" loss, especially for a Group of 5 school.  Conference wins over then No. 11 UCF, South Florida, and East Carolina.  Games with Arkansas State, Cincinnati, and Navy have been postponed.  Coach Dykes, Buechele, and the rest of the Southern Methodists have beaten Texas State, North Texas, Stephen F. Austin, then No. 24 Memphis (in Memphis), Tulane, Navy (51-37), and Temple (last week).  Only loss is to Cincinnati, 13-42.  Very impressive season.  I think the Mustangs will win this, but like the boys in Vegas, think it will be close.  Bookmakers have Tulsa as 2.5 point favorites.  Over/under is 64.
No. 13 Wisconsin at Michigan, 6:30 p.m. on ABC from the Big House.  Badgers 1-0, Wolverines 1-2.  But Wiscy only favored by 4.5.  Over/under is 53.5.  I think this game could go either way, as I expect Michigan to get it together at some point.
No. 23 Northwestern at Purdue.  Both undefeated.  6:30 p.m. on the Big Ten Network.  Northwestern favored by 2.5, over/under is 50.5.
Top 25 games postponed as of Thursday night:
1 Alabama at Louisiana State
3 Ohio State at Maryland.
5 Texas Agricultural & Mechanical at Tennessee.
12 Georgia at Missouri
24 Auburn at Mississippi State.
So half the $EC idled by the virus.
Other Games of Interest
When the last top 25 game starts at 6:30, I start looking for late games.  This week, I am thankful that the Pac-12 got there stuff together and started playing football.  And there is actually some really good non-Top 25 action Saturday.
Earlier this week the MAC got in a slew of games:
Ohio 24-10 over the Akron Zips.
Kent State just pulverized Bowling Green, 62-24.
Miami (OH) lost 10-42 at Buffalo.
Ball State 38-31 over Eastern Michigan
Western Michigan scored 20 in the fourth quarter to overtake the Rockets, beating Toledo 41-38.
Central Michigan Chippewas cruised to a 40-10 win over Northern Illinois.
Thursday night, Boise State, coming off the beating by Brigham Young, took out their frustration on Colorado State, 52-21.  It was 42-7 at half.
Friday
Iowa at Minnesota.  Both 1-2.  6:00 p.m. on FOX Sports 1.  Hawkeyes favored by 3.5, over/under is 58.
Saturday
Army at Tulane, 11:00 a.m. on ESPN+.  Surprised that Tulane (4-4) is favored by 4.5 over Army (6-1, and ranked No. 25 in the Coaches).  Over/under is 47.
PSU at Nebraska, 11:00 a.m. on Fox Sports 1.  PSU favored by 3.5, over/under is 56.  Go Big Red!
Wake Forest at North Carolina.  11:00 a.m. on ACC Network.  Coach Brown and his Tarheels favored by 13.5, over/under is 66.5.  Carolina to win, Demon Deacons to cover.
UTEP at UT San Antonio.  2:00 p.m. on ESPN+.  Roadrunners favored by 7, over/under is 45.  Interesting game.  Miners 3-3 but 0-2 in C-USA.  UTSA 4-4, 2-2.
South Florida at Houston, 2:30 pm. on ESPN2.  Bulls winless in conference.  Cougars 2-2.  Houston favored by 14, over/under is 58.  I think Holgo and his Cougs get the win.
Texas State is 1-8, 1-4 in the Sun Belt. Tough year for the Bobcats.  They will be in Statesboro, Georgia, to get beat by Georgia Southern (5-2, 2-2).  GS favored by 10.5, over/under is 50.  2:30 on ESPN3.
Louisvile at Virginia.  2:30 p.m. on ACC Network.  Cavaliers favored by 3.5, over/under is 66.5.  I like UVa to win and cover.  I don't like Louisvile.  Go Hoos!
Colorado at Stanford, 2:30 p.m. on ESPN.  The Cardinal favored by 7, over/under is 54.5.  Worth looking in on this one.
South Carolina at Ole Miss.  Both teams 2-4, but the heat is on for Muschamp.  6:30 p.m. on the $EC Network.  Rebels favored by 11, over/under is 70.  I believe the ban on partying in the Grove is still in effect. Which is sensible.  Hotty Toddy!
Late Night!  No, late night games, not you Mike.  I am hoping at least one of these games gets played.
Cal at Arizona State, 9:30 p.m. on ESPN2.  Cal's first game, Sun Devils nearly beat Southern Cal last weekend.  ASU favored by 4, over/under is 47.
Utah at UC Los Angeles.  Well, really at the Rose Bowl in Pasadena.  9:30 p.m. on FOX.  Utes favored by 3, over/under is 59.5.
Oregon State at Washington.  10:00 p.m. on FS1.  Huskies favored by 13.5, over/under is 52.5.
The Week That Will Be
Georgia on My Mind.  HornMafia (Matt Craig) on Barking Carnival.
https://www.barkingcarnival.com/2020/11/12/21561987/the-week-that-will-be-georgia-on-my-mind-texas-longhorns-football
Juan Heisman Tailgate
A few of the faithful parked near Juan on Saturday morning.  The Dunn family was there.  Tailgating neighbor Wes Poole and his family.  And from the JHT Crew, 4 of the OGs.  Laughlin, Crowley, me, and Hawley.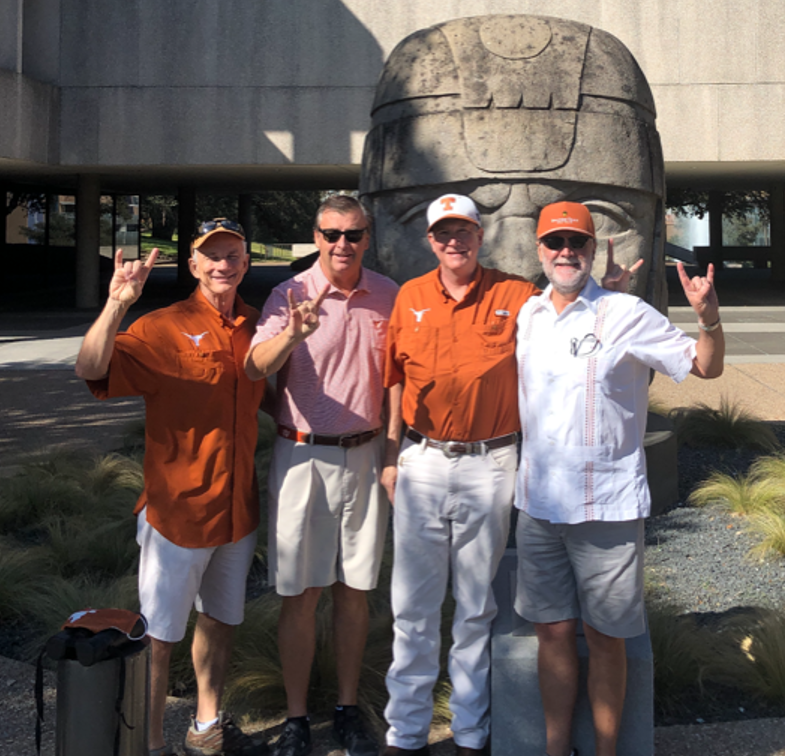 Last Week in the Big 12 – Week 10
 Well heck.  I should have just done it.  The Land Thieves scored 62 points again last Saturday, this time on the hapless Jayhawks.  Kansas got 9.  So Oklahoma covered the 38 point line pretty easily.
Texas Tech lost to Texas Christian 18-34 in Fort Worth.  Frogs were favored by 9, and I thought Tech could cover.  They are now 1-5 in the conference.  Luckily, the close the season with Kansas, so they should get one more win.  Really makes me wonder how Texas had to win 63-56 in overtime.
Heck of a tackle football game in Manhattan.  Oklahoma State escaped with a 20-18 win, keeping their title hopes alive whilst dashing those of the Wildcats (been reading some English stuff lately; bloody good writing).  K State's back-up quarterback was the leading passer and rusher in the game, which says a whole lot about how good their defense is.  Howard had 143 yards and 1 TD passing, and he carried 14 times for 125 with a long of 69 (and a score).  Just looking at the highlights is giving me flashbacks of K State quarterbacks playing against Texas.  And they are not good ones.  Chuba Hubbard only had 31 yards on 6 attempts, as he got hurt.  Wildcats did cover.
Charlie Brewer had the kind of game which we are used to seeing, as he threw for 295 yards and 3 TDs in a losing effort in Ames, as Baylor fell 31-38 to the Cyclones.   Brewer also was the Bears leading rusher with 29 yards, which tells you why they lost.  Brock Purdy was extra mediocre, 15/24, 164 yards, 3 TDs but 3 interceptions.  If he has a similar game on November 27, that would be good for Texas. Breece Hall, the ISU running back, continues to impress me.  133 carries and 2 TDs on 31 rushing attempts.
Last Week in the Top 25 – Week 10
North Carolina State dang near pulled the upset on Miami (Florida), but the Hurricanes got 14 points in the fourth quarter to escape with a 44-41 win.
Brigham Young whipped Boise State in Boise, 51-17.  Line was 3.5.  Big and important win for Brigham Young.
No. 1 Clemson at No. 4 Notre Dame was a big game.  The Irish won in Double OT, 47-40.   D.J. Uiagalelei had a huge game, filling in admirably for Trevor Lawrence – 29-44, 439 yards, 2 TDs, plus one on the ground.  Most passing yards Notre Dame has ever surrendered.  But the Irish defense shutdown Travis Etienne, holding that great back to 28 yards on 18 carries – a 1.6 ypc average.  Book did what he needed to do, and Kyren Williams ran for 140 and 3 scores (6.1 ypc).  "I think I know who will play like a champion on Saturday.  Irish to win and cover."  I know Mark Dean and Rich Dean were happy! Congrats to Notre Dame on that big win.  If things stay the way they are, the Irish could end up playing Alabama in the College Football Playoffs …
Indiana 38-21 over Michigan.  Probably been a tough week for Jim Harbaugh and even tougher for the Michigan Athletic Director, Warde Manuel.  I have heard that when highly paid coaches at large flagship state universities with blue blood football programs lose games they shouldn't lose and underperform (in the eyes of some) and lose often to archrivals, well, that sometimes the alumni call and email the athletic director to express their displeasure.
Southern Methodist 47-23 over Temple, covering.
Ohio State throttled Rutgers, 49-17.
Big game at the World's Largest Outdoor Cocktail Party.   Florida put a spanking on UGA, 44-28.  Trask was 30-43 for 474 yards and 4 TDs.  Georgia was favored by 3.5.
Cinci 38-10 over Houston.  Thought Holgo would have a better year.
Oregon gets a solid 35-14 win over Stanford.
Will Muschamp's seat is hot too.  Texas Agricultural & Mechanical just demolished the Gamecocks, 48-3.
Coastal Carolina 23-6 over South Alabama.
Marshall with a 51-10 beating of UMass.
Still can't believe Liberty.  38-35 win over Virginia Tech in Blacksburg.
And that early morning game in Los Angeles?  Southern Cal had to score two touchdowns in the fourth to get the 28-27 win.  Trojan quarterback Kedon Slovis with a big game, 40-55, 381 yards, 2 TDs.  Nice start.
Other Games of Interest – Week 10
North Carolina 56-24 over Duke.  Light the Tower Blue!
Nebraska falls to 0-2 after going down at Northwestern, 13-21.  Northwestern, meanwhile, 3-0.  Fitzgerald is a good football coach.
Iowa 49-7 over Michigan State.
Remember the pre-season hype for Penn State, ranked and all that? They are 0-3.  Maryland with a 35-19 win over the Nittany Lions.  Tis a pity.
Leach finally got another win.  Mississippi State 24-17 over Vanderbilt.
Pitt 41-17 over Florida State.  Ouch.
Rice and UTSA got postponed.
Texas Volleyball
The Longhorns volleyball team is still ranked No. 1 in the country.  Texas beat West Virginia 3-1 Thursday night.  Good season.
Texas Basketball
The Longhorns are ranked No. 19 in the Pre-season AP Top 25.  Lots of potential for a good season, but the conference is going to be brutal.  Baylor No. 2 in the poll, but just 1 vote behind Gonzaga, and the Bears got 24 first place votes (Gonzaga had 28).  Kansas No. 6, Texas Tech No. 14, and West Virginia No. 15.  Half the conference in the Top 25.  ACC only has 4 (Virginia No. 4), but Big 10 has 7.  64% of the ranked teams from 3 conferences.
Big 12 – Big East Battle. Texas drew Villanova, preseason No. 3 team, not far behind Baylor and Gonzaga.  The Horns will host Villanova in Austin on December 6.  That will be a good basketball game.
The Big 12 conference schedule for the Longhorns:
| | | |
| --- | --- | --- |
| Day | Date | Opponent (Site) |
| Sun. | Dec. 13 | at Baylor (Waco, Texas) |
| Sun. | Dec. 20 | Oklahoma State (Austin, Texas) |
| Sat. | Jan. 2 | at Kansas (Lawrence, Kan.) |
| Tues. | Jan. 5 | Iowa State (Austin, Texas) |
| Sat. | Jan. 9 | at West Virginia (Morgantown, W. Va.) |
| Wed. | Jan. 13 | Texas Tech (Austin, Texas) |
| Sat. | Jan. 16 | Kansas State (Austin, Texas) |
| Wed. | Jan. 20 | at Iowa State (Ames, Iowa) |
| Sat. | Jan. 23 | at TCU (Fort Worth, Texas) |
| Tues. | Jan. 26 | Oklahoma (Austin, Texas) |
| Tues. | Feb. 2 | Baylor (Austin, Texas) |
| Sat. | Feb. 6 | at Oklahoma State (Stillwater, Okla.) |
| Tues. | Feb. 9 | at Kansas State (Manhattan, Kan.) |
| Sat. | Feb. 13 | TCU (Austin, Texas) |
| Tues. | Feb. 16 | at Oklahoma (Norman, Okla.) |
| Sat. | Feb. 20 | West Virginia (Austin, Texas) |
| Mon. | Feb. 22 | Kansas (Austin, Texas) |
| Sat. | Feb. 27 | at Texas Tech (Lubbock, Texas) |
Texas is at Kentucky on January 30.  Wildcats preseason No. 10.  I suspect Texas has a top 3 or top 5 strength of schedule.
Great recruiting class too for Shaka Smart.  Tamar Bates could be special.
https://texassports.com/news/2020/11/11/mens-basketball-signs-quartet-to-national-letters-of-intent.aspx
Texas Baseball
Great signing day this week for the Longhorn Baseball team.
https://texassports.com/news/2020/11/11/baseball-announces-2021-signing-class.aspx
AFL – Australian Football League
As I may have mentioned, I love sports.  For a good chunk of 2020, I resorted to Australian football, or footie, and rugby.  I really like footie.  Great Texas punters from there, especially Michael Dickson. Of course current punter Ryan Bujcevski.  And we have a commitment from Isaac Pearson, also from Down Under.
Anyway, enjoy the highlights for the 2020 championship game- the Grand Final.  Just under 8 minutes, and worth it.
https://www.afl.com.au/video/522159/highlights-richmond-v-geelong
Music
Back to memory lane and my tape-playing days in the Blue Ridge Mountains.  A selection of some of my favorites off of Beach Music 1.  Some of this isn't really beach music, more W&L Juke, but these songs ended up on the Beach Music 1 tape.
Ms. Grace, by the Tymes
Walking Up a One Way Street, Willie Tee
Jimmy Mack, Martha Reeves & the Vandellas
Everything's Tuesday, Chairmen of the Board.
Good Guys Only Win in the Movies, Mel & Tim
Cooling Out, Jerry Butler.  Man that guy had some great songs.
Jim Nicar
A 1920s colorized postcard of The University's old Main Building, where the Tower stands today. Old Main was built from pale-yellow Austin pressed brick (the same used for the Gebauer Building), limestone trim quarried from Cedar Park, and grey slate tiles for the roof.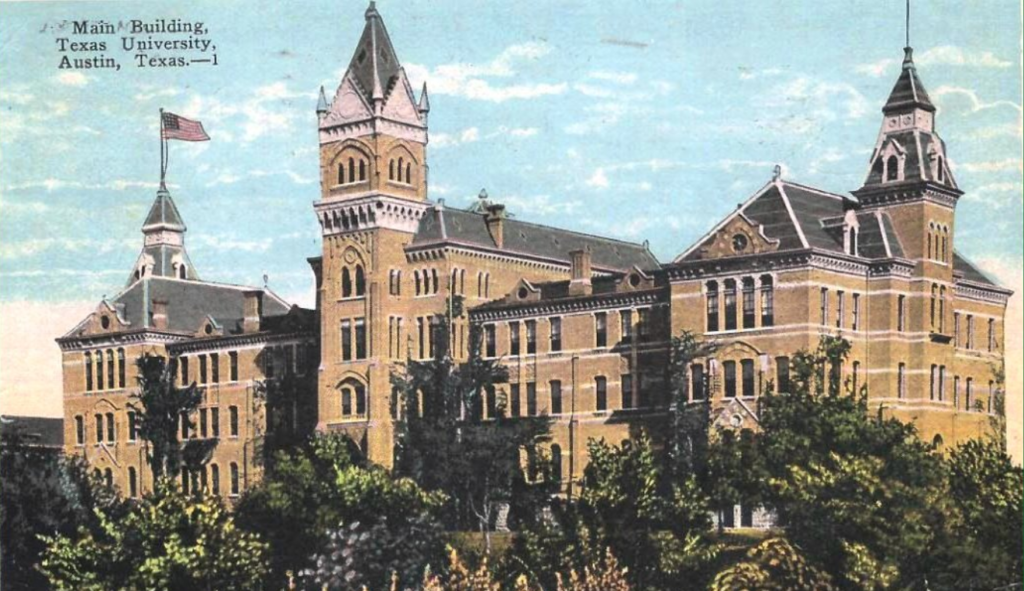 A 1920s colorized postcard of @UTAustin's old Main Building, where the Tower stands today. Old Main was built from pale-yellow Austin pressed brick (the same used for the Gebauer Building), limestone trim quarried from Cedar Park, and grey slate tiles for the roof. pic.twitter.com/9NWRwY8SXs

— Jim Nicar (@JimNicar) November 10, 2020
Gratitude
November, and a good time to remember to focus on gratitude.  One way to show your gratitude is to share God's blessings with others, especially your time, talent, and treasure.  I encourage each of you to find a great cause and give generously.  One good cause in Austin is the Central Texas Food Bank, especially right now, with so many out of work and struggling.  Please consider lending a hand and giving.
https://www.centraltexasfoodbank.org/
Stay healthy folks, and let's hope the Horns do too!
God Bless Texas
God Bless America
Tim Taylor
Tailgating before Home Football Games
The Juan Heisman Tailgate
Lot 38, East of Sid Richardson Hall

HOOK EM HORNS!!
© Timothy C. Taylor, Sr. 2020.  All Rights Reserved (as to original material).
On Twitter:  @tctayloratx
On LinkedIn:  www.linkedin.com/in/tctatx
On Instagram:  @tctayloratx
On Facebook:  www.Facebook.com/Tim.C.Taylor
and:  www.Facebook.com/Juan.Heisman
You can contact me by mail:

Tim Taylor

P.O. Box 5371

Austin, Texas  78763-5371